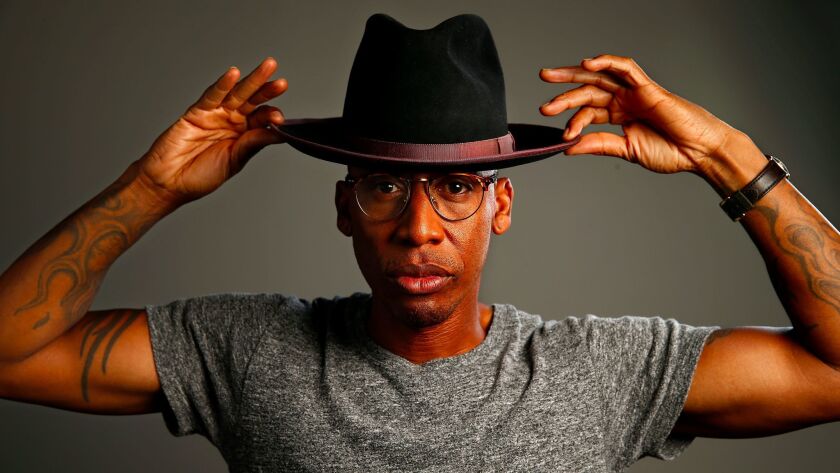 Pop Music Critic
Musical equipment of all kinds fills Raphael Saadiq's sprawling, carefully appointed studio complex on a nondescript industrial street in North Hollywood.
But in addition to the racks of keyboards and the leopard-print bass — just some of the gear this veteran R&B artist uses to create his music — two classic cars were parked in the high-ceilinged space on a recent afternoon: a vintage gold Mustang and a wood-paneled Ford station wagon that might've rolled straight off the set of "The Brady Bunch."
Asked if he drove the vehicles or if they were just there to look pretty, Saadiq scoffed. "They're made for driving, not sitting around," he replied with a sly grin.
The same could be said for Saadiq himself, who at 51 is as active — and as detail-minded — as he's been at any point in the three decades since he got his start backing Prince and Sheila E. on tour in the mid-1980s.
Last year he co-produced and played on Solange's Grammy-winning "A Seat at the Table" album. He just wrapped his second season scoring Issa Rae's hit HBO series "Insecure." And moviegoers recently heard his music in "Step," the acclaimed documentary about a girls' dance team in Baltimore, which featured Cynthia Erivo's performance of Saadiq's original song "Jump."
Now, following a long stretch of behind-the-scenes work, he's inching back to center stage with a solo album he's finishing up — his first since "Stone Rollin'" in 2011 — and an Oct. 6 concert at the Hollywood Bowl, where he'll open for the soul singer Maxwell.
Kicked back in the studio's dimly lighted control room, Saadiq acknowledged that his fans have been waiting longer than usual for a set of new tunes. "I've never been late for an album, and I've been making albums since '88," he said, referring to the year of his debut with Tony! Toni! Toné!, the trio he formed with a brother and a cousin after he returned to his native Oakland following his stint with Prince. "But I've been busy doing some things."
In truth, Saadiq's reemergence feels well timed to a moment when his signature blend of live instruments and mechanized grooves seems to be echoing in music by adventurous young R&B acts like Blood Orange and the Los Angeles-based King (both of which will join Solange for a show at the Bowl on Sept. 24).
And though his successful production gigs and his forays into film and television led him to put off his solo stuff, the experience only broadened his skill set, according to Saadiq's friend Kenny Edmonds, another important soul musician who alternates his own records with work for other artists.
"It's actually a blessing when the things you do for others go a little bit further than what you do," said Edmonds, also known as Babyface. "It allows you, first of all, to keep your ego in check. And it allows you to go other places, to explore different types of music. For Raphael it's opened the door for the other parts of his talent."
That was precisely Saadiq's goal, he said, when he decided a few years ago to try writing for the screen. By then he'd already established himself as a valuable utility player: After leaving Tony! Toni! Toné! under less-than-ideal circumstances — his brother, D'Wayne Wiggins, basically tried to replace him with Stokley Williams of Mint Condition, he said — Saadiq formed a short-lived supergroup called Lucy Pearl with Dawn Robinson of En Vogue and Ali Shaheed Muhammad of A Tribe Called Quest.
Later he wrote and recorded songs with Tribe's Q-Tip and the R&B star D'Angelo before moving south to L.A. and releasing his solo debut in 2002.
Yet he wasn't satisfied. "I feel like if you're a musician, you should be able to do everything," he said. In the control room he sat behind a large mixing board and invited me to sit in a folding chair emblazoned with Stevie Wonder's name — a gift from the legendary singer Saadiq sometimes hits up for feedback.
"It's like I'm playing basketball," he continued as songs by Stereolab and Rufus Wainwright played in the background. "I wouldn't want you to leave me at the three-point line and think I can't shoot it and make it."
So after making and touring a pair of retro-geared albums in 2008's "The Way I See It" and "Stone Rollin'," Saadiq began looking for scoring work. He landed jobs on the 2013 movie "Black Nativity" and the WGN series "Underground," then joined the team behind "Insecure" thanks to his relationship with Solange, who was acting as the show's music consultant.
"Insecure" director Melina Matsoukas said Saadiq's cues are crucial to "the West Coast vibe" of the series, which follows Issa Rae's character as she navigates work and romance in an expertly rendered Los Angeles. His music also helps give each character his or her own identity, Matsoukas added: "Raphael understands who they are and where they came from and what influences them and what they might sound like."
Saadiq drew on that sensitivity again for "Jump," which he said he wrote to reflect the "very challenging" lives depicted in "Step."
"The people involved in the movie were crying when they heard it," he said of the moving piano ballad. "I thought maybe it wasn't real — that it was just film people. But then everybody would call me: 'This broke me!'
"But it's really not the song — it's the girls. We knew we had to tell their story."
As busy as Saadiq was in Hollywood — he also composed music for BET's "Rebel" and the boxing movie "Hands of Stone" — he continued to freelance as a musician, producing and performing on songs by Andra Day, Big K.R.I.T. and Rick Ross and turning up to play bass with A Tribe Called Quest at July's FYF Fest in Exposition Park.
For Ross' "Apple of My Eye," an uncommonly tender track by the MC known for his high-life bluster, Saadiq recalled recording his vocal in an Oakland studio on the day of his father's funeral.
"My dad was the kind of dude to say, 'Man, go get your work done,'" he said. "But I was definitely singing about him."
This fall Saadiq is focused on completing his album, which he says will represent a shift from the tidy Motown pastiche of "The Way I See It" and "Stone Rollin'."
With their swinging tempos and crisp textures, those albums caused many to regard Saadiq as a strict revivalist, especially given the period clothes he favored at the time. But Saadiq, who wore fitted sweat pants and a pair of bright-yellow sneakers when we met, said he thought of those projects as films and of himself as an actor — and that his throwback sound was actually ahead of the curve.
"I went to Kenny before 'The Way I See It' and said, 'I'm going all the way with this,'" he remembered. "I told him, 'You should come in and play Berry Gordy, then we'll get three girls and have a Supremes!' He looked at me like I was out my damn mind.
"And maybe I did sound ridiculous. But then, lo and behold, Amy Winehouse came out and sort of did the same thing."
At his studio, Saadiq played a new song — one of 40 or 50 he said are in progress — that had twangy guitar over a thumping bass line; the music was sparse but vaguely psychedelic, and it showed how good Saadiq has become at suggesting an atmosphere with just a few elements (all of which he performed himself, à la Prince).
Unlike his previous records, the upcoming one won't have a concept, he said. Nor is he going to "try to win you over with a whole bunch of hits." The music is looser and more circuitous; it may end up sharing some DNA with the dreamy "A Seat at the Table," which asks the listener to follow Solange rather than laying out a clearly marked path in advance.
Or at least that's what he envisions right now. Saadiq said he won't truly know what the album is like until he's done working on it — and these days he's enjoying a break from the unforgiving deadlines imposed by TV.
"I'll have one idea, but then I'll be eating breakfast and I'll hear something by the Jackson 5," he said. Then he sang a bit of "Never Can Say Goodbye."
"I'll be like, 'Damn, I need something like that!'"
Twitter: @mikaelwood
ALSO
A 'galaxy' of sound: L.A.'s King makes R&B on its own terms
Kenny Edmonds and Toni Braxton: Rhythm and blues, with life's bruises
MC Hammer is headlining Staples Center — in 2017. How did this happen?
How Prince's Revolution reformed — and why his legacy might be in trouble
---