Review: Beyonce, Ed Sheeran toast Stevie Wonder at all-star Grammy tribute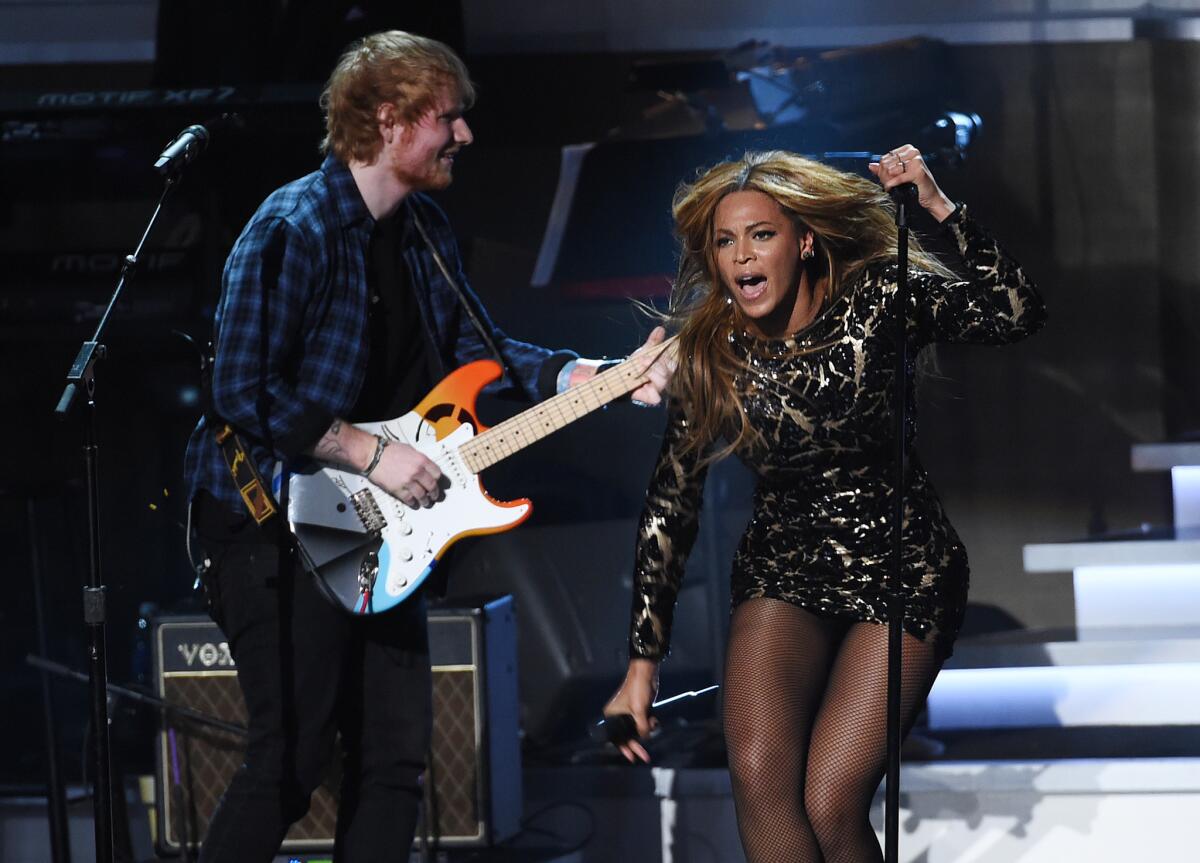 Who to get when you need someone to play one of Stevie Wonder's "funkiest and most political" songs?
The Band Perry, of course.
That was the nutty reasoning at work Tuesday night at the Nokia Theatre, anyway, where Tyler Perry used that description in calling the country trio onstage to perform "You Haven't Done Nothin'" — Wonder's unsparing 1974 takedown of President Richard Nixon — as part of a Recording Academy tribute to the veteran musician.
FULL COVERAGE: Grammy Awards 2015 | Complete list of winners, nominees
Titled "Songs in the Key of Life: An All-Star Grammy Salute," the concert also featured Beyoncé, Tony Bennett and John Legend, among others, and was taped for broadcast on CBS, which had already convened many of the stars in attendance for Sunday's Grammy Awards. The Wonder special, set to air next week, follows a similar post-Grammys program from last year that commemorated the 50th anniversary of the Beatles' debut on "The Ed Sullivan Show."
It was a big-tent affair, in other words, one that sometimes had more ambition than sense. But that's an easy trap to fall into with Wonder's music, which is so universally beloved — and often so universal — that any combination of artist and song might seem a sure thing.
Organizers certainly chose wisely by having Beyoncé, in fierce soul-belter mode, open the show with Wonder's first big hit, "Fingertips Part 2." Growling through the song's demands to "clap your hands," she was pure electricity, even after she invited Ed Sheeran to join her for a comparatively mellow "Master Blaster (Jammin')." Her set crackled again with the addition of guitarist Gary Clark Jr., who got deep into the groove of "Higher Ground" as Beyoncé sang about powers lying and people dying.
Lady Gaga was vehement, too, in a propulsive take on "I Wish" that had her bouncing up and down behind an electric piano like the Muppets' Dr. Teeth.
Smaller but equally effective moments came from Ariana Grande and Babyface, who turned "Signed, Sealed, Delivered (I'm Yours)" into a featherweight folk-soul ballad, and Ne-Yo, who glided through a buoyant "Isn't She Lovely" before bringing out Wonder's daughter Aisha, who was Wonder's inspiration for the tune.
PHOTOS: Show highlights | Red carpet | Top nominees | Quotes | Best & worst | Backstage
"Isn't he special?" she sang as she made her way toward her father, who was sitting in the theater's front row. Truly surprised or not, he looked like he didn't expect her — a touching conclusion to one of Wonder's most heartwarming songs.
Some artists merely confirmed what we already know about Wonder's work. Singing "I Believe (When I Fall in Love It Will Be Forever)," Legend provided a welcome opportunity to savor a stirring melody; the same went for Jennifer Hudson in "All in Love Is Fair." And Pharrell Williams and Ryan Tedder were festive enough ambling through "Don't You Worry 'Bout a Thing."
But other performances revealed the deceptive challenge in tackling Wonder's music, which stays specific even as it goes wide, rarely indulging in the kind of platitudes some pop songwriters rely on to facilitate broad appeal.
Andrea Bocelli, the classical-crossover tenor, was comically stiff in "I Just Called to Say I Love You," a song that requires real suppleness in a singer to avoid sounding schmaltzy. And Annie Lennox, who summoned such spooky intensity doing "I Put a Spell on You" at the Grammys, was mismatched here with "My Cherie Amour"; in her rendition the sweet love song seemed corny and naive.
One solution might have been to give Lennox "You Haven't Done Nothin' " instead of the Band Perry, who made Wonder's stomping protest jam sound like Hanson's "MMMBop."
Or maybe Wonder himself should've done it. The 64-year-old singer closed Tuesday's show with a medley of some of his signature hits, including "Sir Duke" and "Overjoyed," as well as a rambling monologue about the need for love to combat the "spiritual warfare" that he said defines our times.
Then, for an encore, he corralled the evening's guests and led the all-star company through "Happy Birthday," his 1981 single inspired by the effort to recognize the Rev. Martin Luther King Jr.'s birthday as a national holiday.
Surrounded by famous admirers, Wonder still had struggle on his mind. He was making politics sound funky — and vice versa — like few can.
Twitter: @mikaelwood
Get our L.A. Goes Out newsletter, with the week's best events, to help you explore and experience our city.
You may occasionally receive promotional content from the Los Angeles Times.