Mick Jagger reveals the band's thinking for the Rolling Stones' No Filter tour ahead of 2019 U.S. dates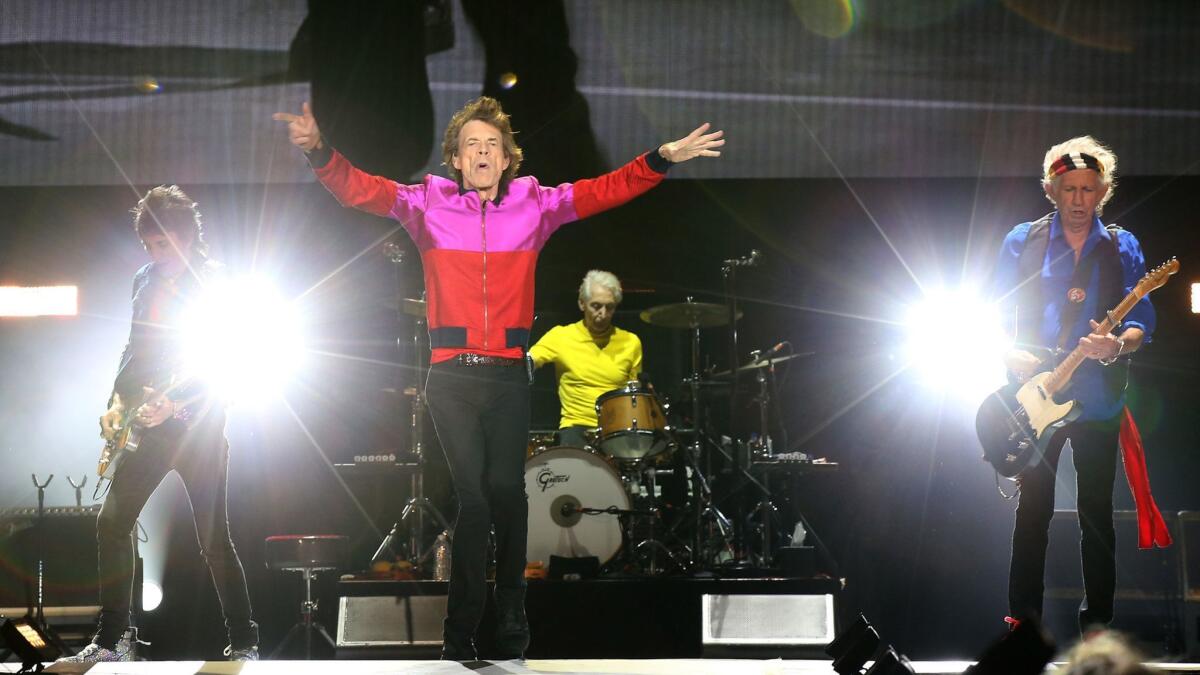 There are plenty ways to get a handle on what to expect when the Rolling Stones come to the United States next spring with their No Filter tour. The recently completed European leg offers some clues, and no doubt even casual fans can rattle off a number of the band's well-known hits that will no doubt be in the performance queue.
But there's an art to arranging a set list, and Mick Jagger says there's plenty to consider before penciling in any numbers.
One challenge facing those fortunate few rock acts who have stuck around long enough to build a catalog that stretches back more than half a century is figuring out which songs are still relevant. No doubt some may have been rendered passé by cultural shifts and modern-world realities such as increased pop-art scrutiny amid the #MeToo/#Time'sUp movements.
Jagger, as one of the writers of songs such as "Under My Thumb" and "Bitch," says he's far from oblivious .
"You have to be aware of changes in society to a certain extent," Jagger said.
He added, with a laugh, "If I find something [objectionable], I can always change it up a bit.
"Sometimes you get to rehearsals and you find 'I don't think this is working.'" he said. "You try and go into the back catalog and you always want to find unusual stuff, but sometimes it doesn't sound right. Sometimes you have to reject them because it doesn't feel right for some indefinable reason, or it may feel dated, or feel too light or something else.
"Then sometimes you find something that really works that you never thought you'd do," he said. "We started doing 'She's a Rainbow' [at two shows in June] and found that people really like it, and they really requested us to do it. We find that sort of song goes down really well."
The No Filter tour will land in Southern California on May 11 with a stop at the Rose Bowl. It will be the act's first appearance in the area since co-headlining in the Desert Trip rock superstar concerts in Indio two years ago, alongside Bob Dylan, Paul McCartney, the Who, Roger Waters and Neil Young.
Those who kept tabs on the European leg won't be surprised to learn that the 75-year-old rocker says the U.S. edition will be "somewhat similar." The artist was talking via phone earlier this week while "catching up on a bit of work" in Paris. As workplace environments go, he admitted, "It's not bad."
As for details on the U.S. edition of the No Filter trek, "The stage design will be somewhat the same, but I don't know about the set list. We haven't gotten around to that yet.
"The thing about the European shows was that it was like midsummer, and the first half of the show was in sunlight basically, the lights didn't really read into half of these shows," Jagger said. "I had to approach it more like it was cheerful festival vibe.
"When it's still light at the beginning, it affects the way you somehow choose the numbers, the attitude, your demeanor and the way the audience behaves," he said. "It's outside.
"I thought it was going to rain all the time. We did a lot of gigs in the U.K. and I had ordered a lot of rain clothes but then never used them," he said. "I was actually rather dreading this early spring-summer tour in northern Europe. We were thinking, 'Why are we doing this? It's going to be terrible.' But it was beautiful, and very unusual. I think it only rained a little the day we played Dublin, and by the time we went on it was finished.
"For me it became a two-part show," he said. "The first half was sunny and bright, the second half more dark."
That translated to such upbeat numbers as "Street Fighting Man," "Tumbling Dice," "It's Only Rock 'n' Roll (But I Like It)" and "Honky Tonk Women" during the early moments of the European dates.
The more ominous likes of "Sympathy for the Devil," "Miss You" and "Midnight Rambler" were representative of the second half of the concerts, before the group turned again to such motion-motivating numbers as "Start Me Up," "Jumpin' Jack Flash" and "(I Can't Get No) Satisfaction" to close things out.
"For the U.S. shows," Jagger said, "at least the first two-thirds of them, it's all going to be in darkness, so I don't have worry about that" shift in tone as the shows progress. "I don't anticipate much rain when we get to California."
Another difference could be whether the Stones have new music ready to incorporate into the 2019 concerts.
The band's most recent album, "Blue and Lonesome," emerged from what originally were supposed to be rehearsals for work on their first studio collection since 2006's "A Bigger Bang." But in warming up with many of their favorite vintage blues and R&B songs, Jagger, Keith Richards, drummer Charlie Watts and guitarist Ron Wood decided to go whole hog and record a full album of those songs.
It was enthusiastically received.
The Times' Mikael Wood wrote in a review that album presented the Stones as "seasoned peers' with the blues greats they once emulated, and added that while "Blue and Lonesome" wasn't "a guitar-hero record with complicated, athletic soloing meant to showcase hard-won technique," it was "often amazing" in that it captured "a kind of ruined virility."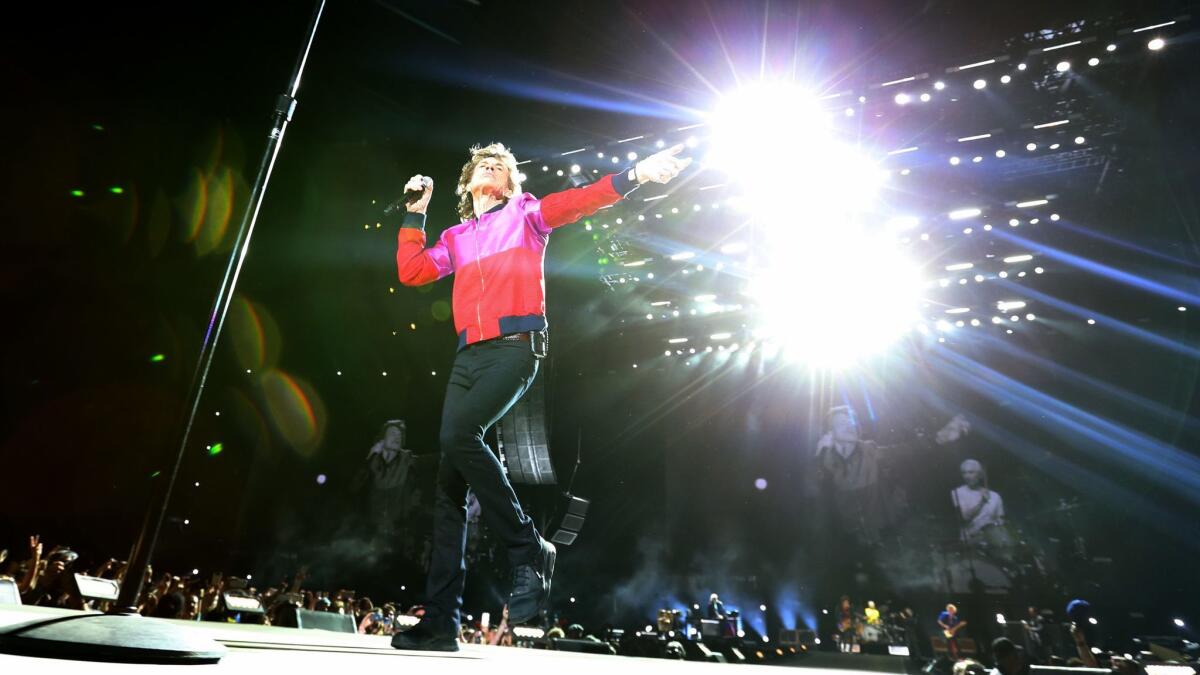 Since "Blue and Lonesome" was released in 2016, the group has been chipping away at the new material between other commitments.
"Before we go on tour next year, we'll do some more work on that," Jagger said, stopping short of promising that a new album will be ready when the U.S. leg of No Filter tour opens April 20 in Miami. "We'll see how that goes."
Like a number of other pop musicians, the Stones have also found themselves in the position of asking political candidates to refrain from using their songs prominently at campaign stops. In particular, while still running for president in 2016, Donald Trump regularly played the Stones' "You Can't Always Get What You Want" at his rallies, prompting the group to request his campaign to stop.
Some politicians ignore such demands, however, citing blanket licenses they pay for to allow them to play music at campaign events.
Pop singer Rihanna took the issue a step further recently when Trump operatives programmed her hit "Don't Stop the Music" at a rally earlier this month in Tennessee.
In addition to a cease-and-desist letter sent to Trump by her attorneys, the performance rights organization Broadcast Music, Inc. (BMI) that represents her also notified the president's campaign that the song was being pulled from material covered under the Political Entity License his campaign acquired for avoiding problems of copyright infringement.
"The copyright law in the U.S. is pretty wide-ranging," Jagger said. "If I have a restaurant and I play 'You Can't Always Get What You Want' in the restaurant, it's OK if I have that blanket license. It's the same thing if you play it in Madison Square Garden — it's very difficult to stop people from using it. There are a lot of ways around it. We have looked into it. I'm not totally up on where that stands."
Of course, politically, Jagger said simply that "I think I've made my decision pretty clear on where I stand."
Approaching a half-century since he famously said he could not envision continuing to sing "Satisfaction" after he turned 30, Jagger chuckled when asked just how long he and his cohorts might remain on the road.
"We haven't really had that conversation," he said. "We've been quite happy doing these shows the way we're doing them. Nobody's really talking about stopping. But sometimes it's hard to believe you're still doing it."
Follow @RandyLewis2 on Twitter.com
For Classic Rock coverage, join us on Facebook
Get our L.A. Goes Out newsletter, with the week's best events, to help you explore and experience our city.
You may occasionally receive promotional content from the Los Angeles Times.