Last of the record men: Seymour Stein looks back on 50 years of Sire Records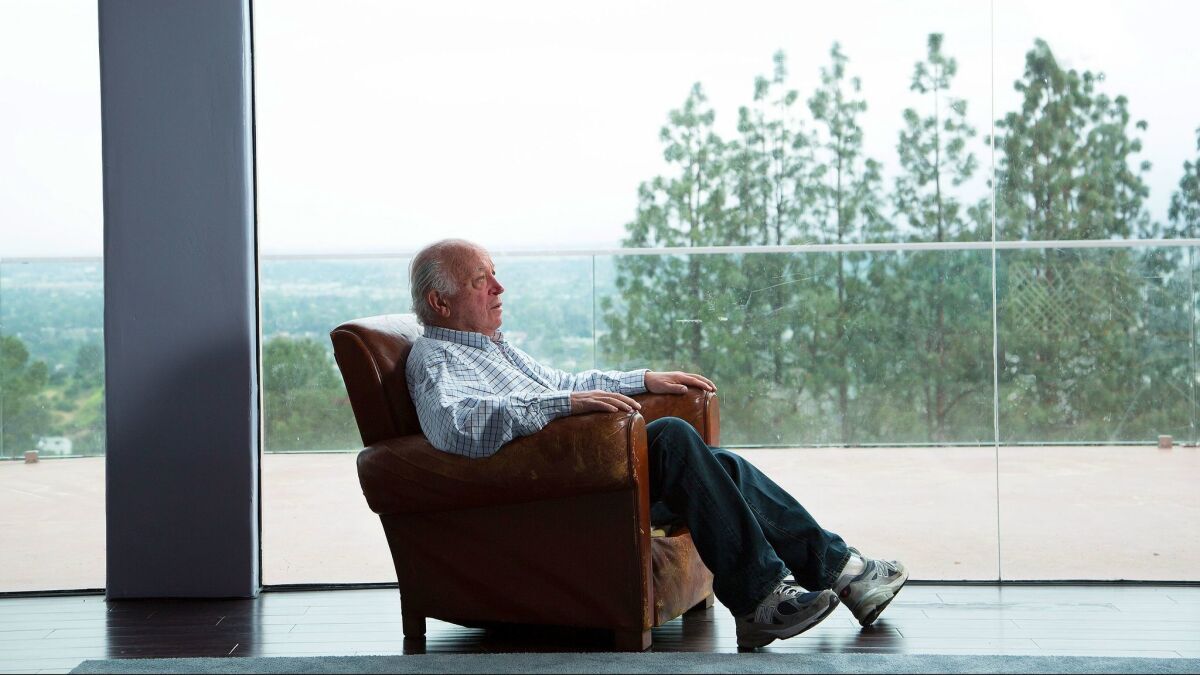 Pop Music Critic
Seymour Stein tried to executive produce this article.
"Don't put it like that," the cofounder of Sire Records told me in his gruff New York accent on a recent afternoon.
"I'm talking too much. If this appears, I'll kill you."
Stein, 74, was sitting in a cushioned chair at his daughter Mandy's spacious Spanish-style home in the Hollywood Hills. Grandfatherly in looks (if not in language), the veteran record executive — he prefers the term "record man," for its artistic flavor — had agreed to discuss his long career, in which he's helped launch artists such as Madonna and Talking Heads, shepherded wayward luminaries like Brian Wilson and served as the inspiration for at least one pop song: "Seymour Stein" by the Scottish indie group Belle and Sebastian, in which the singer blows his chance to impress the powerful tastemaker.
But the frank, unexpectedly intimate conversation came with repeated caveats — suggestions, he might call them — about how the interview should be presented so as to jibe with Stein's public persona.
It was, of course, that flair for managing an image — for understanding, and controlling, how things look and sound — that made Stein one of the defining record men of our time, a Rock and Roll Hall of Fame inductee who established his reputation by consistently selling listeners on the next idea of cool.
The Ramones, Soft Cell, Everything But the Girl, Ice-T — in the case of each of these diverse Sire acts, Stein knew what people wanted before they knew for themselves.
"Seymour goes with his gut," said Clive Davis, a fellow music macher who's known (and competed with) Stein since the late 1960s. "And he's always been right there, sniffing out who'll be stars in the many years to come."
Now, after decades of looking ahead, Stein is turning his careful gaze behind him. On April 22, Sire will mark the label's 50th anniversary with the release of a limited-edition box set featuring classic cuts by Madonna, Depeche Mode and the Smiths; Stein is scheduled to sign copies that afternoon at Amoeba Music in Hollywood as part of the shop's festivities for Record Store Day.
Mandy Stein, a filmmaker who directed a 2009 movie about the New York punk club CBGB (where Stein first saw Talking Heads), is working on a documentary about her father. And Stein himself has almost completed a memoir due to be published next year.
"I've had a great life, and I'm still here — I'm still going," he said, his arms folded across his barrel chest. "There have been a few strange incidents that happened. Nothing terrible."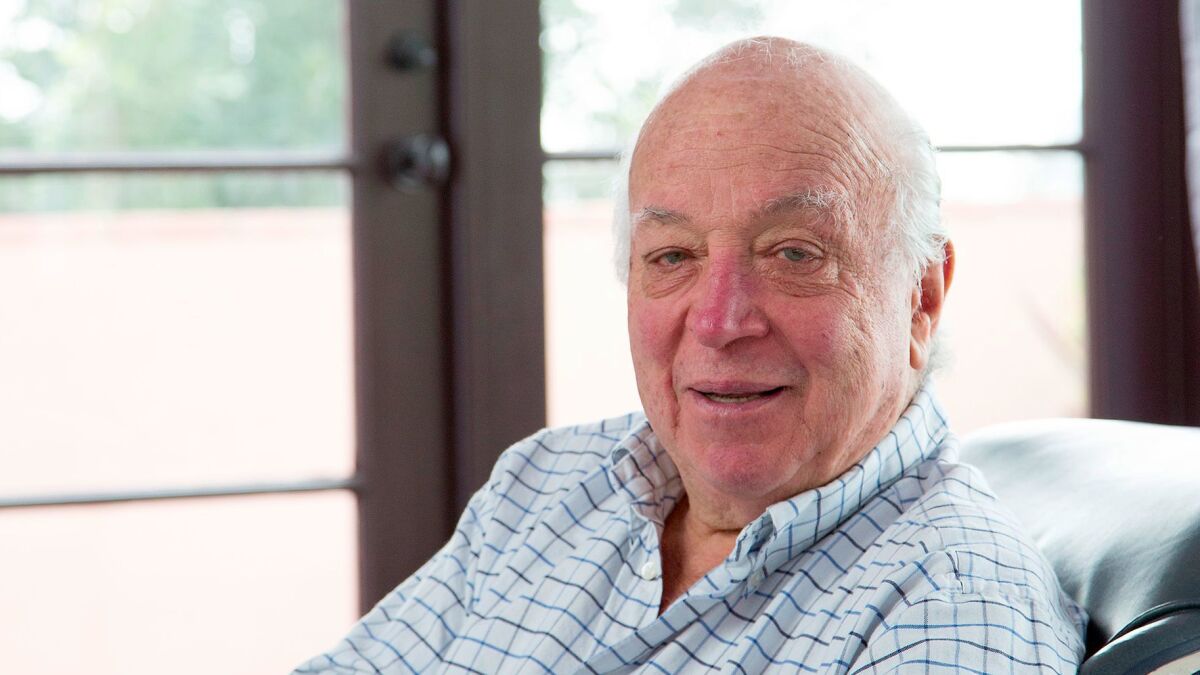 Born in Brooklyn, Stein entered the music business as a teenager when he convinced a couple of editors at Billboard to let him work on the magazine's charts. He reveled in the data, in the way the numbers revealed patterns in popularity. But it wasn't enough.
"I realized, What am I doing here? Everything is happening outside! Rock and roll was being born," he said, and Stein wanted in.
Jobs followed with independent labels including King (known for records by James Brown) and Red Bird (the Shangri-Las) before Stein founded Sire in 1967 with Richard Gottehrer, who'd found success a few years before as one of the writers and producers behind the Angels' No. 1 hit, "My Boyfriend's Back."
In its early days Sire licensed records by British and European rock acts for release in America; "Hocus Pocus," by the Dutch group Focus, took off in 1973. But two years later, Stein caught a Ramones gig and signed the hugely influential New York punk band, which released its self-titled debut on Sire in 1976.
After that came a hot streak in which Stein seemed to predict where music was headed, from punk to new wave to synth-pop to metal. By the late '80s, flush with cash from having sold Sire to Warner Bros., Stein was in a position to coax a comeback record out of the Beach Boys' Wilson, who'd receded from music while under the questionable care of therapist Eugene Landy.
"It wasn't easy, I'll tell you," Stein said of making the self-titled "Brian Wilson," which came out to warm reviews in 1988. "I would have to say that [Landy] was the most evil person that I ever met." He turned to Mandy, who was filming our talk. "Can I get sued for that?"
"No, he's dead," Mandy replied. (Landy died in 2006.)
Asked why he went through with the project given those challenges, Stein scoffed. "This guy's a genius," he said, referring to Wilson.
Sure, but even geniuses run out of steam.
"There are some people, less than a handful maybe, that are worth the effort even if you're going to lose," Stein said. "And I didn't think I was going to lose. But even if I had, I think it would've been what they say in Jewish — a mitzvah [good deed] — to have done this."
Pulling off feats like "Brian Wilson" — and continuing to make new stars out of Seal and k.d. lang — transformed Stein into something of a celebrity himself, one capable of creating a stir every time he entered a crowded club.
Deven Ivy, the singer of a young Sire band called Residual Kid, said he thinks of Stein as Mr. Big from "Wayne's World" — a cigar-chomping cartoon of an industry titan played in that 1992 movie by Michael Jackson's former manager, the late Frank Dileo.
Stein admits he enjoyed being photographed in glamorous locales with the famous artists on his roster, even if his constant work kept him from seeing his family. (Stein's ex-wife was the Ramones' co-manager, Linda Stein, who was murdered in 2007.)
"I did a terrible thing," he said, describing how he sent a limousine to take Linda home from the hospital after she'd given birth to Mandy instead of driving her himself. Or was it Mandy's sister? he wondered.
"How would I know?" Mandy asked.
"Your mother would've told you," Stein replied. "She hated me!"
"She didn't hate you," Mandy said.
"I know she didn't," Stein said, suddenly tender. "And I didn't hate her."
At that, Mandy asked her father, "What do you think of being selfish?"
Stein thought for a few seconds. "It's certainly not a positive, but I don't think it's as big a negative as people think," he said. "I kind of did it for you guys, you know. I mean, I wanted to be successful.
"And look," he added, gesturing toward the vaulted ceiling of Mandy's living room. "This is not shabby."
Today, larger-than-life record men like Stein and Davis have given way to lower-key executives better suited to the industry's corporate structure.
"The thrilling years are gone," Stein said. "There are people in the music business that are experts, but not experts in music." According to Davis, technology is now where the excitement is. Yet Stein appears to care little about the latest evolution in streaming.
"Seymour's not that worried about how people are going to listen to the music," said Warner Bros. Records chief Cameron Strang. "He's lived through many, many different formats and changes in the way music is distributed." What still drives Stein, said Strang, is the search for great artists and great songs.
Indeed, though Sire is a smaller concern than it used to be, Stein hasn't stopped signing fresh talent. Last year the label put out Residual Kid's grungy but tuneful "Salsa" EP, and in March it released "Slowmotionary," the striking solo debut by Ethan Gruska of L.A.'s Belle Brigade.
And then there's his book, in which he can tell his story the way he sees fit. Not that he hasn't had to compromise his vision a little.
Stein's original title for the memoir was "Shellac in His Veins," after a phrase King Records' Syd Nathan once used to describe Stein. (Before vinyl came into use, records were made of shellac.) But for some reason, Stein said, his publisher didn't go for it.
"We wound up calling it something I've come to terms with," he said, without offering the new title. "These people, it's a big firm." He sighed. "I'm smart enough to defer sometimes. But I don't think what we came up with is much better.
"But don't print any of that. I don't want to piss them off. They'll throw everything in the garbage."
Twitter: @mikaelwood
ALSO
L.A.'s next great singer-songwriter? It might be Ethan Gruska
At home with Father John Misty: 'I'm basically a meme at this point'
How hip-hop's D.R.A.M. went from working at Best Buy to performing at Coachella

---
Get our L.A. Goes Out newsletter, with the week's best events, to help you explore and experience our city.
You may occasionally receive promotional content from the Los Angeles Times.