How hip-hop's D.R.A.M. went from working at Best Buy to performing at Coachella
Pop Music Critic
Before he became one of hip-hop's most promising young talents, rapper and singer D.R.A.M. worked as a member of the Geek Squad at the Best Buy outlet in Newport News, Va.
But he didn't do house calls in one of the retailer's signature black-and-orange vans. Instead, D.R.A.M., born Shelley Marshaun Massenburg-Smith, excelled on the phone, reassuring folks in the first throes of some technological disaster or another.
"I knew how to talk to people," he recalls. "Basically, I had social skills, which wasn't necessarily the case with everybody else."
D.R.A.M., 28, is still putting those skills to use in his music. On his warm and funny 2016 debut, "Big Baby D.R.A.M.," he's a friendly, approachable presence showing little interest in the blustery tough talk that once defined the genre. He describes romantic relationships with uncommon tenderness, as in "Cute," where he tells a woman, "One thing 'bout me, I am a foodie / So you know I take you for a bite to eat."
"WiFi," featuring R&B veteran Erykah Badu, sketches a cozy scene of "Netflix and chill," with both artists stretching their scratchy voices over a narcotic funk groove. Even "Cash Machine," about the material rewards of D.R.A.M.'s success, charms thanks to its relatable scale: "I'm in the sky like all the time," he raps, "and now it's no layover."
Last fall, D.R.A.M.'s song "Broccoli," a bouncy duet with the equally affable Lil Yachty, hit No. 5 on the Billboard Hot 100; it's racked up more than half a billion streams on YouTube and Spotify. And this month he's on the bill for the Coachella Valley Music and Arts Festival, scheduled for April 14-16 and April 21-23 at the Empire Polo Club in Indio.
D.R.A.M. attended last year's edition of the annual desert blowout, walking the crowd at one point with Andre 3000 of Outkast, "which was legendary," he says on a recent afternoon at the Hollywood studio where he recorded "Broccoli."
"I experienced the festival, got the gist of what it is. Never did I imagine that 2017 would be my year for it." He grins. "But you know what we say: Do it big, or wait until you can do it big."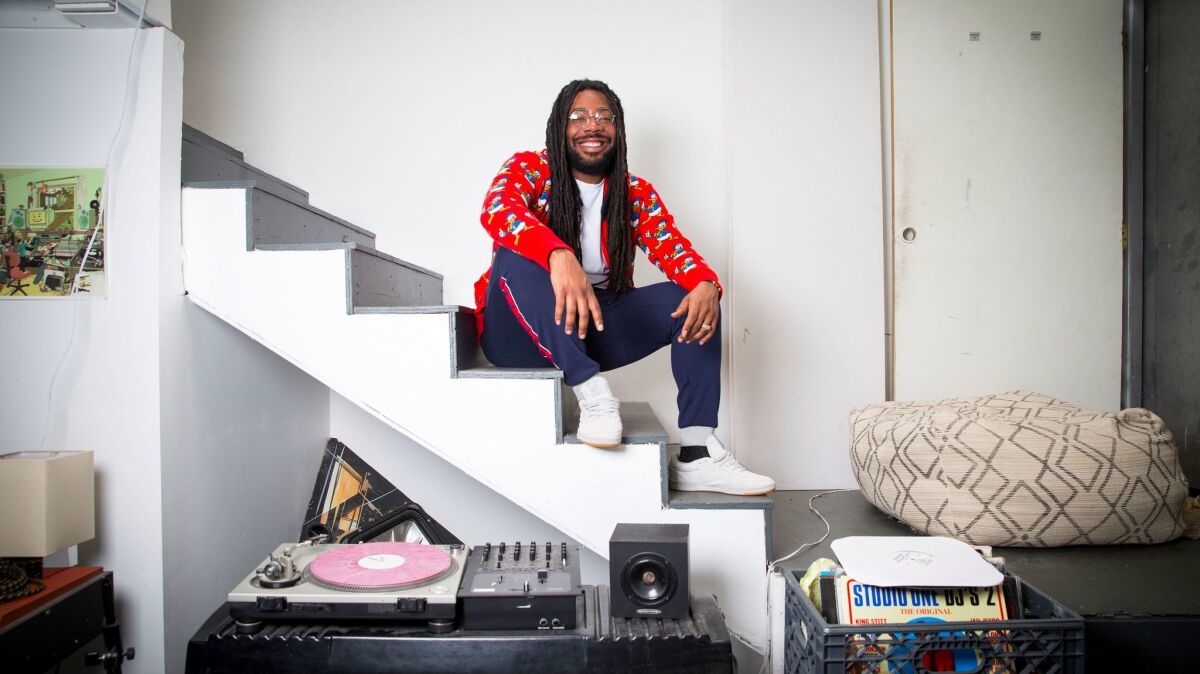 One key to D.R.A.M.'s breakthrough, beyond his alignment with the general softening in hip-hop also seen in the work of Drake and Chance the Rapper, is his stylistic agility. On "Big Baby D.R.A.M." he moves easily between the lush gospel chords of "Get It Myself," the crunching rock of "Misunderstood" and the throbbing house beat of "Outta Sight" — a clever strategy, though it never feels like one, at a moment when young listeners rarely pledge allegiance to a single style. (His stage name stands for Does Real Ass Music.)
Last month, he released "Girl at Coachella," a goofy (and shameless) pop-reggae single produced by the Norwegian DJ Matoma, and he's got a guest spot on the upcoming album by Gorillaz. Each of these songs showcases different facets of his voice and charisma, but D.R.A.M. never disappears into the music; you're always getting a strong sense of the big guy with the booming voice and the sly chuckle.
"He's an entertainer," Matoma says. "He's all about spreading the love."
Talking about his collaborations, D.R.A.M. was quick to divert credit to his various creative partners, a habit that was hard not to view as an after-effect of his run-in a few years ago with Drake. In 2015 D.R.A.M. turned heads on the Internet with "Cha Cha," a typically lovable number in which he describes his desire to go dancing in a Latin bar.
Not long after the song began to take off, though, the superstar Canadian rapper — widely known for helping himself to underground sounds — released his smash "Hotline Bling," which had an undeniably similar vibe. (In an interview with the Fader, Drake suggested he was merely replicating a process common in Jamaican music, where multiple vocalists make different songs using the same beat.)
D.R.A.M. declines to speak in detail about the matter. But he does offer another telling credo he says he strives to live by: "Inspire, don't conspire."
He also lets slip that he's recently spent some time recording with one of his primary inspirations: George Clinton, the Parliament-Funkadelic mastermind whose cheerful but trippy example looms large on "Big Baby D.R.A.M."
"For me he's at the top of the pyramid," D.R.A.M. says, praising Clinton's ability to create songs — such as "Flash Light" and "Give Up the Funk (Tear the Roof off the Sucker)" — that invite a listener into a world.
Then he identifies a handful of other tunes that do that, not by naming them but by singing a few lines at top volume.
"I like big butts and I cannot lie!"
"Ah, push it / Push it real good!"
"Kumbaya, my lord / Kumbaya!"
In each, D.R.A.M. sounds perfectly at home.
Twitter: @mikaelwood
ALSO
At home with Father John Misty: 'I'm basically a meme at this point'
Never say never? 20 years later, L.A.'s That Dog revisits 'Retreat from the Sun'
Brainfeeder at the Bowl: A roundtable discussion with George Clinton, Flying Lotus and Thundercat
---
Get our L.A. Goes Out newsletter, with the week's best events, to help you explore and experience our city.
You may occasionally receive promotional content from the Los Angeles Times.