Review: Shakira's show at the Forum had the feel of a hero's return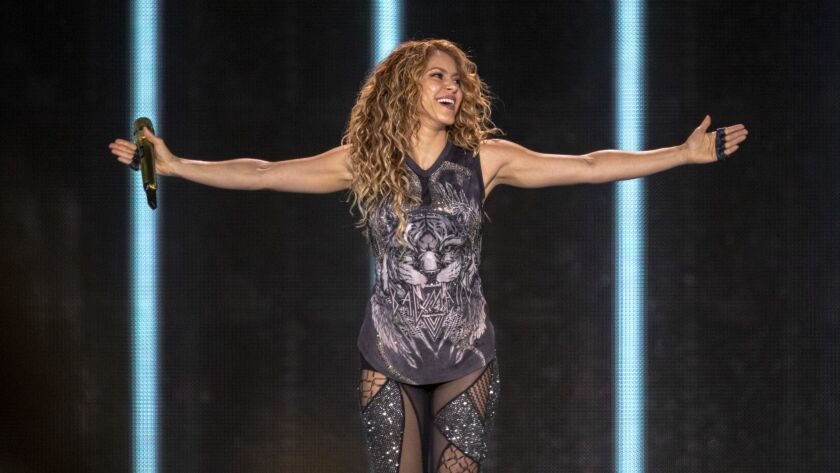 Pop Music Critic
Shakira struck a number of heroic poses throughout her concert Tuesday night at the Forum: arms outstretched, posture impeccable, long curly hair tumbling down her back.
The look suited her standing.
With international hits like "Whenever, Wherever," "La Tortura" and "Hips Don't Lie," this 41-year-old Colombian singer did as much as anyone in the 2000s to light the fuse for the Latin-pop explosion that finally went boom in the United States last year.
Her fans know it too: When Shakira reached back for one of her oldest songs, "Antología" — released before she began singing occasionally in English — you could feel the pride swelling in a room filled with people able to recite every one of her Spanish lyrics.
Yet not so long ago it was easy to wonder whether Shakira might miss out on the opportunity she helped create.
In 2014, following her first season as a coach on "The Voice," she put out her worst album by far: the mostly English-language "Shakira," which diluted her trademark sound in a way her earlier crossover records hadn't. (Among its many missteps was an incoherent duet with country star — and fellow "Voice" coach — Blake Shelton.)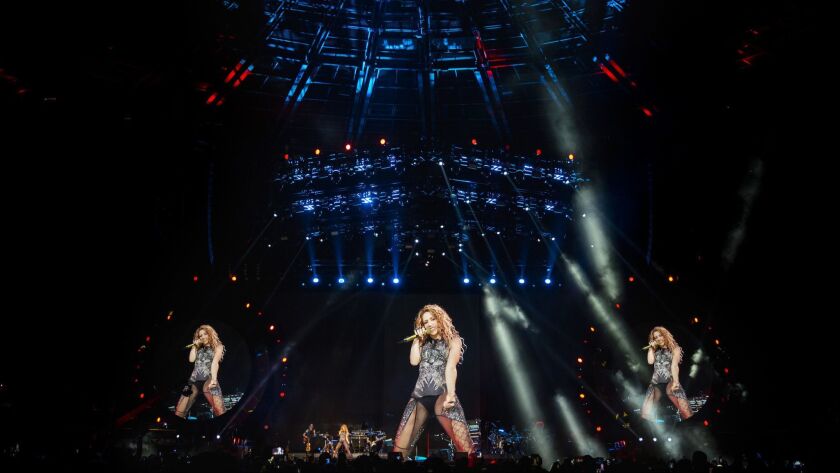 The birth of her second son a year later kept the singer off the road just as a new generation of Latin stars, including J Balvin and Luis Fonsi, began to ascend in this country. By the time Fonsi's "Despacito" was released in early 2017 — the single would eventually go on to top Billboard's Hot 100 for a record-tying 16 weeks — Shakira appeared well on her way to emeritus status: respected, sure, but not exactly in demand.
Shrewdly, she shifted course with "El Dorado," the sleek and vivid album she made last year with assistance from the new-school likes of Maluma, Prince Royce and Nicky Jam. "Chantaje," a collaboration with Maluma (who's also from Colombia), places their breathy vocals over a pulsating reggaeton groove; so far the song has been streamed nearly 3 billion times on YouTube and Spotify.
Shakira seemed clearly buoyed by the record's success during Tuesday's show, the first of two in Inglewood before her world tour heads to Anaheim's Honda Center on Friday.
Before "Chantaje," she savored the sensual melody of her trendy megahit by taking a minute to instruct the audience how to sing along with her. (This was guidance nobody needed.)
And at one point she said, "Miracles do happen," which may have been a reference to her recovery from a vocal-cord injury that forced her to postpone the tour from a planned 2017 launch.
But there was nothing desperate or overeager about this assured performance, which pulled from throughout Shakira's lengthy catalog — from the grungy mid-'90s rock of "Estoy Aquí" to the appealingly zany "She Wolf" (one of her best English tunes) to a stirring rendition of the new album's dreamy "Amarillo."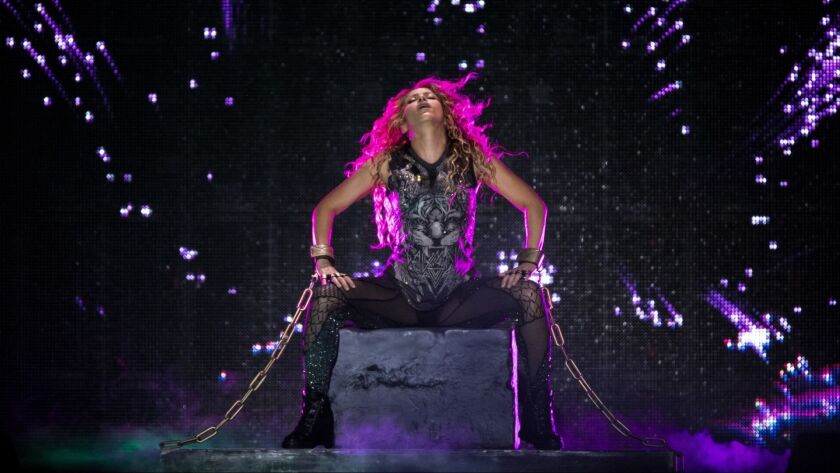 The concert's real pleasure was in seeing how comfortable a veteran can feel onstage, even when Shakira was dramatically remaking familiar songs like "Underneath Your Clothes," a once-tender ballad that rode a clipped trap beat here, and "Can't Remember to Forget You," for which she replaced peppy new wave guitars with a laidback reggae vibe.
Many in Shakira's comeback position would surround themselves with dancers to share the burden of the crowd's attention.
But she was backed Tuesday by only her band — a rarity for a big arena gig — which left her to pull off the requisite moves in "Hips Don't Lie" all by herself.
Shakira couldn't have looked happier to do it.
Twitter: @mikaelwood
---
Your essential guide to the arts in L.A.
Get Carolina A. Miranda's weekly newsletter for what's happening, plus openings, critics' picks and more.
You may occasionally receive promotional content from the Los Angeles Times.