Shaun White's Air + Style merges sports and music in the midst of #MeToo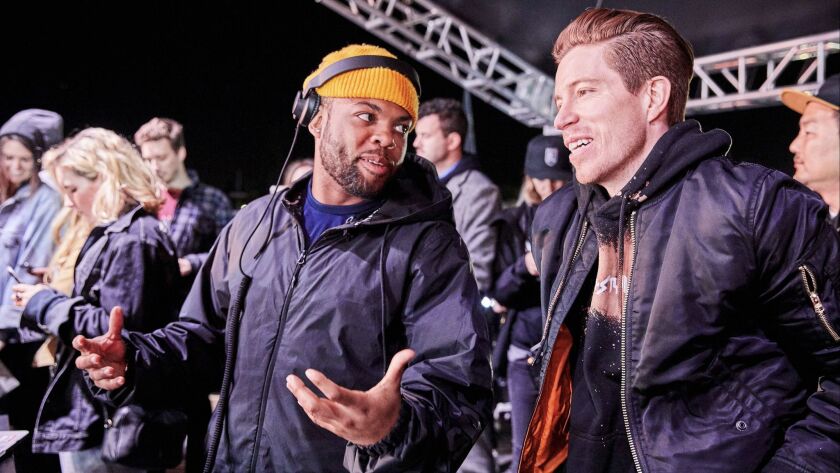 On Saturday evening, Shaun White stood at the foot of a snow-covered ramp in downtown Los Angeles, grinning from ear to ear as a scrum of photographers with flashing cameras vied for his attention.
Fresh off his win on the men's halfpipe at Pyeongchang, South Korea, the 31-year-old superstar snowboarder proudly gripped the Olympic gold medal hanging from his neck, showing it off to the whistling crowd at Air + Style, an annual two-day festival where the worlds of music and pro sports collide.
"The connection between sports and music has always been there," said White in response to questions The Times submitted via email. "It was just my thing to make it a little more blatant – having bands on top of the staging area for the ramps, DJs doing their gigs during the snowboard competition, things that really bring them together."
White — a sports hero now embroiled in the #MeToo moment — has been at the helm of Air + Style since 2014, when he took over the more than two-decade-old snowboarding competition as a majority stakeholder and brought it from Austria to California.
As an Olympic competitor, White is a legend. As an entrepreneur, White intends to keep expanding Air + Style around the globe. As an entertainer, White will likely continue to face questions regarding a 2016 lawsuit alleging misbehavior. This past weekend, Air + Style reflected White's creative vision.
While festivals that combine musical acts and winter sports, like Snowbombing and Snowboxx, tend to unfold on alpine slopes, Air + Style is staunchly urban. After its 2015 debut at Pasadena's Rose Bowl, the festival has remained in its current home — an asphalt lot in Exposition Park — for the last two years. Combined, attendance for the two-day event topped 34,000.
Often, music festivals feel like giant runways where everyone is peacocking elaborate outfits they spent weeks putting together. Air + Style was the opposite, its dressed-down crowd largely of local teenagers and 20-somethings clad in hoodies from labels like Carhartt, Palace and Burton.
The skate stage — where Memphis punk band Ex-Cult performed a ferocious set on Saturday as skaters showed off tricks on the ramps — felt especially chill, more like an outsized hangout than a crazy party.
"Everyone's more laid back," said 23-year-old Emily Pierce, an avid skier who was tipped off to the festival by a snowboarder friend. "People are in sweats and not all planning their outfits."
Perhaps not surprising at an event that prioritizes athleticism, the young crowd was relatively less drunken and drug-addled than those at a typical music festival — or football game. Still, there was an omnipresent cloud of weed in the air but little in the extent of noticeable debauchery.
In a way, it felt like an entry-level festival for those who were either too lazy or laid-back to go full throttle. "At raves it's more people on drugs, and their outfits kinda freak me out," said Madison Gerszewski, 19. "Here's it's more of a chill environment."
Adding to this leisurely atmosphere, musical acts across two stages were spaced out so that they never overlapped — thus eliminating any fear of missing out on a better set elsewhere. You simply had to drift from one side of the festival grounds to the other, with the opportunity to catch competitions at the sports stages strategically placed near the center.
While the 16-story snowboard jump — a jaw-dropping staple of previous years — was noticeably missing from the skyline, elaborate tricks from X Games stars like Canadian snowboarder Darcy Sharpe and Hawaiian skater Heimana Reynolds drew delighted gasps from the crowd, which included Olympic golden girl Chloe Kim.
The festival's eclectic musical lineup, which ranged from Tinashe's explosive, dance-fueled R&B to BadBadNotGood's hip-hop-inflected stoner jazz, was the main draw.
The turquoise-haired rising star of Skrillex's OWSLA label, Mija, filled Sunday afternoon with high-energy rave bangers, kicking off with joyously breezy, Chicago-style house via KH (a.k.a. Four Tet)'s "Question" and Objekt's "Theme From Q." She then transitioned into a glorious stretch of jungle and UKF-style liquid drum and bass, showering the crowd in the genre's classic, rhythmic-heavy "Amen breaks" with tracks like 6Blocc's "Artikal Junglist" and Calyx & TeeBee's "Elevate This Sound."
On Saturday night, Norwegian DJ Cashmere Cat took a similarly unpredictable approach, dropping crowd favorites like Cyndi Lauper's "Time After Time" and Daft Punk's "One More Time" between the razor-edged trap of SOPHIE's "Pony Boy" and Jersey club's signature bed-squeak samples.
Saturday's headliner Zedd, on the other hand, basically turned into a Top 40 jukebox, playing radio staples like Black Eyed Peas' "Time of My Life" and Cardi B's "Bodak Yellow" between a heavy rotation of his own hook-heavy EDM hits. Near the end of his set, a white curtain dropped in front of the stage with a projection of Michael Jackson's "Billie Jean" video set to Zedd's remix of the song. By that point, it had become impossible to keep track of how many fireballs the stage had discharged.
As White drove around the festival in a golf cart, his almost comically large gold medal wasn't the only weight on his shoulders.
For the past few weeks, the Olympian has been dogged by the resurfacing of allegations of sexual misconduct from Lena Zawaideh, a former member of White's band, Bad Things. In a 2016 lawsuit, she accused White of sexual harassment, wrongful termination and wage theft over their seven years together as bandmates; while the case was settled out of court in May 2017, the allegations have been resurrected in the sweeping currents of the ongoing #MeToo reckoning.
Although he at first dismissed the accusations as "gossip" at a news conference for his Olympic victory, White later backpedaled and apologized for his word choice. "I regret my behavior of many years ago," read his follow-up statement to the media.
This week, White told The Times, "The lawsuit was settled, and I have grown and changed as a person, as we all do, and am proud of who I am today. I am unable to comment further."
Still, the allegations against White have resurfaced at a time when both the sports and music industries have been grappling with issues of sexual misconduct and how to respond to them. The Dallas Mavericks are currently embroiled in a heap of allegations of workplace misconduct involving former employees.
It was recently revealed that Goldenvoice's FYF Fest, a local music destination also housed in Exposition Park, will continue operating without founder Sean Carlson. Goldenvoice in November abruptly ended its relationship with Carlson, just days before multiple outlets, including The Times, published stories that included accounts from several women who had accused Carlson of sexual misconduct.
White's #MeToo moment begs the question: are music and sports fans scrutinizing who runs the festivals they attend?
Many festivalgoers at Air + Style expressed surprise over the allegations, claiming it was the first time they'd heard the news. Said one 15-year-old fan, "You think you know someone, but sexual assault allegations make you think a little differently about them." He added it may "make more people comfortable if he addressed and confronted it to the press."
Others, like 20-year-old Joey Dombkowski, dismissed the allegations as irrelevant. "Bringing up the top dog and [his] political views is out of place — it's negative," said Dombkowski. "I like more positivity than that."
Ultimately, none said they would reconsider their support of Air + Style going forward. "It's unfortunate, but it doesnt change my view on the festival," said Pierce. "Maybe some people are here for Shaun White, but I'm more for the music and sports."
While numerous entertainment personalities have lost jobs or seen their projects suffer, experts didn't expect any major repercussions to come White's way due to the settled lawsuit.
"I don't think White will see any fallout beyond the little bit we saw right after he won the gold medal, which was short-lived," said Jessica Luther, sports journalist and author of "Unsportsmanlike Conduct: College Football and the Politics of Rape," via email.
Luther believes the media's mythologizing of Olympians as larger-than-life heroes is part of the reason why White has largely avoided public censure. "His story was told almost exclusively through the lens of the Olympics, which is all about creating narratives around athletes that are heartwarming," she said.
To Jonny Brooks, 40, however, the question of whether the allegations against White are true or false is immaterial.
"The problem exists, and the spotlight is on it," he said while continuing to dance. "I can't tell you a man who hasn't participated on some level in this, so it's a wake-up call for everyone," he continued as he wriggled into the crowd.
He then added, "We're all paying for our sins now."
---
The complete guide to home viewing
Get Screen Gab for weekly recommendations, analysis, interviews and irreverent discussion of the TV and streaming movies everyone's talking about.
You may occasionally receive promotional content from the Los Angeles Times.