Shawn Mendes started out copying his idols. Now they're coming to him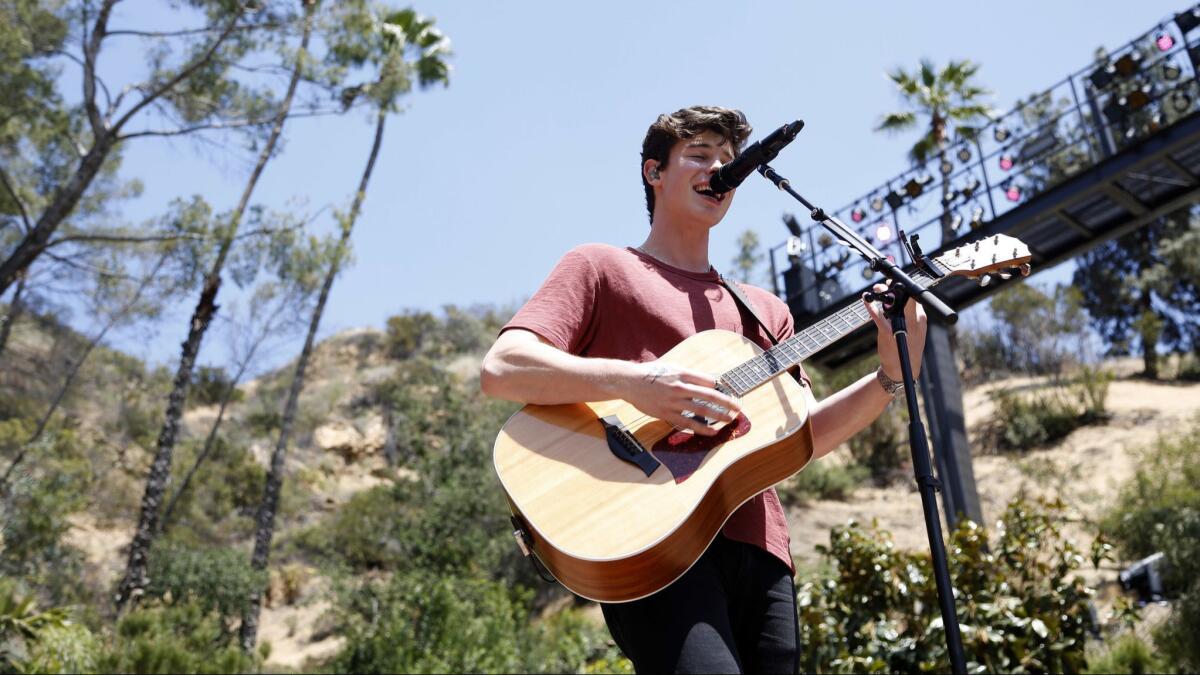 Pop Music Critic
Even with an empty house — and even before his hero turned up to jam — Shawn Mendes was clearly enjoying himself as he strummed his guitar at the Ford Theatres in Hollywood on a recent afternoon.
"Feels good to be back onstage," the 19-year-old heartthrob from Toronto said to a thousand unfilled seats. Then he belted out a few lines of "O Canada" to get a sense of the acoustics in the outdoor space where he'd soon play his first concert in months. His voice, as yearning and sensual as a national anthem could allow, reverberated gently off the stone walls, and Mendes grinned.
"Awesome," he decided.
Yet satisfaction turned to elation a few minutes later when John Mayer strolled in to rehearse a surprise cameo for that night's gig, which was set to be streamed online as part of the rollout of Mendes' new self-titled album.
The younger singer has spoken often of his admiration for Mayer, and here there was no mistaking how psyched he was to be standing next to the guy who sang "Your Body Is a Wonderland." Mendes eagerly showed his wristwatch to Mayer, a known connoisseur; he offered his ideas on where Mayer might take a guitar solo during their duet.
And then these two soulful pop-rock bros got down to business, playing Mendes' song "Where Were You in the Morning?" for half an hour or so, until they'd gotten just the right blend of grit and shimmer.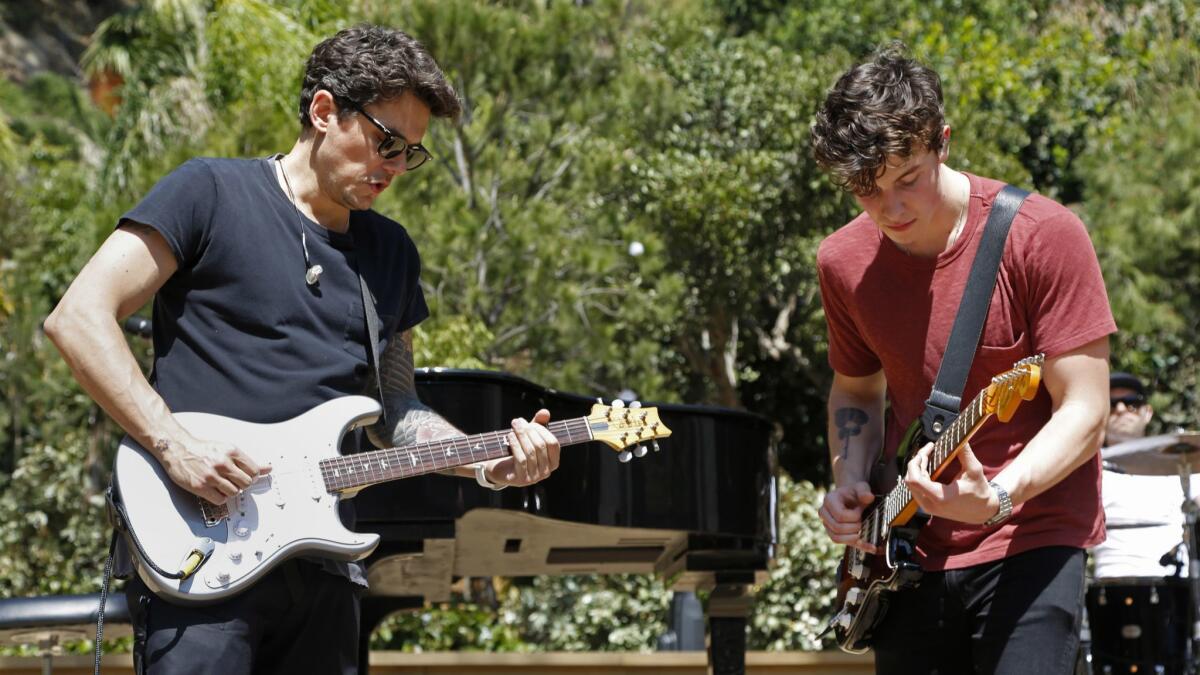 After the sound check, Mendes sat in his dressing room and ran his hand through his perfect hair.
"Dude, that was huge for me," he said, his face still flushed.
What he didn't say — but what's definitely true — is that the moment was pretty big for Mayer too.
Three years ago, Mendes was just another social-media star trying to launch a musical career. (Remember the video-sharing app Vine? That's where Mendes got his start, posting acoustic covers of songs by Beyoncé and Ed Sheeran.)
Now, though, following the runaway success of singles like "Treat You Better" and "There's Nothing Holdin' Me Back," he's one of the biggest acts in pop — "a true A-lister," said John Ivey, program director at Los Angeles' KIIS-FM, who booked Mendes as a headliner for the station's Wango Tango concert next month.
Which means Mendes is connecting with a young audience that's no longer easily reached by Mayer and another of Mendes' aging idols, Justin Timberlake, whose 2018 "Man of the Woods" album has yet to spin off an inescapable Top 40 smash.
In other words, you can bet that Mayer knew who'd be watching him and Mendes at home.
Put this idea to Mendes and he'll brush it off like the sweet Canadian kid he still appears to be. For him, playing with Mayer isn't about strategy; it's about sharing an experience with someone who inspired him to start singing and writing — and whose encouragement he values.
"He texted me when he left: 'These songs are great, your voice sounds great, the vibe is great,'" Mendes said backstage. "There's this way he talks to me where he's like, 'You're in it right now, man — you're in the phase.' And he knows firsthand."
Mendes in his music is no less straightforward about his influences. "Illuminate," from 2016, had songs obviously modeled on Sheeran (whose producer he borrowed) and James Blake; the new album, which came out Friday, nods to Coldplay with "In My Blood" and to "Justified"-era Timberlake with the falsetto-filled "Lost in Japan."
And "Where Were You in the Morning?" — well, that one hardly required the actual John Mayer to conjure thoughts of his blue-eyed R&B.
Yet you're beginning to feel more of Mendes in his songs, which on "Shawn Mendes" seem to reflect the kind of real-life experiences (including sex) that his earlier stuff described in more general terms.
Part of that is thanks to his rapid growth as a singer and player. Teddy Geiger, who's worked with Mendes since his 2015 debut and who produced most of the new album, called him "a beast" in the studio.
"Each time we come back together, he's learned something completely new," Geiger said, adding that Mendes arrived most recently having taken up the drums.
But the singer also sounds more relaxed on "Shawn Mendes," which opens up space in the music for emotions, even a bit of wit, that once felt beyond his grasp.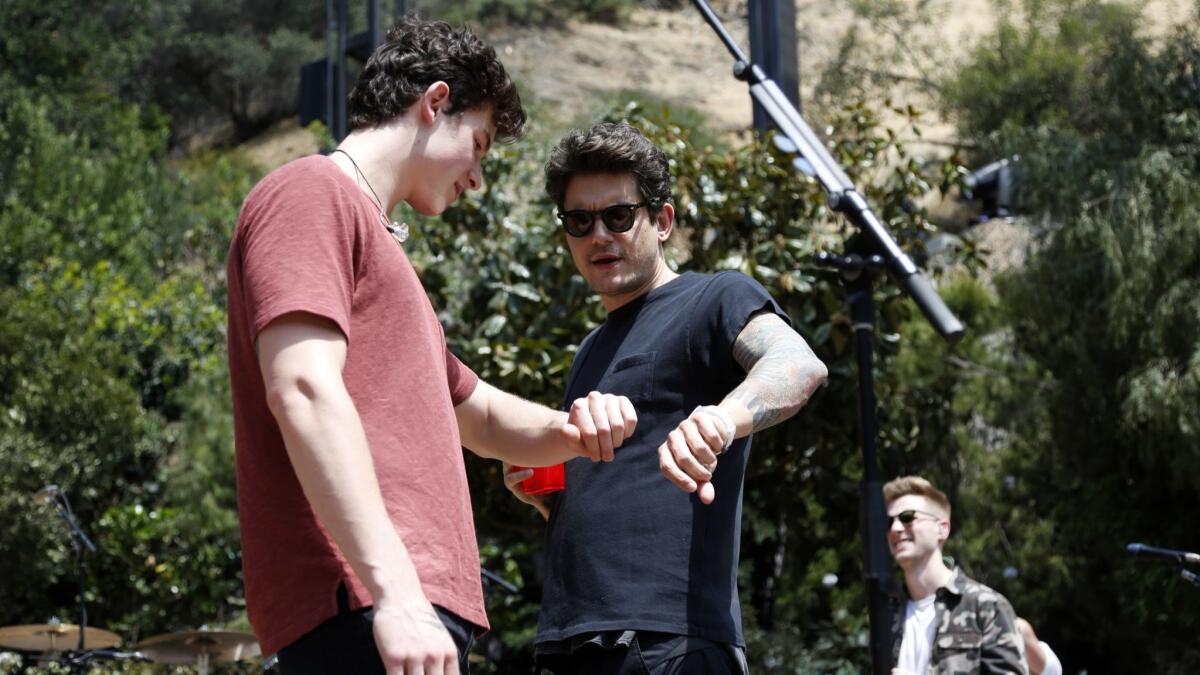 As he poured a packet of hydrating solution into a water bottle — "These aren't drugs," he pointed out — he said he "used to be terrified of messing up." His formative years on the internet had made him keenly aware that every move he made was documented and "saved forever."
Touring steadily over the past few years, though, he tried to change his thinking, to concentrate on the people in front of him rather than whoever might watch later on YouTube.
"It's hard to access that mind-set," he said. "But I've learned that if you're laughing and smiling and having a good time, nobody in the crowd is bummed out if your vocal is a half-step down.
"You'll see it tonight," he continued. "The second fans come out, I get this uplift that's insane. I was thinking earlier today that I might do some moves for 'In the Morning' — you know, get sexy.
"But then I was like, I'm just gonna go up there and be me. Not think about it as too much of a show. Just play the song."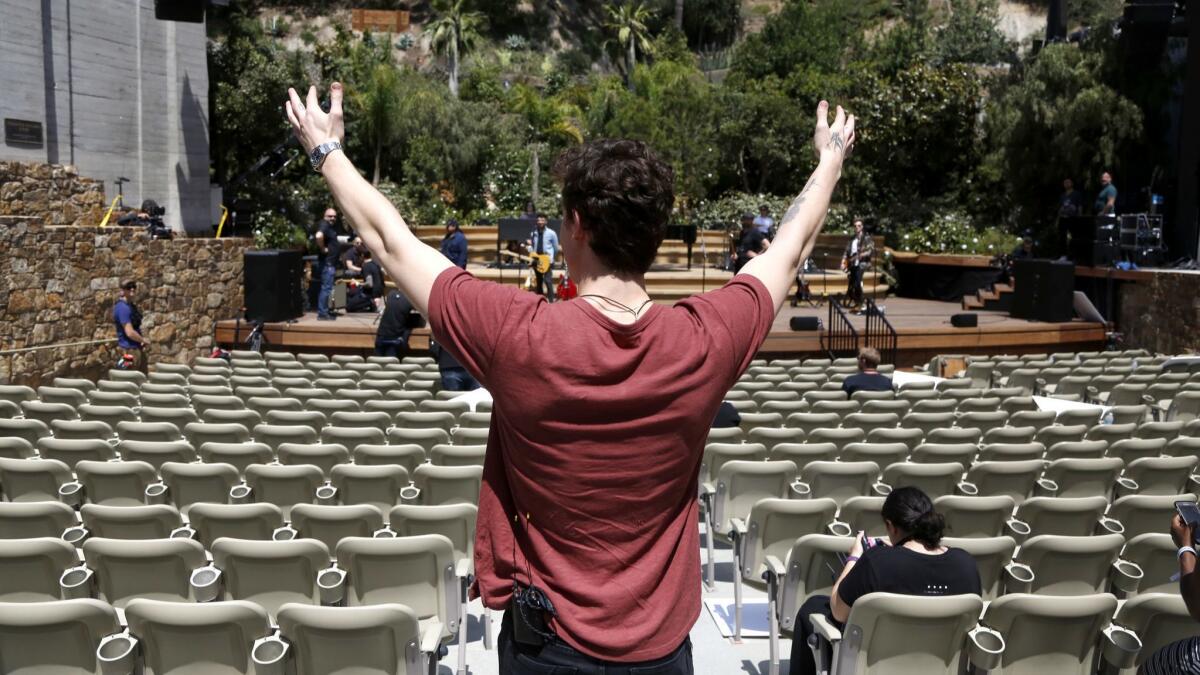 As that thinking suggests, there's something slightly old-fashioned about Mendes, at least for a teenager with a direct line to his 31 million followers on Instagram.
If it's true that Mayer and Timberlake envy his pop currency, it's probably also the case that Mendes, who recently bought a home in Toronto, envies their having come up in an era when stardom didn't resemble an algorithm.
Asked why he doesn't live in L.A., as probably 90% of the people in his position do, he smiled.
"That's why I don't," he replied. "You just answered it."
But doesn't he fear being left out of the loop? Of missing some crucial chance to hobnob with the right gatekeeper?
"The action comes to you if you do what you do well," he said. "That's the truth. I made a rule when I started, and the rule was that I would never send someone to say, 'Hey, Shawn Mendes wants to meet you.' And I never have.
"Give people a reason to talk to you, and they will."
Twitter: @mikaelwood
Get our L.A. Goes Out newsletter, with the week's best events, to help you explore and experience our city.
You may occasionally receive promotional content from the Los Angeles Times.