The celebrity encounter was something you might expect more on the set of "Saturday Night Live" than in real life.
Through one door, fresh off the elevator into an office lobby, stepped celebrated R&B songwriter and producer Jimmy Jam, the personification of hip.

A couple of arm lengths away stood another veteran musician, one who couldn't seem more the polar opposite: 84-year-old pop crooner Pat Boone, the man who came to be synonymous with all that was deemed "square" in the 1950s when he provided a wholesome alternative to Elvis Presley, Little Richard and the other revolutionaries who ignited the Big Bang of rock 'n' roll.
It was no gag, however, as they crossed paths in the entryway to the new West Coast headquarters of SiriusXM satellite radio, each on his way to different on-air assignments they were fulfilling on a recent spring day.
It's exactly the kind of unexpected meeting of diverse talents that SiriusXM president and chief content officer Scott Greenstein envisions for the 26,000-square-foot office in Hollywood that's so new that one of the elevators to the eighth-floor main complex of studios and offices is still lined with sheets of raw plywood.
As it happened, Jimmy Jam, who hosts his own "Jimmy Jam Show," was en route to get behind a microphone as a guest for drummer and songwriter Steve Jordan's monthly "Laying It Down" show on the Volume channel (106), while Boone was headed into another studio to anchor the latest edition of "The Pat Boone Hour" on the " '50s at 5" channel dedicated to the hits that launched the rock era.
Even though the facility is still a work in progress, with a ground-floor performance-recording studio dubbed "The Garage" at the time still being wired for audio and video — the 1,000-square-foot space more than doubles the size of its New York counterpart — the office was buzzing with activity: comedian Nikki Glaser hosting an installment of her live daily morning show for Comedy Central Radio (Ch. 95) in a large studio just off the lobby.
Down the hall, TV personality, author and actress Jenny McCarthy was interviewing actor and rap scion O'Shea Jackson Jr. (Ice Cube's son) about his featured role in the summer movie "Godzilla: King of the Monsters," just as comedian-political satirist-author Chelsea Handler rolled in to sit down with McCarthy after she wrapped up with Jackson.
Much of SiriusXM's original programming has emanated from the company's headquarters in New York City, with a modest L.A. operation on one floor of a Wilshire Boulevard office building left to handle any interviews that needed to be done here.
Greenstein, a former movie executive, sees the bolstering of the Southern California facility as the natural counterpart to what's been happening for years in New York.
"Why wouldn't you be as dominant as you could be in conceivably the two most densely packed areas of talent in the country," Greenstein, 59, said during a recent walk-through of the new operation.
The previous L.A. office "was not really the place" he wanted. "You want to have the full benefit of being in the L.A. area."
That appeals to at least one of SiriusXM's star contributors — Ringo Starr, who, like former band mate Paul McCartney, takes an active hand in supplying interviews and promos for the 24/7 Beatles Channel (Ch. 18), which premiered in 2017.
"It's great having the West Coast place now. It is a musical city, L.A., and so they can do a lot of stuff there," said Starr, who lives most of the year in L.A. with his actress-wife Barbara Bach, when he's not touring. "It makes it a lot easier for me."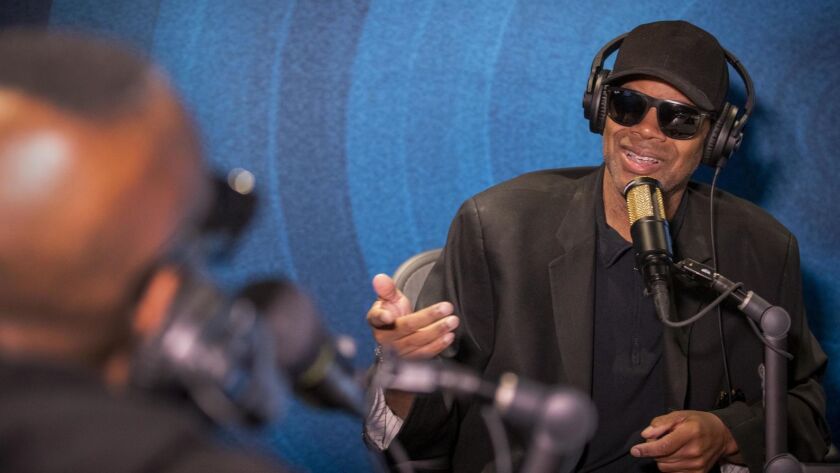 The service is aiming to compete with terrestrial radio's heavy hitters with high-profile live events.
"You can't really compete with the terrestrial [radio] market unless you have a huge presence in L.A.," said Pollack Music & Media CEO Jeff Pollack, one of the nation's leading mass-media consultants. "The music business, the film business, the TV business — they are all based here. Silicon Valley is a short distance away, all the managers live here. New York is now a satellite music market of the real music business, which is based in L.A."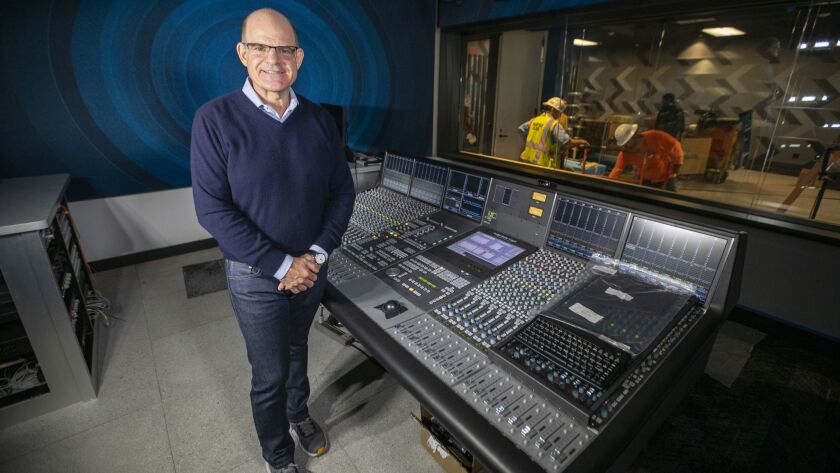 Sirius Satellite Radio service launched in 2002, as a competitor to broadcast, or "terrestrial" radio stations, on its own fleet of communication satellites. Because Satellite Digital Audio Radio Services (SDARS) don't broadcast indiscriminately, but narrowcast only to satellite subscribers, they are not subject to Federal Communications Commission decency standards, and therefore carry content uncensored.
That gave new freedom to veteran shock jocks such as Howard Stern to drop F-bombs at will, and allowed comedy, hip-hop and rock music channels to play material including profanity without fear of invoking FCC fines. Most of the programming also is advertising free.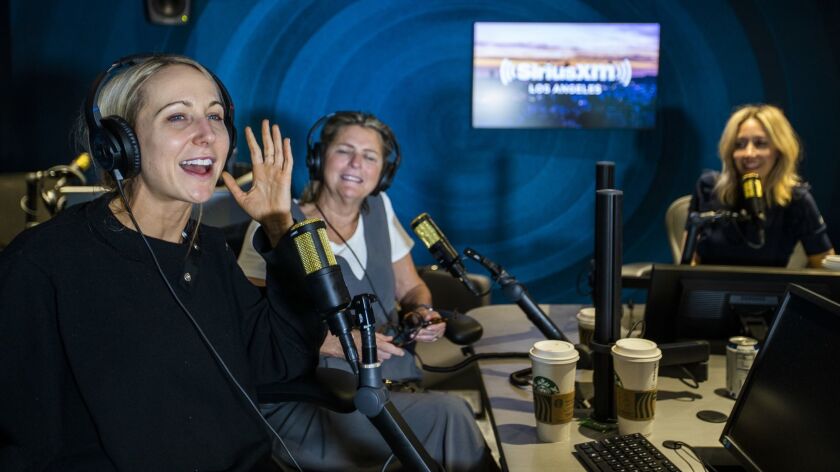 In February, SiriusXM (Sirius merged with competitor XM in 2008) completed its $3.5-billion acquisition of Pandora Media, making it "the world's largest audio entertainment company," according to its formal announcement. The service reported 34.2 million subscribers in North America at the end of the first quarter of 2019, up 25% from 27.3 million at the end of 2014. Greenstein says the SiriusXM and Pandora services now reach 100 million listeners each month across the various platforms, and Sirius-equipped radios now come standard in eight of 10 new cars sold in the U.S.
"Ultimately," said media consultant Pollack, "the battle going forward with Spotify and Apple Music and Amazon and Tidal for the [listeners in the] car will be a very difficult one. I'm already paying for my Spotify subscription and can use it in the car. The challenge for Sirius is to compete with those millennial streaming services."
Greenstein is placing his bets on the quality of content his service offers.
"I'd like to have my focus solely be, and I mean solely, on the quality," he said. "I'd rather have less if it meant I had all the best. We are just not in the mass-acquisition-of-content business."
That's been a major motivation behind the launch of channels dedicated to the music of the Beatles, Elvis Presley, Bruce Springsteen, Tom Petty, Phish and, most recently, Madonna, as well as star-driven channels including the Garth (Brooks) channel, Eminem's Shade 45 hip-hop channel, Willie's (Nelson) Roadhouse and Pitbull's Globalization channel, among others. Veteran L.A. radio personality Rodney Bingenheimer found a new home on satellite radio, and now hosts a three-hour show every Sunday night at 6 Pacific/9 Eastern, after his long-running show on Pasadena-based KROQ-FM (106.7) was canceled in 2017.
Those stars often contribute more than just their marquee names. Petty spoke in what turned out to be his final interview about how much he relished hosting his Buried Treasure show on the Tom Petty Channel. Those segments now have their own dedicated channel 711, the Buried Treasure channel.
"I love doing my 'Buried Treasure' show," he told The Times five days before he died in 2017. "It keeps me listening like I used to do."
Similarly, Greenstein parlayed a long friendship with roots-country singer-songwriter Dwight Yoakam into a new channel, the Bakersfield Beat, which premiered last year on Channel 349.
In addition to attaching his name to the channel that specializes in California country music, Yoakam is especially enthusiastic for the opportunity to host his own show, "Greater Bakersfield," airing nightly at 6 p.m. Pacific time, and which he touts in on-air promos as music "From the Dust Bowl to the Hollywood Bowl and everything in between."
"It encompasses Jimmy Webb, the Beach Boys, the Grateful Dead, even Dean Martin, who did a couple of country-western albums," said Yoakam. "And that's what Scott got. He's a real music aficionado."
The Bakersfield Beat channel is emblematic of Greenstein's goal to exploit the expanded West Coast facility by catching musicians, actors, comedians, sports figures and others on their way to and from recording sessions, concerts, TV appearances, movie shoots and myriad other commitments in Southern California.
"We let our hosts figure out who they think is interesting," said Greenstein. "They know their audience better than we know their audience. We're good with anything."
Follow @RandyLewis2 on Twitter.com
For Classic Rock coverage, join us on Facebook
---