Review: Solange takes a knee at Hollywood Bowl during a night of R&B spiritual nourishment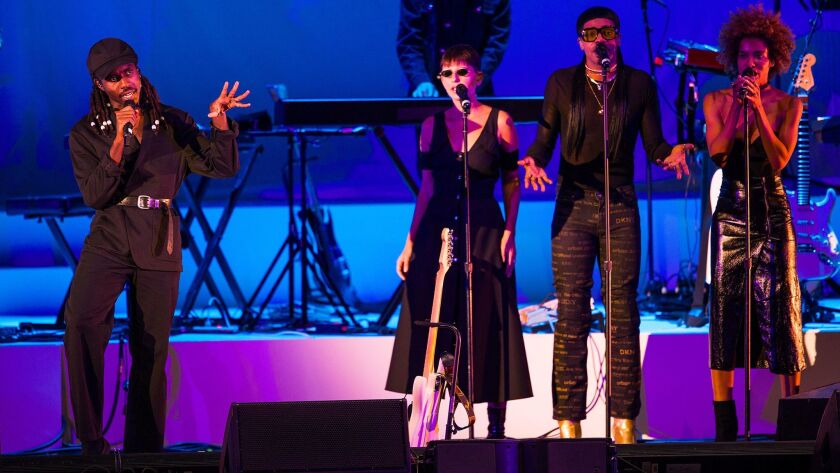 Pop Music Critic
A sanctuary, a dance club, a football field: Solange transformed the Hollywood Bowl into each during a stunning concert Sunday that presented soul music as a means of spiritual nourishment and bodily ecstasy — and also of protest at a moment when access to those virtues feels increasingly endangered for some.
Performing almost a year to the date after the release of "A Seat at the Table," her gorgeous, Grammy-winning album about the threat to black self-determination in America, the singer told the capacity crowd, "This is church tonight, y'all," then convened an expansive string section to back her for the soothing "Cranes in the Sky."
For "Losing You," she brought out Dev Hynes of Blood Orange, who created the jubilant disco track with her and here scratched out effervescent guitar licks that gave folks sitting down little choice but to jump to their feet.
And to finish the resolute "Don't Touch My Hair," Solange dropped to one knee in solidarity with the many NFL players who'd done so earlier Sunday in defiance of President Trump's crude warnings that such demonstrations should cost them their jobs.
The thundering applause at the bowl made it clear where her fans stood on that issue; it also demonstrated that only Solange's sister, Beyoncé, may be held in higher esteem by an audience.
But that palpable adoration didn't diminish the sense that something was on the line in this show — that Solange is committed to using R&B to engage the complicated questions of the day, not (or not merely) to reaffirm familiar ideas of love and devotion.
She wasn't the only one so determined on Sunday. In addition to everything else, the bowl served as a kind of clubhouse in a production that Solange curated and called "Cosmic Journey"; also on the bill were Blood Orange, Kelela, King, Moses Sumney and Kelsey Lu, all as open-minded about R&B as the evening's headliner.
Leading an expert band complete with backing vocalists and a saxophone player, Blood Orange's Hynes sang about depression and the slipperiness of identity in tunes that blended pointillist synth patterns with rubbery, 1980s-style funk bass. Kelela evoked the blurring of the line between humans and machines, singing florid melodic lines as a keyboardist and a guy behind a laptop pumped out jagged, futuristic grooves.
And King, based in Los Angeles, triggered warm memories of Stevie Wonder's lush mid-'70s balladry — then pushed the music to a trippy textural extreme that suggested some type of infinite wave. (Not for nothing did the smell of weed come wafting through the cool canyon air during the trio's set.)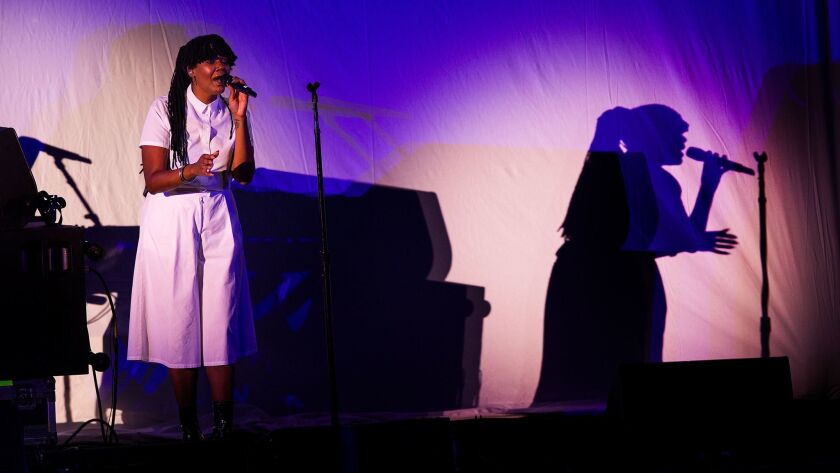 As well received as these acts were, the evening clearly belonged to Solange, who was performing in L.A. just two months after she drew an enormous crowd at July's FYF Fest in Exposition Park.
As at the earlier gig, the 31-year-old singer was backed by a small, reliable combo and joined periodically by string and horn players numbering around a dozen.
But here, those players had room to arrange themselves in dramatic columns on a wide staircase that Solange didn't bring to FYF; the staging accentuated the crisp precision of Solange's choreography, which involved not just her and her background singers but her guitarist and bassist too. (Solange didn't allow The Times to photograph her set, an unfortunately common occurrence among artists whose visual ambition makes their performances precisely the ones that should be seen.)
In the middle of her show — which pulled heavily from "A Seat at the Table" for songs like "Rise," "Mad" and "F.U.B.U.," the last of which she delivered while weaving between the bowl's lower boxes — Solange reached back for the sweetly yearning "Crush," a song from the debut album she released when she was 16.
Then she introduced Hynes for "Losing You" and a handful of other tunes from the "True" EP he co-produced — songs, Solange said, "we wrote when we were babies."
"True" came out in 2012. Five years isn't long to grow up, but it's all the time she had.
Twitter: @mikaelwood
ALSO
For Raphael Saadiq, a musician's work is never done
A 'galaxy' of sound: L.A.'s King makes R&B on its own terms
Can a music-industry insider make real documentaries? This Live Nation exec says yes
---
The complete guide to home viewing
Get Screen Gab for weekly recommendations, analysis, interviews and irreverent discussion of the TV and streaming movies everyone's talking about.
You may occasionally receive promotional content from the Los Angeles Times.