For the lead single from "For the Throne: Music Inspired by the HBO Series 'Game of Thrones,'" Grammy-nominated R&B singer and songwriter SZA had no problem channeling the kill-'em-all energy of the show's fiery Mother of Dragons, Daenerys Targaryen (formerly known as Khaleesi).
"I remembered all of her boss-ass moments," says SZA during a phone call days ahead of "For the Throne's" Friday release. "She freed her people, got her dragons … I was like, 'Damn, that bitch really slays.'"
"I've been down for the coldest war," SZA sings on "Power Is Power," sandwiched between track collaborators The Weeknd and Travis Scott. Like the millions tuning in weekly to see who will rise to supremacy in the final season of "Thrones," SZA — an avid fan — knows that winter has finally hit Westeros.
"Just because you add dragons and all these crazy things doesn't mean there aren't some real-ass things for us to relate to on the show," she says, citing "the bastardness" of Jon Snow and his discovery of a startling fact about his origin. "Maybe not [sleeping with] my brother [alluding to the incestuous relationship between Cersei Lannister and her brother, Jaime], but you know … the other stuff."
"For the Throne" co-executive producer Ricky Reed courted SZA to be a part of the soundtrack months ago, but did not reveal any of the show's upcoming plot. So SZA, too, was slack-jawed when bookworm Samwell Tarly told best friend Jon Snow, the former King of the North (who recently pledged his allegiance and love to Daenerys), that his name is really Aegon Targaryen — not only making him the rightful heir to the throne, but also her nephew.
"The fact that they're the last two Targaryens is crazy," she marvels.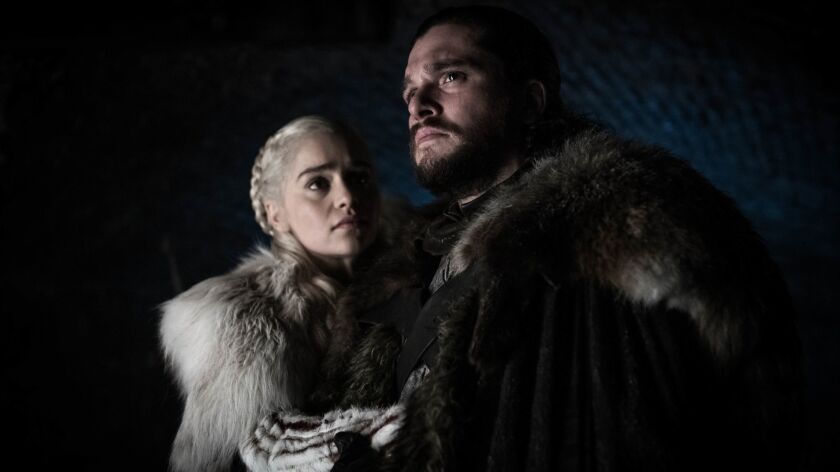 SZA is still floating from her experience shooting the Anthony Mandler-directed video for "Power Is Power" (out soon) here in Los Angeles. "We got to sit in the actual throne from the show," she says with the excitement of a child who just met Mickey at Disney World. "We got to use set pieces from the show too."
She's currently chipping away at her sophomore album, the follow-up to 2017's Grammy-nominated "Ctrl." "The important thing," she says, "is to remember that when I created before, I wasn't thinking about presenting it to the world; I was doing it for myself. I'm only getting better."
And as SZA is crafting new material, there are whispers that her Top Dawg Entertainment label mate, Kendrick Lamar, is cooking up a new effort too. But it's safe to assume that "Game of Thrones" fans will know who gets the Iron Throne before then.
SZA, like the rest of us, has no clue who will win it all at show's end on May 19. However, she does enjoy pondering what the results would be if Top Dawg was battling to become Westeros royalty. "We would have the throne," she says. "We band together when it's time to kill anything off. If that was our target, we'd get it. And I'd definitely love to see [Kendrick] in battle."
---