Perspective: Taylor Swift is pop's loudest diarist. Now she has a new soapbox
Pop Music Critic
Taylor Swift isn't exactly the sit-silently-by type.
Last year, the pop superstar sued a Denver radio DJ after she said he'd groped her during a pre-concert meet-and-greet. (Swift won the court case.) Before that, she publicly criticized Apple, by some measures the world's most powerful company, over royalty payments from its streaming music service. (Apple quickly adjusted its policy.)
And on her latest album, "Reputation," she responded to accusations by her old frenemies Kanye West and Kim Kardashian with a bitter intensity that reshaped our understanding of America's one-time sweetheart. (The album finished 2017 as the year's biggest seller.)
But one topic she has been quiet about is politics — a reticence that caused no shortage of frustration in the 2016 presidential campaign, when her lack of vocal support for Hillary Clinton was viewed by many as a lost opportunity to motivate young progressive voters.
That silence ended Sunday evening with an Instagram post in which Swift endorsed two Democrats from Tennessee, Phil Bredesen and Jim Cooper, running for congressional seats in next month's midterm elections.
Not only that, but the singer also vividly laid out her opposition to Bredesen's opponent, Republican Congresswoman Marsha Blackburn, whose voting record in the House — including her positions on pay equity, domestic violence and marriage equality — "appalls and terrifies me," Swift wrote.
"I always have and always will cast my vote based on which candidate will protect and fight for the human rights I believe we all deserve in this country."
— Taylor Swift on Instagram
"As much as I have in the past and would like to continue voting for women in office, I cannot support" Blackburn, Swift said, before adding that the representative's beliefs don't align with the singer's "Tennessee values."
So what's all this mean? No, not for politics, but for pop?
For starters, it adds yet another point of engagement to Swift's enduring battle with West, an enthusiastic admirer of President Trump who's floated conspiracy theories regarding Democratic schemes to oppress people of color. (In case you've forgotten, the two stars' feud stretches back to the 2009 MTV Video Music Awards, where West interrupted Swift's acceptance speech to say that Beyoncé deserved the award for female video.)
More interestingly, though, it suggests that Swift — whose success was founded on her ability to create the illusion of intimacy on a grand scale — is beginning to see herself in a slightly different way: as an artist, that is, whose canvas extends beyond the limits of her social and romantic life.
RELATED: Taylor Swift gets political, but she has long used her voice »
You can look at her previous pronouncements as essentially self-serving, though it's important to note that she didn't take legal action against the radio DJ until he'd sued her first (for what he said was Swift's role in getting him fired).
But in this case, Swift seems freshly inspired by her concern for others — for those less insulated than she is from the threat she says Blackburn represents for various marginalized communities — and by a sense of responsibility to make that concern widely known.
"I believe that the systemic racism we still see in this country towards people of color is terrifying, sickening and prevalent," she wrote on Instagram, which would have been unimaginable as recently as 2016 — when, let's not forget, her winning album of the year over Kendrick Lamar at the Grammy Awards summoned thoughts of the institutional prejudice she describes.
This isn't to discount Swift's personal investment in these issues. In her note, she partly attributes her decision to speak out to "several events in my life," and you have to assume that includes the dehumanizing experience with the DJ. (If the singer still agreed to be interviewed, which she hasn't done in ages, perhaps we'd know for sure.)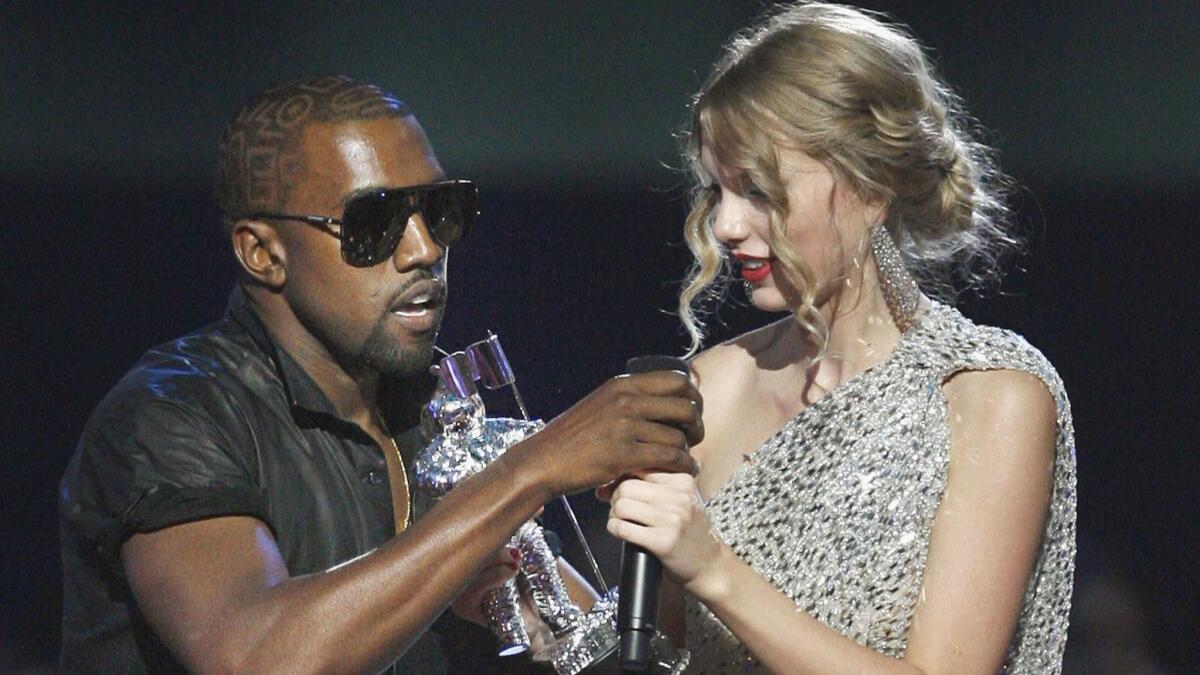 But the timing of her comments, just a day after Brett Kavanaugh's highly controversial confirmation to the Supreme Court, is surely no coincidence.
Is Swift merely offering up a performance of wokeness, parroting all the right words to correct for what she didn't say in the run-up to Donald Trump's shocking victory?
It's possible, of course — and not because "her career has never recovered since Kanye ended it," as conservative activist Charlie Kirk insisted cluelessly on Twitter.
Indeed, Billboard recently reported that Swift's tour behind "Reputation" had raked in more money than any other U.S. tour by a female artist, including Swift's earlier road shows.
But to suspect that the singer is cynically working to ingratiate herself with the liberal elite is to discount the likelihood that most of her fans live in red states like Tennessee. And although her music is a long way from Nashville these days, Swift still has roots in the country community, which has been relatively quiet on politics in the Trump era and which famously turned its back on the Dixie Chicks after the act was critical of President George W. Bush.
Which means she had much more to lose than to gain by coming out with a statement like this one.
To the extent that we should ever trust that an entertainer is speaking from the heart, Swift's comments feel remarkably credible.
Let's see how pop's loudest diarist uses her new soapbox.
Twitter: @mikaelwood
Get our L.A. Goes Out newsletter, with the week's best events, to help you explore and experience our city.
You may occasionally receive promotional content from the Los Angeles Times.