Review: Taylor Swift's Netflix special gives fans a reason to stay in on New Year's Eve
There are two types of audiences taking in Taylor Swift's new concert special: Die-hard fans who want to relive the Reputation Stadium Tour and the casual observers who didn't fork over a small fortune for the highly coveted concert tickets.
Enter Netflix, which made Swift's sold-out Oct. 6 show in Arlington, Texas' AT&T Stadium accessible to both kinds of viewers by streaming a full-length film starting on Monday.
The New Year's Eve drop documents the last show on the U.S. leg of the global pop star's tour, which became the highest-grossing tour in U.S. history by earning a whopping $266 million off more than 2 million ticket sales.
Different performances of the landmark tour have been reviewed twice by the Los Angeles Times. Aside from a few post-show morsels, Netflix's film doesn't offer any additional insight or behind-the-scenes footage for fans to savor. Instead, it's a straightforward re-creation of the upbeat show that simply caters to an at-home audience.
The film opens with Swift's once-sterling reputation as a country-music darling taking a hit with ever-evolving headlines about her personal life and high-profile feuds vilifying her. When she finally addresses the Dallas audience, she tells them she's been playing the Dallas-Arlington area since she was about 15 years old, with this being her 30th show.
"That's a good long history we got going on between us, and I want to say thank you for a few things," Swift, 29, says. "Having been to Dallas as many times as I've been here, I know how many things there are available for you to do on a Saturday night. You have lots of options and you decided to spend your Saturday evening with us. Thank you so much."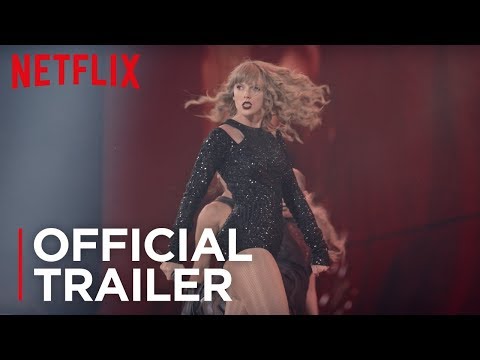 She might as well be addressing New Year's Eve viewers at home on Monday.
"You decided not only to spend your Saturday night with us, but to come here to commemorate the last night on this tour that has meant so much to me. That is such a beautiful thing. Thank you for deciding all of those things tonight."
What she didn't say then was thank you to Netflix for forking over the money to plant the show on its streaming service. But it's clear the special is a product of strategic planning and mutual benefits. (The show fittingly includes her song "New Year's Day.")
Clocking in just over two hours, the concert film plays like an extended awards-show performance — though much more accessible, with plenty of cutaways to her adoring fans, snake imagery and even Swift blowing her nose onstage. (A tissue was even regally presented to her.)
Of course, director Paul Dugdale takes some cinematic liberties and offers up glimpses of onstage minutiae that fans in the nosebleed seats probably missed. Also, there are surprise appearances from Swift's pals and fellow stars Camila Cabello and Charli XCX, the show openers, and a cameo by the lovable Tiffany Haddish, who recites the sassy lyrics about how the old Taylor can't come to the phone right now.
The 10-time Grammy-winner's star power is tantamount, as evidenced when she makes her way through the crowd flanked by a security detail while emotional concertgoers clutch at her ever-fleeting hands.
And there's sparkle — a whole lot if it. Whether it's Swift's glimmering eye shadow or nail polish, sequined costumes, fireworks or the shimmering light-up bracelets worn by the crowd, there's eye-catching flare in every frame.
Sure, viewers are removed from that intoxicating, electric, live-performance energy — no matter how many flashes of hopping singalongs there are — but it's cost-effective, comfortable and easy to watch.
Especially for those who might still be hanging out in their PJs on New Year's Eve.
Follow me: @NardineSaad
Get our L.A. Goes Out newsletter, with the week's best events, to help you explore and experience our city.
You may occasionally receive promotional content from the Los Angeles Times.