Review: Matty Healy is more daring — and more anxious — than ever on the 1975's new album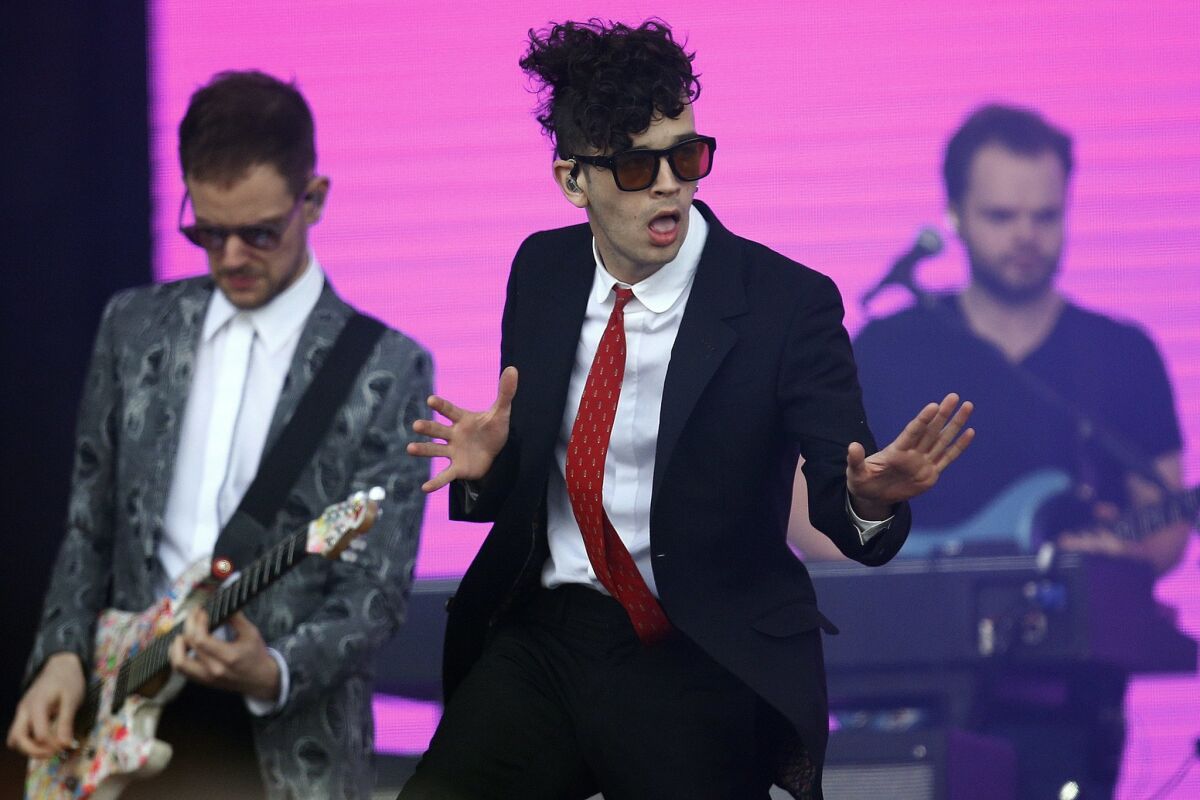 Pop Music Critic
Matty Healy is so self-aware — so deeply, painfully, hilariously cognizant of his place in the world — that you almost can't believe the guy went to rehab last year to treat an addiction to heroin.
Not because his self-awareness should somehow have enabled him to master his impulses. As the singer and lyricist of his popular British band, the 1975, Healy writes all the time about how knowing an idea is bad makes the idea only more seductive.
Rather, you're surprised at the form of his risky behavior — that this 29-year-old would allow himself to get so close to such an old-fashioned rock-star cliché.
In business since the members were teens, but playing to a sizable audience for only the last five years, the 1975 is committed to disrupting what we think a rock band looks and sounds like.
Its self-titled 2013 debut paired serrated guitars and slick funk grooves; the group's follow-up, 2016's chart-topping "I Like It When You Sleep, for You Are So Beautiful Yet So Unaware of It," ventured into slow-jam R&B and found the proudly flamboyant Healy taking every opportunity to undercut the type of machismo we still associate with long-haired frontmen. (Compared to Healy, Dave Grohl and Eddie Vedder seem like they just stumbled out of a cave.)
But those earlier records were merely setting the table for the 1975's all-over-the-place new album, "A Brief Inquiry Into Online Relationships." Due Friday, it veers wildly among mechanized garage rock, '80s-era soft pop, atmospheric dance music and lush acoustic balladry; one song strongly recalls Justin Bieber's "Sorry," while another looks back to the Great American Songbook.
And then there's the album's big single, "Love It If We Made It," which with Healy's rapid-fire spray of current-events signifiers — among them Donald Trump, Black Lives Matter and the late rapper Lil Peep — feels like an update of Billy Joel's "We Didn't Start the Fire" with programmed strings borrowed from Carly Rae Jepsen.
"Saying controversial things just for the hell of it," Healy yelps, describing one pastime he's enjoyed no less than anybody else in 2018.
Yet for all their disinterest in the conventions evoked by their gender and race, the members of the 1975 cling happily to certain rock notions. They play shows more or less as rock bands have for decades; they toy with the iconography of black leather jackets and extravagant hairdos. ("Obviously, I like the clean lines of four dudes with guitars," Healy recently told the New York Times — a vivid illustration of his analytical streak.)
And on this album, Healy sings about drugs in a way that puts him in line with any number of dudes with guitars before him. He sketches scenes in lonely hotel rooms; he confesses to his fears that he's pushing away the people who most want to help him.
In the record's gorgeous closer, "I Always Wanna Die (Sometimes)" — which Healy said in a Pitchfork interview was inspired by Aerosmith's "I Don't Want to Miss a Thing" — he makes you think of Kurt Cobain in the twisted but witty title phrase even as a glossy Hollywood orchestra saws away behind him.
Healy being Healy, he also lets you know that he knows that you're thinking about Cobain.
Indeed, the real theme of "A Brief Inquiry," beyond the singer's struggle with addiction, might be his anxiety regarding his relationship with his influences in our online age.
Over and over again, you can hear him worrying, in his stammering cadence and his strangled vocal tone, about whether anyone has anything new to say at a moment when all the old things exist in a kind of continuous now.
"Modernity has failed us," he declares in "Love It If We Made It," and part of what he means — in a lyric that tellingly rhymes "failed us" with "famous" — is that this crush of information is making it harder and harder to understand people or incidents in their proper context.
Trump's comments about moving on a woman "like a bitch," as Healy quotes the president in "Love It If We Made It," take up the same space as news of "a beach of drowning 3-year-olds"; Healy's heroin addiction simply points to some older rocker's.
And although this excellent, often thrilling album suggests that Healy grasps the problem here, he's also more of a contributor than he likely realizes.
Speaking to Pitchfork about "Mine," a jazzy ballad with Gershwin and Porter on its mind, the singer said his desire to include "a standard" on "A Brief Inquiry" grew out of the 1975's love of John Coltrane.
But "Mine" isn't a standard, of course — it's a very pretty new song, yet to be interpreted by anyone else of note, openly modeled on a pre-rock tradition.
It's an aesthetic experience, in other words, masquerading as a historical one.
____________________
The 1975
"A Brief Inquiry Into Online Relationships"
(Dirty Hit/Interscope)
Twitter: @mikaelwood
---
Get our L.A. Goes Out newsletter, with the week's best events, to help you explore and experience our city.
You may occasionally receive promotional content from the Los Angeles Times.