Tom Morello tapped by ACLU as 'Smart Justice' ambassador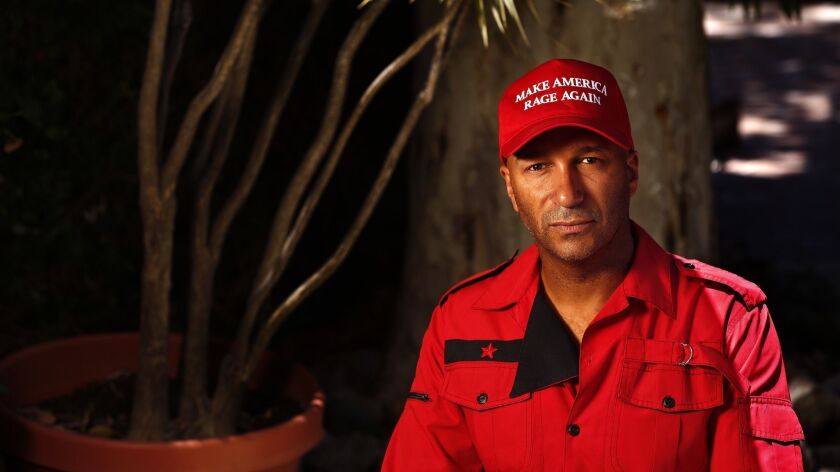 Musician and activist Tom Morello has long pounded the drum for freedom of expression, and this year, he's finally getting to do so officially.
The Rage Against the Machine/Nightwatchman guitarist, singer and provocateur has become the first musician to be named an ambassador for the American Civil Liberties Union's Campaign for Smart Justice, for which he'll be stumping across the summer as he also continues supporting his latest album, "The Atlas Underground."
"I've been a longtime supporter of the ACLU, and in these troubled times, I want to do everything I can to tilt the fulcrum of justice in the right direction," Morello, 54, told The Times.
"For a century, the ACLU have been champions of freedom of speech, civil rights equality and justice and have tirelessly, in a nonpartisan way, stood up for principles. I'm proud to have this position."
The Campaign for Smart Justice, according to the ACLU's March announcement of Morello's appointment, is "an unprecedented, comprehensive nationwide effort to reduce the U.S. jail and prison population by 50% and to combat racism in the criminal justice system."
"Our criminal justice system is savage, brutal and unlike anywhere else in the sane world," said Morello, who has worked with inmates through the Jail Guitar Doors program created by MC5 guitarist and fellow political activist Wayne Kramer. "Capital punishment means those with capital don't get punished. The fact that our governor has said there will be no more executions in California is a great step."
He also condemned the system of for-profit prisons as "an outrage. The overwhelming profit motives lead to horrific aberrations of justice."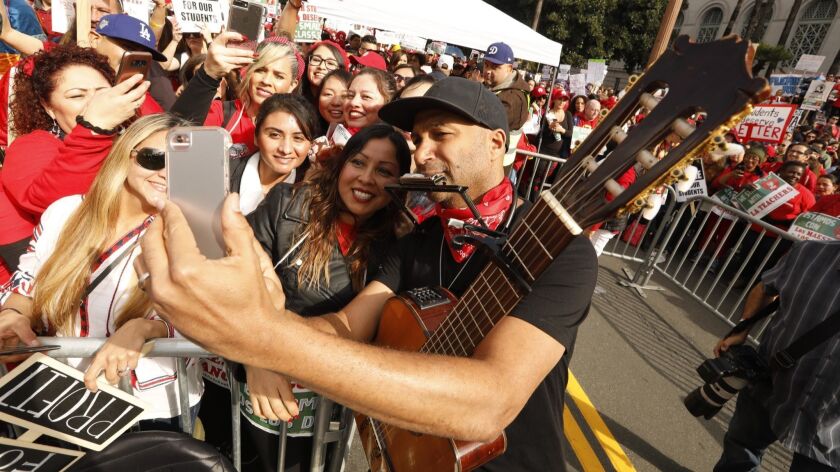 For Morello's new tour, which gets underway May 3, in Jacksonville, Fla., he'll be bringing along materials commemorating the ACLU's 100th anniversary, to help spread the word among his concert-goers about the organization's mission.
"Change comes from the ground up," he said, "and the ACLU has a long history of working with the courts, in the streets and in the schools, agitating for freedom and of organizing for justice. I'm happy to throw my lot in through the next 18 months and focus on both."
Morello was a major presence at Occupy Wall Street when those street demonstrations erupted a couple of years ago. More recently he joined the picket lines in support of Los Angeles school teachers when they went on strike for better pay and classroom conditions.
How does he balance personal opinion with official nonpartisan duties?
"There's no tightrope to walk," he said. "I haven't dampened anything down."
Morello has fought for freedom of expression since his days at Libertyville Public High School, about 40 miles north of Chicago.
"We were interested in writing about the crimes of apartheid in South Africa, the U.S. death squads in South America, but the dean was a [jerk] and didn't want any of that in the official school newspaper," he said. "So we started an underground paper. He said we couldn't pass it out at school. We called the Chicago office of the ACLU; they sent an attorney out who sat down with us and the school administration, and for two months stood by us. That was my introduction to the ACLU.
"For me," he said, "speaking truth to power with a Marshall stack has always been an appealing way to confront the system."
Follow @RandyLewis2 on Twitter.com
For Classic Rock coverage, join us on Facebook
---
Inside the business of entertainment
The Wide Shot brings you news, analysis and insights on everything from streaming wars to production — and what it all means for the future.
You may occasionally receive promotional content from the Los Angeles Times.