Three 'new' episodes of Tom Petty's 'Buried Treasure' show to premiere on SiriusXM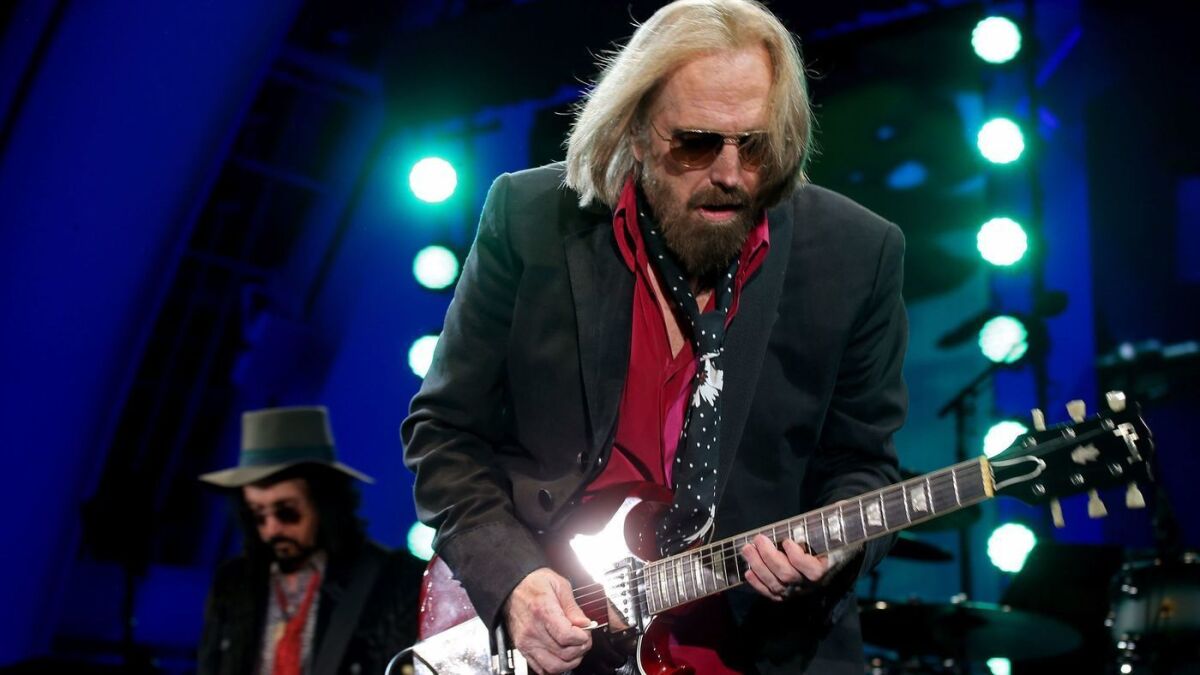 Long before Tom Petty became one of rock's biggest stars, he was one of the music's biggest fans, a characteristic that came to the fore in recent years on his weekly satellite radio show, "Tom Petty's Buried Treasure" on SiriusXM.
Fans of the program will get a belated gift from the musician in the form of three "new" episodes, which Petty recorded before he died last year at age 66, just after completing a 40th anniversary world tour with his long-running band, the Heartbreakers.
The Times has several exclusive clips from those episodes that are scheduled to premiere this weekend on the satellite service's Tom Petty Radio Channel 31, in which Petty discusses the differences between the U.S. and U.K. versions of early Beatles albums, his love of Chuck Berry, and his thoughts on the Monkees and lead singer Micky Dolenz, among other wide-ranging topics.
The episodes were recorded in November 2016, ahead of the 40th anniversary tour, and rediscovered in December by Petty's longtime recording engineer Ryan Ulyate.
"I completely forgot about the three shows until Ryan called me in December of last year and said he found something I needed to come over and hear," said Mark Felsot, executive producer and host for Tom Petty Radio.
Here are his remarks about Berry's recording of "Nadine (Is It You?)," a 1963 hit released shortly after one of the founding fathers of rock 'n' roll was released from prison after serving 18 months on a conviction for transporting a minor across state lines.
Far more than simply lending his name to promote a channel or an individual program on it, Petty took his role as deejay seriously and frequently exhibited his well-developed sense of humor. The show was a source of personal pride and great joy for him, as he told the Times just a few days before he died.
"I love doing my 'Buried Treasure' show," Petty said during the interview at his home in Malibu. "It keeps me listening like I used to do. I always listen. I could come home [from a recording session or performance] and I would spend the rest of the night just lying on the floor or the sofa listening to albums. It was like a movie to me. I used to [do that], and I still do really, and doing the radio show ensures that I'll be sitting there listening."
Here's Petty letting his Beatles geekdom loose in talking about the song "I'll Be Back" and which album it originally appeared on.
Among the show's many fans, famous and not, was Aerosmith singer Steven Tyler, who said he listened in regularly, including while he was working on his 2016 solo album, "We're All Somebody from Somewhere."
"When I was down here [in Nashville] writing the country record, I listened to 'Buried Treasure' every day," Tyler told The Times in May. "I'm still listening to him—just this morning. He's still alive to me. Obviously his music will live forever."
Petty on the show extolled the solo music of Rolling Stones guitarist and songwriter Keith Richards after he played "Robbed Blind" from Richards' 2015 solo album, "Crosseyed Heart."
Another admirer was his longtime bandmate, Heartbreakers keyboardist Benmont Tench, who drew parallels between listening to Petty's voice on the radio shows that SiriusXM continues to play and working on material to share with the public on the recent box set "Tom Petty — An American Treasure."
"They keep playing these shows over and over and over again," Tench said, "because he did so damn many of them and because they are so damn good."
The first of the three additional episodes is scheduled to premiere Saturday at 2 p.m. Pacific time. The second and third will premiere the same time slot on Nov. 19 and Dec. 17. The shows will be repeated throughout each month.
Follow @RandyLewis2 on Twitter.com
For Classic Rock coverage, join us on Facebook
Get our L.A. Goes Out newsletter, with the week's best events, to help you explore and experience our city.
You may occasionally receive promotional content from the Los Angeles Times.