Review: Tori Amos is no longer a pop star — and she seems fine about it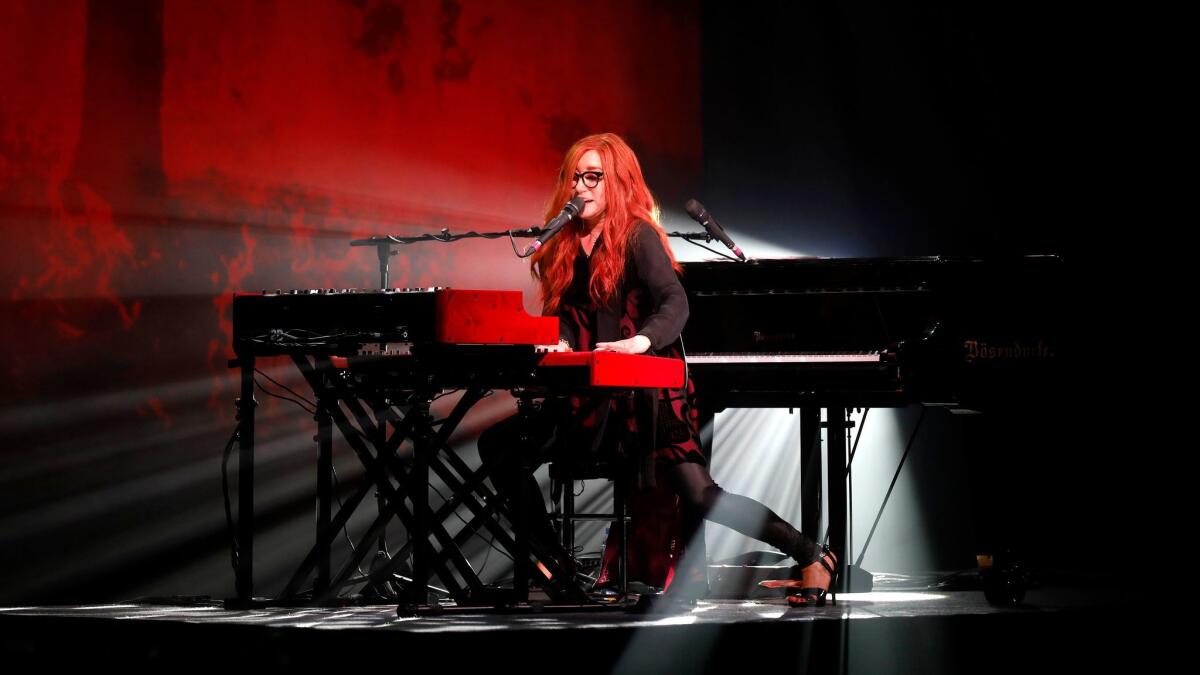 Pop Music Critic
Tori Amos put her songs first on Sunday night.
Literally.
Welcoming a capacity crowd to the third of three sold-out shows at the Theatre at Ace Hotel, the veteran singer and pianist said it had been a privilege for the songs — "and for me" — to be heard by audiences across North America over the last few weeks.
Sunday's show concluded a tour behind Amos' recent "Native Invader" album, and like the other gigs, it was emphasizing music over the type of spectacle and pageantry that pop concerts are often built around.
Seated between a grand piano and a rack of keyboards, unaccompanied by a band, Amos sang and played with vivid determination as she moved through complicated, deep-feeling tunes from her extensive catalog: "Pretty Good Year," about a young person struggling with apathy; "Russia," a politically inspired song from the new record; "Alamo," which she cleverly intertwined with lines from Sade's "Smooth Operator."
During "Juarez," she used the fallboard over the piano's keys to smack the body of the instrument for a startling percussive effect — just one example of her commitment to her raw materials.
To some degree, Amos was eschewing the pop-star stuff, because these days, she's not much of a pop star.
"Native Invader," with songs about nature and family and the uncertainties concerning government embodied by President Trump, is the singer's 15th solo studio disc; it comes long after Amos, who's 54, stopped creating radio hits (such as "God" and "Cornflake Girl") and began playing to an ultra-loyal core eager to hear her follow her every artistic impulse.
Lately, those have included theatrical works and forays into classical music. Yet "Native Invader" marks a return in a sense to the florid but earthy voice-and-piano sound of early records like "Little Earthquakes" and "Under the Pink."
The album's opening track, "Reindeer King," which Amos performed at the Ace, has the kind of swooping vocal melody and cascading piano part that made her a name brand in the early 1990s.
In Taylor Swift's 2017, though, that style hardly represents a mass-market proposition — unless, of course, it arrives in the hands of someone much younger, such as Adele or Sam Smith. (As Amos pointed out last month in an interview with Vulture: "Our industry … doesn't value women songwriters that are 50 and over.")
For Amos, then, this intimate presentation felt like a play for longevity — a means of fortifying her connection with fans so devoted that some leaped from their seats and rushed toward the stage for the singer's encore.
It's not right to say that Amos has lost her grip on her old star power, as that bit of commotion made clear; she's still a charismatic presence who can say plenty just by widening her eyes or by swinging a leg over her piano bench. Her singing too is as dynamic as it's ever been, with enough texture and emotion to make up for the instruments not being played Sunday.
But there was an almost selfless quality to the way she kept seeking to disappear into the music, especially in a sequence near the middle of the show when a video screen flashed a modified version of the Fox News logo that read "Fake Muse Network."
Here Amos was paying tribute to some of the tunes that had inspired her to write, including Joe Jackson's "Real Men" and John Denver's "Leaving on a Jet Plane." And although she was making them her own — the latter came mashed up with parts of Amos' "Merman" and "Operation Peter Pan" — what you really heard was her belief that a great song can outlast any singer.
Twitter: @mikaelwood
ALSO
U2 reaches for optimism — and pop success — on 'Songs of Experience'
Taylor Swift was the draw — but not the real star — at KIIS-FM's Jingle Ball
Grammys shut out white men in album of the year category for the first time
Get our L.A. Goes Out newsletter, with the week's best events, to help you explore and experience our city.
You may occasionally receive promotional content from the Los Angeles Times.