Meg Remy of U.S. Girls on using 'collaboration as a way to combat patriarchy'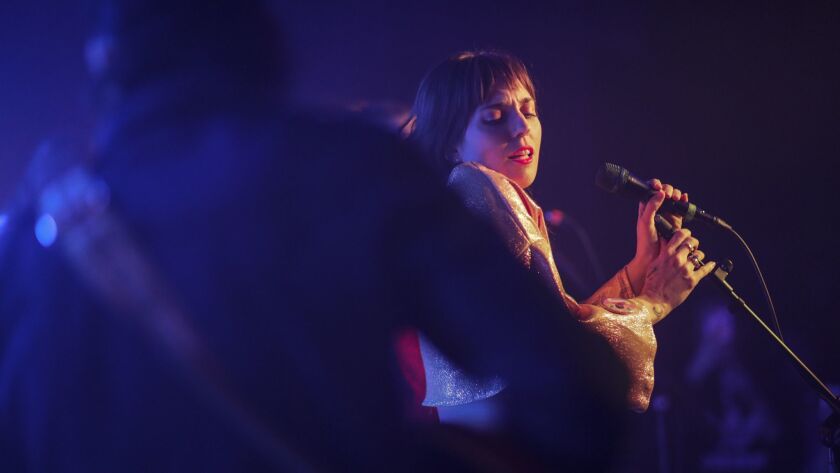 Pop Music Critic
The Canadian band U.S. Girls is in Austin, Texas, this week to perform at South by Southwest, which is precisely where you'd expect to find an act with as much positive buzz as this one.
The group's crafty and provocative new album, "In a Poem Unlimited," has earned rave reviews from the New Yorker and Pitchfork, and songs from the record have been streamed more than 1.5 million times on YouTube and Spotify — an impressive number for an outfit that started out as a scrappy one-woman project in an underground art-punk scene.
But if U.S. Girls' busy SXSW schedule reflects the growing interest in the band — it's set to play eight shows through Saturday, including gigs sponsored by Showtime and Volcom — Meg Remy, the group's frontwoman and mastermind, sounded less than enthused about the annual music-industry confab when asked about it shortly before she headed to Austin.
"I think it's a racket," she said of the festival that's long presented itself as a showcase for undiscovered talent. Remy's contention is that SXSW has gotten so crowded in recent years that now the only acts to gain any notice are those, like U.S. Girls, with some established heat.
"I feel bad for the musicians submitting to play," she continued, "because they're getting swindled."
Speaking powerfully on behalf of the marginalized — that's a big part of what Remy does on "In a Poem Unlimited," which features songs narrated from the point of view of a victim of domestic abuse, of a refinery worker whose health is damaged by exposure to dangerous chemicals, of a woman coaxed by a lecherous St. Peter into offering up her body to get into heaven.
The music is outraged yet clear about the systemic injustice it describes; the songs know how authority works to wear down the type of resistance that Remy nevertheless advocates.
"I've read the right number of books that have laid out something for me about the world," she said over coffee last week in Los Angeles, the day after U.S. Girls played a sold-out concert at the Moroccan Lounge. On her jacket, Remy, who lives in Toronto, wore a pin that read "Justice for Tina" in reference to Tina Fontaine, a 15-year-old Indigenous girl whose unsolved 2014 murder is viewed by many as a symbol of Canada's disregard for that community.
"I'm like, 'I can't believe what I've discovered!' And I just want to tell people about it."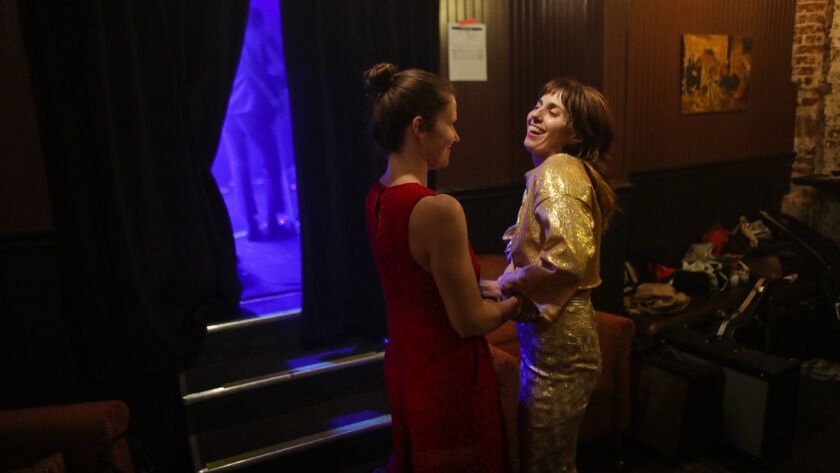 At SXSW, of course, U.S. Girls will to some extent represent the big-timers overshadowing the no-names with whom Remy sympathizes. So why go?
"I think my perspective is valid and should be shared," the singer replied. There's a more practical concern as well: U.S. Girls is touring behind "In a Poem Unlimited" as an eight-piece band, "and I need to pay these people," Remy said with a laugh. The connections she might make in Austin — with a festival booker, say, or a music supervisor — could help her meet her considerable overhead.
That backing band, called the Cosmic Range, also plays on the new album, a significant departure from the do-it-yourself samples-and-loops approach Remy took for her earlier work. Where previous U.S. Girls records reveled in fuzz and distortion, "In a Poem Unlimited" sets Remy's dark thoughts on capitalism and misogyny against lush pop arrangements that recall David Bowie, ABBA and Kylie Minogue.
At the Moroccan Lounge, where the musicians threatened to spill off the downtown venue's small stage, U.S. Girls thrilled in songs like "Pearly Gates" and "Rage of Plastics," which featured a killer sax solo.
The spectacle was infinitely slicker than the more experimental performances Remy gave in the years after she formed U.S. Girls a decade ago; her ambition with the new record, she said, was explicitly to reach listeners she'd never reached before, which required "speaking in a language they understand." (She even took vocal lessons to strengthen her singing.)
In a way, though, the catchy choruses and expert funk licks actually make her willfully unsettling songs that much more disturbing.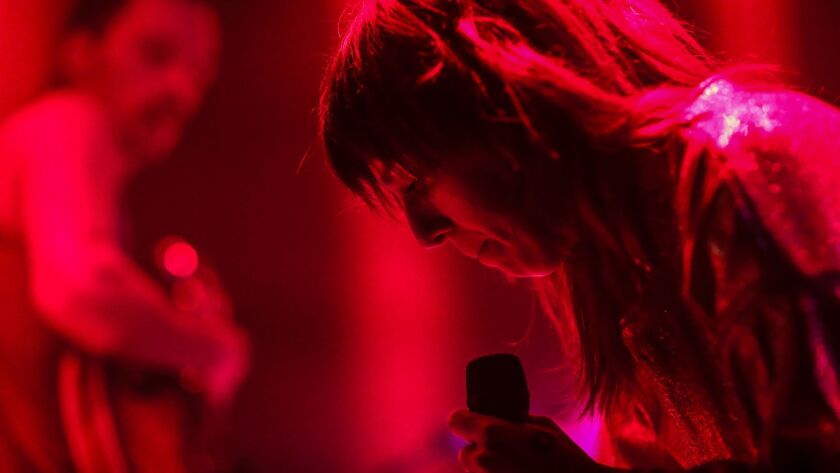 Asked whether it was a challenge to relinquish a degree of creative control — Remy happily explained how she'd given the Cosmic Range's members license to make their parts their own — the frontwoman shook her head.
"It's freeing," she said. "The music is me — I know that, so I don't need to beat it over anyone's head." Sharing responsibility had an activist edge too, she said, citing the British playwright Caryl Churchill, who emphasized "collaboration as a way to combat patriarchy," according to Remy.
"Patriarchy — and that could be a stand-in for capitalism — is not collaborative. You're not thinking about other people or the planet. It's just: What's best for me now?"
Remy acknowledged that adhering to her radical vision can be tricky in the commercial pop world in which she's now working.
"When there are no opportunities knocking at the door, it's easy to say no to everything," she said. But with "In a Poem Unlimited" turning heads, she's thinking hard about the spoils of success — at SXSW and beyond.
"What I'm doing, people are labeling it as political," she said. "But I'm also trying to make money, because we live in a world where you can't live without it.
"My husband still works three days a week at a bar," she went on, referring to Max Turnbull, who plays guitar in the Cosmic Range and makes his own music under the name Slim Twig. "The goal isn't to stockpile wealth or property — it's to make a living wage as artists and to protect the integrity of the ideas.
"And to make more opportunities for the people we know. I mean, paying our friends for a month to go on tour? It feels pretty great."
Twitter: @mikaelwood
---
The complete guide to home viewing
Get Screen Gab for weekly recommendations, analysis, interviews and irreverent discussion of the TV and streaming movies everyone's talking about.
You may occasionally receive promotional content from the Los Angeles Times.