Wango Tango 2016: Ariana Grande, Zayn Malik and Fifth Harmony kick-start Top-40 pop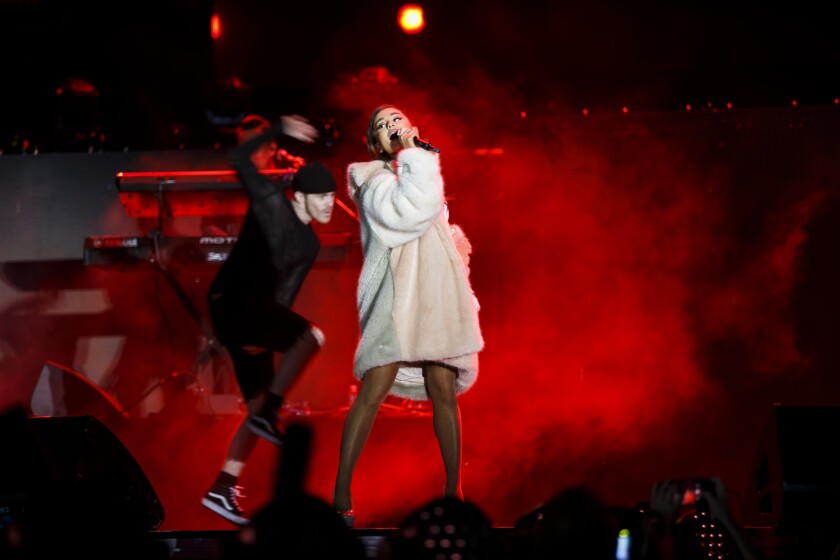 Saturday was a rough night for philandering husbands in the music business in L.A.
At the Rose Bowl, Beyoncé brought her album-sized pitcher of frost-brewed side-eye (widely believed to be about the peccadillos of her husband, Jay Z) on her "Lemonade" tour.
But down the 110 freeway, at the StubHub Center in Carson, Gwen Stefani dished out a bit of her own at 102.7 KIIS FM's Wango Tango.
"I hate liars!" she shouted, again and again, during the closeout of "Baby Don't Lie," a broody but snappy single from her new solo album, "This is What the Truth Feels Like." It was easy to imagine it directed at her ex-husband, the singer Gavin Rossdale, who was suspected of stepping out on her.
At Wango Tango, however, Stefani's domestic jabs were the exception, not the theme of the night. Wango Tango, the annual roundtable of young-skewing Top-40 pop, was typically upbeat but incorporated a wide assortment of sounds in surveying teenage tastes.
For starters, "tropical house" — a slow and summery dance music sub-genre that bubbled up through the daiquiri machines at U.S. festivals over the last two years — has now thoroughly infused the highest reaches of radio. Kygo, the genre's young Norwegian progenitor, played a sundown set at Wango, proof that singles like "Firestone" have left rave tents and moved squarely into America pop. Even some very non-EDM acts, like Meghan Trainor and Fifth Harmony, used the genre's synthesized steel-drums and loping tempos as a backdrop at Wango.
Same goes for the Chainsmokers, an affably bro-ish electro duo who followed up a Coachella Sahara Tent gig this year with this near-headline spot at a Top-40 festival. Even the youngest tweens got roused for EDM-driven singles like "Roses," and the Chainsmokers made several references to having "Coachella moments" onstage Saturday. If that fest is skewing younger, it's no surprise a Ryan Seacrest-hosted event might whip in some Indio vibes as well.
To judge by same-day merchandise sales alone, Zayn Malik was the night's big attraction (someone send over one of those drippy alien-noir hoodies). The former One Direction member — and bearer of that band's best voice and most smoldering glances — found new rock edges in songs from his solo debut "Mind of Mine," a pretty but reserved debut. He flipped a '90s New Jack Swing vibe on "She Don't Love Me," and the eerie, airy ballad "It's You" was one of his best. He's still growing into a frontman, but Wango's fans seemed ready to wait.
Fifth Harmony showed no such reserve, as the quintet emerged with lockstep dance moves, lots of black leather and half a dozen singles that are indisputable jams. "Work From Home" is just as good as Rihanna's own employment-themed megahit on the radio right now, and Fifth Harmony's album "7/27" is shaping up to be one of pop's strongest LP's in 2016. Radio likes brooding boys and ferocious solo women these days, but Fifth Harmony is a reminder of the old virtues of a precision-crafted pop act.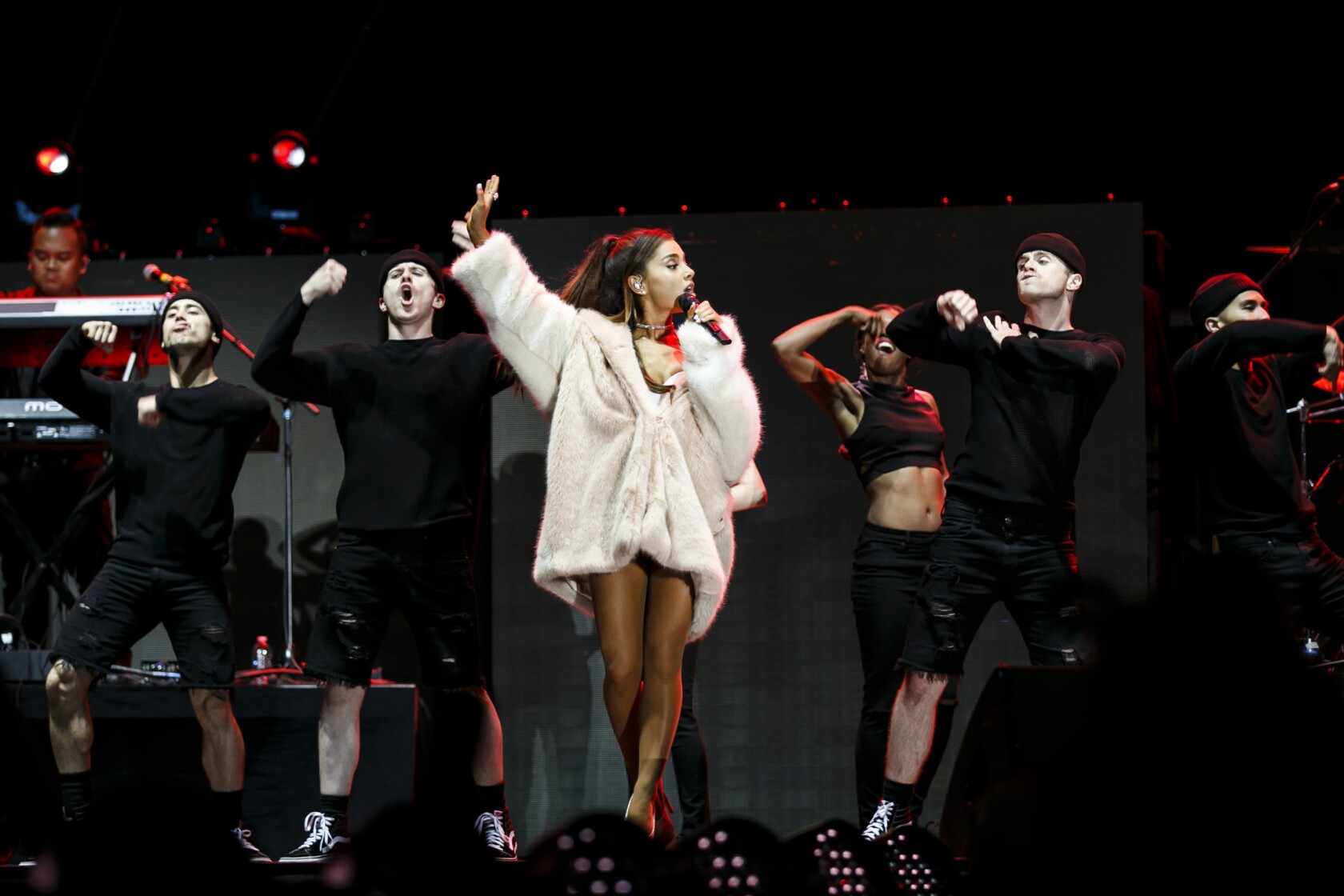 Ariana Grande and her dancers command the stage at the 2016 Wango Tango.
(Marcus Yam / Los Angeles Times)
Fans bring out their cellphones and illuminate the arena as the Chainsmokers perform.
(Marcus Yam / Los Angeles Times)
Gwen Stefani prepares to perform as the stage rotates into position at Wango Tango.
(Marcus Yam / Los Angeles Times)
A fan records Fifth Harmony's performance on a cellphone.
(Marcus Yam / Los Angeles Times)
Ariana Grande headlines Wango Tango in Carson.
(Marcus Yam / Los Angeles Times)
Daya performs at Wango Tango.
(Marcus Yam / Los Angeles Times)
Gwen Stefani works the crowd at Wango Tango.
(Marcus Yam / Los Angeles Times)
Meghan Trainor performs at Wango Tango.
(Marcus Yam / Los Angeles Times)
Fans light up their cellphones during the Chainsmokers' set.
(Marcus Yam / Los Angeles Times)
Ariana Grande, the belle of this Wango Tango ball, came out in a fur stole, jangly formal earrings and the biggest voice of the night. She blew right past some early technical glitches ("You guys are the only thing I can hear up here, and that's OK," she said as a backup dancer plugged her in-ear monitors back in) to take her place on Wango's throne. Grande is already a step ahead of her peers in using club-music techniques to enliven her pop: "Be Alright" and "Into You" refreshed some Ibiza deep-house tricks to great effect. "Dangerous Woman," the title track from her new LP, was the rare torch ballad that could do justice to her vocal pyrotechincs.
Was it truly dangerous? Maybe not. But all in all, Wango was a diverse and often encouraging night of pop music. Just keep the cheating husbands far away.
---
From the Emmys to the Oscars.
Get our revamped Envelope newsletter, sent twice a week, for exclusive awards season coverage, behind-the-scenes insights and columnist Glenn Whipp's commentary.
You may occasionally receive promotional content from the Los Angeles Times.