End of the Warped Tour: What the loss of rock's 'cheap, scruffy' roadshow means for the concert biz
Days before Andy Biersack joined his first Vans Warped Tour as an artist, the singer for the L.A. glam-metal band Black Veil Brides got a little overexuberant onstage. His band was playing a pre-Warped warm-up show in 2011 when, in a fugue state over finally making it on the bill, he stage dived off a piece of rigging.
He missed the landing. Biersack fractured several bones and had to spend the rest of his first Warped Tour wrapped in a protective body brace. But he wouldn't have missed those dates for anything.
"When I was a kid, there was no greater dream than to be on the other side of that fence as an artist," Biersack said. "It's next to impossible to describe the importance of Warped Tour in my life."
A lot of bands, fans and music-industry pros are thinking the same thing this summer. Warped Tour, the traveling punk and skate-culture festival, a teenage summertime fixture since 1995, is finally hanging up its Vans sneakers for good. This summer's edition — with Black Veil Brides co-headlining among dozens of acts — will be its last as an annual traveling festival.
Festival pioneer
Warped arguably laid the groundwork for modern U.S. festival culture. Its influence trickled up into mainstream pop, inspiring a hit Blink-182 lyric ("I couldn't wait for the summer at the Warped Tour…") and landing some of Beck, No Doubt and Katy Perry's major early tour dates. They were even among the first fests to mix hard rock and hip-hop: Eminem, Ice-T, Joan Jett and the Black Eyed Peas are all Warped alumni.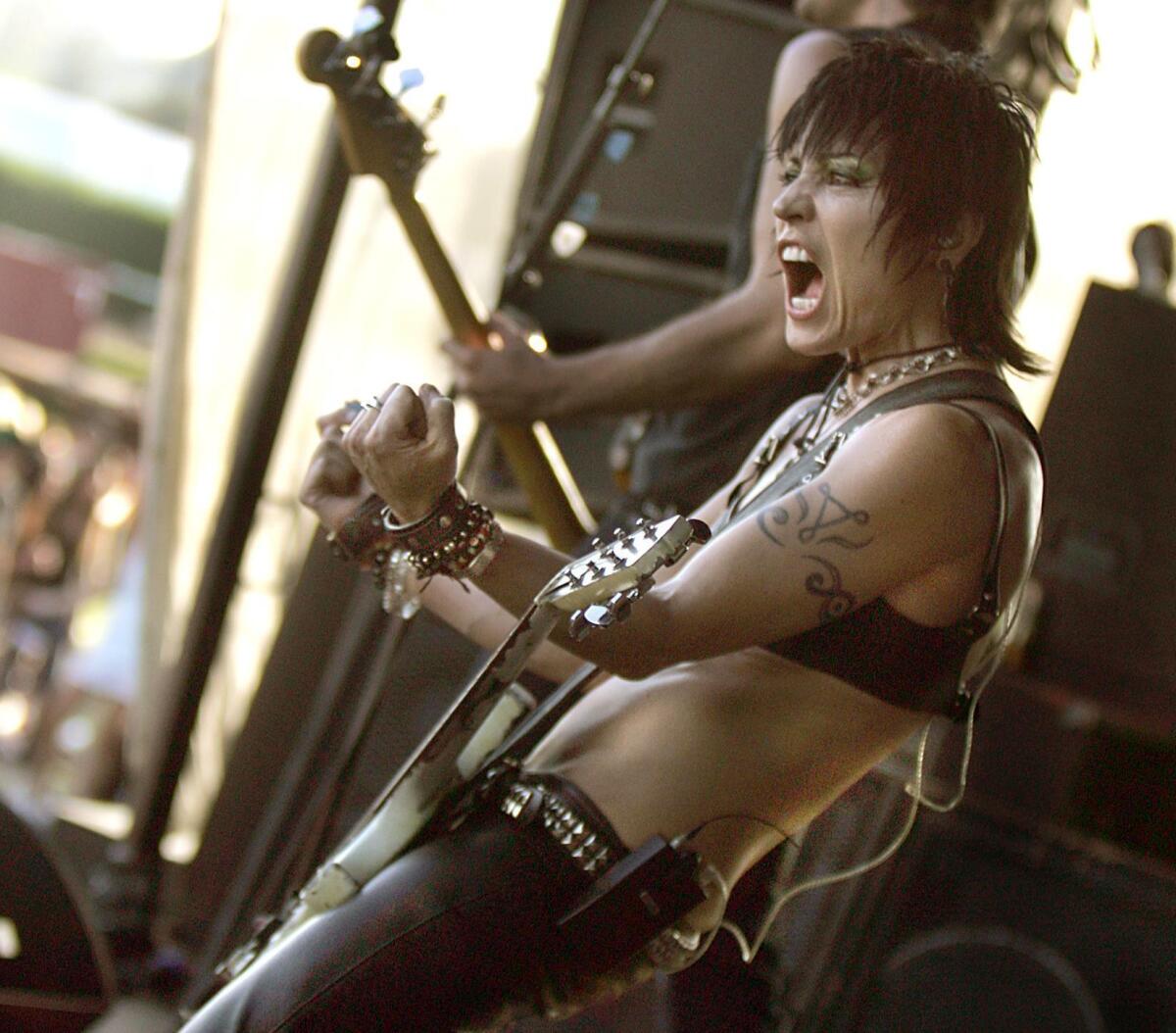 But as tastes, values and the music economy changed, Warped's model of cheap tickets, scruffy amenities and a genre mix that waxed and waned in fashion seemed to run its natural course. Evolving standards around diversity and #MeToo led to some soul-searching behind the scenes, especially after an artist was accused of misconduct while on Warped Tour.
Founder Kevin Lyman's legacy as a pioneer of American festival culture is indisputable, however. As preparations were underway for Warped's final run, which begins June 21 in Pomona and concludes Aug. 5 in West Palm Beach, Fla., he was seeming relieved, melancholy and hopeful.
"I'm getting notes from people in the business saying, 'You inspired me and showed me it was OK to be me,' or that 'I went to Warped where there were only 2,000 people there but I've never felt more energy at a show,'" he said. "We developed a way to reach youth and it's been a groundbreaking platform. Warped inspired kids to pick up instruments and start bands, and If you look at Coachella, so many of their department heads started on Warped Tour. The spirit will live on."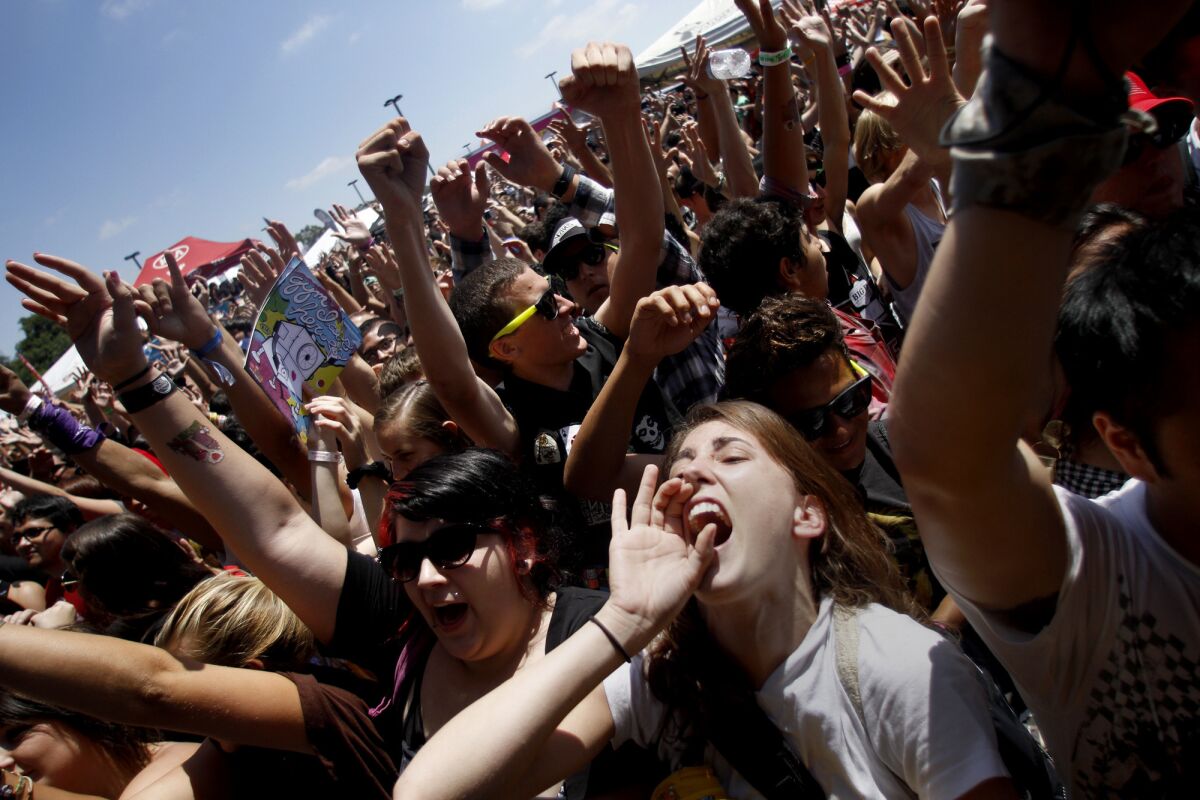 I created this fest for the other 90%. We made it close and accessible. Sweat, crowds, down and dirty.
— Kevin Lyman, founder of the Vans Warped Tour
Lyman's vision for the show proved more durable than even he imagined: it's closing up as the longest-running touring music festival in America. For generations of hard rockers, now with their own kids in tow at the parent chill-out zone, Warped Tour was often their first music festival or live concert (this Times reporter included).
"When Warped began, there just wasn't a festival culture in the U.S.," said Epitaph Records founder (and Bad Religion founding member) Brett Gurewitz. Epitaph bands like Pennywise and Bad Religion were fixtures on Warped for its entire life as a festival, and defined the sound it's known for. "Kevin brought it to the country," Gurewitz said. "He gave Epitaph bands a chance that they otherwise never would have had."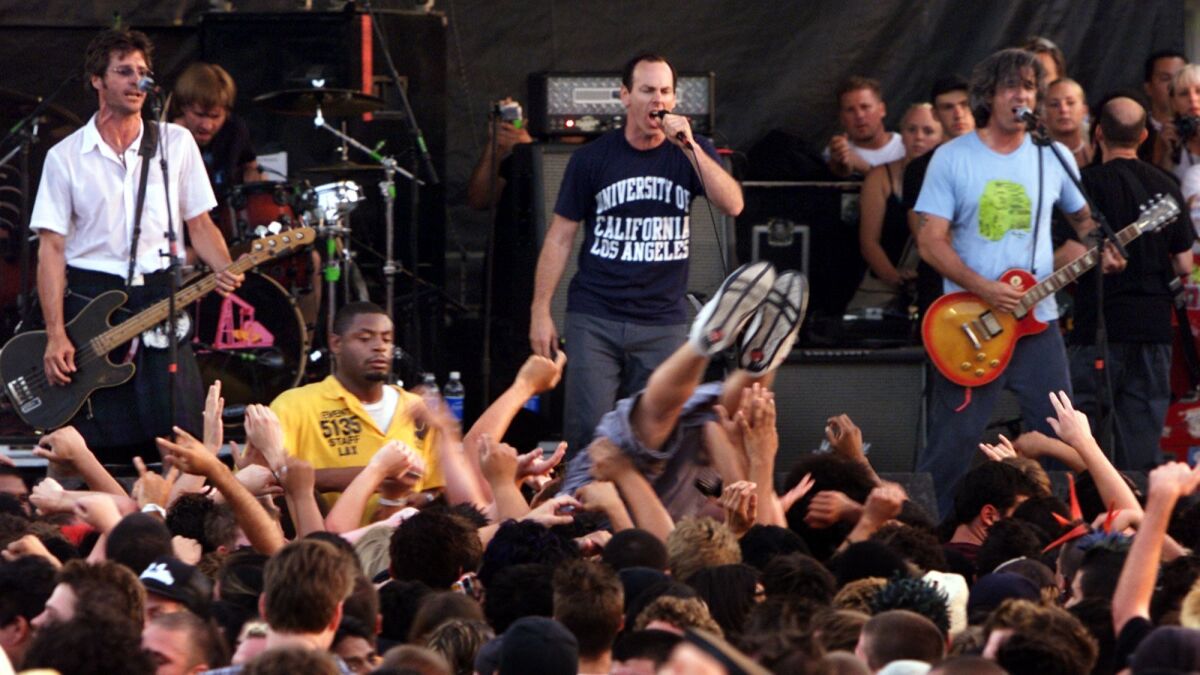 For Lyman, who worked at Goldenvoice during its pre-Coachella days as an underground punk promoter, his model for the show was unheard of at the time: pack as many punk, metal and other rabble-rousing acts as he could on the bill, pay them just enough to pencil out with a notably low ticket price, and put them in front of markets (often rural or suburban) that major acts ignored. No VIP 'influencers' or glamping packages. Bands ate from the same backstage BBQ pit.
Lollapalooza came first, but Lyman saw something few other promoters did: that there were tons of underserved young rock fans in America, and if you brought the show to them, they'd become loyal. Festival culture would later shift toward luxury destination packages. But Warped's unlikely success with a neglected audience was a genuine revolution in American live music.
"I created this fest for the other 90%. We made it close and accessible. Sweat, crowds, down and dirty," Lyman said. "But festivals are like society as a whole now: it's all changing toward that top 10%. Bands would play Warped because they knew they were replenishing their audience. Now you make all your money on touring and no one can give that up. When you look at the box office, Warped always had the lowest ticket prices. Today we judge on money in music, and Warped was never about that."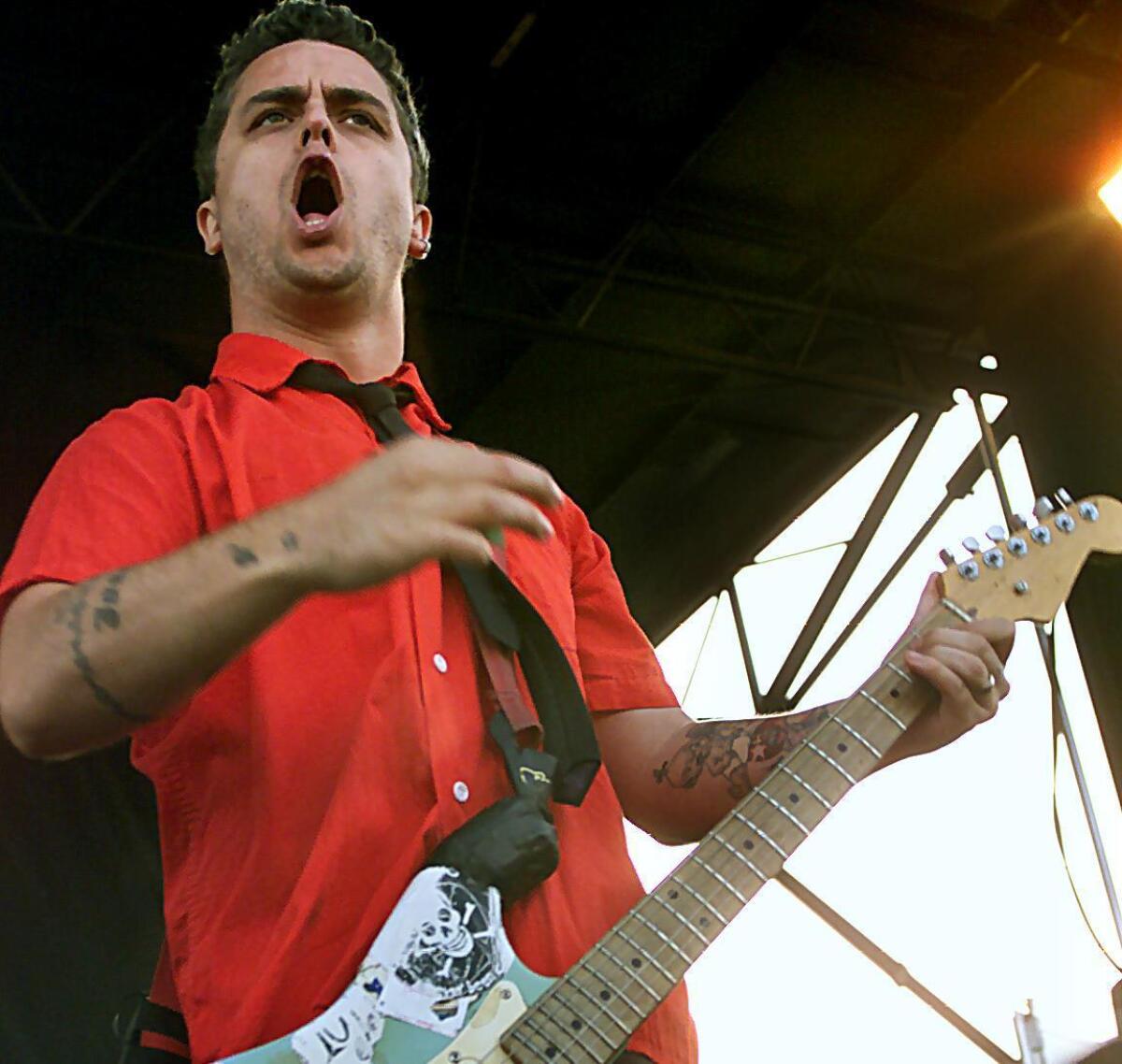 Fast reckoning
For as much as Warped pioneered festival culture in the U.S., any concert that lasts this long will see change around it. The last few years of reckonings have come especially fast at Warped Tour.
As with many music scenes, punk had longstanding issues around sexual harassment and misconduct — most recently with Brand New's Jesse Lacey apologizing after allegations that he'd solicited nude pictures from underage fans. In 2015, Warped Tour had its own pre-MeToo reckoning when Jake McElfresh, who performs as the folk-punk act Front Porch Step, played the festival after being accused of online sexual misconduct with fans (prompting one disappointed Warped veteran, Paramore's Hayley Williams, to ask "What happened to our scene?").
"I learned a lot during that period," said Lyman. "I wasn't an expert on all this. But I took expert advice and now I'm more educated. Even before #MeToo, Warped was run by women. But I realized it's an issue that we can't handle the way we used to."
Last year, Warped gave the politically outspoken group War On Women a major slot, and incorporated singer Shawna Potter's organization Safer Scenes into its activism programming. The gesture was well-received, but some of the dark streaks in punk emerged when the singer from the Dickies erupted with a violent, misogynist onstage rant toward a woman from Safer Spaces who held up a sign during the band's set that read, "Teen girls deserve respect, not gross jokes from disgusting old men!"
"They were brave enough to bring an outspoken band like ours out with them and not everyone is," Potter said. "I want people to know they can ask for advice on how to make their shows safer, what proactive measures they can take, as well as how to handle specific incidents. Because we take an overtly political stance, people that are searching for that in music, or even just wanting to feel secure that a band they like has their back, they'd seek us out and express gratitude for us being there."
For a variety of reasons, Warped Tour may not be the ideal format for reaching those young fans anymore. Even Lyman himself says that he's seen changes in the reasons people go to festivals, and how social media has turned a nominally freewheeling staple of teenage life into an occasional viper pit — a cultural shift that other promoters should worry about too.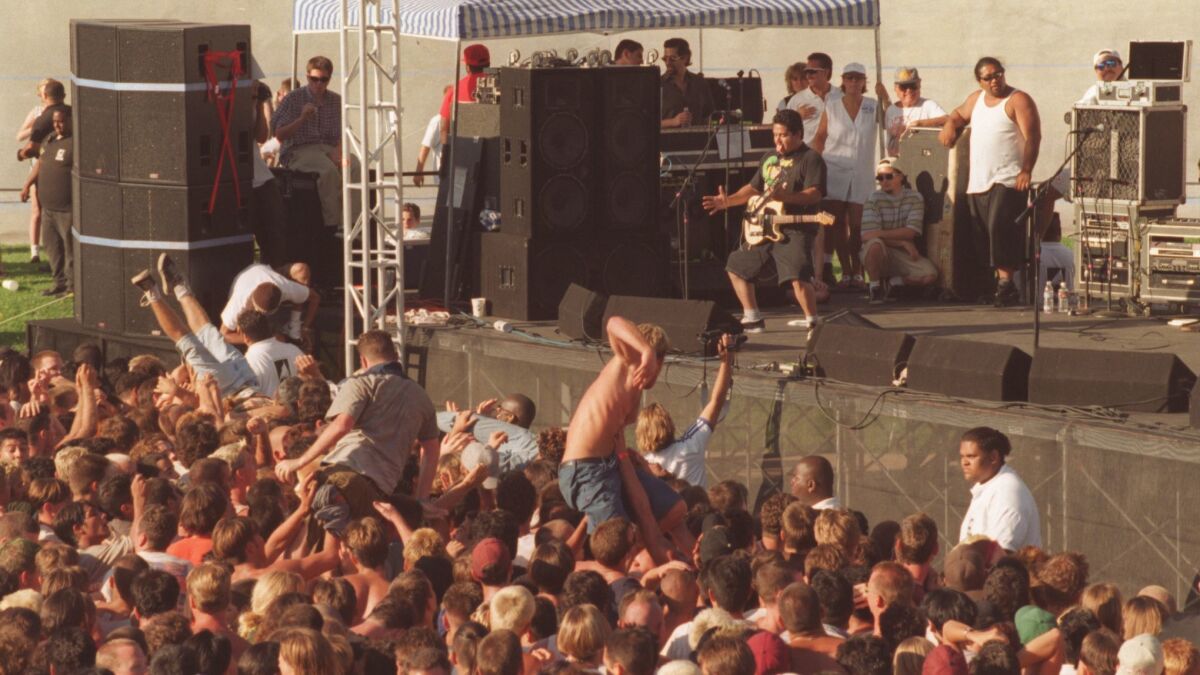 As tastes, values and the music economy changed, Warped's model of cheap tickets, scruffy amenities and [an idiosyncratic] genre mix ... [has] run its course.
"Before, you'd show up and stand in line and you'd judge a band face-to-face. Now you decide you don't like someone just based on social media," Lyman said. "Like, acts will say, 'I don't wanna be a 'Warped Tour band.' But there are bands that have been around 25 years who are 'Warped Tour Bands.'"
"When you're 14 to 17, you used to come to festivals to explore, and that's pretty much disappeared from festivals now," Lyman added. "Now kids want to stay home, and we're headed for dark clouds as an industry when those 15-year-olds become 18-year-olds."
Yet for those former teens who passed through Warped's gates every summer for nearly 25 years, Lyman's big idea reshaped their lives and ambitions for music, which in turn transformed the entire U.S. concert industry in its influence.
"Yeah, bittersweet is apt," Black Veil Brides' Biersack said. "If you're 19 to 35 today, I don't know of anything else that's had a similar impact. What he created will always be the best thing that could have happened to this genre and culture. I met my wife on Warped Tour, so Kevin Lyman has had a bigger impact on my life than just about anyone."
As for Lyman himself, he's far from retiring. He's taken a new position as an associate professor at USC's Thornton School of Music, where he'll teach a new generation of promoters and artists about building a lasting concert brand in an ever-faster-evolving industry. He's also using Warped's platform to start a new initiative around fighting opioid addiction in youth.
He doesn't believe that any one thing will rise to fill the void left by Warped (or even that something should). Fans have different expectations and demands for concerts today, and the music business may well not be interested in supporting a similar vision for a dusty, low-cost madcap punk festival again.
But as he prepares to wind down Warped, Lyman is confident someone will think of something brand-new instead.
"Any time anything feels too formulaic, there will always be young people who create it for themselves," Lyman said. "Like me in 1995, I know there's a kid out there right now thinking about how to kick Lyman's ass."
ALSO
1999: Warped Tour charms fans with punk, hip-hop extremes
2000: Warped Tour brings music, not mayhem to rock fans
2002: Rebellion pays off for Warped Tour
2015: Warped Tour giving away free tickets to parents of under-18 attendees as the festival turns 21
2007: A Warped Tour photo gallery the year Pennywise, Bad Religion, Keith Morris of the Circle Jerks, New Found Glory and Yellowcard played
1997: Sunchild is on rise with Warped Tour
For breaking music news, follow @augustbrown on Twitter.
Get our L.A. Goes Out newsletter, with the week's best events, to help you explore and experience our city.
You may occasionally receive promotional content from the Los Angeles Times.