Wayne Kramer survived volatile years with the MC5, and now he's ready to celebrate
In a small rehearsal space near downtown Los Angeles, five hard-rocking men are getting weird. Out front is Wayne Kramer, formerly of the notorious proto-punk band the MC5 and now a month past 70, slashing at a stars-and-stripes electric guitar through a song of stretched-out rock and jazz called "Starship."
The tune is from the MC5's hugely influential 1969 debut album "Kick Out the Jams," and Kramer is leading a rehearsal of journeyman musicians for an international tour marking the record's 50th year. He tells them that the song — incorporating lyrics from the late far-out jazzman Sun Ra — aims for a balance "between as much noise as we can make and as little noise as we can make."
Singer Marcus Durant is on his knees, blowing into a small xaphoon flute, as drummer Brendan Canty (of the post-hardcore act Fugazi) uses mallets to pound a rumbling beat. Right beside them is another guitarist, Kim Thayil of Soundgarden, moving closer to Kramer for a duel of wild, improvisational noise.
"The goal for him is to be in the moment. He's a real jazz-o," says Canty, a self-described MC5 fanatic, of working with Kramer. "You've got to watch him like a hawk."
The MC50 tour, which arrives at the John Anson Ford Theatre on Friday (Oct. 5), is built around a complete performance of the "Kick Out the Jams" album, recorded during two feverish nights in October 1968 at the Grande Ballroom in Detroit, the band's hometown. The album introduced the MC5's startling fusion of driving hard rock, free-form eruptions and radical politics.
"We were 19-year-old punks on a meth power trip," Kramer says with a laugh of the early MC5 (a.k.a. the Motor City 5), which disbanded in 1972 after a short but eventful career. Playing that same music now is a serious endeavor.
"Jesus, I've been playing the guitar for 60 years, and I've been playing MC5 for 50 years," he adds. "I better play it better now than I played it then."
Kramer recounts those days and a lifetime as a musician, activist, federal drug prisoner and, late in life, family man, in a vivid new memoir, "The Hard Stuff: Dope, Crime, the MC5, and My Life of Impossibilities." Several chapters are devoted to the birth, rise and collapse of the MC5, beginning with the band's first police riot in 1967.
They were the house band for the radical White Panther Party, and the MC5's early notoriety within the rock counterculture landed the group on the cover of Rolling Stone magazine ahead of the release of "Jams," finding the musicians at the center of a swirl of wild times and government surveillance.
There were no big hits, but the uncompromising rock found on the MC5's three albums left a mark. Along with the Stooges, Velvet Underground and the New York Dolls, the MC5 was an essential inspiration to the first wave of punk in the mid-1970s and for later generations of adventurous, alternative rock musicians.
Kramer is one of only two surviving members of the original MC5 (drummer Dennis Thompson is not participating in the MC50 tour). For his current band of recruits, the appeal of that history is not only musical but based on the MC5's fearless confrontation with its political moment, including a performance outside the 1968 Democratic Convention in Chicago as police helicopters hovered.
"The MC5 were not just political but hyper-political, and used their music towards that," says Canty, 52, who is also a documentary filmmaker. "That's something we all really looked up to."
The MC50 tour's first gig this year was in June at the Northside Festival in Aarhus, Denmark, and the younger players watched Kramer closely.
"He came out on fire, and it was such a catalyst for me to step it up," remembers Durant, formerly of Zen Guerrilla. He's a tall, bushy-haired shouter filling in for the late, bushy-haired vocalist Rob Tyner. "At one point Kim, who is reserved on stage, he grabbed me on the arm and was like, 'This is great!'"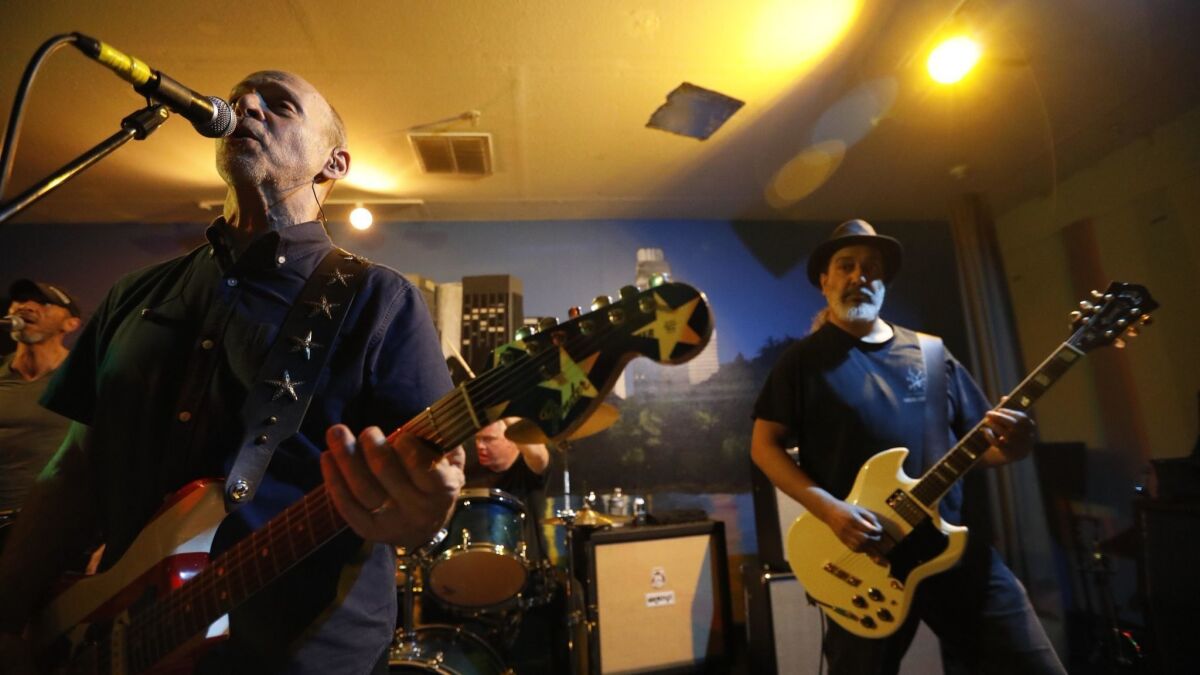 The MC50 tour marks the first musical project from Thayil since the sudden end of Soundgarden in 2017, following the suicide of singer Chris Cornell after a concert in Detroit. Thayil had been inspired by the MC5 as a teenager growing up in suburban Chicago, and when Kramer called, it was an immediate yes.
"The timing was unbelievable," says Thayil, 58, bearded with a graying ponytail unfurling from beneath a pinstriped trilby hat. "I told my wife, and she started crying because she's thinking about the context, and she knew how much I like the MC5. It almost seemed scripted for the situation."
Stepping into the guitar position of the late Fred "Sonic" Smith, Thayil says he learned the complexity hidden within hard rock tunes he once thought straightforward.
"Wildness is probably one of the most important things about rock 'n' roll: chaos, rebelliousness," adds Thayil. "When people do things within the lines, that's obnoxious. They're missing that point. The MC5 didn't do that."
For Kramer and his MC5 brethren, the thrill of the band's first years was eclipsed by career disappointments and worsening drug habits. The original camaraderie of the five Detroit firebrands turned to resentment and fatigue as band members began peeling away.
Kramer lived as hard as any of them, and has no clue as to why he's still standing and playing, and three others — Tyner, Smith and bassist Michael Davis — are gone.
"There is a high attrition rate, especially in the drug and alcohol crowd. Even though a lot of my behavior was self-destructive, I never intended to destroy myself," Kramer explains. "No matter how bad my hangover was, I enjoyed waking up in the morning."
The distinctive U.S. flag guitar Kramer plays at rehearsal today is not the same instrument he famously wielded in the 1960s. "No, the original went in the little hole in Wayne's arm," Kramer says, referring to his worsening drug habit those years. "I needed the money. It was just a thing, so I sold it."
When the band finally collapsed completely in 1972, he turned to small-time drug dealing in Detroit and a life of crime, and found himself no longer in the company of musicians, fans and activists, but with gangsters and cutthroats. He was still playing music — or trying to.
In 1974, Kramer was busted by the federal Drug Enforcement Administration and sentenced to prison in Lexington, Ky. Looking back now, he sees his 2½ years there as saving his life. At the height of his drug habit and criminal behavior, he was taken from the streets and locked away.
"To be pulled out of that world and eating three meals a day, working out and getting good rest," he says now, "that went some distance to saving my liver and other internal organs."
For a time, Kramer's name was replaced by a prison serial number: 00180-190. He spent his down time practicing guitar, which only accelerated with the arrival of a new prisoner — bebop trumpeter Red Rodney, veteran of the Charlie Parker Quintet.
"He was a mentor for me — not only in music but in life in general. I'd struggled with alcohol and drug dependency. So did he," Kramer says of Rodney. "I got to see through Red where this could lead. This was Red's third or fourth trip back to prison. I wasn't too sure that's what I wanted to do."
Kramer's last album, 2014's "Lexington," was a straight-ahead jazz recording (reaching No. 6 on Billboard's jazz chart) that was inspired by his stay at the prison he now jokingly calls "My old Kentucky home."
Years later, his prison experience led Kramer to "ethical action" as the force behind the U.S. branch of Jail Guitar Doors, a program to bring guitars into prisons. The program, which originated in the U.K., is named after a song by the Clash called "Jail Guitar Doors" that Kramer discovered was partly about him, with the lyrics: "Let me tell you 'bout Wayne and his deals of cocaine/A little more every day ... Then the DEA locked him away."
Through his efforts, the program has donated guitars to more than 60 American prisons and jails. Kramer and a crew of volunteers lead frequent songwriting workshops and has brought in well-known musicians to visit and perform, including Tom Morello and rapper Chuck D. of Prophets of Rage.
"You give me $500 and I can take a half-dozen guitars into a prison. That's real," says Kramer. "Those guitars are in somebody's hands. They feel better that day about themselves and the world they live in because they played guitar. It's a simple principle."
The current MC50 tour arrives at a moment of special significance for the guitarist, who makes his living now as a composer for film and television. While Jail Guitar Doors remains a central effort, his life changed in 2013 when he and his wife, Margaret Saadi Kramer, adopted a baby boy, Francis.
Reigniting the music of the MC5 again can now only be an exhilarating side trip to life as a parent, which he calls "the central issue in my life." But at that first show in Denmark, the reasons for doing it were never clearer.
"Everyone is playing this material so well. The MC5 never sounded this good," he says with a laugh, recognizing that half the crowd probably had never heard of the MC5. "They hung through the whole thing and gave us a tremendous cheer at the end. It was gratifying."
♦ ♦ ♦ ♦ ♦ ♦ ♦ ♦ ♦ ♦
"Kick Out the Jams" 50th Anniversary Concert: MC50 (with Wayne Kramer, Kim Thayil, Brendan Canty, Marcus Durant, Billy Gould), Starcrawler, Jason Heath & the Greedy Souls
When: Fri, Oct. 5, 8 p.m.
Where: John Anson Ford Theatre, 2580 Cahuenga Blvd E
Price: $35-$150
Info: www.fordtheatres.org
---
Get our L.A. Goes Out newsletter, with the week's best events, to help you explore and experience our city.
You may occasionally receive promotional content from the Los Angeles Times.