With 'Emanon,' legendary saxophonist Wayne Shorter finds a way to marry comic books and jazz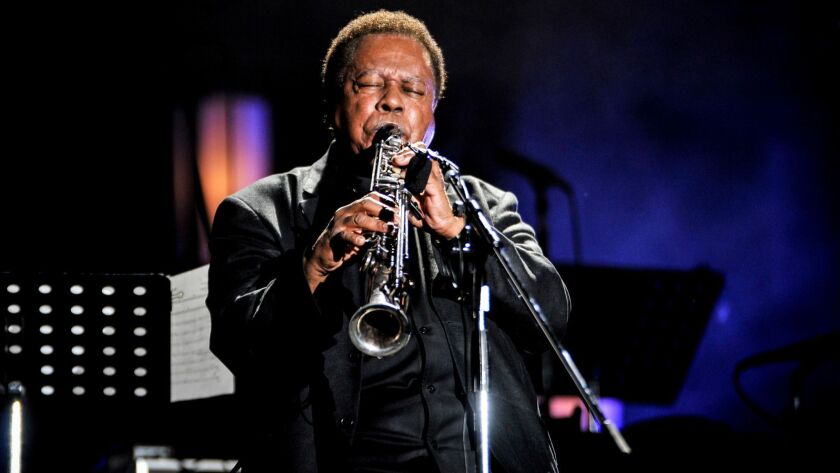 "Just before he died," recalls Wayne Shorter, "Miles Davis called me and he said, 'Wayne, write something for me with a chamber orchestra, strings and everything. But put a window in so I can get out of there.' "
In the 20th century, the saxophonist was one of the fiercest voices in modern jazz. He shoveled coal into the raging firebox that was Art Blakey's Jazz Messengers, demolished the infinite with the Miles Davis Quintet and wailed into the electrified ether of Weather Report.
But it is in the 21st century where Shorter seems to have found true artistic freedom.
Where Davis requested a window, Shorter has opted to completely remove the walls and even apply a little moon gravity. After turning 85 last month, Shorter on Friday will release his newest project, "Emanon," a triple album whose first disc revolves around a graphic novel he co-wrote. The result is one of the most ambitious jazz projects of the last 25 years, brimming with ingenuity and intergalactic lasers.
Shorter's longest-running band is his current quartet. After nearly 20 years together, pianist Danilo Pérez, bassist John Patitucci and drummer Brian Blade all generate a pinpoint telepathic awareness. The quartet appears on all three discs; on the first, they are joined by the Orpheus Chamber Orchestra, a conductor-less 34-piece ensemble that functions more as a fifth member of the band than a backdrop for a jazz quartet.
The four tunes comprising the first disc align with the graphic novel, a fluttering series of interactions with nods back to Shorter's early works; it peaks with "Lotus," a 15-minute triumph of swelling strings and Shorter's probing soprano saxophone.
Imagination and making moves into the unknown. We just go together. Nobody changes their stance or emotions. No, stay as you are.
— Wayne Shorter
"Everything in the universe is connected," the musician says with his trademark mysteriousness not long after his birthday. "Imagination and making moves into the unknown. We just go together. Nobody changes their stance or emotions. No, stay as you are. We come in there as a quartet, and everyone more than coexists."
"Emanon" is the second album of Shorter's reunion with Blue Note Records. The 79-year-old label, now part of the Capitol Music Group, first released a Shorter album in 1964, "Night Dreamer," the first of nearly a dozen confident, small band records Shorter would release before the end of that decade.
Don Was, Blue Note's president, was raised on those albums and persuaded Shorter to rejoin the label several years ago. Was has invigorated Blue Note, drawing it simultaneously back into tradition while also putting his artists squarely in the present, arbiters relevant beyond the niche corner jazz is often relegated to.
It was Was' idea to integrate a graphic novel.
"There is nothing quite like this. That was the allure for Wayne," Was says from his office in the Captiol Records building . "As a record company learning how to make a book, which seems kind of simple if you are just starting out doing it, it was a real discovery process. It's not the normal delivery process for music."
Co-written with screenwriter Monica Sly and illustrated by Randy DuBurke, "Emanon" the book is a unique experience, but not entirely unexpected for Shorter. The artist has been a fan of comics since he was a child.
"When i was kid, I liked the drawings of 'Prince Valiant.' Every one was like a picture frame," he says.
A carefully constructed art book, the graphic novel stands on its own as a bookshelf centerpiece, alive with fisticuffs and celestial explosions — a futuristic adventure across multiple universes from a man who has long spoken lovingly of the medium. When provided a soundtrack, it enters another level of existence.
"I don't think many people will separate the works," Shorter says. "The graphic novel fits the forward, undaunted stuff that is going on in the music."
Every performance by Shorter is a master class, and discs 2 and 3 show the very essence of that knowledge. From the opening, a nearly 30-minute slow-burn take on "The Three Marias," the same tune that closed Disc 1, the quartet is untethered. Blade's brushes rustle in shadows more than they keep strict time on his drum kit. Patitucci flows with the current, while Pérez brings the muscle, probing with assertive punctuation at the piano. With tenor sax in hand, Shorter unfurls full-throated on the meditative tune.
On "She Moves Through the Fair," the quartet roars, Shorter fluttering purposefully amid Blade's thundering exclamation points. As part of a set recorded live in London, Shorter lays bare the process, his unending search for sound showing a few of the possibilities.
"I go inside and start to move around," he said. "Just imagine if you could do that and move people to want to take chances just like you, chances in their daily lives, no matter their endeavor."
Shorter views the big picture and shows no signs of slowing. He is working on an opera with bassist and vocalist Esperanza Spalding. In December, he will receive a Kennedy Center Honor. Considering John Coltrane's highest-charting album was released this summer, more than 50 years after his death, Shorter knows the music will continue on as long as there are ears to listen.
"There's nothing stopping it. Nothing is finished in life. I think of Beethoven's nine symphonies as one. It's a testament to the eternal condition that exists, whether you believe it or not. I don't think about it with my own music. 'Yeah. You guys got it? Then it's in your hands.'"
"Emanon" is a decadent undertaking, impossible to parse in a single sitting. It consumes the living room, commandeering the sound system and coffee table. It asks a lot of the listener. but through a medium that many people have spoken in since childhood.
It is an exclusive delve into an artist who has shared his innermost vibrations with the world for more than 60 years. "The multiverse exists," proclaims "Emanon." Shorter is living proof.
---
Your essential guide to the arts in L.A.
Get Carolina A. Miranda's weekly newsletter for what's happening, plus openings, critics' picks and more.
You may occasionally receive promotional content from the Los Angeles Times.