Woodstock 50 music festival is canceled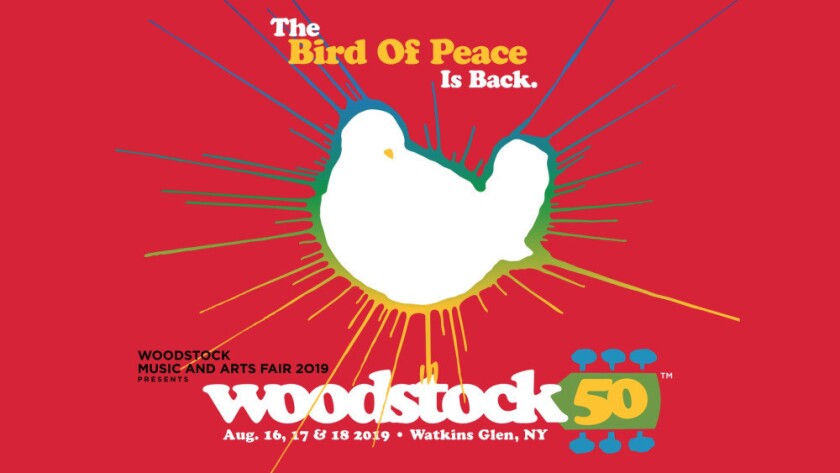 The 50th anniversary celebration of Woodstock, dubbed Woodstock 50, has been canceled, according to a statement from the festival's financial backer, Dentsu Aegis Network.
The three-day event, scheduled for Aug. 16-18 in Watkins Glen, N.Y., was to feature dozens of artists, including the Killers, Miley Cyrus, Chance the Rapper and Dead and Company. Its goal: to celebrate the influential 1969 music festival dubbed "three days of peace, love and music."
In the statement given to Billboard, Dentsu Aegis Network, a multinational media and digital marketing company, wrote:
"It's a dream for agencies to work with iconic brands and to be associated with meaningful movements. We have a strong history of producing experiences that bring people together around common interests and causes, which is why we chose to be a part of the Woodstock 50th Anniversary Festival. But despite our tremendous investment of time, effort and commitment, we don't believe the production of the festival can be executed as an event worthy of the Woodstock Brand name while also ensuring the health and safety of the artists, partners and attendees."
The statement concluded: "As a result and after careful consideration, Dentsu Aegis Network's Amplifi Live, a partner of Woodstock 50, has decided to cancel the festival. As difficult as it is, we believe this is the most prudent decision for all parties involved."
Skeptics maintain that Woodstock 50 was doomed from the start. The Watkins Glen site is the same plot of land that jam band Phish had secured in 2018 for its Curveball festival.
After selling out two 90,000-capacity concerts, however, Phish was forced to cancel on a few days' notice after a rainstorm contaminated the water supply, making it unsafe for human consumption.
Woodstock 50 was scheduled for the same weekend as last year's canceled event.
One high-placed agency executive said the roster for the event was too similar to other, more established annual festivals for it to stand apart.
"The festival momentum, while it's still big, has peaked," said the executive, who requested anonymity because the exec was not authorized to speak on the record. "There's not much more to it. If anything, it's gone younger and more poppy." Woodstock 50, the executive added, "ended up booking a pedestrian lineup."
The event was promoted to honor the iconic music festival that occurred outside Bethel, N.Y., on Aug. 15-17, 1969. Featuring performances by Jimi Hendrix, Janis Joplin, the Who, Sly & the Family Stone and others, the event was a defining cultural moment of the era. It was co-founded by Michael Lang, who was involved in the anniversary concert.
A statement by organizers given to the Poughkeepsie Journal, however, says the festival is still occurring. "Woodstock 50 vehemently denies the festival's cancellation and legal remedy will [be] sought."
If it does occur, exactly who will perform at Lang's festival is an open question. At least one agent involved with acts booked for Woodstock 50 sent a letter Monday informing his clients that the event wasn't happening.
The Woodstock 50 organization has not responded to requests for comment.
Dentsu Aegis Network was an unlikely financial partner for the festival from the start. The company, whose self-described mission is, in part, to "develop data-driven strategies for personalised experiences that maximise customer advocacy and value," is unknown to most music fans.
A subsidiary of the Japanese public-relations and advertising powerhouse Dentsu, the London-based company has worked for such clients as Disney, HSBC and Toyota.
The media coverage that followed the Fyre Festival, a failed 2017 destination event, offers a case study in the ways in which misguided branding can ruin reputations.
This isn't the first time a celebration of Woodstock's legacy has gone south. In 1999, the Woodstock '99 festival promised more peace, love and music. Instead, the event, which featured headliners including the Red Hot Chili Peppers, Limp Bizkit and Green Day, spawned three days and nights of overflowing toilets, bonfires and sexual assaults.
The 50th anniversary concert was to be notably less aggro. In place of rap-metal and commercial punk bands, promoters had booked softer-edged, folkier acts such as Edward Sharpe & the Magnetic Zeros, Margo Price and Dawes. It had also booked acclaimed rappers Vince Staples, Run the Jewels and Earl Sweatshirt.
Asked by the news site Hudson Valley One whether the shift away from hard rock was intentional, Woodstock cofounder Lang said it was.
"We are returning to our roots, and the reasons Woodstock happened in the first place," he said, adding that the contemporary political landscape warranted a reprise. "[W]e seem to be moving backwards, with what's going on with Black Lives Matter, and the #MeToo movement and global warming and the fact that we have a government that seems to want to ignore it."
Questions regarding the event's viability arose after the talent buyer for Woodstock 50 notified artists in mid-April that the original on-sale date, April 22, had been delayed. With that date looming, promoters had yet to secure proper permits from the New York State Department of Health, according to a report in Pitchfork.
Absent a partnership with an experienced festival promoter such as AEG Presents or Live Nation, Woodstock 50 faced significant challenges in successfully executing a multi-day concert with a hoped-for 75,000 attendees.
For tips, records, snapshots and stories on Los Angeles music culture, follow Randall Roberts on Twitter and Instagram: @liledit. Email: randall.roberts@latimes.com.
---
Your essential guide to the arts in L.A.
Get Carolina A. Miranda's weekly newsletter for what's happening, plus openings, critics' picks and more.
You may occasionally receive promotional content from the Los Angeles Times.