"Le Chateau" Nous Non Plus | 2005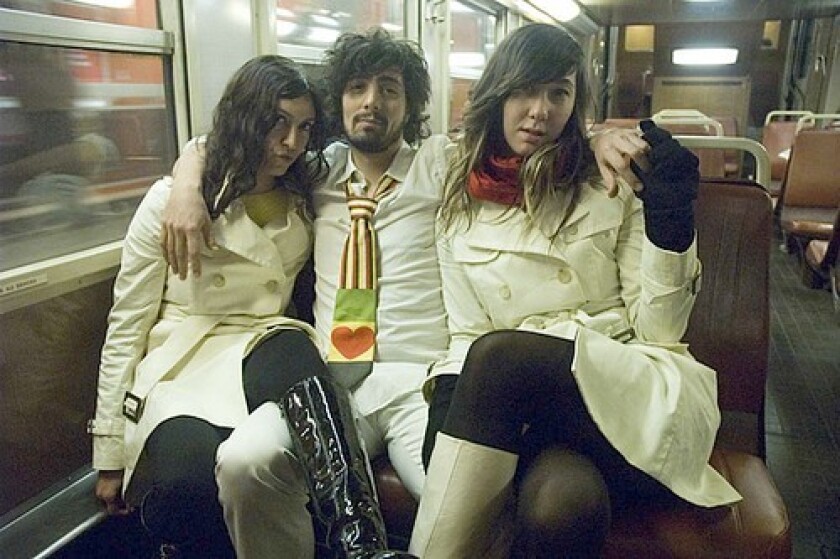 Los Angeles Times Staff Writer
Where does inspiration come from? Sometimes, apparently, it's born at poolside.
The first time Dan Crane went to the Chateau Marmont he had to sneak by security, and he ended up in the pool, skinny-dipping with friends and marveling at the star-dusted glamour of the storied hotel on Sunset Boulevard. Drenched and giddy, he looked up to see a blond starlet on a Gucci billboard watching over him. "I felt like I was floating on the leftover high of Jim Morrison and John Belushi and all the orgies in all the bungalows through the years."
The next time the Colorado musician padded across the patio, he actually had a room key. The year was 2005, and he was celebrating an anniversary with his girlfriend and once more drinking in the history of the place along with his cocktail. Then Matt Dillon walked by, movie script in hand, and pulled off his shirt. The actor plopped down on a chaise lounge and began rehearsing his lines. "He was sitting there in blue jeans and loafers -- with no socks, of course -- and he kept mouthing these lines and making that Matt Dillon face, you know, that intense one . . . somewhere between Bruce Springsteen and Bruce Willis."
All of this was swirling in Crane's mind when he wrote a loopy ode to the decadent, "Le Chateau," which he performs with his bandmates in Nous Non Plus, a faux French band based in New York. The lyrics are arch and a bit smug, like a dandy admiring himself in a lobby mirror.
The sun is shining on the Chateau
Last night's party -- too much blow
Rockstars, models, some guy named Terry
Garcon, s'il vous plait, un autre Bloody Mary
In Room 68, je fais le soixante-neuf
With a starlet who was pleasant, though somewhat aloof
The group got its start as a cabaret venture, but now its sound is electronica-kissed and deeply beholden to 1960s French pop. Think ye-ye camp, champagne bubbles with a whiff of psychedelia. It's all like some sort of beret-filtered version of the B-52s, or a low-fi Flaming Lips performing a tribute to Pepe Le Pew. ("Well, I can see the B-52s thing," sniffed Crane, "but I don't like to pull that Pepe Le Pew reference.")
On stage, Crane goes by the indelicate stage name of Jean-Luc Retard. (There's another singer in the group, billed as Celine Dijon -- the really funny thing is that she's actually French.) Crane is also making a name for himself in other ways: He has another alias, Bjorn Turoque (it's pronounced "born to rawk"), and gained fame in the sly mockumentary "Air Guitar Nation." His next goal? Playing a poolside show at the Chateau Marmont.
"It's just so classic. It's like an oasis. It's feels so strangely pure. It doesn't seem polluted when you're there. And I don't want to be polluted. I want to be pure."
---
Inside the business of entertainment
The Wide Shot brings you news, analysis and insights on everything from streaming wars to production — and what it all means for the future.
You may occasionally receive promotional content from the Los Angeles Times.