Review: Abel Tesfaye, a.k.a. the Weeknd, has hall smoldering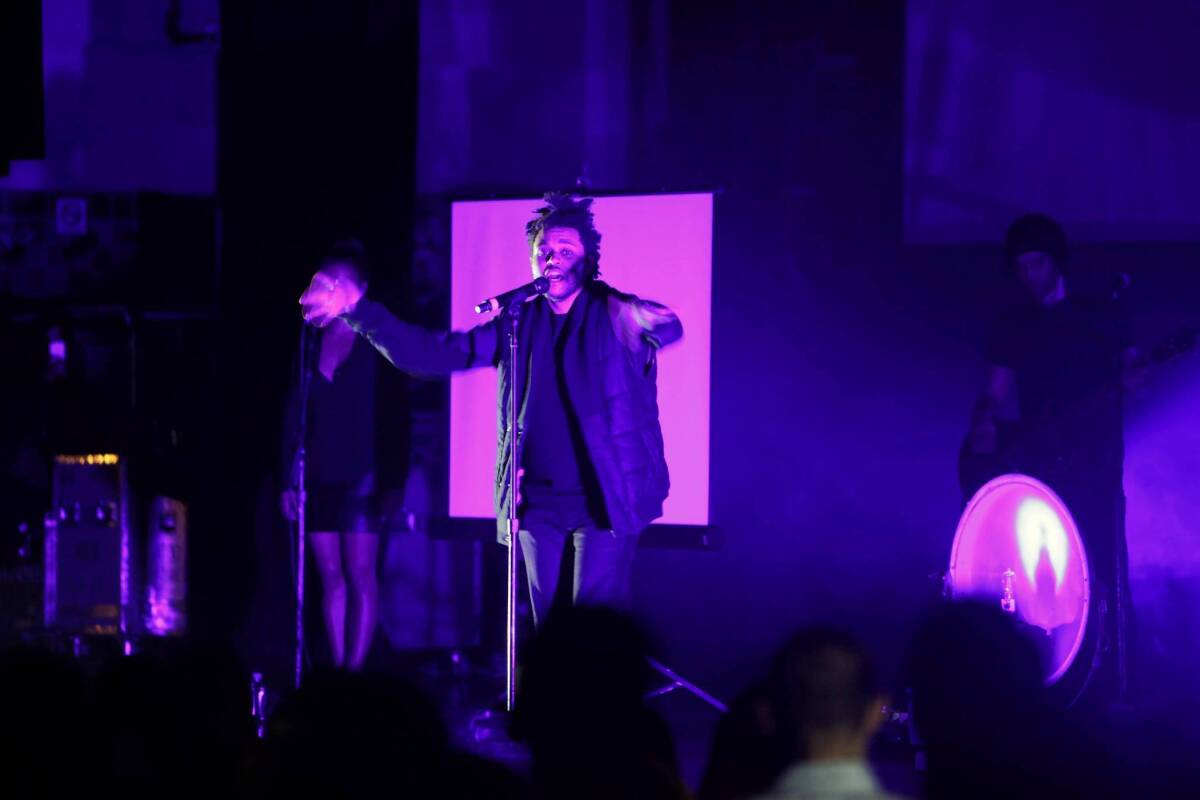 Abel Tesfaye knows how to build a fire. On Saturday night at the Orpheum in downtown Los Angeles, appearing under his pseudonym the Weeknd, the 22-year-old singer and producer lighted a metaphorical match the moment he and his band walked onstage. As the ladies cooed and the men yowled, Tesfaye set the theater to smoldering.
He did it with a song called "Loft Music" from "House of Balloons," a 2011 nine-track free download that introduced the Weeknd, from Toronto, to the world. The EP seemingly came out of the blue, a quiet, candlelit collection from a 20-year-old reared on a shuffle-play variety of soul, quiet-storm R&B;, hip-hop, funk, indie rock and post-punk and driven to connect the dots.
"Loft Music" warmed the theater from the start. Set in the bedroom of a "two-floor loft in the middle of the city," Tesfaye sang to a lucky woman of a brain melting and a soul "livin' for the present and the future don't exist." Like any self-obsessed (and horny) young man, he used this line as a ploy to get her naked and did so with the confidence of a hunk who understands his allure.
PHOTOS: Best albums of 2012 | Randall Roberts
This is a once-in-a-lifetime opportunity, he seemed to suggest: "You may never get a chance like this to show off, show off, show off what you talking about." The women in the crowd — mostly young twentysomethings who roared when Tesfaye cited his age in a lyric — lapped up this assuredness. The guys took mental notes.
Tesfaye spent the night verbally crafting such scenes. They described lusty adventures through lyrics designed to seduce the ladies and empower the men. Few of these exploits happened before midnight or after 7 a.m. On "House of Balloons/Glass Table Girls," he illuminated a night of sex and drugs, while musically surrounding him was a Siouxsie and the Banshees sample and vocal hook from their song "Happy House." The title track of "House of Balloons" recalled days too long and evenings that fly by, waking in the "same clothes, you ain't ready for your day shift." On the exquisitely debauched "The Party & the After Party," he promised love and cocaine to a girl by suggesting that she "grab them shoes, I'll race your ass up on them stairs."
Tesfaye has dropped two other free EPs since "House of Balloons," collected recently as his major label debut, "Trilogy," and over a full set at the Orpheum he presented a selection from each. He sequenced them perfectly, so that by the end the little spark he'd ignited had raged.
Best known for his work with the rapper Drake — most recently on the track "Crew Love," which he quoted near the evening's peak — the Weeknd proved that this creative relationship isn't an accident or a lucky twist of fate. Tesfaye is, in his own right, a voice to reckon with.
As the evening progressed, the climate in the theater seemed to thicken with the bigger rhythms, got more humid as sweat mixed with passion — and many gooey public displays of affection amid the crowd — to create a Saturday night of the kind Tesfaye conjured in his songs. The kind that merely begin with a concert before spilling out in kaleidoscopic ways throughout the city. None involved going home and crawling into bed to get a fresh start on Sunday morning.
At times, these nights were a little much, filled with a drama that many young men at the Orpheum no doubt envied. On "The Birds, Part 1," from his 2011 mixtape "Thursday," he sang to a lover, warning her that an affair with him "is no game — you'll be falling to the point of no return." And his "Twenty Eight" regards a woman who ruined her chance for Weeknd sex by blabbing too much about what a great lover Tesfaye is. Her friends are now calling him looking for similar satisfaction. "Now gotta change my numbers twice a month, when you could have simply kept me on the down low," he sang.
We should all have such problems.
PHOTOS AND MORE
PHOTOS: Iconic rock guitars and their owners
The Envelope: Awards Insider
PHOTOS: Grammy top nominees
Get our L.A. Goes Out newsletter, with the week's best events, to help you explore and experience our city.
You may occasionally receive promotional content from the Los Angeles Times.