Deadmau5 controversy: All DJs do is press 'play'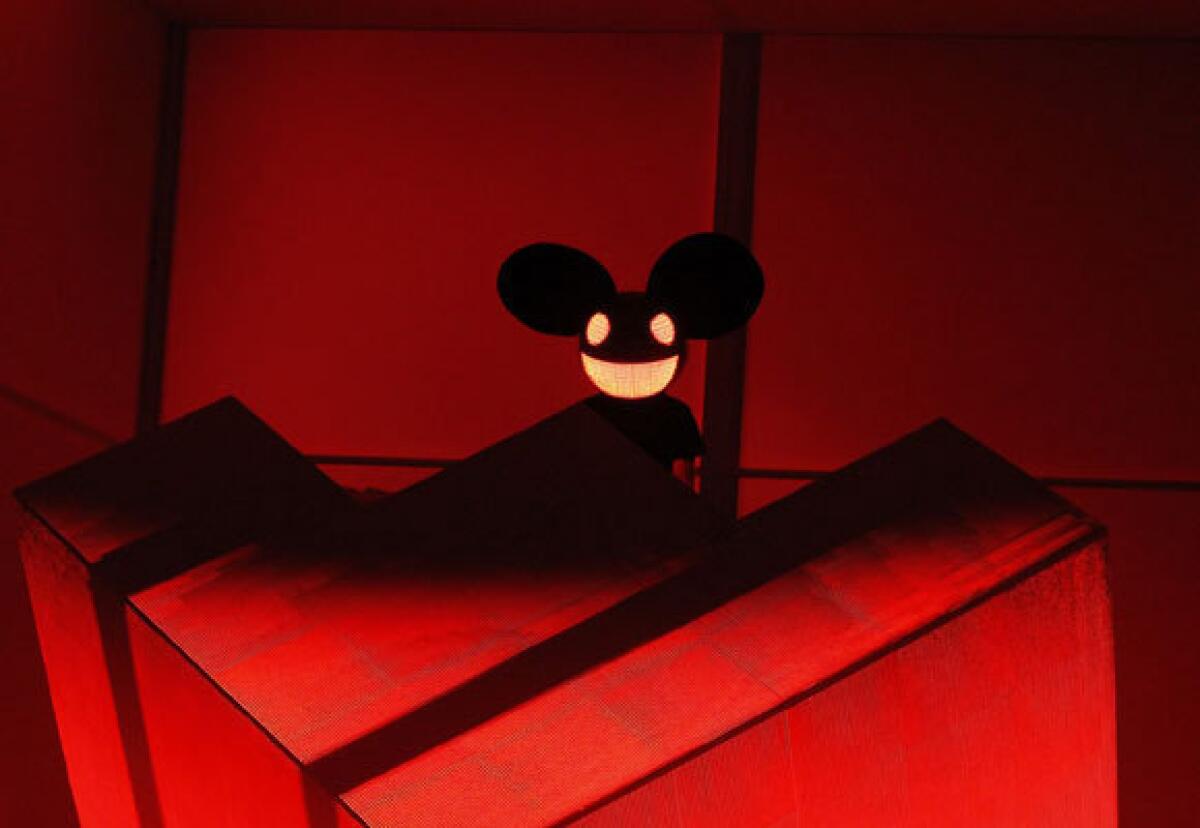 Deadmau5, who does a decent job of amping up the crowd at his concerts, is now stirring up the blogosphere by saying that all DJs do at live concerts is show up and click a "play" button.
"I just roll up with a laptop and a midi controller and 'select' tracks [and] hit a spacebar," the Toronto DJ wrote Saturday in a blog post on his site titled "We All Hit Play."
This can be interpreted as blasphemy for several reasons. If all DJs do is press play, how do they justify the million-dollar fees that some top electronic dance music names command? More esoterically, can live EDM events be called performances when the DJ is doing very little beyond putting on a costume and rhythmically nodding his or her head?
"People assume there's a guy on a laptop up there producing new original tracks on the fly," he wrote. "None of the 'top DJ's in the world' to my knowledge have. Myself included."
Deadmau5 himself followed up with a status update on his Facebook page Sunday, saying, "As I was sayin...It's over" and linking to a YouTube video showing Paris Hilton in her "DJ debut" bouncing in front of a MIDI panel onstage last week in São Paulo, Brazil. His link drew 1,807 comments, most of them skewering Hilton.
His point wasn't to make fun of the blond hotel heiress. Rather, it seemed designed to support his view that "EDM has turned into a massively marketed cruise ship, and it's sinking fast. Not because of all the passengers, but perhaps there are too many cooks in the kitchen."
Not everyone agrees with Deadmau5. Peter Kirn, editor of CreateDigitalMusic.com, argued in a counterpoint post that some DJs do more than just "twiddling knobs."
"There are people who sing or add vocals or instruments, live, over their sets, while still maintaining enough underneath that people can dance," Kirn wrote. "There are people who can play entire techno dance sets, live coding or live patching entire compositions improvisationally. There are artists on instruments like the monome, cutting up patterns as they go. There are controllerists and scratch turntablists, finger-drumming percussionists who toss all the loops and play beats from one-shots, multi-instrumentalists and beatjazz maniacs. And the list goes on."
On Tuesday morning, Deadmau5 responded with a "No Swear Words!" post that EDM has become "as commercially viable as Coca-Cola" in attracting celebrity DJs as it veers into the mainstream.
"All I'm trying to do is put on my life jacket and swim as far away from this shipwreck as fast as I can," he wrote. "Because in all honesty, I just wanna be in the studio, making electronic music, and expressing myself by means of sitting in a comfy chair with my cat and my equipment. And, of course, occasionally strap on a foamy mau5head, get on the road and press a few buttons for you guys."
RELATED:
Justin Bieber at the top of his vocal game
Liz Phair, A.R. Rahman find common ground
Album review: 'Flaming Lips and Heady Fwends'
Get our L.A. Goes Out newsletter, with the week's best events, to help you explore and experience our city.
You may occasionally receive promotional content from the Los Angeles Times.