Album review: Bob Dylan rides this 'Tempest'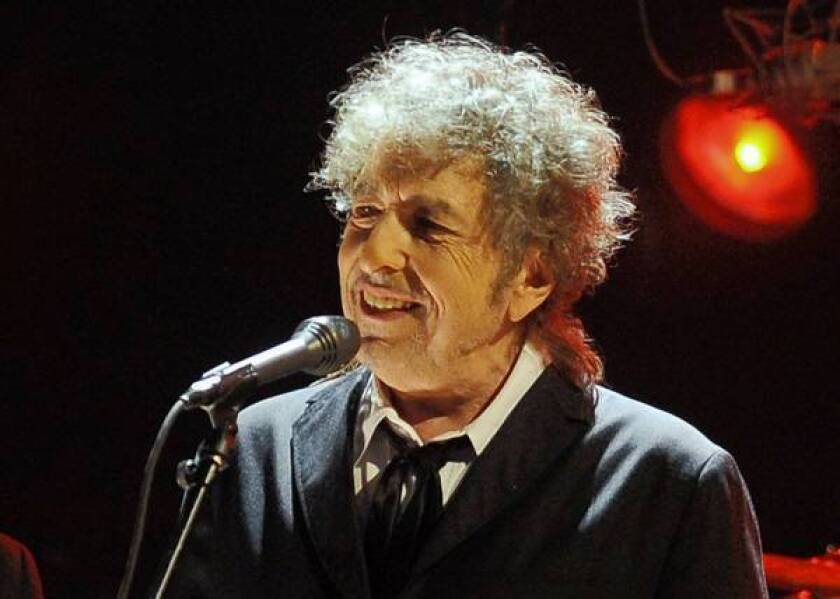 Bob Dylan
"Tempest"
Columbia
3 stars
Not to be morbid, but every time I take a day off or leave for vacation, I say a little prayer for the health of Bob Dylan.
So large is his presence on generations of American music fans that when his heart strikes its final beat, encapsulating his body of work will require so much sorting and brainpower that the pressure to produce big thoughts on such a towering figure will no doubt overwhelm the Internet — and my ability to process his enormous influence.
"I ain't dead yet, my bell still rings," Dylan sings on "Early Roman Kings," from his new album "Tempest," as if to reassure me. On a blues that directs its wrath at the selfish rich in the same way that "Masters of War" indicted the military-industrial complex in 1963, the singer and songwriter ends the line with "I keep my fingers crossed like the early Roman kings."
You and me both, Bob.
PHOTOS: Iconic rock guitars and their owners
And not just for selfish reasons. Dylan lives in every molecule of our being, has taught us about lyrical possibility, has reveled in the joy of words and the power and glory of making things up from scratch. To learn that a new Dylan project is in the works is to know that there's a good chance your brain will be forever changed by at least one new rhyming couplet, snarling oath or graceful guitar line.
On "Tempest," out next week, there are many such moments. At their best, new songs such as "Scarlet Town," "Tin Angel" and "Roll On, John" show an artist swirling in musical repetition and the joy of longevity. Each is longer than seven minutes and each deserves to be heard again the moment it ends. He mixes these longer narratives with a few four-minute, expertly crafted gems that float like whittled wooden birds come to life — especially "Long and Wasted Years," a bitter song about a dead marriage.
And at its least successful — the 14-minute title track about the sinking of the Titanic and "Narrow Way," which rolls like "Maggie's Farm" with a flat tire — "Tempest" confirms that even a master craftsman sometimes needs an editor.
But few American writers, save Mark Twain, have spoken so eloquently and consistently at such a steady, honest clip, and the evidence continues on "Tempest," Dylan's 35th studio album in 50 years of recording.
Yes, a master storyteller is at work, and he's got an attitude, but that's not news. It's been pounded into our collective brains for half a century now. He is officially an antique, a relic and the last of his kind in a world that has little time or patience to focus on a 14-minute song about the sinking of the Titanic when everybody already knows how it ends. This is the big, grand miscue on the record. In an Irish-tinged tune that repeats virtually the same 16-bar melody throughout its quarter-hour, Dylan in poetic verse recounts the sinking and the fate of its passengers with a singsong phrasing that grows tiresome.
Few appreciate his outsize legend more than Dylan, who produced this record under his pseudonym Jack Frost and has long tired of his renown. "People today are still living off the table scraps of the '60s," he once said. "They are still being passed around — the music and the ideas."
"Tempest" is more concerned with the scraps of the '20s, '30s and '40s, as Dylan continues to explore the various strands of early American roots music that he internalized as he matured, sticking to basic instrumentation: guitar, drums, bass, violin, banjo and the occasional accordion. You can hear a touch of Charlie Christian guitar in the opening bars of "Duquesne Whistle," suggesting an old 78-rpm record; Hank Williams' sorrow sneaks in, as does Dylan's long fascination with string bands of the 1920s, such as the Mississippi Sheiks.
Coupled with a deeply wounded voice, he sounds deadly serious throughout, especially so in "Roll On, John," his tribute to his friend John Lennon, even though he slips in many wry one-liners. The first time I heard it, it bummed me out. It seemed treacly, unnecessary. But as the song settled into my head, it became not a song about the death of a Beatle but about the passing of a friend and peer.
Stories told by a man in his 70s are taken with more weight than a man in his 20s. And when said man sounds like he's been eating nuts and bolts for the past half-century and he's a born storyteller, a living legend and trickster, said weight gets even heavier. At this point, Dylan could write about the shoe selection at Bloomingdale's and it would be construed as a commentary on America.
But finally, the record underscores his real strength, as a musical storyteller. This is a man, after all, who can smoothly transmit the notion of being tongue-tied as such:
"I'm searching for phrases/To sing your praises," he admits in "Soon After Midnight," a perfect little Bob Wills-informed, slow-swinging vignette involving a gal named Honey who took his money, a narrator with a cheerful, "never fearful" life, Charlotte who's a harlot and dresses in scarlet and Mary who dresses in green. In 31/2minutes he sets a memorable scene — one that turns black when Two Timin' Slim's name comes up.
"I'll drag his corpse through the mud," Dylan jealously declares, wallowing in his voice's decrepitude. "It's soon after midnight, and I don't want nobody but you."
---
Inside the business of entertainment
The Wide Shot brings you news, analysis and insights on everything from streaming wars to production — and what it all means for the future.
You may occasionally receive promotional content from the Los Angeles Times.