Review: Brad Mehldau, the Bad Plus push jazz further ahead at UCLA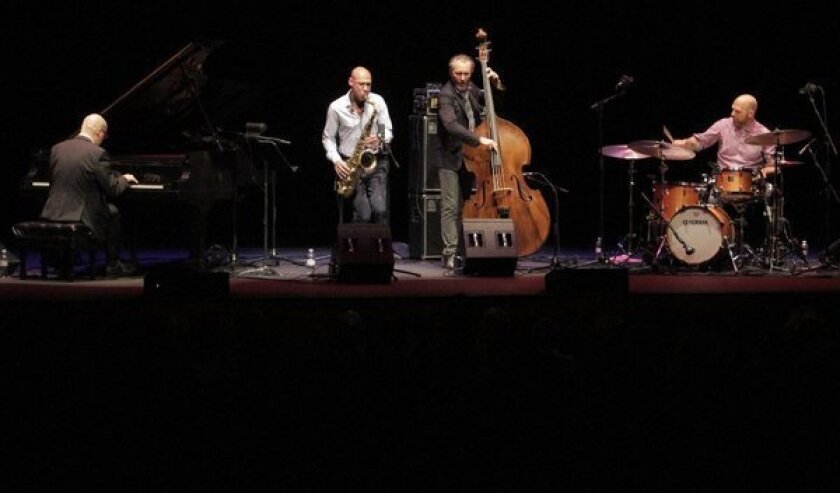 Sometimes, you can tell a lot about a show based on its audience.
In addition to drawing an inspiringly big, deeply attentive crowd to Royce Hall to close out the first season for the newly named Center for the Art of Performance at UCLA (and new Executive Artistic Director Kristy Edmunds), Saturday's double bill of the Bad Plus with the Brad Mehldau Trio also drew bassist and educator Charlie Haden, whose presence was humbly recognized from the stage by Mehldau early in his set.
The impression Haden has left on jazz is impossible to fully capture over a wealth of landmark recordings from the likes of Ornette Coleman, Keith Jarrett and Paul Motian, and his presence despite recent struggles with post-polio syndrome marked a quiet indicator of the level these acts have reached over long careers of pushing the jazz tradition forward.
The night began with Mehldau and his graceful rhythm section of longtime bassist Larry Grenadier and drummer Jeff Ballard, who took over for Jorge Rossy in 2005. The trio locked into the rich, toe-tapping swing of Sam Rivers' "Beatrice," which Mehldau dedicated to Haden, who recorded the song with Joe Henderson.
Mehldau built a reputation on unconventional covers from the pop songbook, and this night was no exception, with a playful retake on the Beach Boys' "Friends" and an impressionistic run at the Beatles' "And I Love Her," which developed from tentative, whispered contemplation to an anthemic declaration in a way that mirrored a long, heated romance.
Every shift Mehldau made, his taut rhythm section -- which can also be heard with saxophonist Mark Turner in the Fly Trio -- was locked behind him, shining brightest on a song that featured a keening, bowed melody from Grenadier and a set-closer that began with broken-hearted blues and stretched ever further behind Mehldau's imaginative drive.
There was no shortage of curiosity going into headliners the Bad Plus, which was paired with a special guest in Joshua Redman. Redman's the son of avant-garde saxophonist Dewey (who also recorded with Haden), and his gifts have been well documented since the '90s, but how much space would he be able to carve out in the compact, intensely collaborative world of the Bad Plus?
The question was answered early during "Love Is the Answer," a moonlit ballad from the trio's 2000 recording "Motel." As pianist Ethan Iverson carried a flickering melody that gracefully recalled "Moonlight Sonata," the rhythm section of bassist Reid Anderson and drummer Dave King surged ahead as Redman waited. When the saxophonist entered with a lovely, squiggly turn, King answered with an acrobatic barrage of fireworks behind him, goading Redman to push further ahead or be overtaken.
From there, the Bad Plus (plus one) roared as if a quartet were always lying just beneath its surface. Although the trio was considered a controversial force by some in the early '00s for a variety of ear-grabbing covers that included the Pixies, Aphex Twin and Nirvana, it was telling that the group performed only its originals here, marking a summary of a decade-plus career that has always been more than its eclectic tastes.
"2 p.m.," an Iverson-written tribute to Paul Motian, rode an off-angled structure to a tangled sprint between the pianist and Redman, and the saxophonist was at the heart of the delicate "People Like You," which the group dedicated to Haden. Though years ago, Redman's playing often tilted more toward tasteful and reserved than raw exploration, here he seemed emboldened by the Bad Plus' restless world. During "Big Eater," Redman followed King's joyful, chugging drive as he answered Iverson's lead, kicking his legs as he leaned into the song's curves.
Opening with a mesmerizing solo from Anderson, "Silence Is the Question" developed into a mini-marathon, and the night's unquestioned highlight. With Redman holding a haunting, lonely tone that recalled the hum of feedback, the song gathered behind the locomotive charge of King's ride cymbal. Gradually, the song gathered force and exploded, launching into an all-out reach for the outer limits in a free-playing fury of sound and energy that came in waves, each one reaching a new, cathartic peak, only to be blown away by another crashing behind it.
There was no encore; nothing else could possibly be said.
ALSO:
The Bad Plus: Messengers for the jazz sound
Album review: Brad Mehldau's 'Live in Marcaic'
Review: Medeski Martin and Wood look back and look ahead at UCLA
Twitter: @chrisbarton
PHOTOS AND MORE
COACHELLA 2013: Full coverage
THE ENVELOPE: Awards Insider
PHOTOS: Grammy top winners
---
The complete guide to home viewing
Get Screen Gab for weekly recommendations, analysis, interviews and irreverent discussion of the TV and streaming movies everyone's talking about.
You may occasionally receive promotional content from the Los Angeles Times.