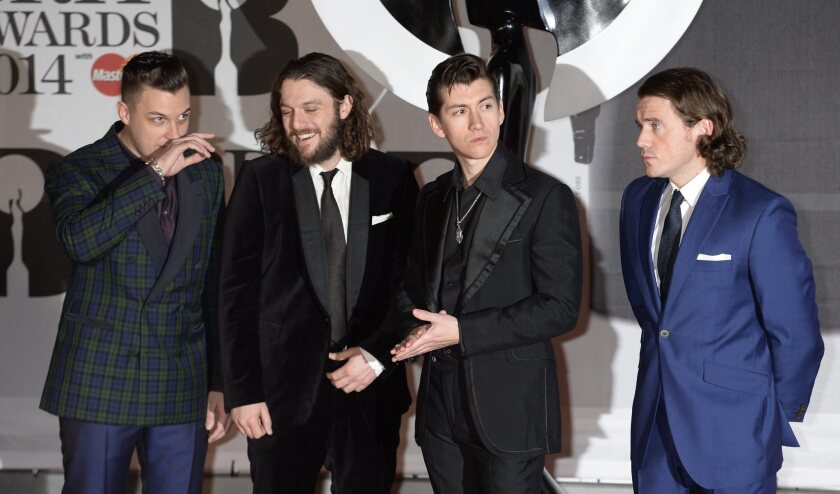 They recently moved to America, but Arctic Monkeys have lost no love at home.
The English garage-rock foursome's "AM" was named album of the year Wednesday at the Brit Awards in London, beating out discs by David Bowie, Disclosure, Rudimental and Bastille.
Leaving behind their native country, Arctic Monkeys resettled last year in Los Angeles to record "AM," the group's fifth full-length and by many accounts its best since its 2006 debut, "Whatever People Say I Am, That's What I'm Not."
GRAPHIC: Times music staff best of 2013 list
Yet frontman Alex Turner has assured longtime fans that the band hasn't gone Hollywood.
"We used to have a little space on this scuzzy street in Sheffield," he told The Times in September. "And now we've got one on a scuzzy street in Hollywood instead. The two are probably equally shady."
At the Brits, the U.K.'s equivalent of the Grammy Awards, Arctic Monkeys also won the prestigious British group prize. Among the acts they defeated in that category? One Direction, the hugely popular boy band.
Other victors at Wednesday's ceremony -- which featured performances by Beyoncé, Katy Perry and Pharrell Williams, among others -- included Ellie Goulding (named best British female solo artist), Bowie (male artist) and Sam Smith, who won the Critics' Choice Award.
PHOTOS: Celebrities by The Times
Daft Punk was named best international group, Lorde international female solo artist and Bruno Mars international male solo artist.
Watch one highlight from the show -- Lorde and Disclosure's mash-up of their songs "Royals" and "White Noise" -- below.
ALSO:
Review: Paul Simon and Sting come together at the Forum
Listen: Nickel Creek releases new song, announces tour dates
Album review: Candice Glover's powerful debut 'Music Speaks'
Twitter: @mikaelwood

---