Critic's Notebook: 'Blurred Lines' verdict a blow to creative expression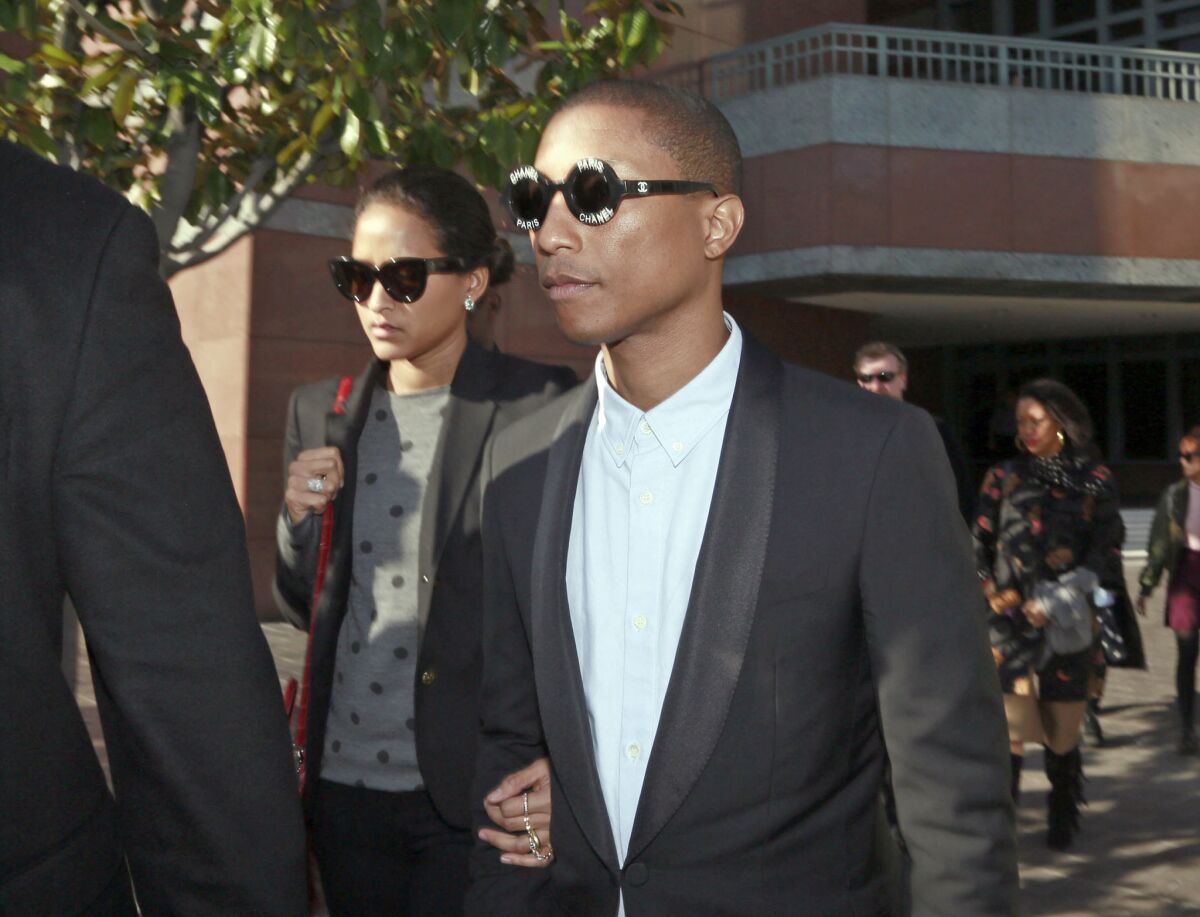 In the moments following the verdict that awarded the Marvin Gaye estate $7.3 million in a copyright infringement suit against musicians Pharrell Williams and Robin Thicke, the outraged comparisons looped through social media. Imagine, someone wrote on Twitter, if the James Brown estate were awarded money whenever an artist riffed on that classic J.B. breakbeat.
Bo Diddley's relatives could earn bank from any number of artists who employed that shuffle-step beat, regardless of the melody or words running through it. The Luther Vandross estate could sue nearly every quiet-storm R&B jam of past two decades, and Madonna should be a trillionaire.
To these lovers of fair use and communal rhythms, riffing on ideas is part of the deal and is hardly theft. The notion that Thicke's "Blurred Lines" and Gaye's "Got to Give It Up" share anything other than what Pharrell described in testimony as "feel, not infringement" seemed ridiculous. How to square the conjuring of a particular vibe with the legal definition of infringement?
As I wrote last week, the two sides had competing definitions of the so-called "infringement." Attorneys for Thicke, Pharrell and rapper T.I. (whose verse is featured in the track) submitted that the similarities among the compositions failed to meet the standard as defined under the law, that songs display "compositional similarities."
I agree, and rather than repeat the point I'll rip from what I wrote the other day: Pop music is at its base a form of creative theft, one in which each new generation of artists builds on the vibes and ideas that influenced them during formative years. For every visionary there are a hundred thieves, and the only difference is that one celebrates his theft while the others claim ignorance.
The Gaye estate's argument was more basic, that there were obvious, striking instances -- eight specific points -- that connected "Blurred Lines" and "Got to Give It Up." Janis Gaye, the artist's ex-wife, testified that the moment she heard the song, she assumed the creators had licensed "Got to Give It Up" for usage.
As we all know now, they hadn't.
Soon after the decision was announced, Pharrell, Thicke and T.I. released a joint statement reprinted in its entirety below:
"While we respect the judicial process, we are extremely disappointed in the ruling made today, which sets a horrible precedent for music and creativity going forward. Blurred Lines was created from the heart and minds of Pharrell, Robin and T.I. and not taken from anyone or anywhere else. We are reviewing the decision, considering our options and you will hear more from us soon about this matter."
Regardless of who's in the right, the Bee Gees estate should be giddy about this ruling. After all, "Blurred Lines" is as similar to "Got to Give It Up" as that song is to the Bee Gees' "Jive Talkin'." (But that's just me.)
Looking for music tips? Follow Randall Roberts on Twitter: @liledit
---
Get our L.A. Goes Out newsletter, with the week's best events, to help you explore and experience our city.
You may occasionally receive promotional content from the Los Angeles Times.