Jazz review: Charlie Haden speaks volumes at REDCAT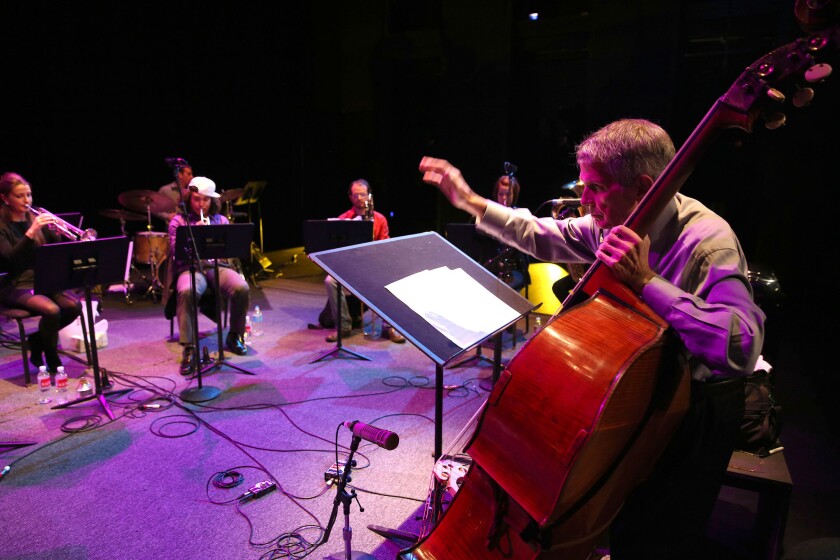 It's a grim reality, but there's one thing you don't expect from Charlie Haden on stage in 2013, and that's a lot of conversation.
Stricken by post-polio syndrome since late 2010 (Haden was first diagnosed with a bulbar form of the disease around his throat and facial muscles at 15), his voice was said to be just about gone heading into a Tuesday night performance at REDCAT. The 76-year-old bassist-composer was there to conduct CalArts musicians through his work with his own socially conscious, large ensemble, the Liberation Music Orchestra.
And yet, Haden couldn't help but be heard. Describing his vocal cords as paralyzed as a result of polio, he stepped from his conductor's chair to a nearby microphone between nearly every piece, a perilous journey to watch (if there was ever a time for a pinned-on microphone, this was it).
PHOTOS: Celebrities by The Times
With his voice so wispy and fragile you could feel the sold-out venue reaching to cradle it, Haden shared an intimate story about his friend and fellow bassist Scott LaFaro one moment, and in another moment gleefully mangled the punch line for a joke about a duck walking into a bar.
"I'm not going to talk anymore," Haden finally said before the band began. "Because once I start I can't stop." (Fortunately, only the last part was true.)
Because there was, after all, music to be heard -- even on a night so fraught with the shadow of that unwelcome guest artist who can sit in at any moment: Time.
It was a broad program that began to feel like an effort to capture a life's work, one that could not have been better underscored for Haden than with the involvement of student musicians from CalArts. Since founding the school's jazz program in 1982, Haden has touched generations of artists not just with his music, but his guidance as well.
You could see his instructive hand as he led his charges through a bouyant version of "Nkosi Sikeleh Afrika," a dedication to Nelson Mandela that found Haden tapping the beat into the air with his right hand. Even with his thin voice, Haden could be heard exulting with an occasional "woo!" on the bandstand, punctuating a flowing cover of his "Not in Our Name" here, in admiration for a French horn solo by Erin Poulin there.
With arrangements by Haden's longtime collaborator Carla Bley, who he lovingly spoke of while referencing her days as a cigarette girl at Birdland, the band charged through a churning cover of "This Is Not America" (popularized by David Bowie) and an ambitious "America the Beautiful" medley, which was highlighted by a dip into the Ornette Coleman songbook with "Skies of America."
As the song gathered to a swirling head with pianist John Schwerbel embarking on brightly argumentative duels with the horn section, Haden stood at the center like a lighthouse in a storm, his arms swaying placidly with the churn. "What a band!" he cried between songs.
All night Haden offered further explanation, passionately speaking of the preciousness of beauty and the vital need to care for our planet. At one point he reflected on the unconditional love of his dog, a warmly intimate moment that had a few dabbing their eyes.
Later, in a welcome encore, Haden returned to his bass for a lush cover of "Blue in Green," a standard written somewhere between Bill Evans and Miles Davis. His back to the crowd, Haden curled over his bass and delivered his familiar broad, rounded tone, waving off a saxophonist at one point to hold his rich, melancholy duet with Schwerbel just a few measures longer.
Haden may not always be able to speak, but his voice is eternal.
ALSO:
Jazz great Jim Hall dies at 83
5 reasons to see Charlie Haden at REDCAT
Grammys: Jazz nominees look to new voices
Twitter: @chrisbarton
---
The complete guide to home viewing
Get Screen Gab for weekly recommendations, analysis, interviews and irreverent discussion of the TV and streaming movies everyone's talking about.
You may occasionally receive promotional content from the Los Angeles Times.