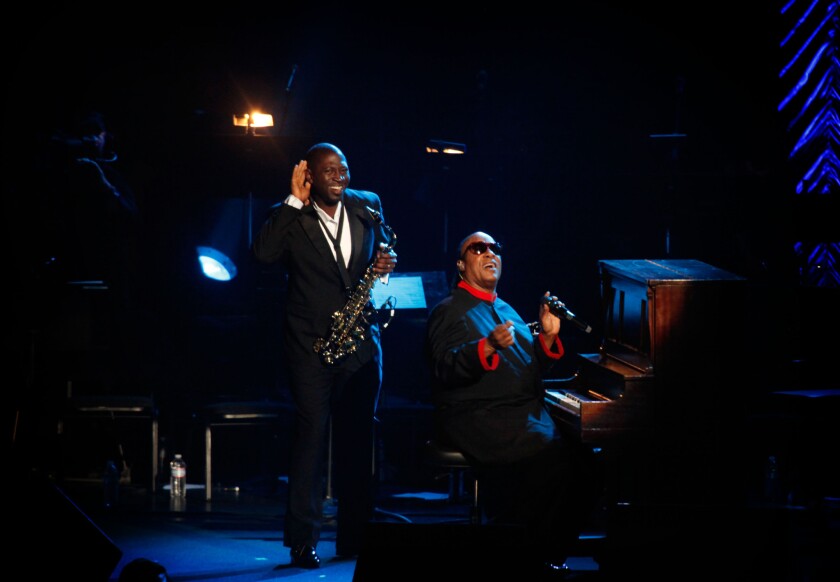 Coldplay's Chris Martin, R&B powerhouse Usher and Ed Sheeran are among the artists who will pay homage to Stevie Wonder for a Grammy-tribute telecast.
"Stevie Wonder: Songs in the Key of Life -- An All-Star Grammy Salute" is also to feature Willie Nelson and Janelle Monae tackling a wide range of songs from Wonder's catalog. Wonder performed at last year's telecast with Pharrell Williams and album of the year winners Daft Punk.
Wonder is himself a 25-time Grammy winner, having obtained album of the year nods for 1973's "Innervisions," 1974's "Fulfillingness' First Finale" and 1976's "Songs in the Key of Life." Nelson leads the pack of tribute performers with 11 Grammys to his name, while Usher has eight and Martin seven of his own. Sheeran is up for three Grammys this year, including album of the year, best pop vocal album and best song written for visual media.
The announcement of the Wonder tribute comes just days after the first round of performers was revealed for the Grammys' live telecast. Eric Church, AC/DC, Madonna and Ariana Grande are among the artists scheduled to perform on the Feb. 8 telecast.
"Stevie Wonder: Songs in the Key of Life" is scheduled to take place at the Nokia Theatre on Feb. 10, and will air on CBS on Feb. 16 at 9 p.m.
Follow @AugustBrown for breaking music news
---