Coachella 2014: Crunching data while awaiting joyful organized noise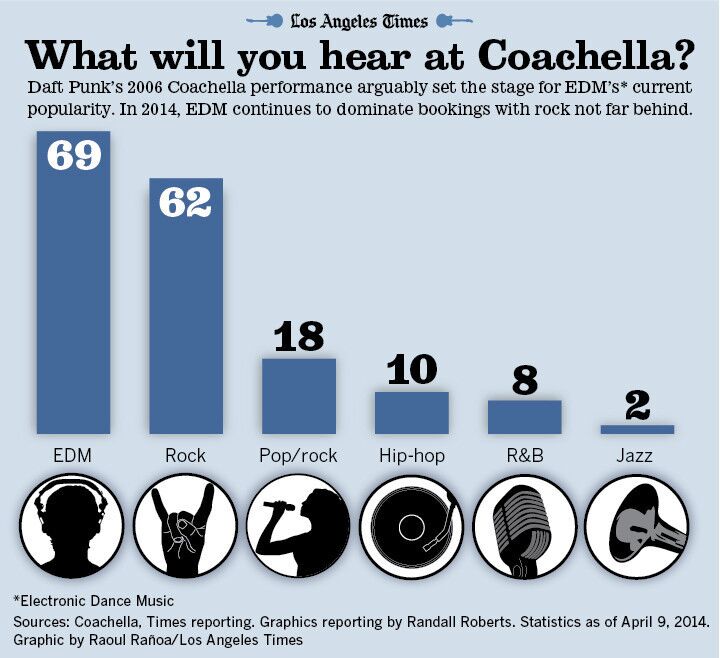 Coachella acts by genre
(Reporting by Randall Roberts / Graphic by Raoul Rañoa)
Coachella acts by gender
(Reporting by Randall Roberts / Graphic by Raoul Rañoa)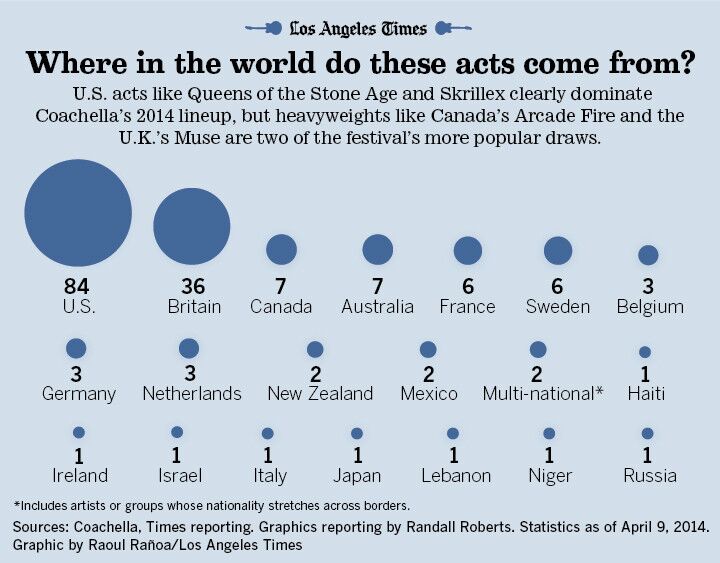 Coachella acts around the world
(Reporting by Randall Roberts / Graphic by Raoul Rañoa)
Coachella acts across the U.S.
(Reporting by Randall Roberts / Graphic by Raoul Rañoa)
The artists performing at this year's Coachella Music and Arts Festival, which begins April 11 in Indio, will converge from all over. Traversing oceans, boarding planes, rolling across highways in Econolines and tour buses, a bounty of musicians from around the world is currently en route to the desert to christen the annual American festival season.
These acts, 166 of them, will come in myriad shapes and sizes, speak many dialects and croon in many keys. Some will don the latest fashions, others their recent thrift store finds. What will OutKast wear? Matching three-piece suits? Golf knickers?
Their haircuts will range from oblong (Skrillex) to symmetrical (Neko Case). They will hit most but not all of their notes. Some will thrill. Others will bore. Most will land somewhere in the middle.
---
For the record, noon April 9: Coachella announced Tuesday night that it had added three bands to the lineup. The graphics accompanying this article have been updated to reflect the new lineup.
---
INTERACTIVE: Plan your Coachella schedule Aesthetics, though, are but one measure of Coachella's place in the music world. This is the age of big data, after all. As such, it's possible to gather facts and crunch numbers to arrive at more concrete conclusions, the kind in which skill, taste, sex appeal and buzz matter less than basic facts of gender, nationality, musical style and creative life span.
In this realm, whether ASAP Ferg is a weirder lyricist than Chance the Rapper isn't as important as that the former is male from New York state, the latter from Illinois. Whether Lana Del Rey is more or less "real" than the Jon Spencer Blues Explosion is a matter of opinion. What's undeniable is that Del Rey is a woman and Spencer is a man, one is trading in rock and the other is trading in pop/rock (more on that later).
Certain obvious factors are confirmed and relatively unsurprising, even if laid bare, the truth is stark: Men outnumber women by nearly 5-to-1. Of the 166 solo acts, vocalists and beat producers, only 33 are female (and three feature both genders swapping vocals). Of those, a mere three — Neko Case, Little Dragon and the Knife — released their first music before 2000. That's a drag.
American acts eclipse all others — as it probably should be, considering its locale. Nearly half of all invitees (81) are natives, and the rest are dispersed among countries including the United Kingdom (39), Canada (seven), Australia (seven) and Sweden (six, which on a per capita basis, is notable). Mexico's poor showing is unfortunate given its proximity. Entertainment hubs in New York and Los Angeles add volume to the number of coastal acts, revealing the scarcity of Southern, Midwestern and Northwestern artists.
INTERACTIVE: Discover songs of L.A.
Taken as a whole, the festival has a pretty insular worldview. Despite Asia's billions of people, only one act, the trippy drone rock band Bo Ningen from Japan, has crossed the Pacific. A mere two Middle Eastern artists, both making electronic dance music, represent the region: the oft-thrilling Israeli Guy Gerber and Lebanese producer Nicole Moudaber. Despite its crazy-inventive hip-hop and club scenes, the entire continent of Africa is represented by one man and his band: the great Tuareg guitarist Bombino.
The most enduring act? That would be the Preservation Hall Jazz Band, the New Orleans brass outfit that formed the year John F. Kennedy was assassinated. The oldest (and classiest) solo artist is Bryan Ferry, 68, best known for cofounding Roxy Music in 1970. There are no female-led legacy acts.
Three bands born in 1979 have reconvenedFishbone, the Toy Dolls and the Replacements. And congrats should go to Banks, UZ and Galantis, three acts that a little over a year after their first release are already stepping onto the stage.
Predictably given the demographic, though, most bands gigging Coachella formed in the sweet spot between 2008 and 2011, a tacit confirmation of the theorem that it takes at least 10,000 hours to became an expert at your chosen craft.
INTERACTIVE: A festival for every fan – SoCal's yearly sonic lineup
The most interesting data point I examined had to do with genre, and the numbers are notable — even if distinctions among rock, EDM and hip-hop can be blurry, and serious listeners who argue against such reductive categorization have a point. One of the best qualities of Coachella's curation is the way it celebrates artists who consciously experiment across the pop continuum. As a longtime record store clerk skilled in making difficult categorical judgments that regularly withstood managerial and customer scrutiny, though, I'm confident in my skills.
Rock features guitar (and includes so-called singer-songwriters such as Courtney Barnett and Tom Odell), EDM focuses on synthetic beats and instrumental grooves and comprises such subgenres as commercial dance music, dubstep, house and techno. Pop/rock is a kind of gray area that features acts such as Lorde, Chvrches and Washed Out that craft synthetic pop music that is neither rock nor EDM. Hip-hop is hip-hop, jazz is jazz.
By my calculations, EDM, long an emphasis of Coachella's, has eclipsed rock to become the focus of the festival, and the resultant thump-fest confirms a culture firmly shifting away from guys with guitars (two of the best guitar bands, Haim and Warpaint, are female-only) and toward guys (and the occasional woman) with mixers and computers.
GRAPHIC: Coachella 2014 by numbers
That's certainly a concern, considering that few are the computer-prone able to drop wicked dance moves while tethered to a laptop and mixer — and too rare are the electronic producers who have the guts to strap on a key-tar and rock the stage. Which is too bad, because the majority of DJs have been doing this for less than five years. Presumably, they have more energy than the fogies with their guitars working out while doing scissor kicks.
It's so much more fun to see kids with energy to spare ruling the stage, because that spirit propels the artistry, taste and intuition — the crucial combination of which earned each of these acts a slot. And it's that recipe that will render the raw data moot, supplanting information with soul, and the joy of organized noise springing to life.
---
Your essential guide to the arts in L.A.
Get Carolina A. Miranda's weekly newsletter for what's happening, plus openings, critics' picks and more.
You may occasionally receive promotional content from the Los Angeles Times.