Jazz great Dave Brubeck dies at 91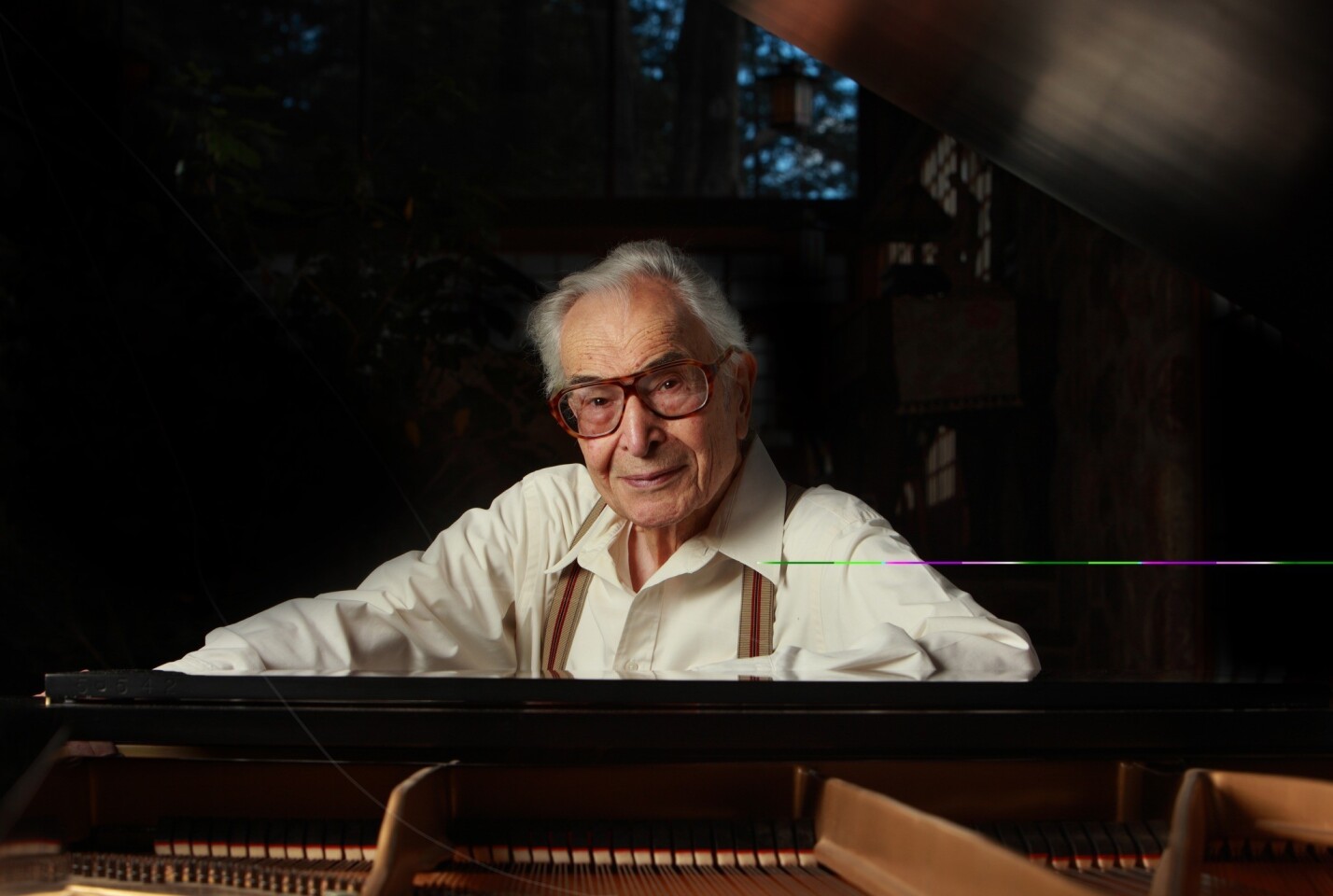 Jazz great Dave Brubeck in Wilton, Conn., in 2010.
(Carolyn Cole / Los Angeles Times)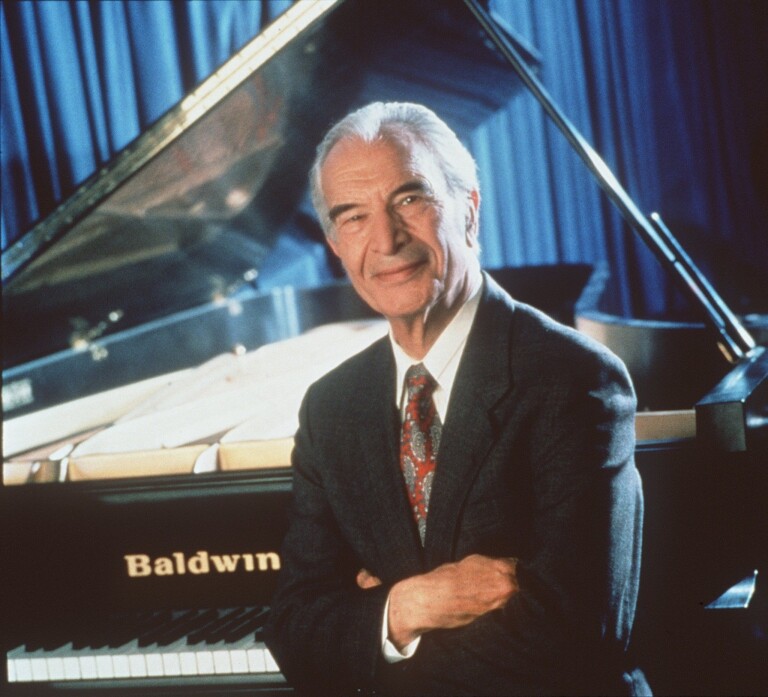 Dave Brubeck in 1995.
( Handout)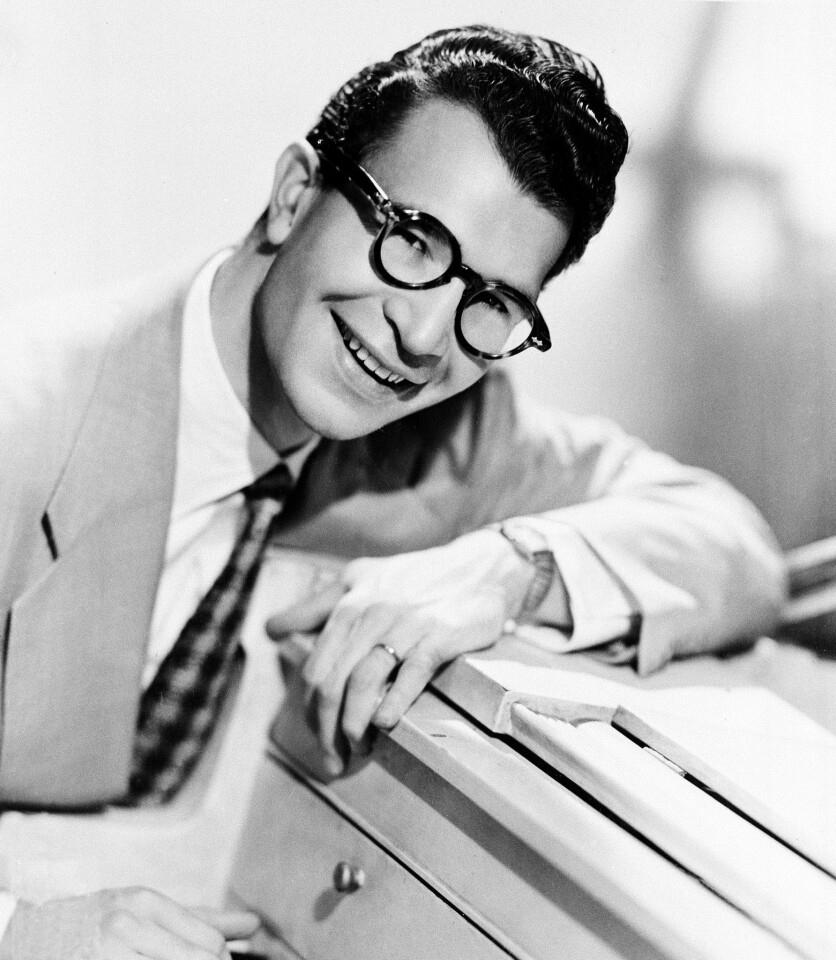 Dave Brubeck in 1956.
(Associated Press)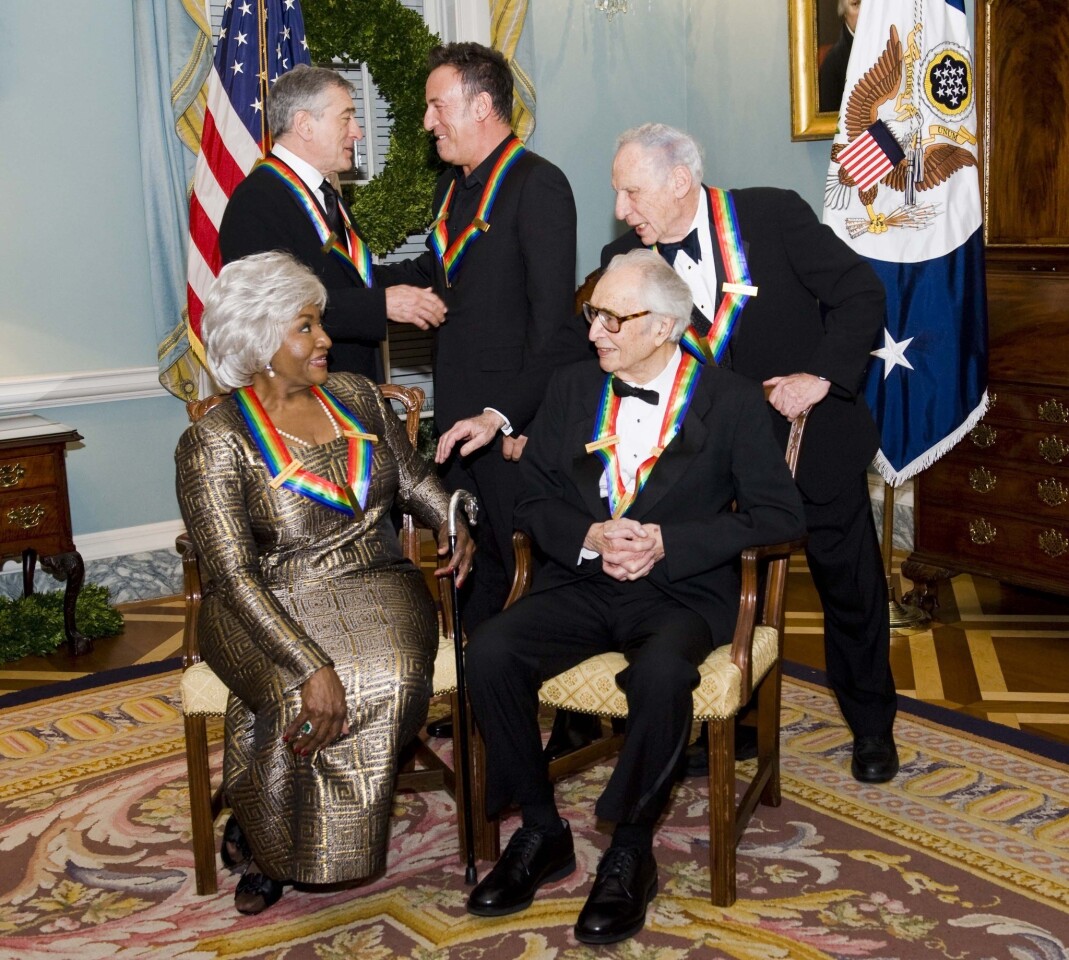 Dave Brubeck, seated right, joins his fellow 2009 Kennedy Center honorees -- Grace Bumbry, Robert De Niro, Bruce Springsteen and Mel Brooks -- for a group photo.
(Kevin Wolf / Associated Press)
Dave Brubeck celebrates his 85th birthday in 2005 by performing with the London Symphony Orchestra at London's Barbican Hall.
(Alastair Grant / Associated Press)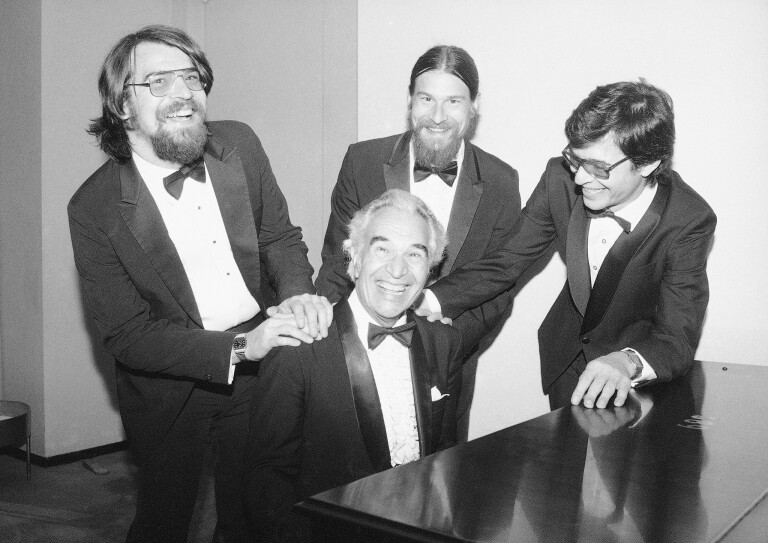 Dave Brubeck sits at the piano surrounded by sons Chris, left, Danny and Darius, during an intermission of a concert in New York in 1985.
(Richard Drew / Associated Press)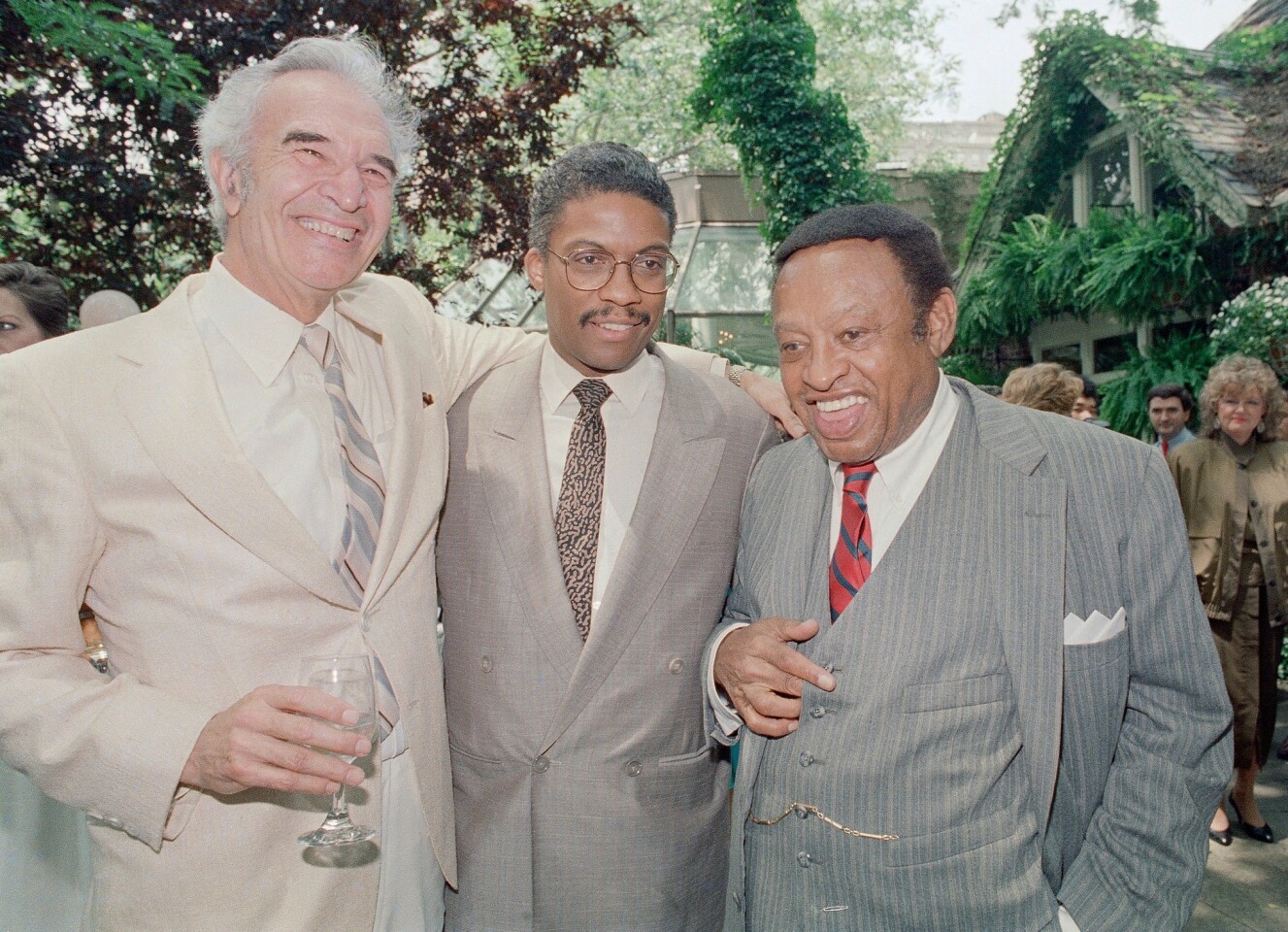 Dave Brubeck, left, joined fellow jazz legends Herbie Hancock and Lionel Hampton at a luncheon honoring Hancock at New York's Tavern on the Green in June 1987.
(Osamu Honda / Associated Press)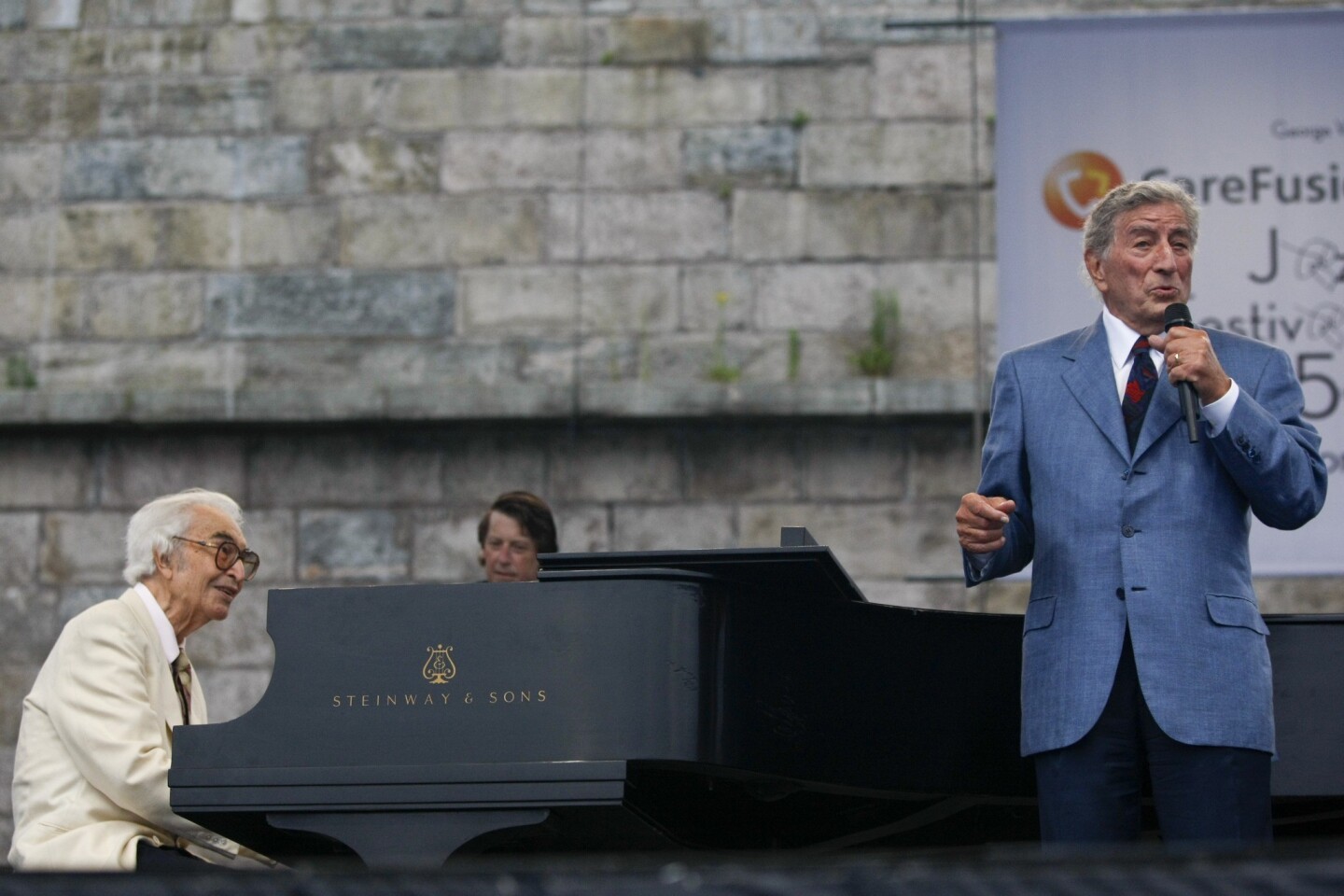 Dave Brubeck plays piano as Tony Bennett sings "That Old Black Magic" at Carefusion Newport Jazz 55 in Newport, R.I., in 2009. Brubeck and Bennett had last performed the song together decades earlier, for President Kennedy at the White House.
(Joe Giblin / Associated Press)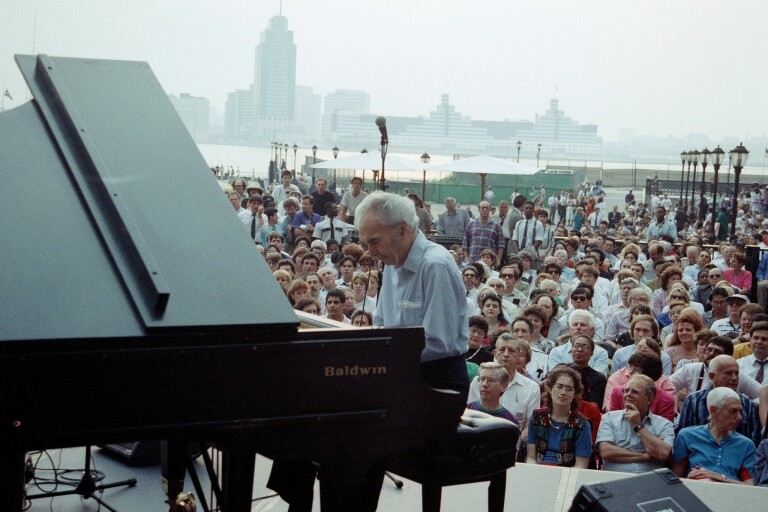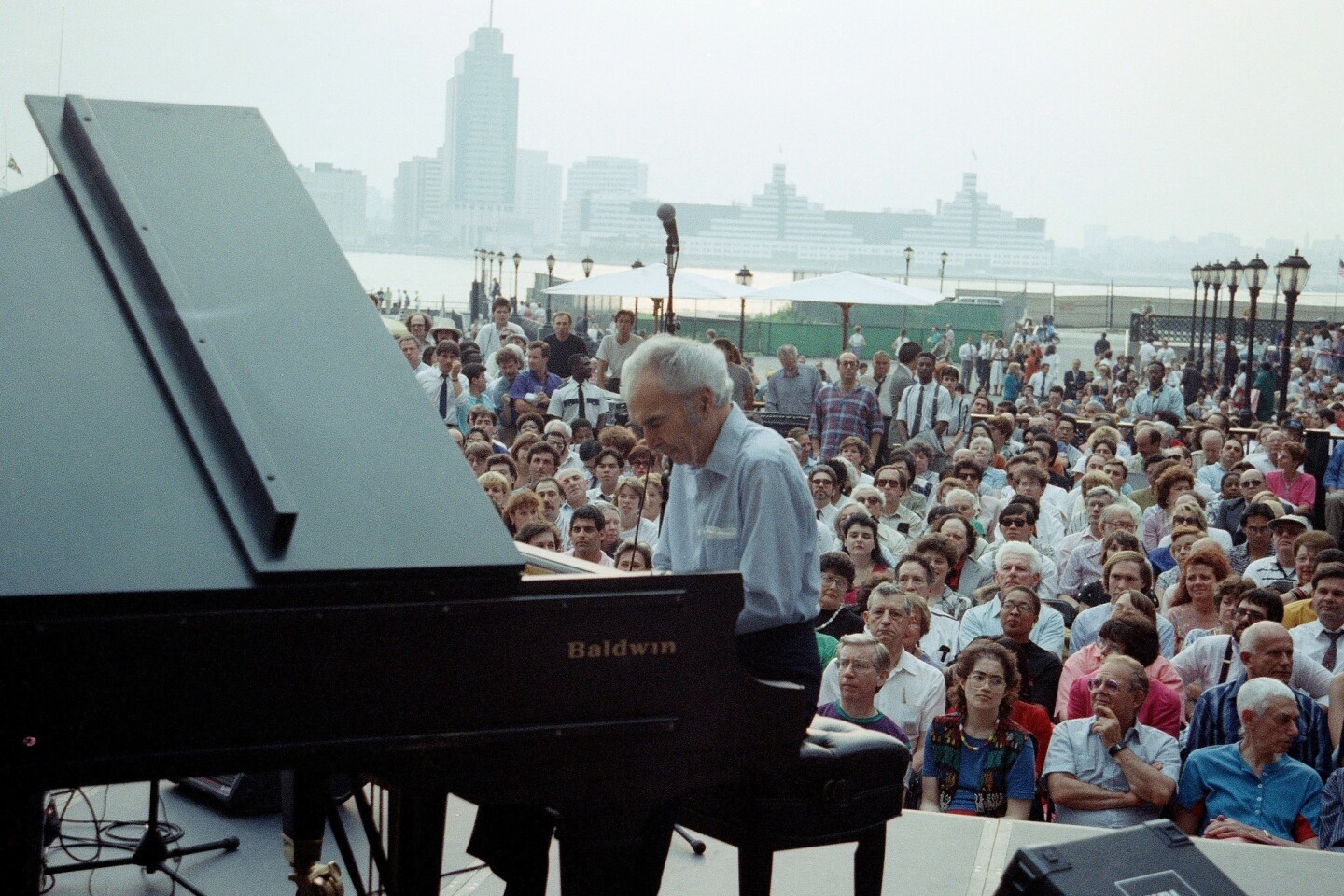 Dave Brubeck entertains an after-work crowd at the 1990 JVC Jazz Festival in New York.
(Mario Suriani / Associated Press)
Dave Brubeck in 1974.
(Associated Press)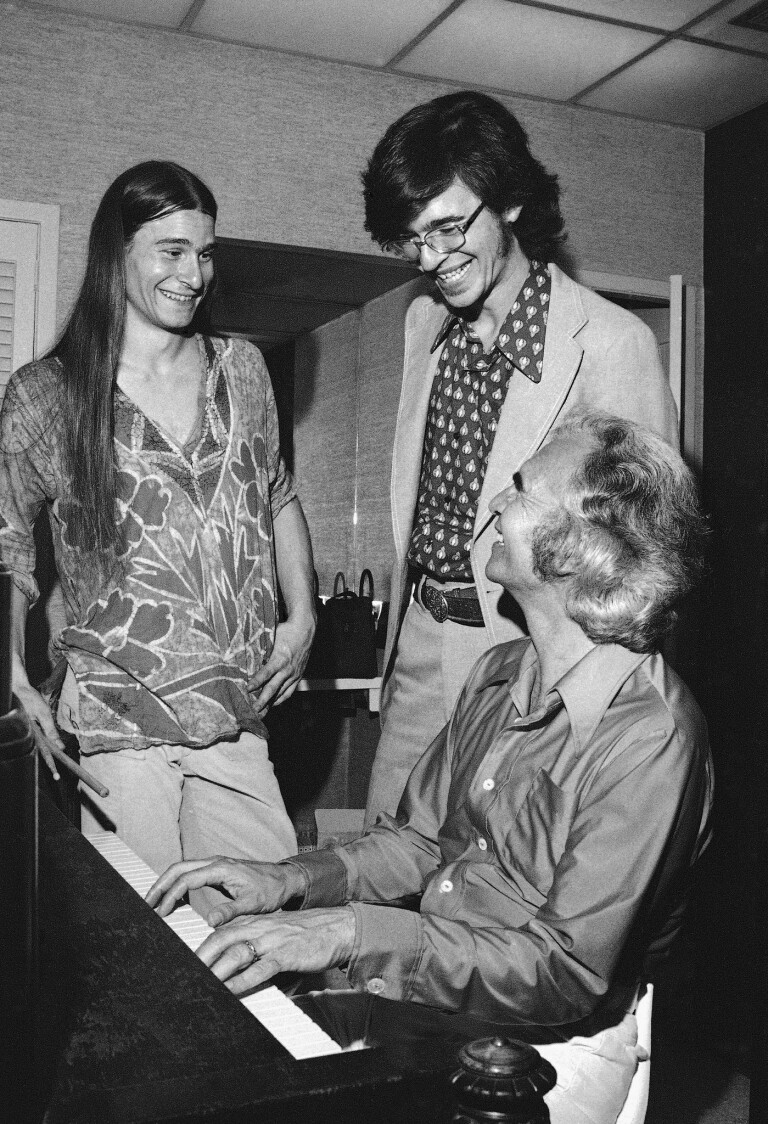 Dave Brubeck plays backstage for sons Danny and Darius between acts during his Newport Jazz Festival appearance at Carnegie Hall in New York in 1975.
(Richard Drew / Associated Press)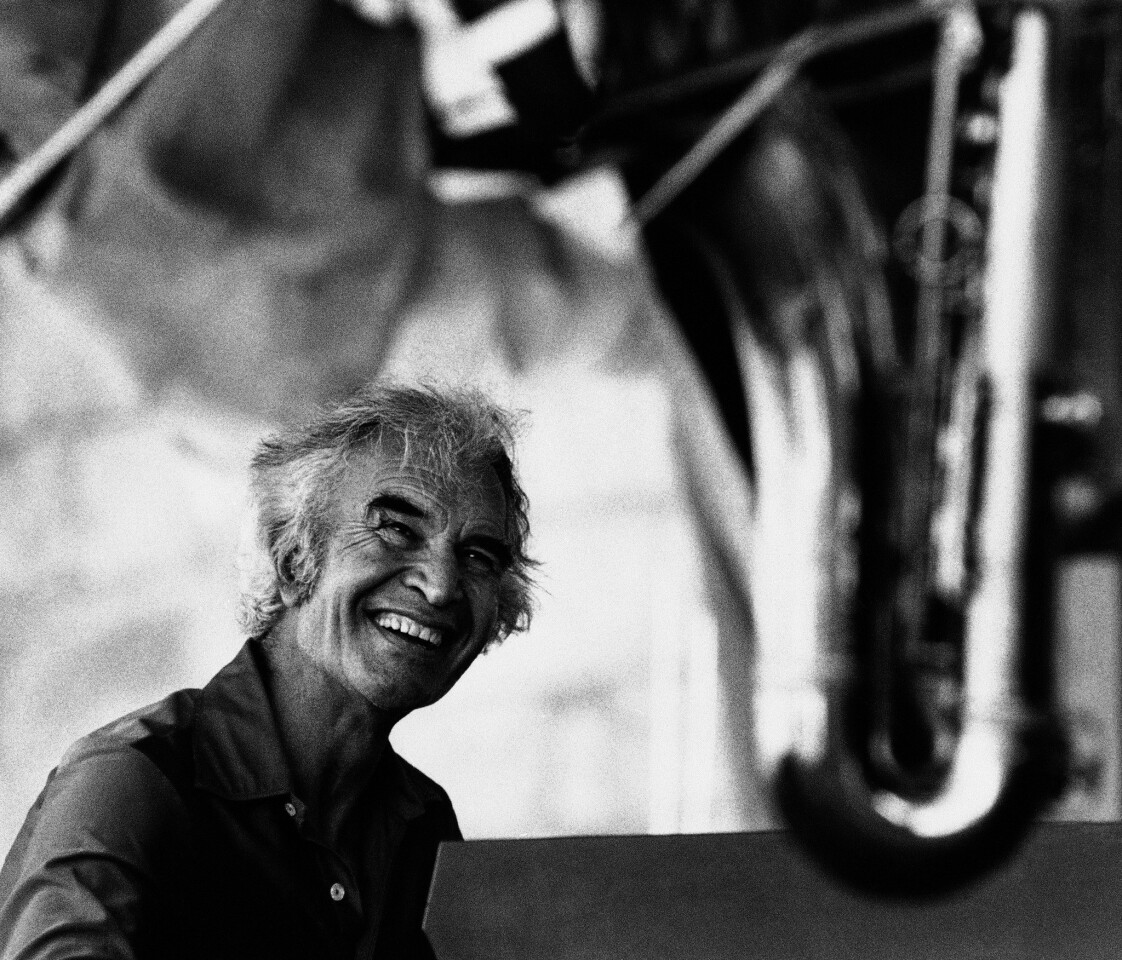 Dave Brubeck at the Newport Jazz Festival in Newport, R.I., in 1981.
(Paul Mello / Associated Press)
Dave Brubeck tours Moscow before performing at a concert in 1987.
(Boris Yurehenko / Associated Press)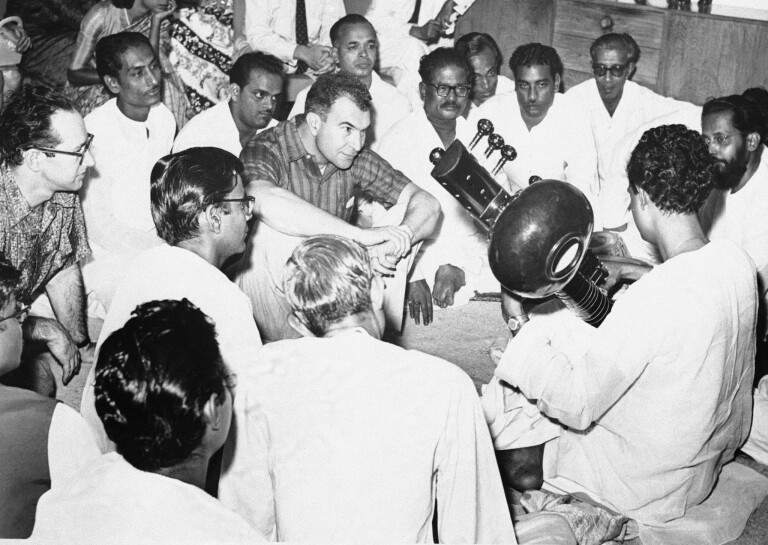 After performing their own concert, Dave Brubeck, center, and Paul Desmond, far left, listen intently to Indian musicians playing the sitar in Mumbai in April 1958.
(Associated Press)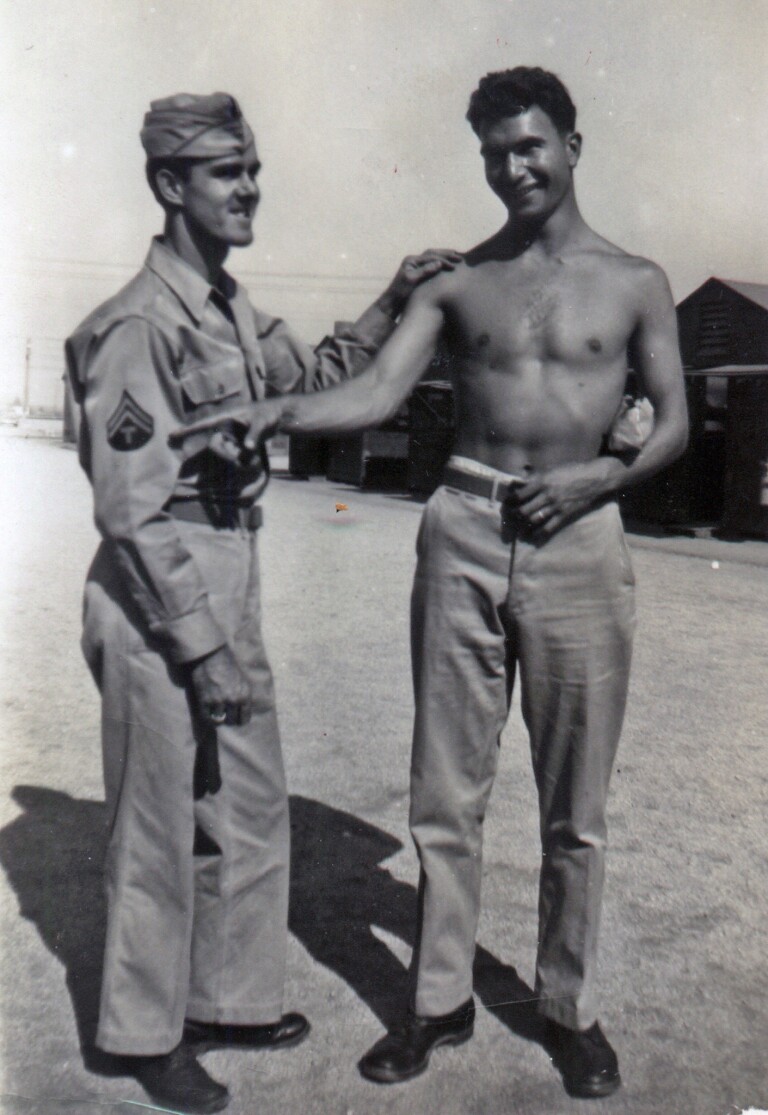 Dave Brubeck, right, jokes with an unidentified fellow Army soldier at Camp Hahn, Calif., in the 1940s. Brubeck served in France in World War II.
(Dave Brubeck )
The jazz artist Dave Brubeck died Wednesday at 91, according to his manager, Russell Gloyd. He died of cardiac arrest one day short of his 92nd birthday in Norwalk, Conn.
The pianist and arranger, born in Concord, Calif., was one of jazz's first pop stars, the musician who with alto saxophonist Paul Desmond and their Dave Brubeck Quartet introduced Desmond's canonical "Take Five," whose melodic style and unconventional time signature embodied a blend of the accessible and the progressive.
Brubeck was among the first musicians to popularize jazz as an academic subject, barnstorming colleges on tours that earned him a young audience and favor in music scholar circles, especially for his ambitious choral and symphonic works. He was famed for his odd meters, which made albums like "Time Out" feel nimble and ambitious even as they earned big sales and pop acclaim.
PHOTOS: Dave Brubeck | 1920 - 2012 | Obituary
He was among America's most famous jazz artists, penning such popular songs as "The Duke" and "In Your Own Sweet Way" and scores for Broadway and television programs.
He wasn't entirely comfortable with his fame, though. In 2010, he told The Times that his appearance on the cover of Time magazine was distracting and undeserved. "Seven in the morning, there's a knock at the door and there's Duke [Ellington] handing me the magazine and saying, 'Dave, you're on the cover.' He was happy for me, but I was just so disappointed because it should have been him. They got around to him finally a couple of years later. But … it just bothered me," he said.
Early in his career, he also was famed for crossing racial lines in the segregated South, routinely playing African American jazz clubs. He received the Grammys' Lifetime Achievement Award in 1996 and was a Kennedy Center honoree in 2009. He was most recently celebrated in "Dave Brubeck: In His Own Sweet Way," a documentary executive produced by Clint Eastwood.
ARCHIVES: Dave Brubeck says he's 'fortunate' at 90
ALSO:
For film scores, composers create a world, note by note
Led Zeppelin receives Kennedy Center honors
Review: Kneebody continues to stretch at the Blue Whale
---
The complete guide to home viewing
Get Screen Gab for weekly recommendations, analysis, interviews and irreverent discussion of the TV and streaming movies everyone's talking about.
You may occasionally receive promotional content from the Los Angeles Times.