David Bowie: The Man Who Changed the (Music) World (1947-2016)
David Bowie made his first big splash in the early 1970s with "Space Oddity," an imagined conversation between an astronaut and his ground control team. Over the next 40-plus years the British rocker often wrote songs about or from the perspective of beings from out of this world.
In many respects, Bowie, who died Sunday at 69 after an unpublicized 18-month battle with cancer, was an alien presence in pop music. He shifted guises from album to album and perpetually kept fans and critics guessing about his next move. In an era of who-cares-what-I-look-like musicians, Bowie helped bring a dramatic sense of showmanship and theatricality to rock music.
David Bowie
(Robert Lachman / Los Angeles Times)
A portrait taken on May 13, 1983 shows British singer David Bowie during a press conference at the 36th Cannes Film Festival. He is the main actor in Nagisa Oshima's film "Merry Christmas Mr. Lawrence."
(RALPH GATTI / AFP/Getty Images)
English model Twiggy poses with David Bowie in Paris for the cover of his 'Pin Ups' album, 1973.
(Justin de Villeneuve / Getty Images)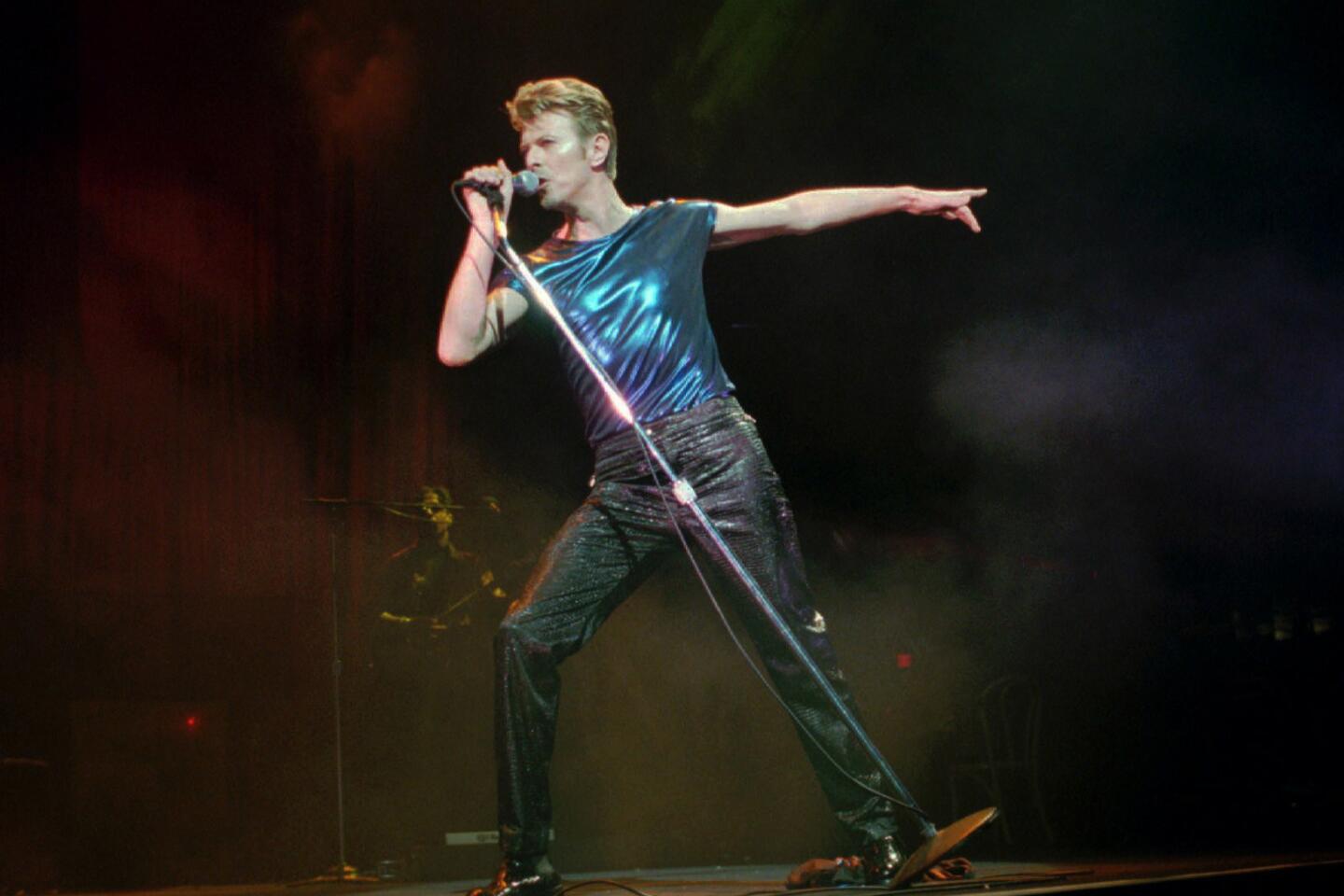 David Bowie performs in Hartford, Conn.
(BOB CHILD / Associated Press)
David Bowie performs on the first night of his UK tour at the MEN Arena on November 17, 2003 in Manchester, England.
(Alex Livesey / Getty Images)
David Bowie performs on stage on the third and final day of "The Nokia Isle of Wight Festival 2004" at Seaclose Park, on June 13, 2004 in Newport, UK.
(Jo Hale / Getty Images)
From left, Kate Moss, David Bowie and his wife, Iman, pose for a photo at the 2005 CFDA Awards dinner party at the New York Public Library.
(Evan Agostini / Getty Images)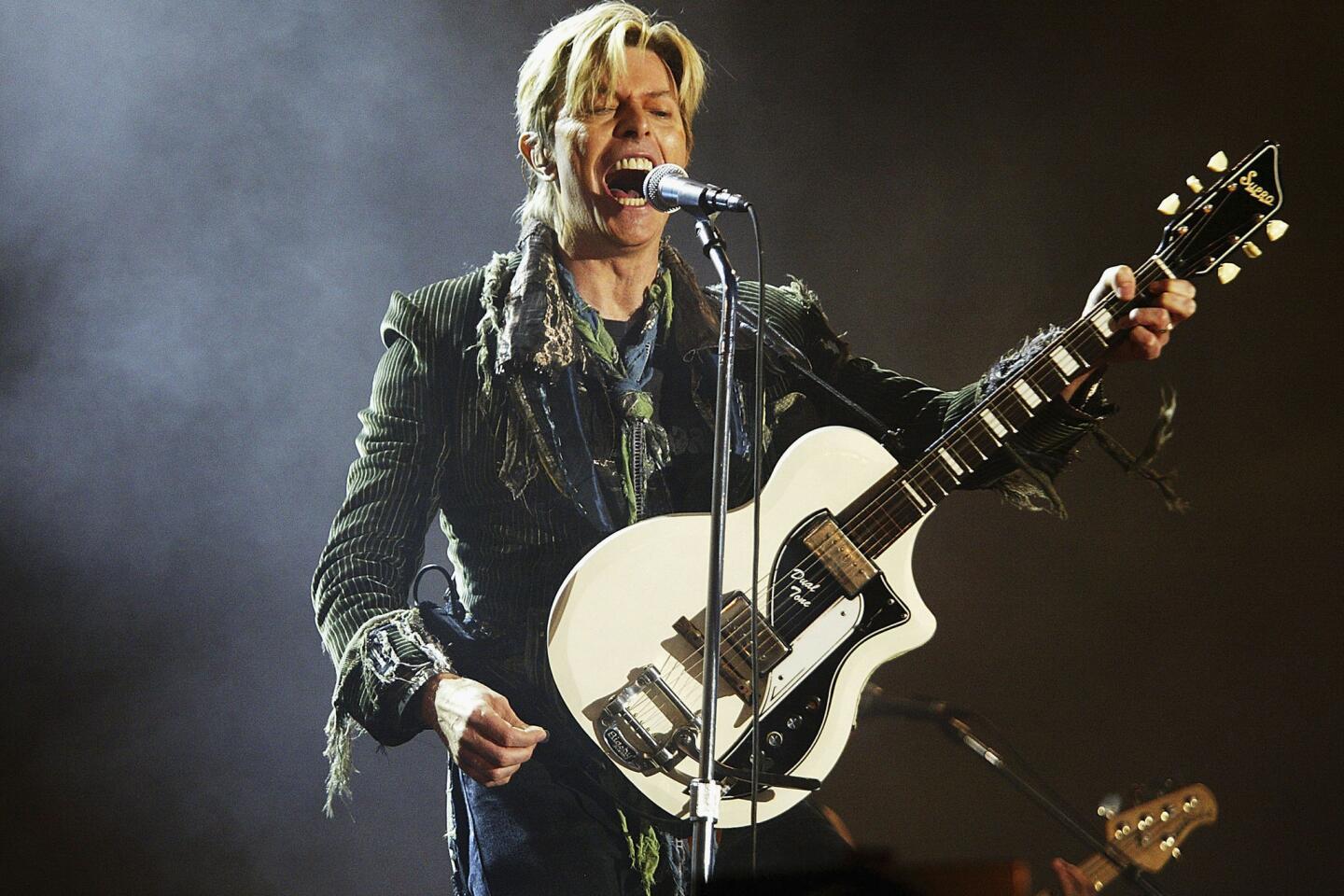 David Bowie performs during the Nokia Isle of Wight Festival in Newport, Britain, on June 13, 2004.
(Jo Hale / Getty Images)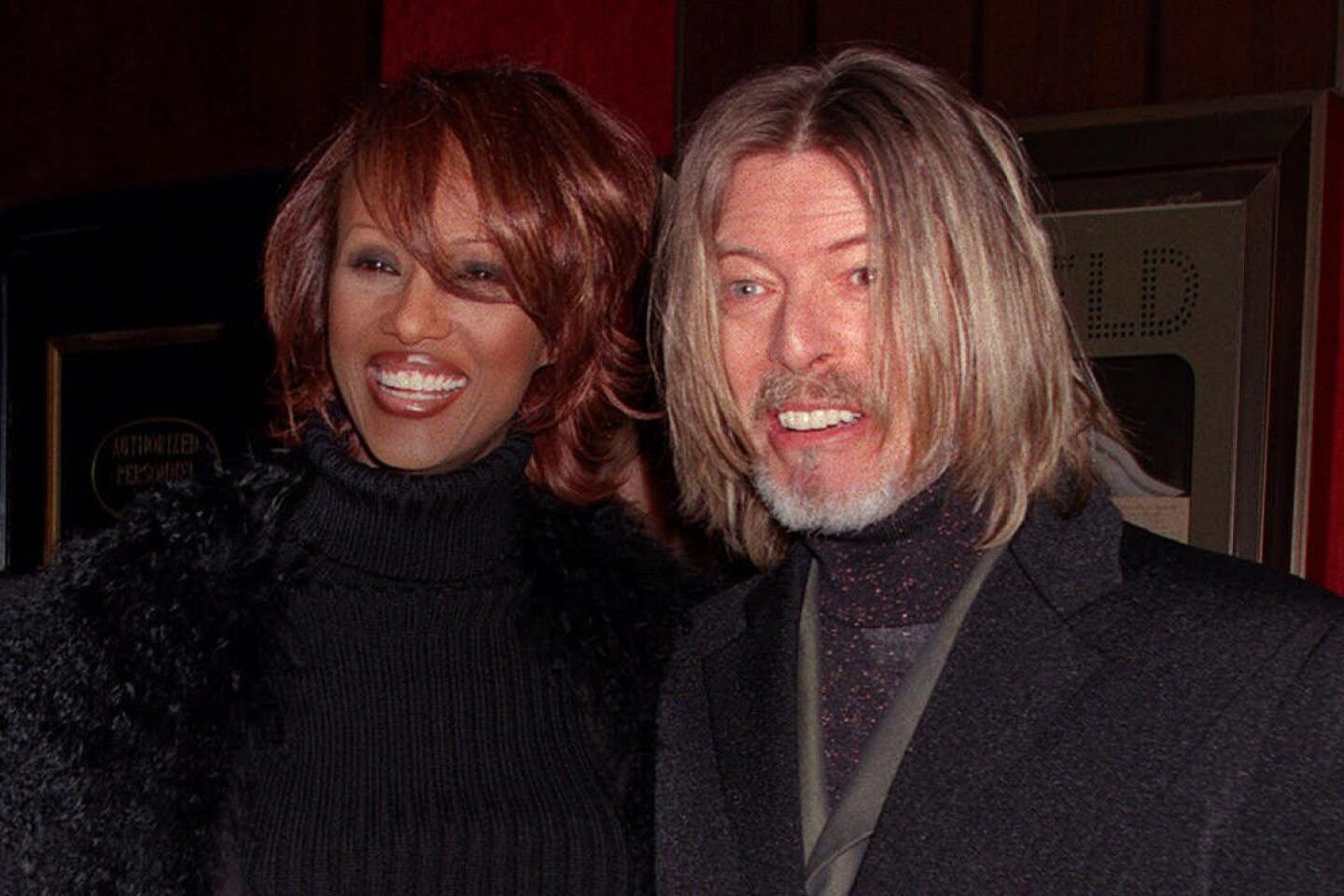 David Bowie with his wife, Iman, at the New York premiere of "Hannibal" at the Ziegfeld Theatre on Feb. 5, 2001.
(Darla Khazei / Associated Press)
David Bowie at the 2010 CFDA Fashion Awards at the New York Theatre Workshop on April 2, 2015.
(Peter Kramer / Associated Press)
Bowie performs at the Glastonbury Festival in Pilton, Britian, on June 25, 2000.
(Toby Melville / Associated Press)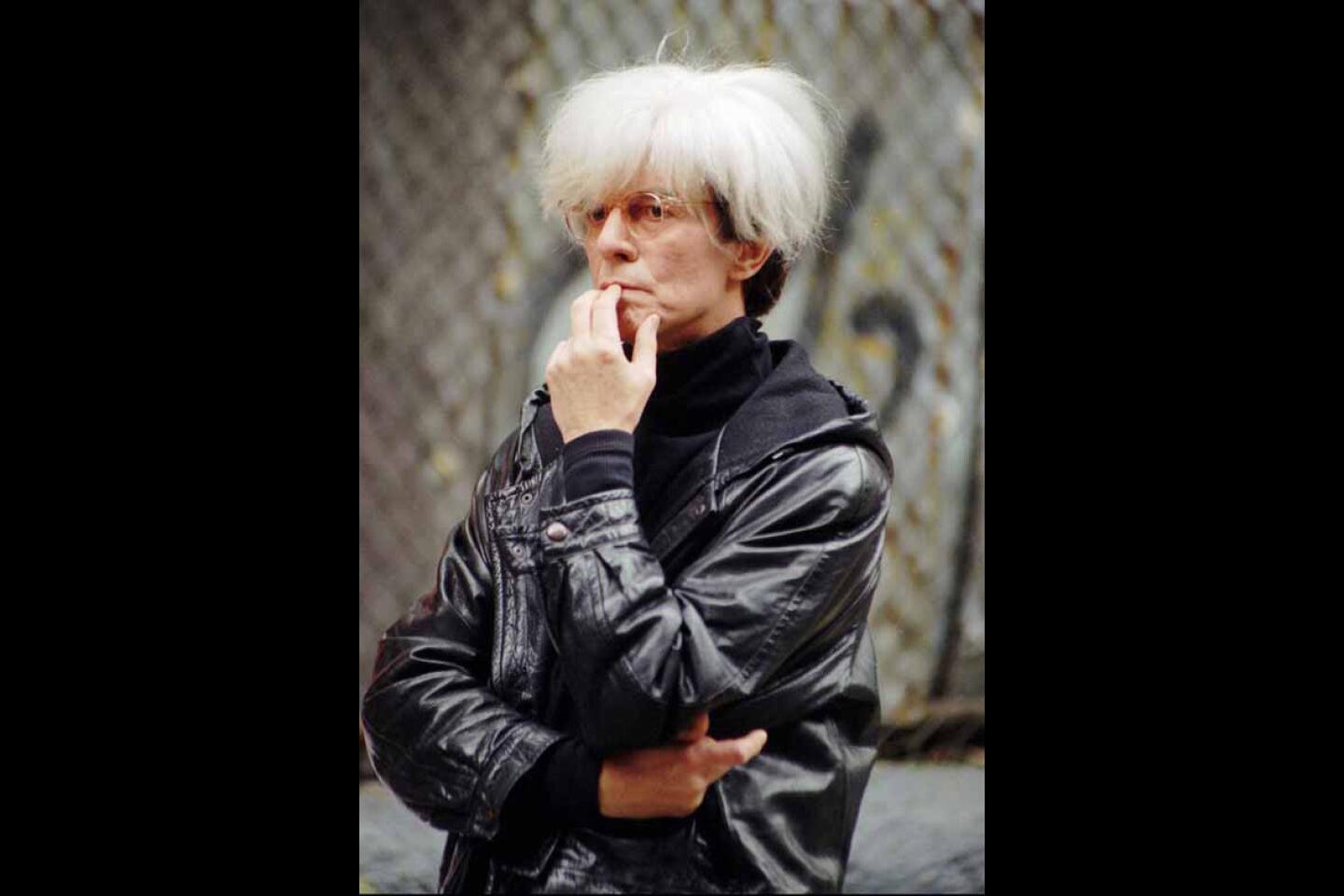 David Bowie as Andy Warhol during filming of the movie "Basquiat" in New York on June 13, 1995.
(Steve Sands / Associated Press)
He saw music as narrative, and the invention of characters became part of his creative style. Later, he lamented that these made-up personas were mistaken for signs of personal transformation — "I always saw it as theater, but the audience saw it as me going through all the changes," he said.
After the success of "Space Oddity," which originally was released in 1969 but gained new traction in 1972, Bowie fully immersed himself in the character of a visitor from Earth's planetary neighbor with the concept album "The Rise and Fall of Ziggy Stardust and the Spiders From Mars." His song "Starman" from that album appears in the hit film "The Martian."
He subsequently took on other alter egos — Aladdin Sane, the Thin White Duke and others — as he continually experimented with musical directions that both intrigued and confounded music fans, moving from guitar rock to synthesizer-driven dance music and pop to blue-eyed soul and jazz.
On Friday, the day he turned 69, Bowie released as new album, "Blackstar." It was recorded early in 2015, after Bowie had been diagnosed with cancer, a condition he largely kept to himself and his family.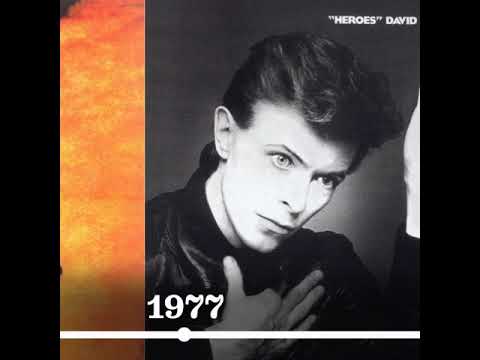 A timeline of David Bowie's studio releases
His longtime collaborator, Tony Visconti, said it was Bowie's intention that the album would be his farewell message.
"He always did what he wanted to do," Visconti wrote on his Facebook page. "And he wanted to do it his way and he wanted to do it the best way. His death was not different from his life — a work of Art. He made 'Blackstar' for us, his parting gift."
The album revels in an improvisational spirit of jazz, which had influenced Bowie since he first took up saxophone, an instrument he played on a number of records. While producing Lou Reed's sole top 20 hit, "Walk on the Wild Side," in 1972, Bowie brought in saxophonist Robbie Ross, who had been Bowie's sax teacher, to play the signature sultry solo as the song fades out.
Bowie's influence extended far beyond those of his contemporaries who came of age in the 1950s and '60s. As news of his death spread, rapper Kanye West and Madonna were among the artists who tweeted tributes.
"David Bowie was one of my most important inspirations, so fearless, so creative, he gave us magic for a lifetime," West tweeted. Madonna tweeted that Bowie "changed my life!"
His often androgynous personas also served as inspiration for countless gay and transgender entertainers to come.
One of the most artistically adventurous musicians to surface in the 1970s, he also connected with several hit singles and albums. Among them: "Changes," which was emblematic of his chameleonic artistry, "Rebel Rebel," "Young Americans" and "Fame," a collaboration with John Lennon that took him to the top of the Billboard Hot 100 singles chart in 1975.
His only other No. 1 hit came eight years later with the appropriately titled "Let's Dance," whose success landed him on the cover of Time magazine. In all he had eight top 20 singles and 14 top 20 albums, according to Billboard, among the 40-plus albums and 31 singles he placed on those charts.
Born David Robert Haywood Jones in Brixton, London, on Jan. 8, 1947, Bowie shared his birthday (albeit 12 years later) with the king of rock 'n' roll, Elvis Presley, to whom many critics often compared Bowie for his barrier-breaking influence on popular music.
He was a fan of early American rock and R&B performers such as Little Richard, Fats Domino and Frankie Lymon, and he began recording folk music with a range of bands in the 1960s. As his own career began to take off, he changed his surname to Bowie, largely to avoid confusion with Davy Jones of the Monkees.
In 1969 he released the album "Space Oddity," whose title song became his first British top 10 hit. Under the influence of T-Rex's Marc Bolan, Bowie formed a short-lived band called Hype with guitarist Mick Ronson and bassist Visconti, who became a Grammy-winning producer with Bowie through his final album. A version of that group would evolve into the musicians behind some of Bowie's groundbreaking work at the beginning of the '70s, starting with "The Man Who Sold the World."
He followed that with the flamboyant "Hunky Dory" in 1972, which included "Changes," a single that reached No. 66 on the U.S. pop chart. The same year saw the debut of "Ziggy Stardust and the Spiders From Mars," a concept album that ignited a cult following through its provocative rock and the glittery garb the band wore onstage.
Bowie continued to record in that mode (the album "Aladdin Sane"), and he produced Lou Reed's breakthrough solo album, "Transformer." In 1973, Bowie disbanded the Spiders From Mars and soon began work on a musical translation of George Orwell's "1984," but he could not secure the rights to the novel. He renamed the project "Diamond Dogs" (though some of the "1984" elements remained) and launched an elaborate tour.
As anyone suspected who had seen his richly theatrical, character-driven concert tours, Bowie easily made the transition to acting in the mid-'70s.
In 1976 he played the alien visitor in Nicolas Roeg's "The Man Who Fell to Earth." The same year he released "Station to Station," which included the top 10 single "Golden Years." He moved to Berlin and began working with producer-songwriter Brian Eno on a trilogy of albums ("Low," "Heroes" and "Lodger") that often featured brooding electronics.
In 1977 he appeared in another film, "Just a Gigolo," alongside Marlene Dietrich and Kim Novak. He also starred with Catherine Deneuve in the 1983 supernatural thriller "The Hunger," after having starred in a Broadway production of "The Elephant Man" in 1980.
As the '80s unfolded, Bowie found it difficult to convince followers that his new music represented himself and not just another character.
"There's something unique about rock 'n' roll," he told The Times' then-pop music critic, Robert Hilburn, in 1987, "that makes everyone want to think that you are the same person off stage that you are on stage. I mean, no one looks at Bobby De Niro and says, 'Well, he changes his roles all the time, so therefore he's calculating and you can't trust him.'
"For me, rock was always about narrative or putting forward little stories and ideas, however strange or off the wall they might be.
"I guess it's flattering that everyone believed I was those characters, but it also is dehumanizing. I meet people all the time and I can see the mistrust in their eyes, like calculation is my middle name."
Bowie's influence seemed to reach into every corner of the pop music universe. Proto-punk rocker Iggy Pop, for whom Bowie produced the 1973, career-rejuvenating "Raw Power" album, tweeted that "David's friendship was the light of my life. I never met such a brilliant person. He was the best there is."
In the seven hours after his death was announced Sunday night, Twitter reported that more than 4.3 million tweets had been written about Bowie and his influence.
------------
FOR THE RECORD
Jan. 12, 2:09 p.m.: An early edition of this article stated that 43 million tweets went out in the seven hours after news of David Bowie's death surfaced on Sunday. The correct figure is 4.3 million tweets. The story also described Mars as "Earth's nearest planetary neighbor." Venus, on average, is the planet closest to Earth.
------------
Among those posting messages were other top names in music and culture.
"David was always an inspiration to me and a true original," said Rolling Stones lead singer Mick Jagger, who teamed with Bowie in 1985 for a top 10 version of Martha and the Vandellas' 1964 hit "Dancing in the Street." "He was wonderfully shameless in his work."
Paul McCartney weighed in, saying: "David was a great star and I treasure the moments we had together. His music played a very strong part in British musical history.... His star will shine in the sky forever."
Comedian and actor Eddie Izzard tweeted a request for "every radio station around the globe [to] just play David Bowie music today — I think the world owes him that."
"I wish he could have stayed on earth longer," tweeted "Harry Potter" author J.K. Rowling.
His death came as a surprise, even to some collaborators.
Asked if he knew of Bowie's health issues, James Nicola, artistic director of New York Theatre Workshop, which is staging the musical "Lazarus" that Bowie co-wrote, said: "Many of us heard rumors — when you work with someone of that magnitude of celebrity, you hear a lot of rumors and you ignore them. But no, we did not know."
"David's death came as a complete surprise, as did nearly everything else about him," Eno, with whom Bowie collaborated on some of his best work, said in a posted message.
"Bowie was just a giant," Hilburn, the critic, told The Times on Monday. "It's funny how death — better than any poll or Rock and Roll Hall of Fame ballot — can make you feel, instinctively, the value of an artist. I'm sure millions of music fans felt immediately when they learned the news, that David was one of the greatest rock figures ever ... a man who always moved forward, challenging the way we thought about music and life.
"He was brilliant in every facet of the genre: on stage (ah, the Ziggy Stardust tour), on record (from 'Hunky Dory' and 'Ziggy' to 'Low' and 'Scary Monsters'). Think of how many candidates come to mind when you try to name your favorite Bowie track: 'Changes'? 'Suffragette City'? 'Rebel, Rebel'?
"Ultimately," Hilburn said, "for me it's 'Heroes.' In his most inspiring moments, he made us all feel like we could be heroes. And isn't that what rock 'n' roll is all about?"
Bowie is survived by his wife, Iman, whom he married in 1992, and two children: their daughter, Alexandria Zahra Jones, and son Duncan Jones from his marriage to Angie Barnett, whom he divorced in 1980.
Writer Steve Appleford contributed to this report.
Follow @RandyLewis2 on Twitter. For more on Classic Rock, join us on Facebook.
MORE:
Full coverage: David Bowie's life and career
Remembering David Bowie through his 100 favorite books
Mikael Wood review: David Bowie looks far beyond pop on jazz-inspired 'Blackstar'
From the Robert Hilburn archives: David Bowie spends the '80s convincing us he's just a normal guy
Get our L.A. Goes Out newsletter, with the week's best events, to help you explore and experience our city.
You may occasionally receive promotional content from the Los Angeles Times.