Delayed Tupac Shakur biopic gains steam
It was guest rapper Kendrick Lamar who garnered all the attention on Big Sean's track "Control." Lamar
proclaimed himself "king of New York,"
knocking down hip-hop titans, like Jay-Z, Eminem and Andre 3000, not to mention his counterparts Drake, J. Cole and A$AP Rocky. But according to Lamar, his hip-hop brethren just didn't get his verse and spun his lines out of context. "I'm saying I'm the most hungry. I respect the legends in the game .... Because of what they laid down, I'm going to try to go harder, breathe it and live it - that's the point of the whole verse," Lamar responded.
(Theo Wargo / Getty Images)
Looks like this is a two-fer. In J.Cole's track "Jodeci Freestyle" featuring rapper and actor Drake, J.Cole raps he's artistic, while describing his competition as autistic. The line outraged the autism community and then some. It didn't take long before the pair
issued their mea culpas
. J.Cole went first, and said, "To anyone suffering from Autism, either mildly or severely, I am sorry. I'm bound to make mistakes in my life, but in my heart I just want to spread love." Drake followed with, "I share responsibility and offer my sincerest apologies for the pain this has caused. Individuals with autism have brilliant and creative minds, and their gifts should not be disparaged or discounted."
(Mary Altaffer / Associated Press)
In
an interview
with the Hollywood Reporter, actor/singer/activist Harry Belafonte said that when it comes to the image of minorities in Hollywood, people like Jay-Z and Beyonce have turned their backs on social responsibility. Naturally, Jay-Z had a problem with Belafonte's statement. So on his latest album in the track "Nickels and Dimes," Jay-Z slams Belafonte for not giving him the respect he deserves and says the actor isn't aware of things Jay-Z does for the people in his community. The rapper also calls Belafonte's famous song "Day O," a "fail."
(Jim Ross / Associated Press)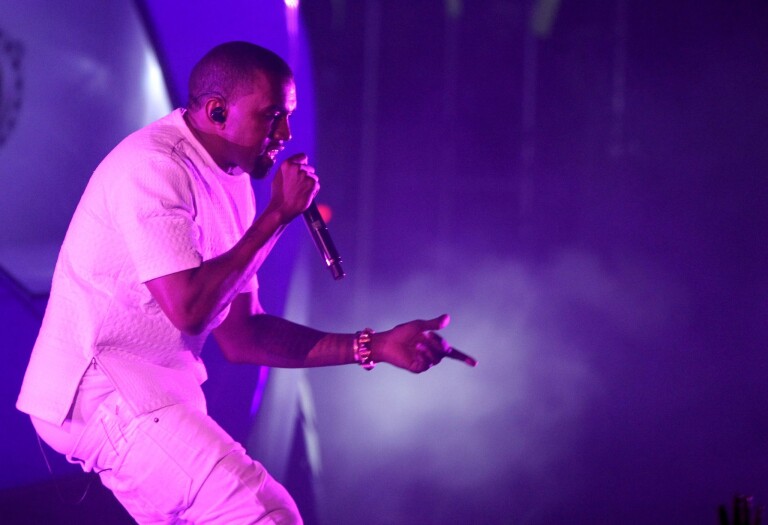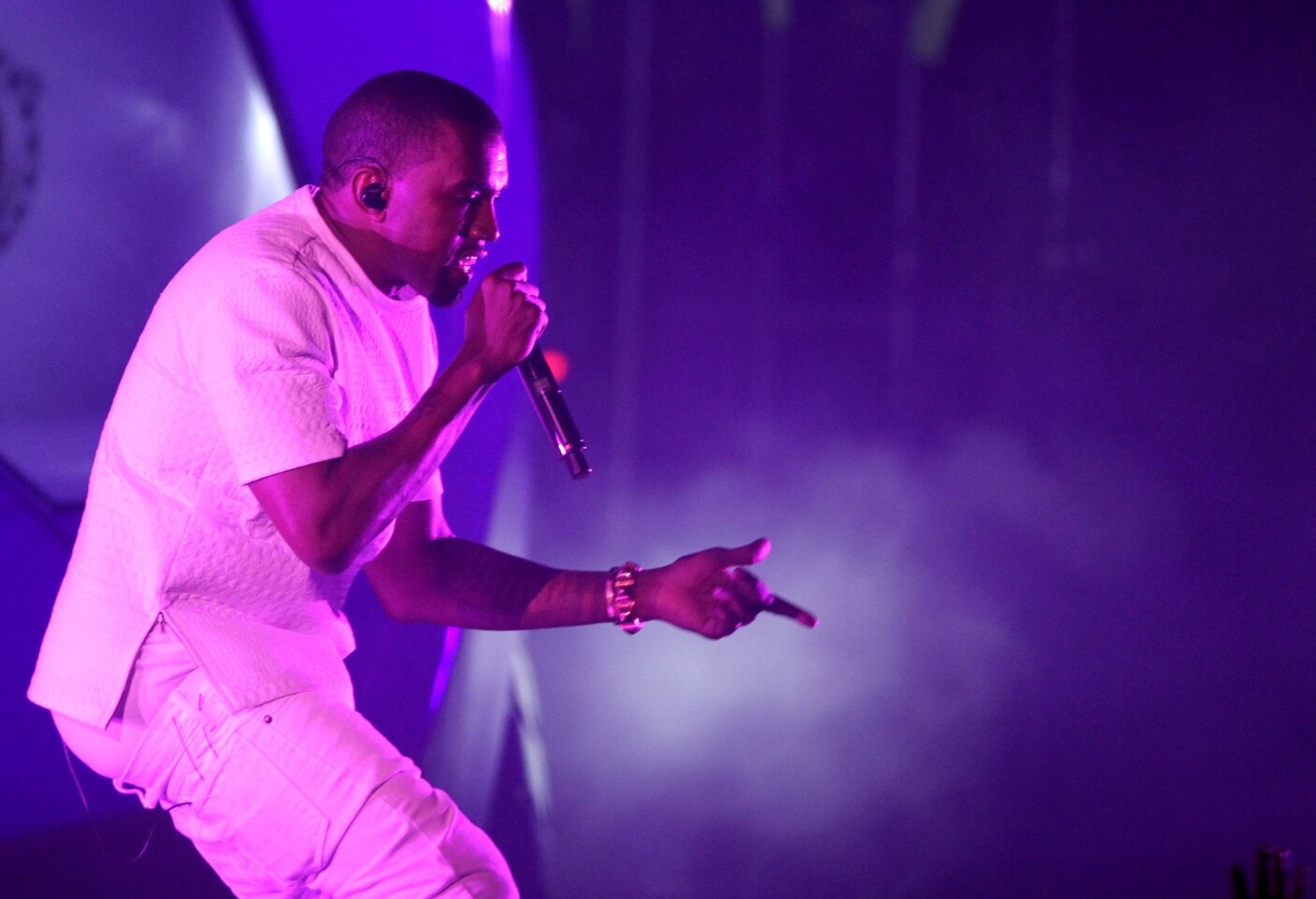 Where to begin with Kanye West's "Yeezus" album? First, West distastefully raps about sexual acts with Asian women in the track "I'm In It." The indignation, obvious. He goes on to rap about Parkinson's disease in another track titled "On Sight," picking on the tremor that is a symptom of the illness. No apologies here. Just Kanye being Kanye.
(Matt Sayles / Invision)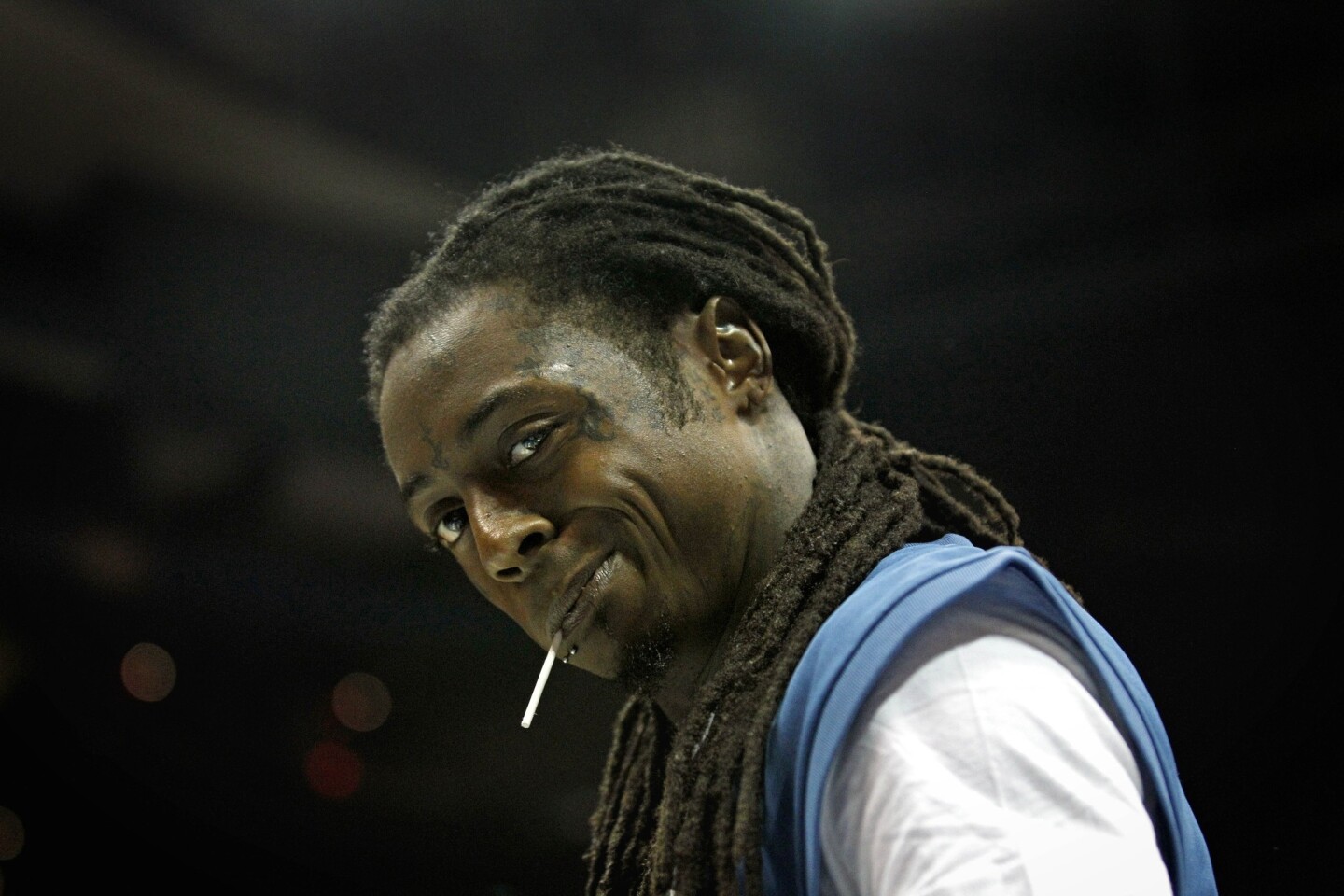 Lil Wayne is no stranger to controversy. (Rapping about "sizzurp" and stomping on the American flag, anyone?) This time, the debate ensued over his crude sexual reference to civil rights figure Emmett Till. As Times reporter Gerrick Kennedy
wrote
, in the track "Karate Chop," the tatted entertainer compared "his sexual prowess to the 1955 assault of Till -- a 14-year-old African American who was tortured and killed after reportedly whistling at a white woman during a family visit in Mississippi." The verse
cost Lil Wayne
his endorsement deal with PepsiCo's Mountain Dew.
(David Goldman / Associated Press)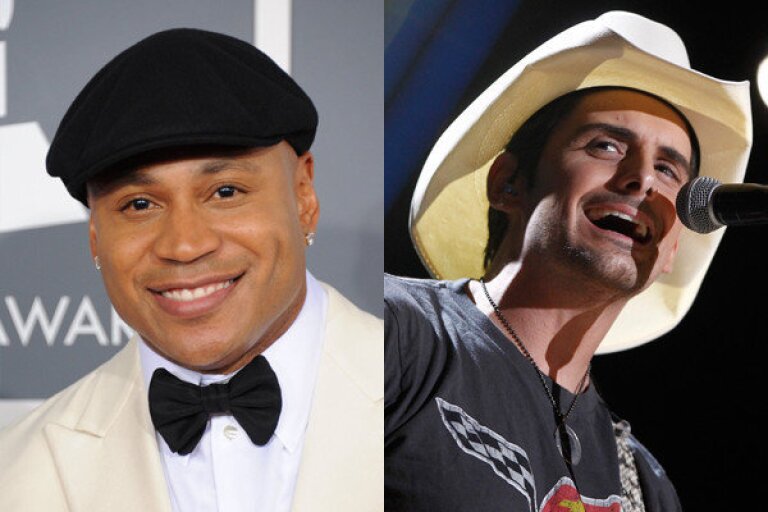 In a collaboration between country singer Brad Paisley and rapper LL Cool J, the two share the duet "Accidental Racist" off Paisely's ninth album, "Wheelhouse." On the track, Paisley says he's "caught between Southern pride and Southern blame." LL Cool J sings a verse about ending judgment, juxtaposing a Confederate flag with a do-rag. While the song triggered complaints, it was Paisley's way of shedding light on
an issue still relevant today,
he told Entertainment Weekly.
(Associated Press)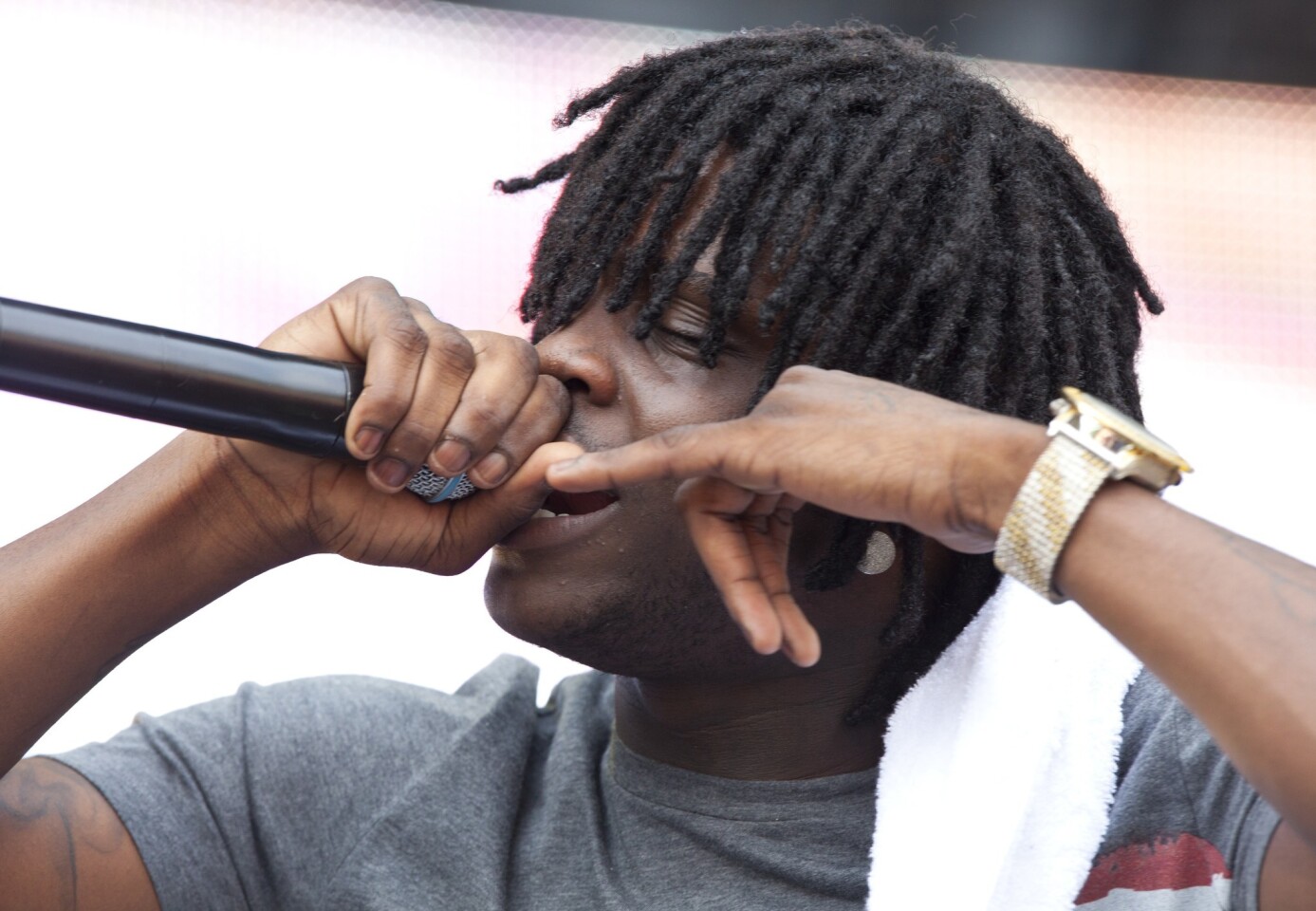 Rapper Chief Keef keeps getting into trouble. On the track "You" he threatens to "kill" women if they don't satisfy his sexual appetite. The Twitter world ate the verse up. Instagram was the venue earlier when the rapper posted a photo of himself in a sexual act. A little too much, no?
(Mike Rich / RedEye)
A song that never popularly hit the airwaves gained traction when one specific verse spread to the masses. On the track titled "U.O.E.N.O," Rick Ross delivers a line describing date rape as entertainment. Because of that verse,
Reebok dropped the rapper-mogul
as a spokesman. He later apologized on a New Orleans radio station, saying, "As far as my camp, hip-hop don't condone that, the streets don't condone that, nobody condones that."
(Isaac Brekken / Getty Images )
Last week marked the anniversary of Tupac Shakur's death at age 25 due to complications after a drive-by shooting in Las Vegas. Seventeen years after the prolific rapper's slaying, a long gestating biopic is another step closer to fruition.
Morgan Creek Productions is teaming with Emmett Furla Oasis Films to co-finance and co-produce the delayed film, "Tupac," according to Deadline.
The producers are working with a script by Eddie Gonzalez and Jeremy Haft, with a new draft expected, and aiming to begin production in February.
In 2011, Morgan Creek was developing the film, with Antoine Fuqua ("Training Day," "Tears of the Sun," "Brooklyn's Finest") attached to direct, and it launched an online casting call to find a lead to fill the shoes of the polarizing, often-embattled rapper.
RELATED: 'Tupac' biopic launches online casting call for lead role
At the time of the casting call, a draft of the film chronicled Shakur's prolific rise as a rapper and actor, his legal troubles, his time at Death Row Records and, of course, his 1996 killing, which came at the height of the East Coast-West Coast rap rivalry.
His slaying, like that of peer Christopher Wallace (a.k.a. Notorious B.I.G.), remains unsolved -- although theories about who gunned down the two are among hip-hop's eeriest mythology.
No word on casting for the film. Anthony Mackie ("The Hurt Locker") famously tackled Shakur's persona in Wallace's 2009 biopic, "Notorious." That film opted for an unknown to play Biggie and landed both a look- and sound-alike in Jamal Woolard -- who ironically rapped alongside Shakur on his seventh posthumously released studio album, 2006's "Pac's Life."
Producers of the biopic have the rights to Shakur's extensive music catalog, and his mother, Afeni Shakur, will be a producer on the film.
---
The complete guide to home viewing
Get Screen Gab for weekly recommendations, analysis, interviews and irreverent discussion of the TV and streaming movies everyone's talking about.
You may occasionally receive promotional content from the Los Angeles Times.