X's Exene Cervenka is having an estate sale
Beefs, brawls, fights, feuds -- call them what you will. These things happen. See some of the most infamous here, varying from rap artists and pop queens to country crooners and rock stars.
By Christy Khoshaba
(Christopher Polk/Getty Images for Clear Channel / Robyn Beck/AFP/Getty Images / C Flanigan/FilmMagic /Wally Skalij/Los Angeles Times / Kenzo Tribouillard/AFP/Getty Images / Bryan Bedder/Getty Images)
In 2002, John called Madonna's theme song for the spy film "Die Another Day" "the worst Bond tune ever." A decade passed, and in 2012, both John and Madonna were nominated for original song at the Golden Globes. John claimed Madonna had "no ... chance" of winning. John's husband, David Furnish, also made that known on Facebook. Around the same time, John called out Madonna once more, saying, "Make sure you lip-synch good" at the 2012 Super Bowl halftime show. Ultimately, Madonna delivered an impressive performance at the Super Bowl halftime show, and she won the Golden Globe for original song over John.
(Kenzo Tribouillard/AFP/Getty Images / Brian van der Brug/Los Angeles Times)
After the 2013 Grammy nominations, everyone knew Bieber didn't earn any nods or an invitation to perform at the ceremony. And the shutterbugs behind TMZ made that crystal-clear when they happened to ask the Black Keys' drummer Patrick Carney for his thoughts on the Bieber-less news. "He's rich, right?" Carney began. "Grammys are for music, not for money ... and he's making a lot of money. He should be happy, I guess." Alas, Bieber was not happy. He took to Twitter to express his disgust, saying that Carney needed to be "slapped around." In the end, Bieber's fans had the final say (don't they always?!), when they likened Carney's Twitter to feed to a "virtual Claire's accessories." Classy.
(Janette Pellegrini/Getty Images / Ali Haider / EPA)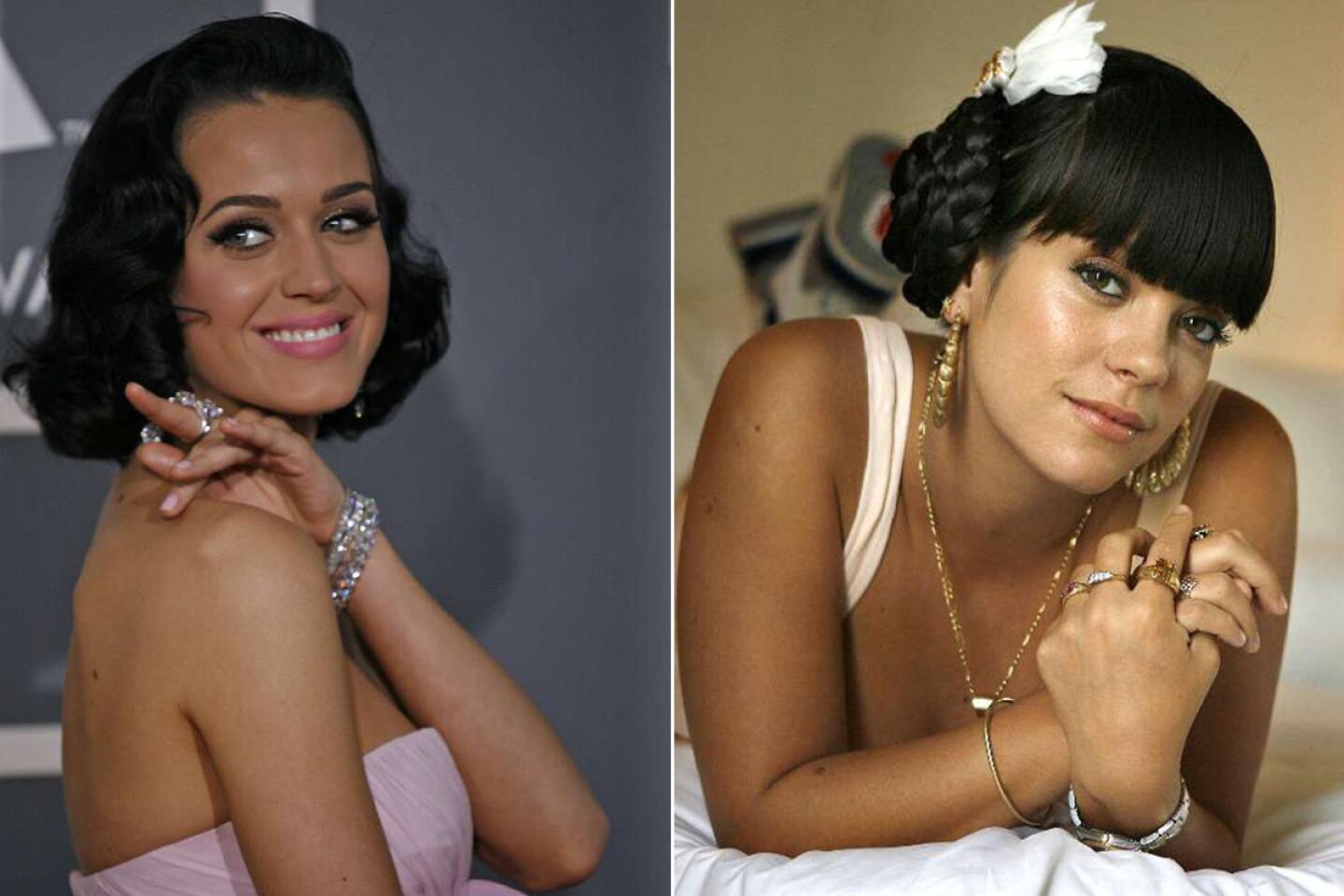 Sometimes a joke just doesn't translate. Ask pop vixen Katy Perry, who nonchalantly described herself as "the fatter version of Amy Winehouse and the skinnier version of Lily Allen" in 2008. Naturally, Allen didn't approve. She was quick to publicly point out that Perry does not even write her own songs. And then there was this: "I have Katy Perry's number, someone did me a favor," Allen said. "I'm just waiting for her to open her mouth one more time then it hits Facebook." Both mouths remained mum after the threat.
(Jay L. Clendenin/Los Angeles Times / Wally Skalij / Los Angeles Times )
When Cyrus made it known that Irish singer-songwriter Sinead O'Connor inspired her "Wrecking Ball" video seen 'round the world, O'Connor wanted nothing to do with it. O'Connor wrote an open letter on her website advising Cyrus to stop "pimping" herself and start relying on her talent. Cyrus then fueled the fire when she said O'Connor's mental issues were like those of Amanda Bynes. That's when O'Connor penned another letter to Cyrus, claiming Cyrus would eventually become mentally ill.
(Robyn Beck / AFP / Getty Images (left); Los Angeles Times)
Does a smiley face make things better? Not so much. Dark-haired heartthrob of the British group One Direction, Zayn Malik called the Wanted's Max George a "geek," only to have George tweet the response: "Psy and me getting messy #geekandproud." Well, Malik didn't stop there. "The first step is totally acceptance. #geekoftheweek. You display just how much of a wannabe you are. :)," Malik wrote. George then chimed in saying, "That's not very nice. I was just starting to like you and your RnB hits." And their tweets went back and forth like this, with both teams taking stabs at the opposite side's attitude, vocal ability and hair. Not the hair, come on!
(Tim Whitby/Getty Images / Fred Duval/Getty Images)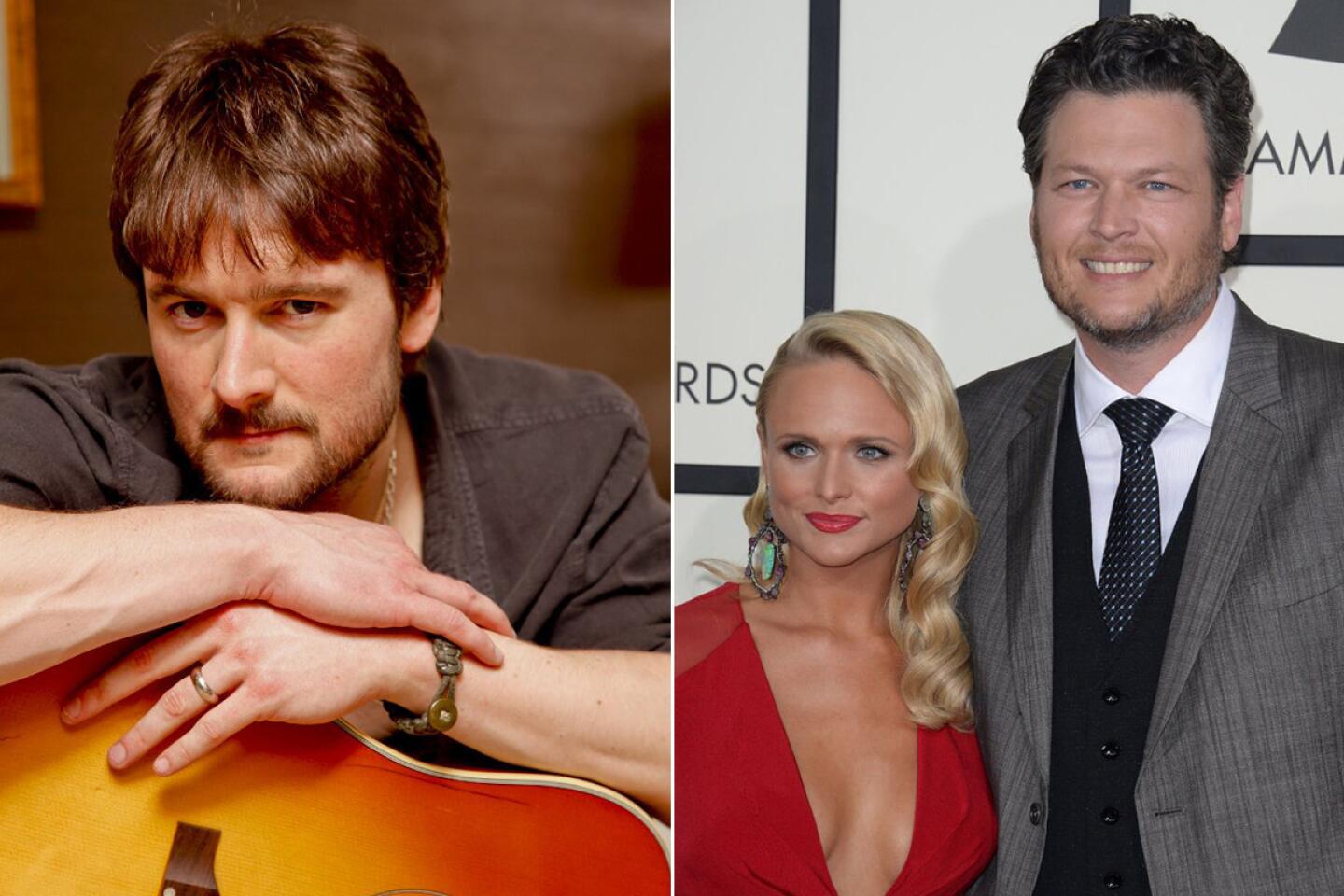 Bashing on reality shows is a no-no, as country crooner Eric Church found out. He once said, "Honestly, if Blake ... and Cee Lo ... turn around in a red chair, you got a deal? That's crazy. If I was concerned about my legacy, there's no ... way I would ever sit there..." That did not go over well with "Voice" judge Shelton and "Nashville Star" contestant Lambert. Both took to Twitter. Shelton quipped that he wished he'd "misunderstood this," while Lambert sarcastically thanked Church for calling her a "real artist." Adding, "[You're] welcome for the tour in 2012."
(Ed Rode/AP Photo / Robyn Beck/AFP/Getty Images )
Lots of back-and-forth exchanges occurred between these two. It all started when Eminem claimed his single "Superman" was about his romantic relationship with Carey. For evidence, Em also released voicemails that were supposedly left by Carey while he was on tour in 2005. It didn't take long before Carey slammed down what she considered a lie, both on "Larry King Live" as well as in her track "Obsessed." That's when Eminem shot back on his song "Bagpipes From Baghdad." And things continued this way, with help from Carey's husband, Nick Cannon, who offered to get physical with Eminem.
(Robert Gauthier/Los Angeles Times / Ramzi Haidar/AFP/Getty Images)
Sometimes feuds can spill over into personal territory. That's what happened between Brown and Drake one night outside a New York City nightclub when the pair's entourages got into a brawl over Rihanna, Chris Brown's ex-girlfriend. Drake denied being in the altercation; Brown tweeted a photo of his injured chin. Regardless of whatever went on that night, the rappers have buried the hatchet. They've collaborated on musical tracks since the incident.
(Katy Winn/ AP Photo / Owen Sweeney/Invision/AP)
Both Rock and Lee have married the same woman (Pamela Anderson), so that's the first point of contention. Second point of contention: Rock and Lee's physical brawl at the 2007 MTV Video Music Awards. Rock lashed out at Lee, and the pair both ended up in a fistfight. "This was unavoidable," Rock said. "I had to do what I had to do because this was a long time coming. You know, I came back from the bathroom, and he was sitting right there. It was even more disrespectful after everything he's said [about Rock and Anderson]. I was like that's enough. That's it." Anderson eventually settled with Rick Salomon -- after she divorced and then remarried him.
(Joerg Koch/AFP/Getty Images / Anne Cusack/Los Angeles Times)
Stand up for what you believe in -- that's what the Dixie Chicks' lead vocalist Maines did when she shut down Keith's song "Courtesy of the Red, White, & Blue." She believed the track was "ignorant, and [made] country music sound ignorant." Keith took things to another level when he rebutted, not with words, but with a doctored image of Maines alongside Saddam Hussein. Shortly after, Maines made a subtle statement when she wore a T-shirt emblazoned with an improvised cuss word aimed at "TK" at the Academy of Country Music Awards in 2003. Ouch.
(Theo Wargo/Getty Images for SiriusXM / Allen J. Schaben/Los Angeles Times)
One can only imagine the caliber of punky treasures lurking around the back of Exene Cervenka's closet. Now you can find out for yourself, because the X singer and L.A. punk/country doyenne is downsizing, and having an estate sale this Thursday.
"Calling all Betty Crocker Punk Rockers!!!" she writes on the event site. "100 years of Americana needs good home. Treasured memories of the past can live on in your hands! Like a small inheritance, but without the squabbling with siblings!"
CRITICS' PICKS: What to watch, where to go, what to eat
Among the Americana on offer? Original Cervenka artwork, "Depression glass collection," a "super hardtail chopper," "Religious ephemera and art," "Victorian clothing for women and children" and yes, "RECORDS" and "PUNK ROCK memorabilia."
Even if you didn't spend your teenage years wanting to live inside "The Decline of Western Civilization," this is a once-in-a-lifetime opportunity to actually surround yourself with Exene's s stuff.
The address for the sale will go live Wednesday morning, and the event lasts for four days. Expect L.A. to be mysteriously bereft of goth-punk homemakers.
ALSO:
Everything is awesome, indeed, for Mark Mothersbaugh
Review: George Strait bids farewell (perhaps) at Staples Center
Kenny Edmonds, Toni Braxton: Rhythm and blues, with life's bruises
Get our L.A. Goes Out newsletter, with the week's best events, to help you explore and experience our city.
You may occasionally receive promotional content from the Los Angeles Times.