Review: Hip-hop's Future reflects the overstimulation of our time -- or he's just busy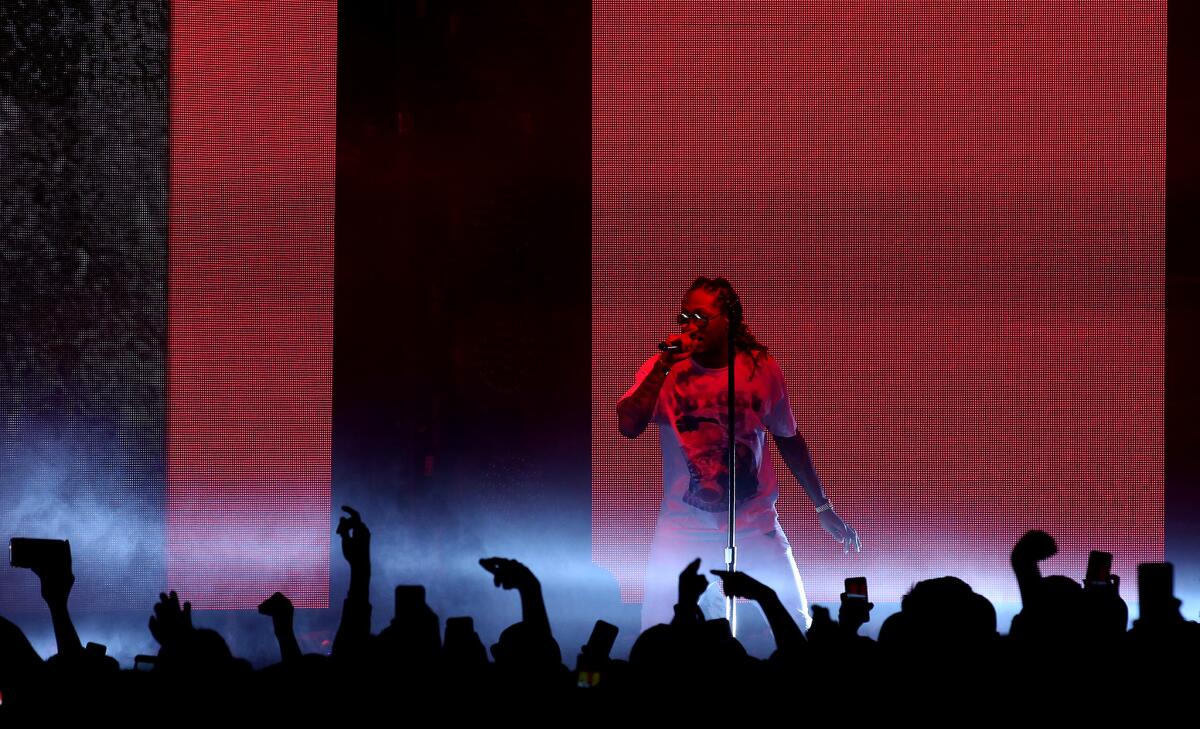 "I know we on the 'Purple Reign' tour, but we gotta get into 'Dirty Sprite 2,'" Future told the crowd at the Hollywood Palladium not long into his sold-out show Friday night. Then, as though to justify reaching back for an oldie, he added, "Number one album in the country."
In truth, he wasn't reaching back far. "DS2," as the album is officially known, came out less than a year ago, in July, when it indeed debuted atop the Billboard 200 in a clear commercial victory for this once-insurgent Atlanta rapper. Six months later, Future released "Purple Reign," the mixtape after which his current tour is named — and which itself became something of a relic with February's release of another chart-topping studio disc, "Evol."
It's all the work of one of hip-hop's most prolific young artists, a tireless hustler whose specialty is sounding deeply, almost metaphysically tired. On his many albums and mixtapes — as well as in guest appearances in songs by pop stars like Rihanna, Miley Cyrus and Ciara (with whom he has a child) — Future's highly processed vocals suggest a man driven to bleary desperation by drugs or love or technology.
He's not the only rapper using modern tools to remake the MC's job. Young Thug, also from Atlanta, and Fetty Wap both go for a hyper-real man-machine vibe, and they're all operating in the shadow of Lil Wayne, who hit new levels of digital-era intensity in his startling run of mid-'00s mixtapes.
But Future's music comes closest to conjuring the numbing overstimulation of our time, in part because he works so much. After his show in Hollywood, the rapper was scheduled to head south for a late-night gig at the Observatory in Santa Ana.
At the Palladium, where he performed by himself on a bare stage backed by several large video screens, Future moved through a couple dozen of his songs with a kind of self-preserving dedication. He wasn't unengaged; the performance didn't lack energy or emotion, especially given the participation of a crowd eager to chant along with hits like "Karate Chop" and "Jumpman." (The latter came from "What a Time to Be Alive," yet another recent project from Future that paired him with Drake.)
Yet Future seemed reluctant to get dragged into anything, conscious of how bottomless those traps can be.
For "Thought It Was a Drought," the screens played footage of a roiling ocean filled with purple water, a good visual metaphor for the music's woozy rhythms. "My Savages" had a wistful piano loop, sentimental but cooled-out.
In an unprintably titled track about adding commas to the figure that represents one's net worth, Future even danced a little, though nowhere near as enthusiastically as the kinetic Ty Dolla Sign, who turned up onstage to help Future do their radio hit "Blasé" and promptly jumped into the audience.
At the end of Future's set, which lasted just over an hour, the rapper's DJ brought Ty Dolla Sign back out to present Future with a plaque commemorating platinum sales of "Blasé," which he accepted with all the fanfare of a guy plucking his suitcase from baggage claim.
Then again, it was 11:12 p.m. at that point, and doors were already open at the Observatory.
No time to waste.
Twitter: @mikaelwood
MORE FROM MUSIC
Review: How Gwen Stefani dug deep for her brutally honest new album
Bruce Springsteen & the E Street Band revisit 'The River' in L.A.
From indie bands to Michelle Obama, SXSW Music wants to do it all. Can it?
Get our L.A. Goes Out newsletter, with the week's best events, to help you explore and experience our city.
You may occasionally receive promotional content from the Los Angeles Times.