FYF Fest: A political urgency from Morrissey and D'Angelo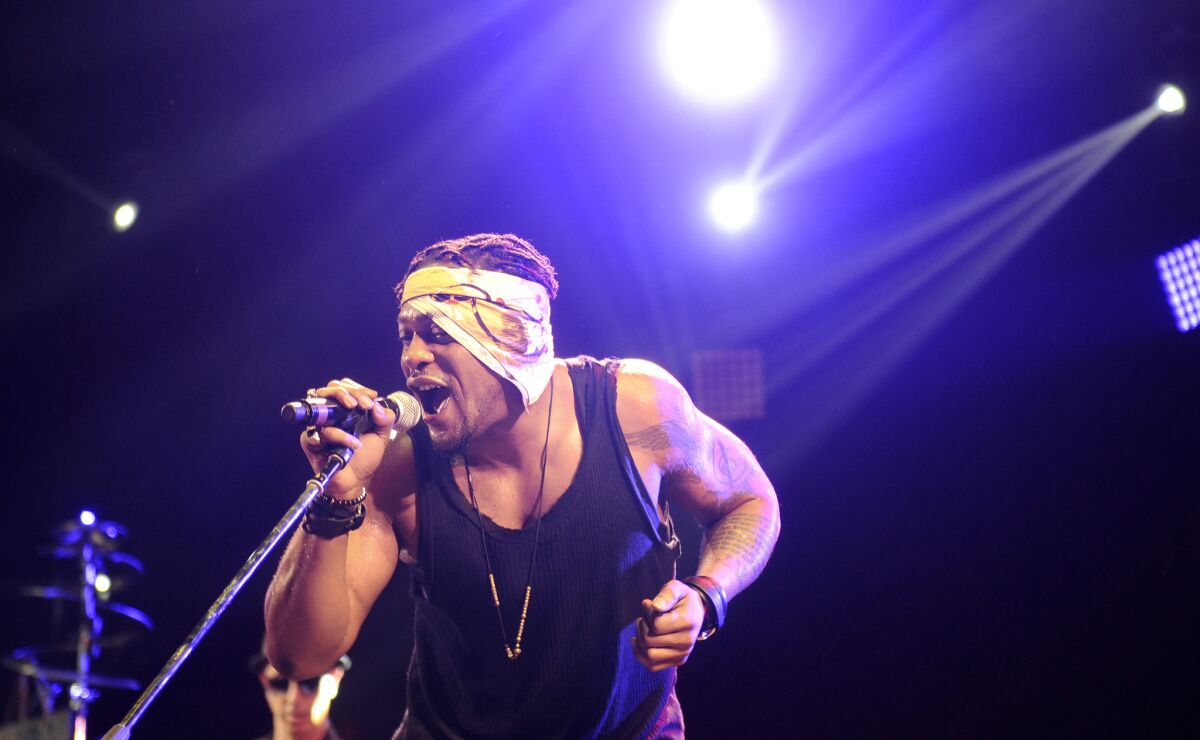 Sunday night at FYF Fest had an unexpected charge of urgency from its headliners.
D'Angelo and the Vanguard's set on the Lawn stage was a master class in live-band panache, drawing from politically kindled anger and romantic devotion alike. Thousands of young FYF fans reveled in airtight soul and R&B with the precision of James Brown's famed backing bands, and the insight and insistence of today's social activists (seen on cuts from his comeback LP "Black Messiah").
Across the Coliseum grounds, Sunday headliner Morrissey was in his usual, transcendentally miserable form. He played a bevy of solo and Smiths cuts in fine vocal form while playing right into his true hometown crowd: pleading for fans to nix Donald Trump and fending off an affectionate stage crasher while the restaurants surrounding the perimeter of his set slung vegan entrees. It was classic Moz all over.
SIGN UP for the free Essential Arts & Culture newsletter >>
But when he played upsetting footage from a string of police brutality videos over the stage screens during "Ganglord," it felt viscerally contemporary and resonant to today's social-justice issues.
That's not always expected at FYF, but it made for a resonant end to a generally successful, inspired weekend of music.
After Saturday's last-minute Frank Ocean/Kanye West swap (which earned West high acclaim for his rowdy set), Sunday went almost entirely as expected. That was a welcome change for FYF, which often feels like a high-wire act for its organizers. But for fans -- the fest declined to state attendance figures this year, but last year's hit an estimated 40,000 per day -- it was all just wild and woolly enough to keep it interesting, while the basic logistics went off without hitches.
On Sunday's daytime shift, mid-80s sunshine provided Neon Indian's goofy synth rock with a relaxed, yacht-party atmosphere. Inside the arena, Spiritualized played moody, blue-eyed gospel while kids in black goth get-ups prepared for a sadness fix at Morrissey's headlining set coming up. Across the field, Andrew Jackson Jihad didn't sound nearly as harsh as the name suggested, as the band's punky rock had twinges of earnestness that hearkened back to FYF's beginnings.
By sundown, the intensity shifted into higher gear, with noisy and dramatic sets from local heroes Health (who fought back gear troubles to still turn in a fierce statement of purpose onstage) and the antihero electro-punks of Death Grips.
Flume's mercurial but populist dance music crossed all of FYF's demographics -- L.A. experimental weirdos, USC kids having a rowdy weekend, bands of glitter-flecked young women swaying in the afternoon heat.
Nicolas Jaar had a similarly unifying turn in the Arena, packed to the hilt with club-music devotees turning out for his beguiling but rousing outsider electronica. FKA Twigs closed out the night with a riveting showcase of her fractured electronic ambience, cut through with must-watch vogue dancing.
D'Angelo and the Moz each played to their faithful, but there were also a lot of kids seeing both in the flesh for the first time. Each of them delivered their classic catalogs re-contextualized for today's audiences.
FYF is slowly shifting from a reliable compendium of young, arty punk aesthetics into an event where musical tastes -- and minds -- are challenged.
Follow @AugustBrown for breaking music news.
ALSO:
FYF review: Kanye West thrills, but we've seen it plenty
Could FYF Fest be the most important music festival of 2015?
Taylor Swift gets crunk with Mary J. Blige and 'Crazy Eyes' at Staples
---
Your essential guide to the arts in L.A.
Get Carolina A. Miranda's weekly newsletter for what's happening, plus openings, critics' picks and more.
You may occasionally receive promotional content from the Los Angeles Times.