Could FYF Fest be the most important music festival of 2015?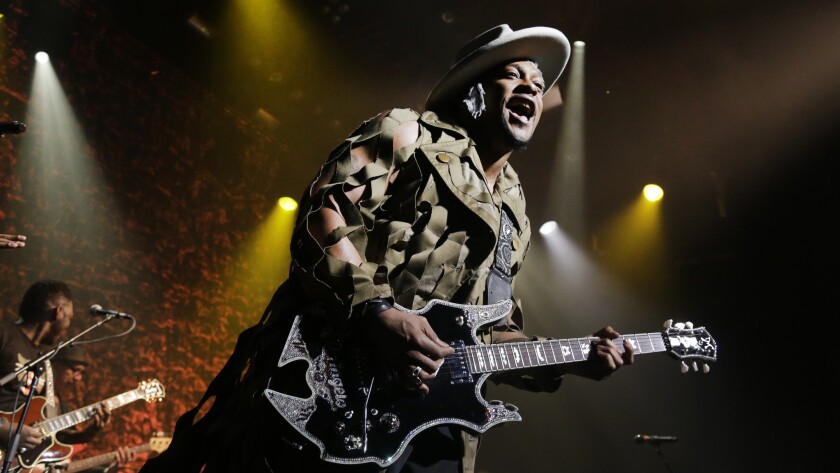 When FYF Fest began in 2004, it quickly established a reputation for bringing together scrappy punk bands with something to say: the boldly nihilistic Negative Approach, for instance, or the gleefully anti-authoritarian Circle Jerks.
Since then, this annual Los Angeles festival -- founded by Sean Carlson when he was only 18 -- has grown exponentially in size and stature. In 2011, Carlson joined forces with Goldenvoice, the powerful concert-promotion firm behind Southern California's most prestigious music event, the Coachella Valley Music and Arts Festival. And last year the show moved from Chinatown's dusty L.A. State Historic Park to the L.A. Sports Arena and surrounding Exposition Park.
SIGN UP for the free Indie Focus movies newsletter >>
Yet as FYF expanded, its engagement with political and social issues seemed to recede. Recent headliners like the Strokes and Phoenix put across a stylish ennui; MGMT and My Bloody Valentine are known for their trippy insularity.
This year, in contrast, the protest music is back -- though not in the form of guys with loud guitars.
With an impressive lineup that includes Kanye West, D'Angelo, FKA Twigs and Morrissey, the latest edition of FYF -- set to take place Saturday and Sunday -- might have less to do with punk (at least in its traditional guise) than any other event in the festival's 12-year history. Yet its politics have never run hotter, a shift that reflects a world in turmoil but also a savvy means of distinguishing FYF in an increasingly crowded festival scene.
The event certainly attracted national attention Thursday with its announcement that West, one of the most famous (and polarizing) musicians on Earth, was stepping in at the last minute to replace Frank Ocean, the young L.A.-based R&B star originally scheduled to perform Saturday night.
Ocean, who's kept largely quiet in the years since his Grammy-winning 2012 album "Channel Orange," had been highly anticipated at FYF, where he was expected to debut material from a follow-up record he's reportedly close to finishing. (In a statement, FYF said Ocean "decided on his own terms to cancel," a sign perhaps that the new songs aren't ready.) Yet booking West on such short notice -- a major feat for any festival, let alone one this close to such do-it-yourself roots -- makes it clear that FYF has become a serious player.
More important, West's presence will only thicken the festival's air of outcry. His most recent album, 2013's "Yeezus," is a lacerating attack on a poisoned America with songs like "New Slaves" and "Black Skinhead," in which he spits lyrics seemingly inspired by reaction to his relationship with Kim Kardashian: "They see a black man with a white woman at the top floor / They gon' come to kill King Kong."
West has taken a different tack in a handful of songs he's released lately, including "FourFiveSeconds," a folky collaboration with Rihanna and Paul McCartney, and the gentle "Only One," which the rapper has said channels his late mother's feelings for his 2-year-old daughter, North.
But in a sense that shift is a political act too: a way to subvert our expectations of a proud loudmouth whose every utterance is dismissively labeled a "rant."
Performing with the expert live band he calls the Vanguard, D'Angelo is sure to serve as another of FYF's centers of gravity. Late last year the singer ended a long hiatus with "Black Messiah," a stunning set of textured soul-funk songs about romance and injustice that D'Angelo said he was inspired to release ahead of schedule following the 2014 shooting death of Michael Brown in Ferguson, Mo.
At times the album is explicit in its protest, as in "The Charade," where he sings, "All we wanted was a chance to talk / 'Stead we only got outlined in chalk." Yet even when he moves to the bedroom, the murky grooves on "Black Messiah" have a haunted quality that gives the music real depth.
"Now more than ever is the need to sing about [social change] and to write songs about it," D'Angelo recently told the New York Times, describing a commitment he's brought to life in the acclaimed concerts he's played over the months since the album's release.
FKA Twigs is less direct than D'Angelo about taking up that mission. Her icy, abstract R&B can sometimes feel like it was beamed in from outer space (or somewhere equally removed from gritty, earthly concerns). Yet in her music and especially her confrontational dancing, Twigs pushes back hard against restrictive notions of female beauty. Expect to leave her set on Sunday with a broadened view of the way desire functions in soul music.
More conventional messages of protest are likely to come from Run the Jewels and Death Grips, two bumptious rap groups disgusted by abuse they see rampant among leaders of all stripes, from law enforcement to big business.
And there's something of the old-fashioned agitator in Morrissey, who this week brought his well-established flair for provocation to Larry King's Internet talk show, of all places. Speaking about his long struggle with depression, Morrissey said suicide was "admirable," and he criticized President Obama for "forgetting about the police machinery all the time."
"Obama -- is he white inside?" the singer asked. "It's a very logical question."
There are plenty more such barbs on Morrissey's latest album, "World Peace Is None of Your Business," which came out last year (but now, following a reported clash with his record label, has disappeared from digital outlets such as iTunes and Spotify). Rather than setting his bile against growling guitars, though, Morrissey uses some of the plushest, most sophisticated pop arrangements he's ever devised -- a characteristically perverse twist that should hit home in Exposition Park.
Of course, this year's lineup features some acts that couldn't seem less interested in the outside world, be they the haggard indie rockers of Dinosaur Jr. and Spiritualized or the shambling, stoner-romantic likes of Mac DeMarco and Tobias Jesso Jr. In Simian Mobile Disco and Flume, FYF also has a bit of the pleasure-seeking dance music that no youth-centered festival is complete without.
But overall the heavy-hitting lineup points to a daring future for FYF. This year Coachella and another SoCal institution, Hard Summer, often felt like they were offering escape routes to their attendees -- happy diversions from what's going on outside festival gates.
FYF 2015 promises not to look away.
Twitter: @mikaelwood
MORE:
FYF Fest: Frank Ocean cancels, Kanye West added
Set times announced for this weekend's FYF Fest
Noise band Health, as anxious and rude as ever, adjusts to a new scene
---
Inside the business of entertainment
The Wide Shot brings you news, analysis and insights on everything from streaming wars to production — and what it all means for the future.
You may occasionally receive promotional content from the Los Angeles Times.