The Recording Academy's president explains Rihanna, Adele and everything else that went wrong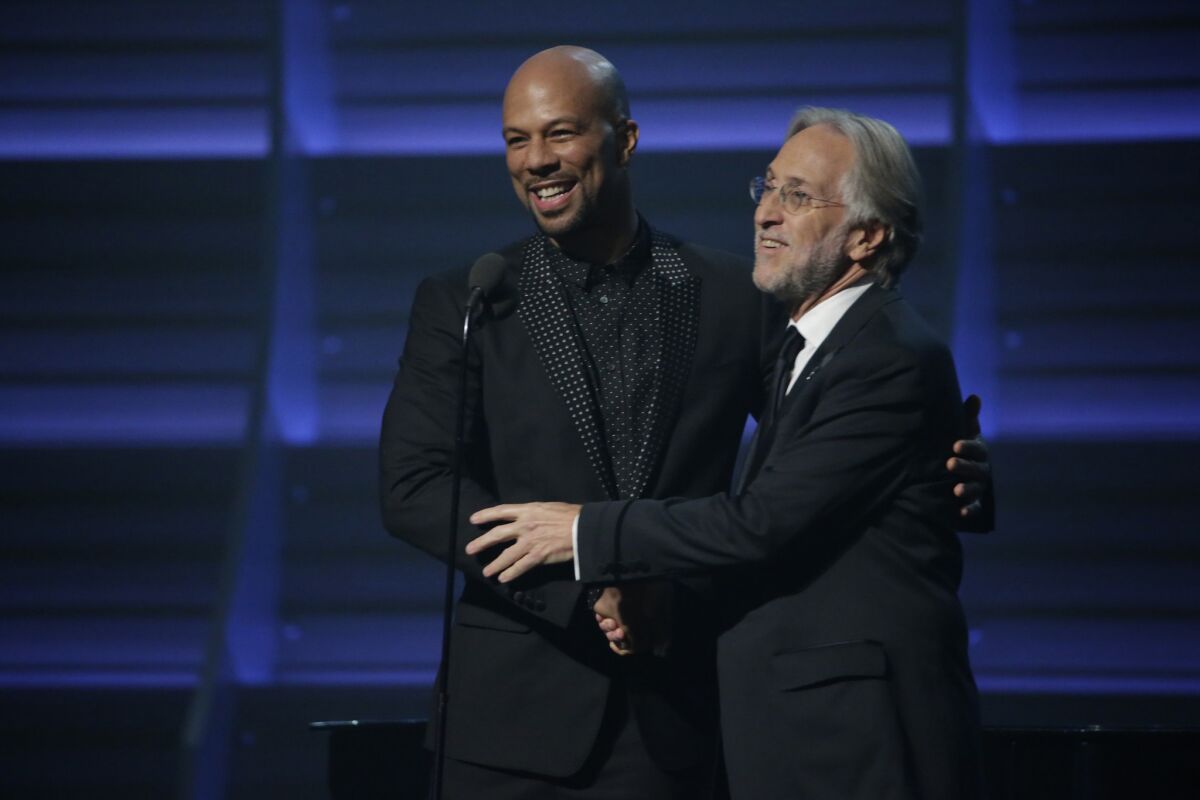 The Grammys are a live event, and live events by nature aren't perfect. Backstage in the press room Monday, Recording Academy President Neil Portnow spoke about the night's snafus:
On Rihanna's absence: "We got word from her folks that she was taking antibiotics, she made rehearsal and it was OK. But the doctor came in and examined her and said you have a risk if you sing. We regret that, we were all looking forward to her performance. She regrets it. But that's what happens with live events."
Rihanna released a similar statement to The Times.
On Adele's performance: "We have the most complicated technical show on television when it comes to music, bar none. Inside the piano are microphones, and a mike dropped into the strings. It happens to all sorts of people, but it rarely happens on our show.
"When we switched over to the backup system, it had to drop out for a few seconds. When performing in intimate performance, it can be unnerving. We certainly don't like it when those things happen, but they happen."
The singer tweeted the same thing earlier on Grammy night.
Grammys 2016: Full coverage | Best and worst dressed | Red carpet | Show highlights | Nominees and winners | Top nominees
On the general mood: "I think this is one of the more emotional Grammys we've had. We live in challenging times. Music is created out of the social conditions we live in. But music can help change social conditions, and we've seen a combination of that, especially this year.
"And with all the amazing icons we lost this year, we tried to gracefully acknowledge people. As the academy, we keep track, but it's a morbid task. There were three to four pages of hundreds of music people we lost this year."
On Lauryn Hill's absence: "The Weeknd felt she would be great to collaborate with. We had rehearsals off site that she didn't attend, but we had a dress rehearsal onstage that she did attend. When it came to showtime, we were told she was late, three minutes to seven minutes out, but she didn't make it. She didn't get into the building on time. If I have to be someplace on time, I figure out how to do that.
"It's unfortunate, but a great credit to the Weeknd. He killed it."
A statement from Hill's representatives sent to Vox did not agree with the statements above.
MORE
Kendrick Lamar's Grammys performance makes an unforgettable impression
Grammy Awards 2016: Who won, who lost, who performed
Get our L.A. Goes Out newsletter, with the week's best events, to help you explore and experience our city.
You may occasionally receive promotional content from the Los Angeles Times.