Jhene Aiko surprises fans with pop-up concert at L.A.-area dispensary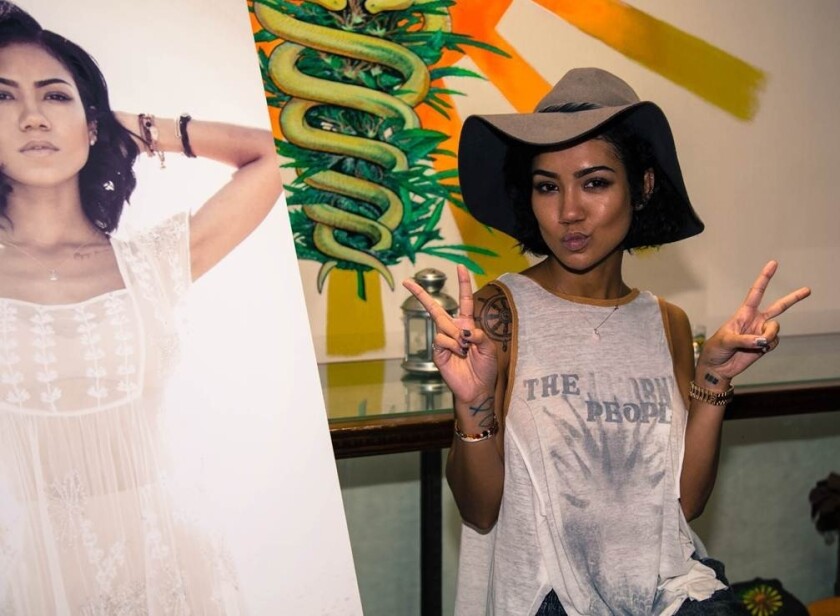 The line in front of West Hollywood marijuana dispensary the Farmacy was a block deep on Tuesday night.
There wasn't a sale on pot, although there were a bevy of stoners in attendance. The shop was packed with Jhené Aiko fans who scurried to the shop to catch a surprise performance from the alt-R&B singer.
Aiko used her Twitter and Instagram account to give her fans a one-hour notice to get to the dispensary.
About 50 fans got into the shop that was transformed into an intimate performance space with a few rows of seats, but dozens more waited outside and crowded the windows to steal peeks.
Accompanied by just a guitarist, Aiko breezed through a small three-song set that included her hit "The Worst" and songs from her recently released debut, "Souled Out."
The album debuted at No. 3 on this week's Billboard 200, adding another notch to the L.A.-bred singer's breakout year that included a shining set at Coachella and an EP that had a Top 10 debut.
Although the 26-year-old earned a great deal of buzz as hip-hop's new "It" girl with sultry, emotive hooks on recent records from J. Cole, Wale, Big Sean and Drake -- he brought her on tour last year – fans have waited more than a decade for her debut.
As a teen, she landed a deal with Epic, but label politics kept her debut shelved. Aiko asked to be released from the label after two years to focus on school. In 2010 she began collaborating with Kendrick Lamar, Schoolboy Q and Ab-Soul. Her collaboration with Lamar, a song called "Growing Apart (To Get Closer)," set the tone for what became her 2011 mixtape, "Sailing Soul(s)."
The mixtape was downloaded more than 150,000 times and eventually led to a deal with No I.D. (who has worked with Kanye West, Common and Nas).
Her label debut, "Souled Out," is steeped in the same heady, etheral productions that made her an early standout in R&B's landscape of progressive voices churning out moodier, genre-blending takes on the genre.
Aiko selecting a pot shop to stage a show was fitting. Her deeply confessional yarns -- heartbreak, loss, lonlieness, spirtual awakening and the exisential experience are frequent themes – pair well with being under the influence, with cannabis often serving as a metaphor. While there wasn't any puffing and passing happening at the show, some edibles were passed around.
"Is anybody high right now?" Aiko said and laughed before ending the set and posing for selfies with the audience.
---