Review: 'Justin Bieber's Believe' is one for the zealots
Eighteen-year-old pop star Justin Bieber.
(Lawrence K. Ho / Los Angeles Times)
The singer made his debut with the song "Baby" featuring rapper Ludacris in 2010.
(Lawrence K. Ho / Los Angeles Times)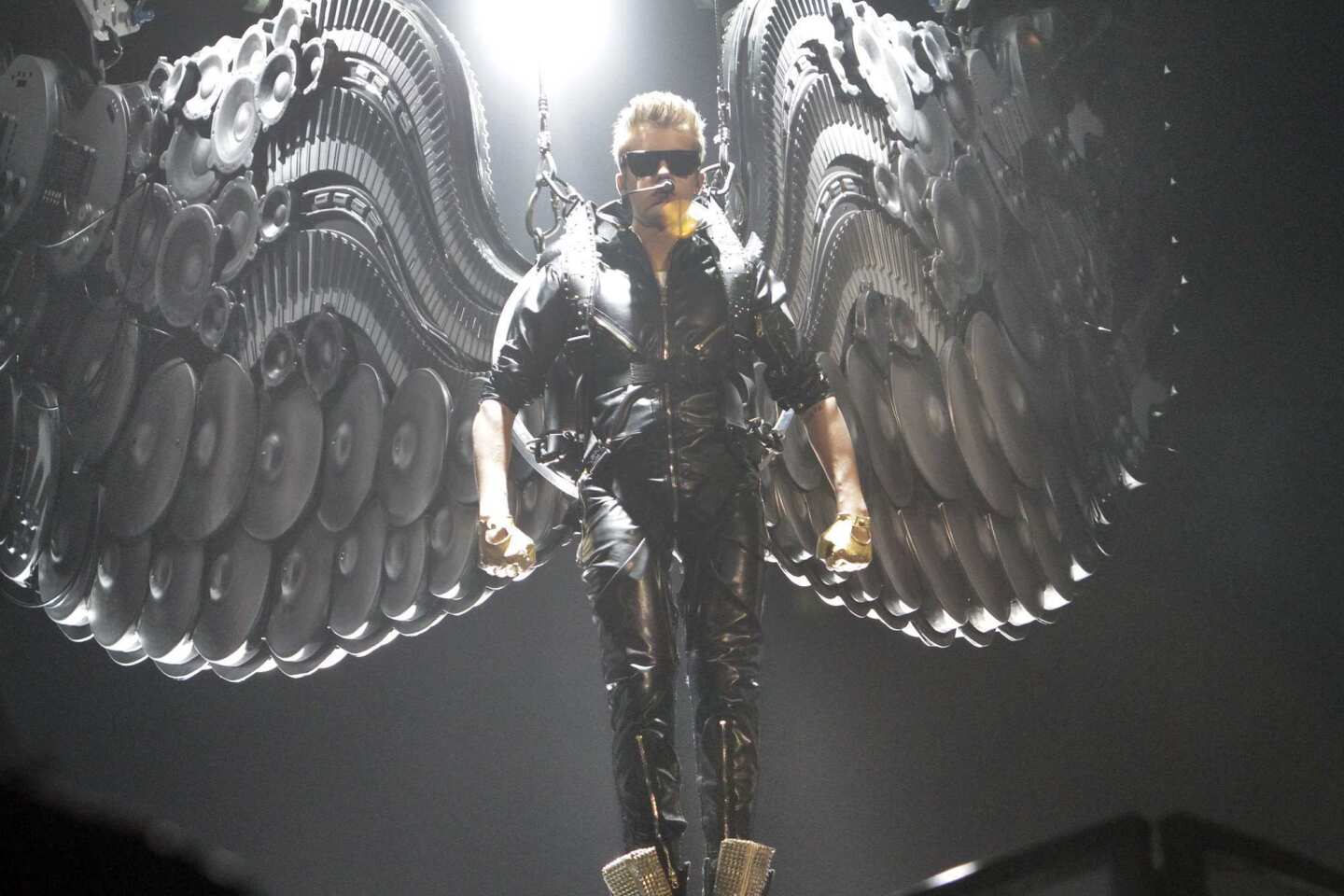 The singer descended from above the stage attached to a pair of enormous steampunk-style wings.
(Lawrence K. Ho / Los Angeles Times)
Then he and his eight-piece band launched into "All Around the World," the throbbing opener from this year's "Believe," while a crew of dancers raced through the crowd hoisting flags from various countries.
(Lawrence K. Ho / Los Angeles Times)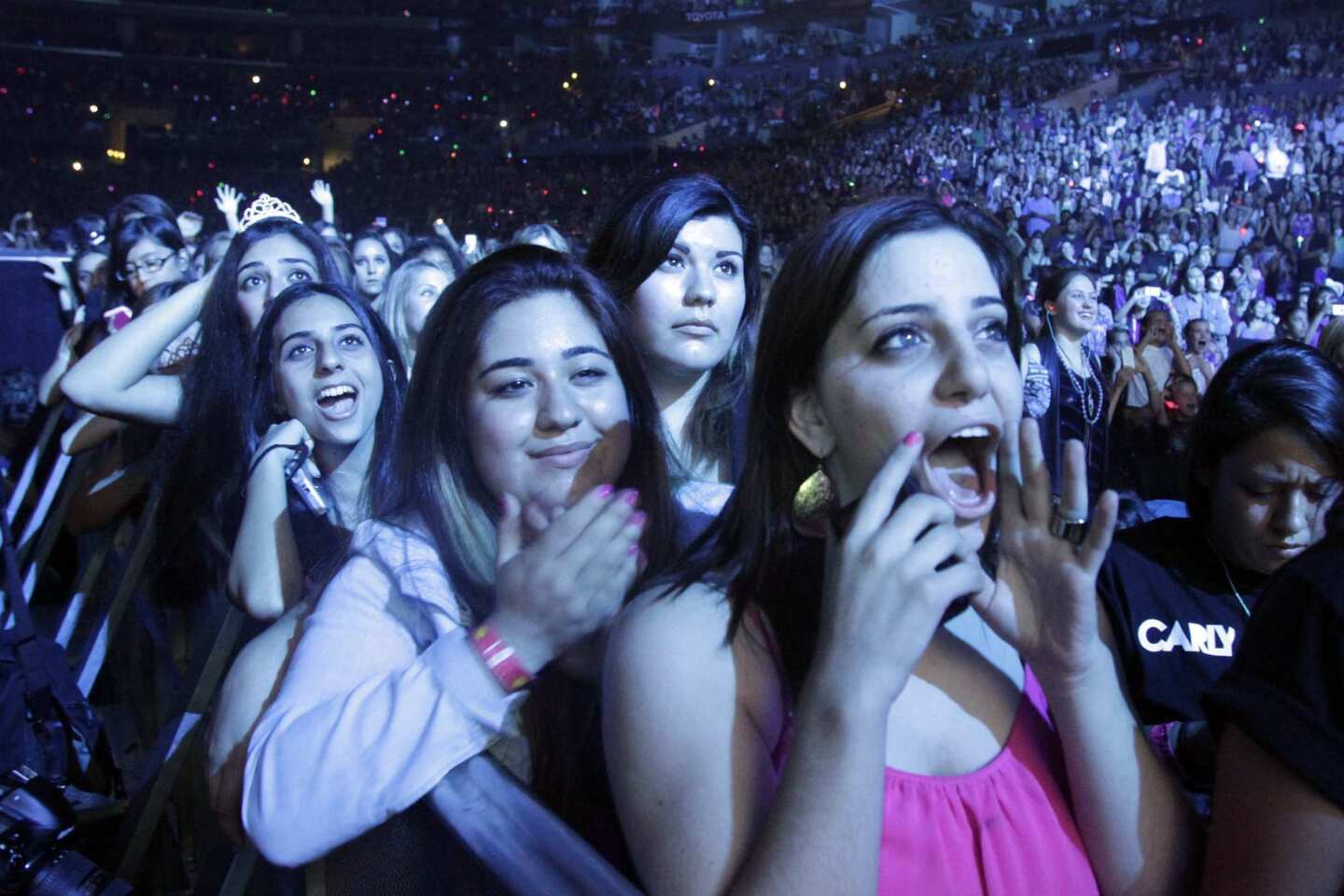 Fans swooning during a ballad.
(Lawrence K. Ho / Los Angeles Times)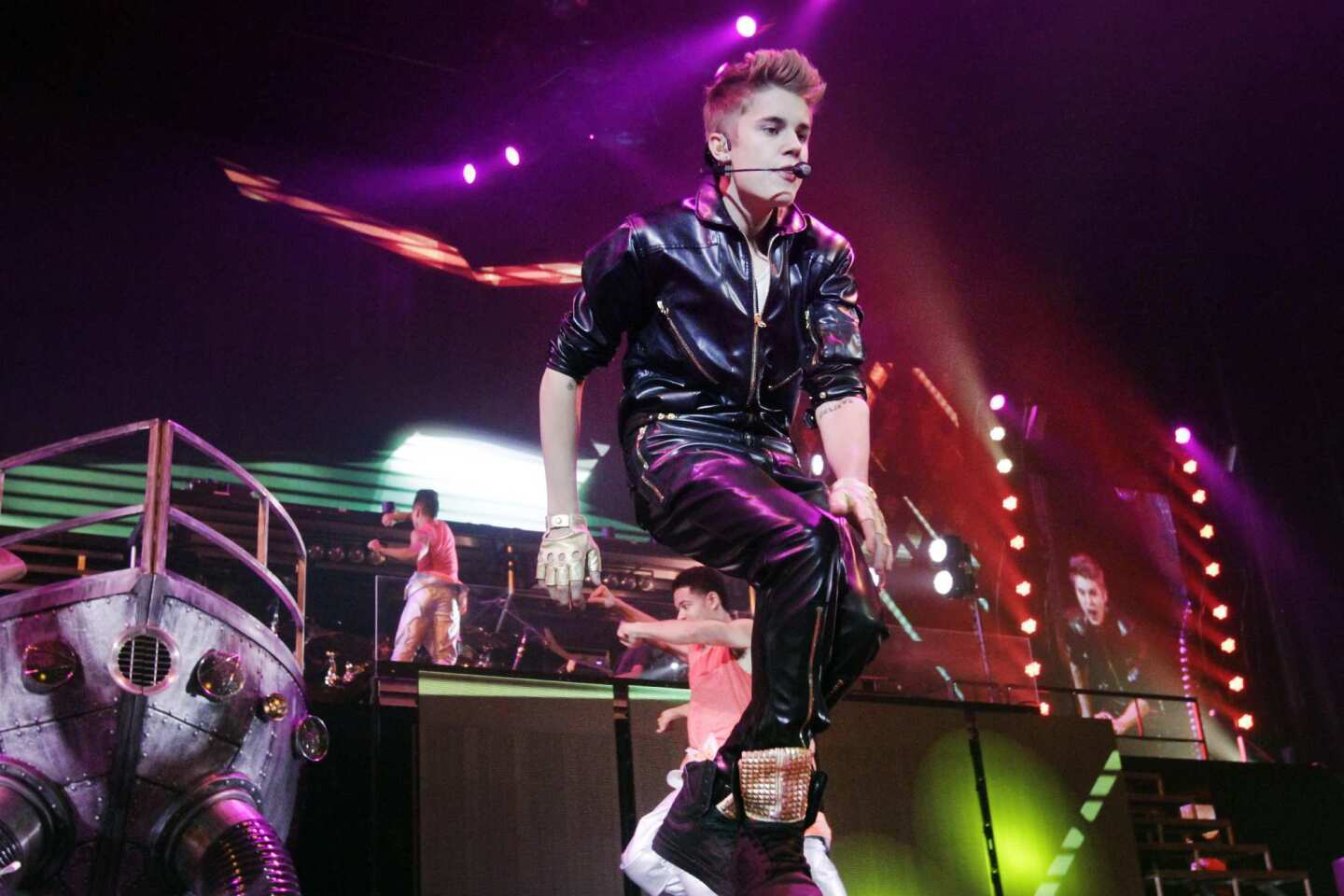 The singer made headlines when he kicked off his tour in Arizona when
he threw up onstage
.
(Lawrence K. Ho / Los Angeles Times)
The projectile moment happened during "Out of Town Girl" at a Bieber concert in Glendale, Ariz.
(Lawrence K. Ho / Los Angeles Times)
Bieber made light of it after the Arizona gig, joking on Twitter that "milk was a bad choice," a quote of from the Will Ferrell comedy "Anchorman."
(Lawrence K. Ho / Los Angeles Times)
Bieber's 2012 album "Believe" has sold 887,000 copies in the U.S., according to Nielsen SoundScan.
(Lawrence K. Ho / Los Angeles Times)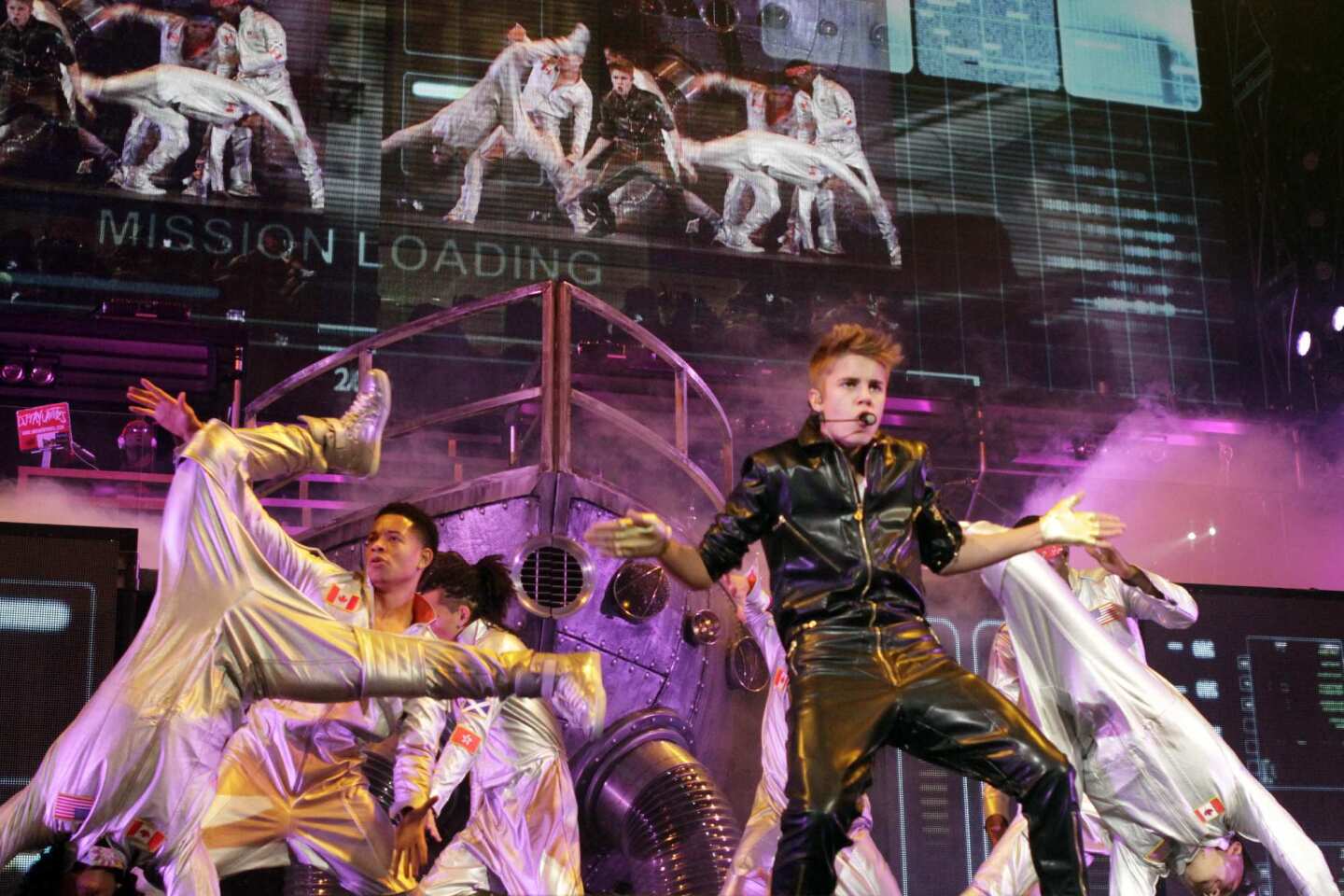 Briskly paced and intricately choreographed, this high-tech pop production (with a mixture of live and prerecorded singing) emphasized the idea of Bieber over the real-life person.
(Lawrence K. Ho / Los Angeles Times)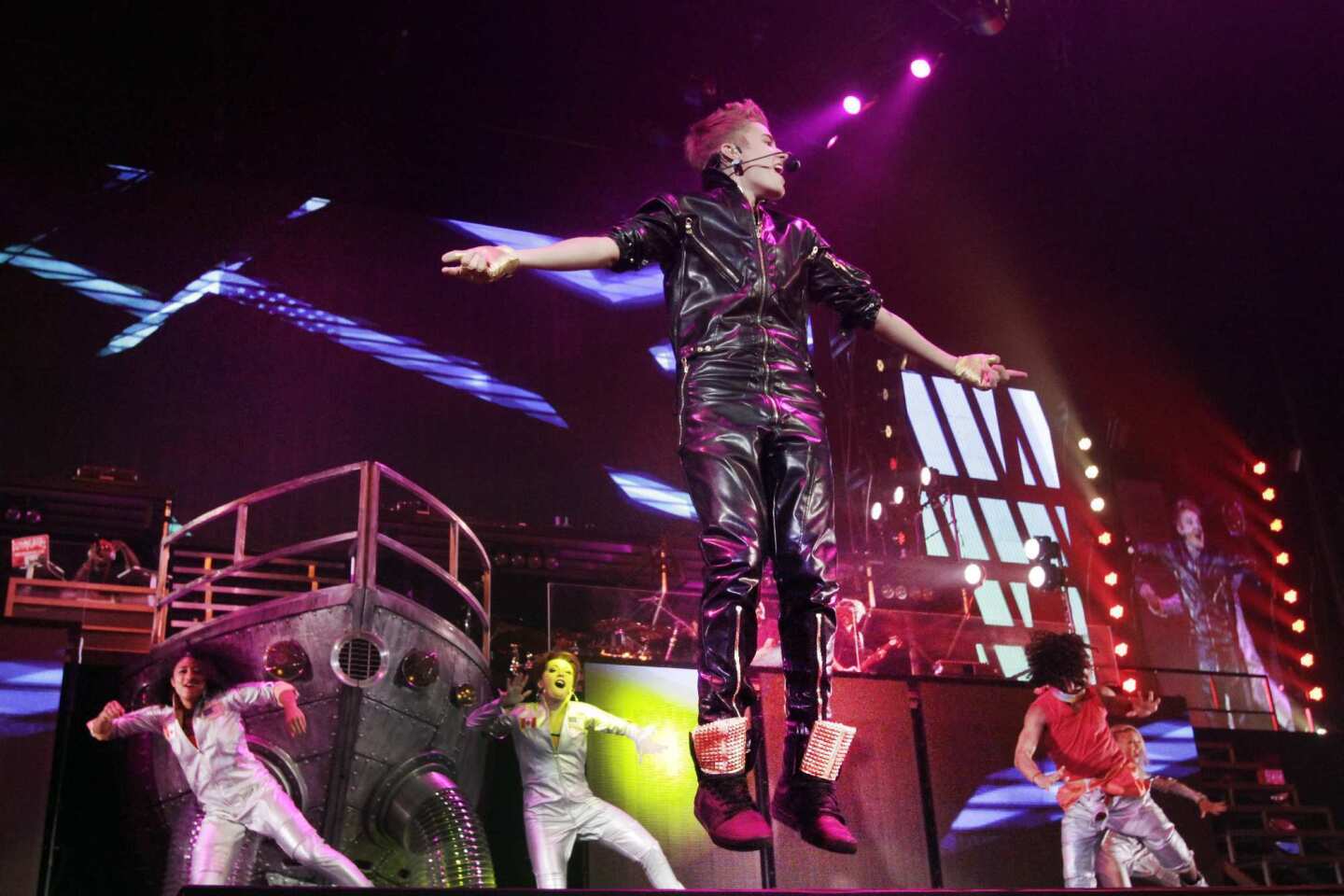 The 90-minute show included guest appearances by Carly Rae Jepsen, who opened the concert, and Jaden Smith.
(Lawrence K. Ho / Los Angeles Times)
If Justin Bieber is retiring, as he tweeted rather dubiously on Christmas Eve, does that make "Justin Bieber's Believe" his version of "The Last Waltz"?
The teen-pop superstar (and his handlers) probably wouldn't reject the idea.
A brisk 90 minutes of arena-concert footage intercut with slow-pitch interviews and behind-the-scenes fluff, "Believe" works to present Bieber as a respectable musician, no less serious or dedicated than those other Canadians in Martin Scorsese's late-'70s documentary about the Band.
PHOTOS: Katy Perry in concert: onstage and offbeat
"Believe" opens with a shot of the 19-year-old playing piano, and the camera lingers on several occasions as he hones vocal melodies in the studio; there's even a bit where he uses a pencil to scrawl lyrics on a notepad just like they did in the old days.
Though he's an undeniably gifted singer, Bieber's talent is perhaps the least interesting thing about him, and throughout "Believe" it functions as a red herring. Directed by Jon M. Chu (reprising his role from 2011's "Justin Bieber: Never Say Never"), the movie promises an intimate look at the singer who's spent much of this year experimenting — sometimes fascinatingly, sometimes disturbingly — with sex, drugs and other such tokens of pop-star (im)maturity.
PHOTOS: Miley Cyrus before and after Disney
Yet "Believe" refers only glancingly to these disruptions of Bieber's polished image, as when Chu asks him in an almost comically deferential chat if he's worried about following Lindsay Lohan off the rails of young celebrity. "I have a good head on my shoulders," Bieber replies, revealing nothing.
What the film, which wasn't screened in advance for critics, delivers instead amounts to propaganda: the musicianly stuff, along with scenes emphasizing Bieber's devotion to his family and his fans, including a 6-year-old girl suffering from a rare form of cancer.
Cynics might say that's to be expected of a movie like "Believe," on which Bieber himself served as a producer. (In addition to "Never Say Never," it follows a recent string of successful concert films by Katy Perry and One Direction, among others.) And given how handsomely photographed the concert footage is, it's easy to understand why Chu always seems in a hurry to get back to the shots that presumably ate up most of his budget.
PHOTOS: Taylor Swift is never ever getting back together with ...
But Bieber is capable of genuine introspection. Earlier this week he released "Journals," a new album on which he addresses his tarnished reputation with impressive candor; on Twitter too he's proved to be a reliable source of impulsive honesty. (Maybe dire box-office predictions for "Believe," which opened Wednesday to a measly $1.25 million, inspired the tweet about his early retirement.)
Here, the only moment with any spark of realism comes near the end of the film, when we see from Bieber's perspective the collective intensity of a throng of female fans as they surround his car. Those as hopelessly devoted may get something out of "Believe," but they deserve more.
---------------------------
'Justin Bieber's Believe'
MPAA rating: PG
Running time: 92 minutes
Playing: At AMC Universal Citywalk Stadium 19
Get our L.A. Goes Out newsletter, with the week's best events, to help you explore and experience our city.
You may occasionally receive promotional content from the Los Angeles Times.