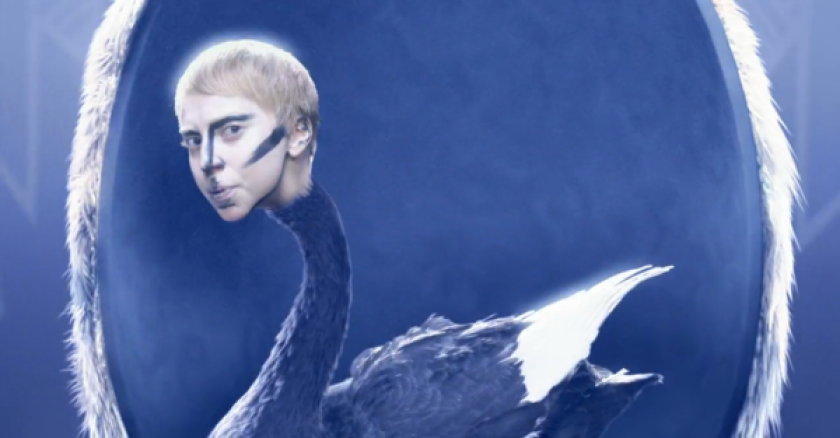 Los Angeles Times Pop Music Critic
The images flash with the rhythms, each a visual love letter to the woman at the center of her new video for "Applause." Lady Gaga. Lady Gaga. Lady Gaga. Then, just when you most expect it -- more Lady Gaga. "I live for the applause, applause, applause," Lady Gaga sings as a shot flashes of a perfectly lighted Lady Gaga in spiked heals doing a yoga cat pose on a futon mattress.
With scarf tightly wrapped around Lady Gaga's head like Edie Beale in "Grey Gardens," there Lady Gaga is. With splotched primary colors wiped across Lady Gaga's face, Lady Gaga stares menacingly into the camera like a she-Bozo unhinged. This is Art, New York style, as channeled through the singularly focused, self-imagined "Serious Artist" Lady Gaga.
You get the point. The message is fancy, high class art, and at the center of "Applause" is the woman born Stefani Germanotta. Her new album, which comes out Nov. 11, is called "Artpop," and the video for "Applause" looks like a billion dollars.
PHOTOS: Lady Gaga through the years
It's beautiful, in fact, obviously the product of the best imagists, stylists, lighting designers and makeup artists money can buy. You wouldn't expect anything less than maximum impact and maximum obviousness from Lady Gaga. Subtlety is the enemy throughout "Applause" -- and her career -- and directors Inez & Vinoodh never stray from the two-word message. Which is, if you haven't already guessed it: "Lady Gaga."
Granted, the subtext of every music video ever made is "Pay attention to me," but Gaga's particular brand of narcissism in "Applause" is notable even by her standards.
Whether lounging in an oversized top hat, grimed-out with dirty face and yellow hair and trapped in a cage a la Terry Gilliam's "Time Bandits," exploding in a puff of red smoke, perching as Gaga-headed black swan or dangling from the ceiling with Tim Burtonesque angel wings, Gaga throughout "Applause" is featured through a kaleidoscope of edits and a bounty of makeup.
PHOTOS: Lady Gaga, by the numbers
It's basically like 20 different Vogue shoots documented and spliced. There is no plot other than the basic lyrical premise, "I need you to pay more attention to me," given heft by a syllabically rocky first-person observation about pop culture, fame and art that Andy Warhol noted 50 years ago.
That's right. There are lyrics too, and a song to accompany the video, but other than quick cuts to hand claps and an overall rhythm that mirrors the bland dance pop track scoring it, neither really guides the video as it unfolds.
But it sure is pretty.
Watch it below:
ALSO:
Julia Holter is at the center of her own swirl of sound
Best responses so far to Kendrick Lamar's verse in 'Control'
Review: Queens of the Stone Age demolish the Gibson Amphitheatre
Follow Randall Roberts on Twitter: @liledit
---