Lil Wayne seizure puts spotlight on rappers' use of 'sizzurp'
Lil Wayne is not the first to rap about "sizzurp." There were many more before him.
( Omar Tobias Vega / Getty Images for Maxim)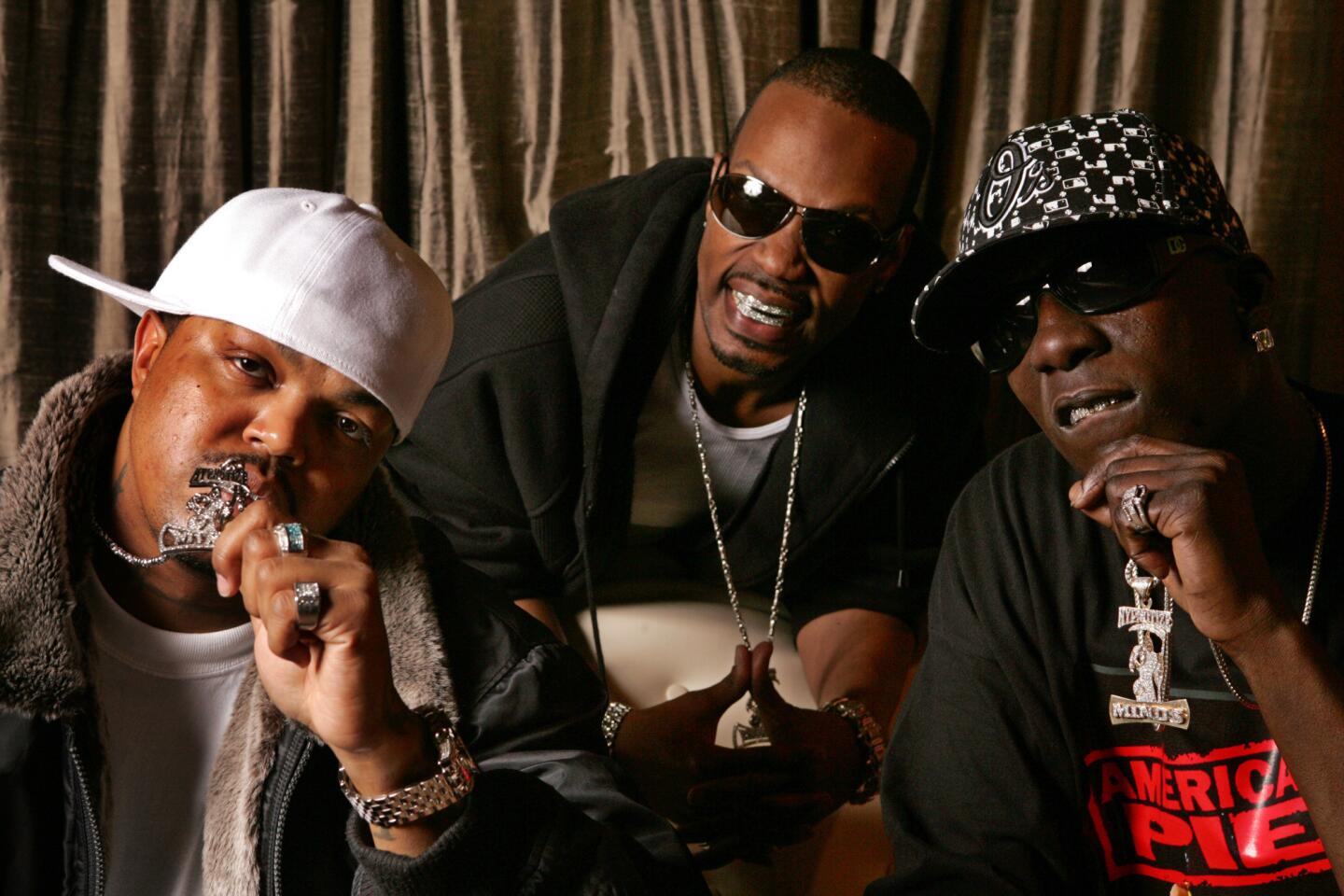 "[...] sipping and dipping and tripping, man I'm bout all out
Sippin' on some sizurp, sip, sippin' on some, sip"
"Sexy thang on my arm, cup of drank in my palm And that crazy [...], I'm tripping on some skinny [...] Something that's wholesome, Florida to Folsom And for the most I'm steady sippin' on some sizzerp
Sippin' on some siz-erp, sip, sippin' on some, sip "
(Stefano Paltera / Associated Press)
"Sippin' tha barre, grippin' tha grain
I got 17 karats in my piece and chain
Sip-sippin' tha barre, grippin' tha grain
I got 17 karats in my piece and chain"
(Damon Winter / Los Angeles Times)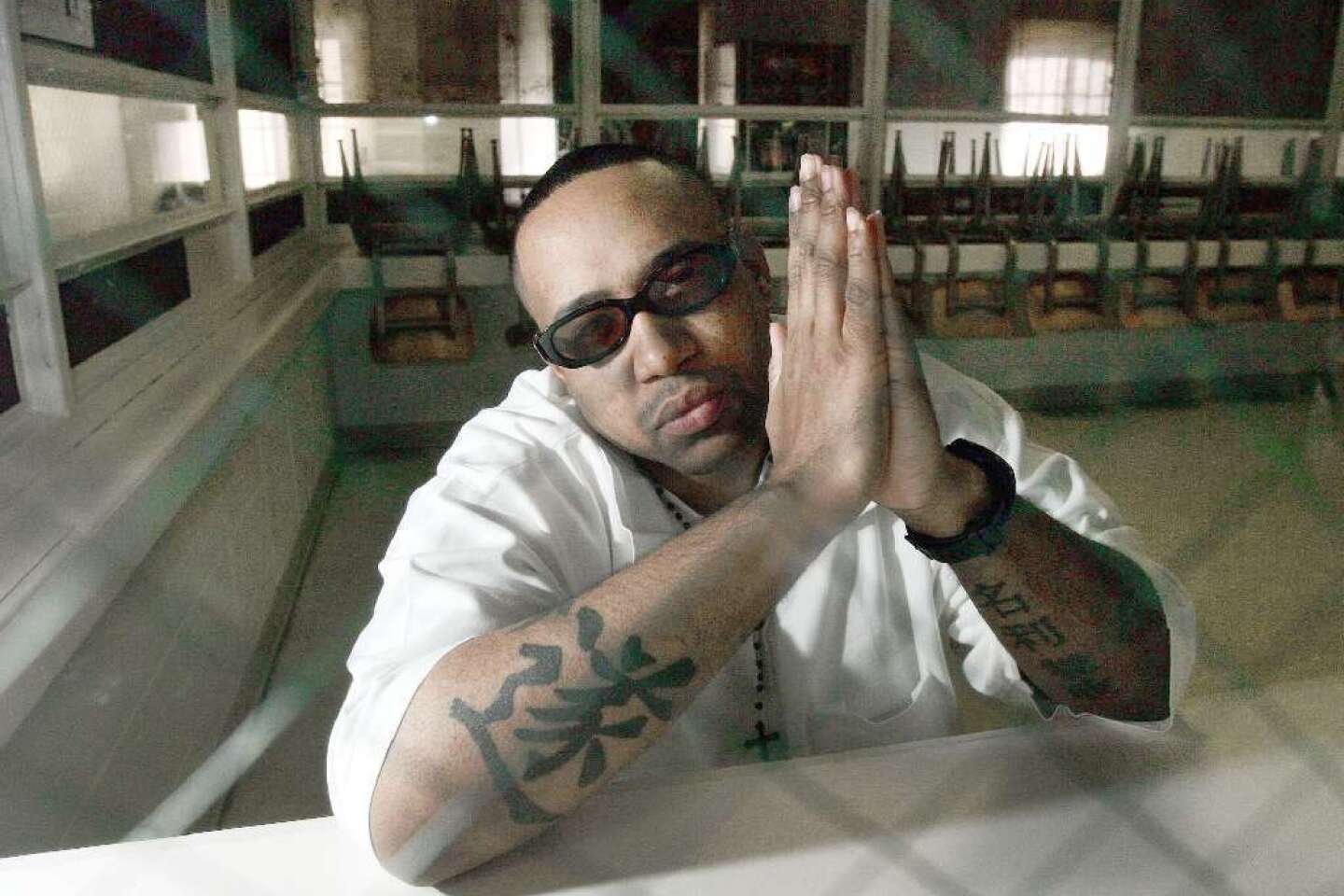 "I said! Candy paint what I'm flippin on, 84's and vogues what I'm tippin on
Momo wood grain I'm grippin on, codeine in cup I'm sippin on
I hog the lane in that candy train, swangin left and right then I turn up the bang"
(David J. Phillip / Associated Press)
Leanin', leanin', sittin' sideways
Leanin', leanin', leanin', sittin' sideways
Leanin', sittin' sideways, leanin', leanin', sittin' sideways
I'mma young [...] boy dat's why I act dis way, rollin' in the candy car leanin' sittin' sideways
(Peter Kramer / Getty Images)
"I can't leave drank alone it got me feening
Feeling feeling good feeling like a boss as I'm flippin through tha hood
I can't leave drank alone
It got me feening
Feening feeling good
Feeling like a boss cause I'm creeping trough the hood
I can't leave drank alone"
(Ray Tamarra / Getty Images)
"Up in the studio me and my drank
Please let me be and let me do my thang
Thinkin about a certain..certain somebody
that perfect somebody sexy purple body"
(Gustavo Caballero / Getty Images )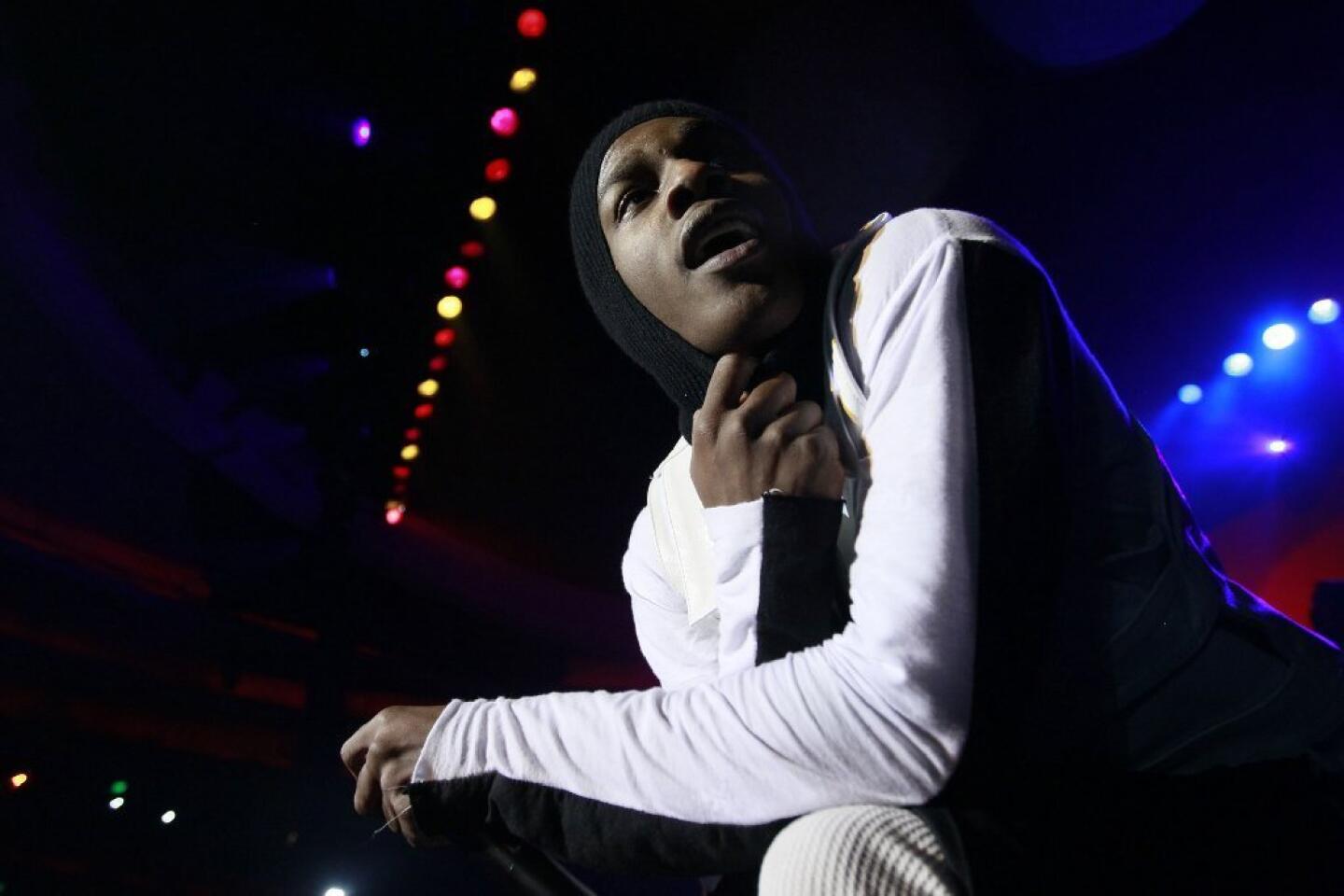 "Purple drank, I still sip, purple weed blunt still lit
Real [...], real [...], purple swag, that trill [...]
Them candy cars, I'm coming down, that paint drip, I still tip"
(Robert Gauthier / Los Angeles Times)
The powerful narcotic popped up on the cultural grid around the turn of the millennium. A Texas producer-remixer named DJ Screw paid homage to its woozy, heavy-lidded high by dramatically slowing down beats and vocals to replicate the drug's sleepwalker euphoria.
Among Southern rappers, the chemical mixture — called "sizzurp" on the street — soon became as ubiquitous as gold jewelry.
This wasn't some exotic new hallucinogen. In fact, it was usually mixed with fruit soda and sipped from oversized plastic foam cups. A cough syrup, fortified with codeine and promethazine and bought with a prescription, it was highly addictive — and technically legal.
PHOTOS: A history of 'sizzurp' in song
Over the last dozen or so years, sizzurp has become a quietly pervasive cultural force that has infiltrated the Top 40 by way of the hip-hop genre Chopped and Screwed, pioneered by DJ Screw. The sound has turned up on tracks by elite hit makers including Beyonce, Kanye West and, most notably, dreadlocked rap superstar Lil Wayne, who found an unlikely muse in the drug's chemical composition.
When news that Wayne was hospitalized after suffering a seizure on a music video set March 12, many thought sizzurp might be to blame. Spokespeople for the rapper denied it, and he was released from Cedars-Sinai Medical Center six days after he was admitted. Stress, not substance abuse, caused his hospitalization, said Bryan "Birdman" Williams, co-chief executive of the chart-topping rapper's label Cash Money Records.
But sizzurp has long existed in the shadows of the music industry, and is even suspected in several deaths.
Followers of Lil Wayne (Dwayne Michael Carter Jr.) know well his affection for "sippin' on syrup," as the phenomenon is known.
As far back as 2005, Lil Wayne rapped affectionately about his favored cocktail — sizzurp with fruit soda to mask its unpleasant medicine taste — on the song "Lock & Load": "I'm probably drinkin' that syrup/Thinking I won't slip/Even though I'm leaning like a broken hip."
Sizzurp has also provided a street-cred-bolstering talking point in lyrics for star rappers Rick Ross and Far East Movement. And syrup provoked a minor media frenzy in February, when pop star Justin Bieber was photographed at a party in close proximity to what looked like a bottle of codeine-fortified meds (Bieber has denied taking drugs).
Chopped and Screwed music is front and center on R&B diva Beyonce's newly released single "Bow Down / I Been On." The genre's signature sound — slowing the singer's vocal pitch to a molasses-y growl — is used to showcase Beyonce's artistic risk-taking. As well, hip-hop luminaries Kanye West, A$AP Rocky, T.I. and Drake have made repeated use of the genre's slo-mo phrasing techniques.
That Lil Wayne, one of hip-hop's cash kings, would find escape in something as down-market as prescription cold medication may seem at odds with the genre's blinged-out excesses.
PHOTOS: Rapper Lil Wayne a.k.a. Dwayne Carter
"Codeine is an opiate," said Jane Maxwell, senior research scientist at the University of Texas at Austin's Addiction Research Institute. "When you're sipping on syrup, you're sipping on a synthetic narcotic analgesic."
Lil Wayne is seen guzzling what appears to be sizzurp — also known as "lean," "purp" or "purple drank" thanks to the cough syrup's synthetic pastel hue — in the 2009 documentary film "The Carter." (He sued to block the movie's release, accusing its filmmakers of fraud by intentional misrepresentation, but the suit was thrown out by a judge.)
After serving 242 days on Rikers Island in 2010 for gun possession, Lil Wayne continued to pledge allegiance to sizzurp — never mind probation terms stipulating more prison time should he test positive for drugs prior to November 2013: "I'm purple drank forever," Wayne raps in last year's "Turn On the Lights."
Call it the multiple Grammy-winning rapper's cultural prerogative, a byproduct of his New Orleans upbringing. Within the gritty environment that spawned Lil Wayne and Southern hip-hop, purple drank provides a cheap, legal, often medical-insurance-subsidized alternative to dangerous street drugs like crack and heroin, especially for those below the poverty line, according to "Leaning on Syrup," a report on opioid cough syrup abuse from the Texas Commission on Drug and Alcohol Abuse.
Recreational users generally mix two ounces of codeine-promethazine cough syrup with a 12-ounce can of soda to achieve a high. Habitual abusers with a high opioid tolerance have been known to take up to 25 times the recommended dosage over the course of a day.
In a videotaped public service announcement Lil Wayne posted to the Web in 2011, the multi-platinum-selling Louisiana rapper addresses his complex relationship with cough syrup:
"I don't do this to be cool," Lil Wayne explains, holding up a container of promethazine codeine syrup clearly bearing his given name. "I did this because I was sick."
The risks of sizzurp certainly seem to outweigh its intoxicating benefits.
In 2000, just as he was coming to prominence for the Chopped and Screwed sound, DJ Screw died from an overdose on cough syrup and other substances, including marijuana and alcohol, a medical examiner concluded.
DJ Screw's protege and member of his Screwed Up Click crew, MC Big Moe, died at 33 in 2007, after a heart attack and a weeklong coma. No direct connection was made to sizzurp, but Big Moe, whose music was a psychedelic take on Chopped and Screwed mixes, was not shy about discussing his use of codeine cough syrup. His best-selling song was "Purple Stuff" on his Purple World album.
Also in 2007, Pimp C of the Texas rap duo UGK died at age 33 in Los Angeles after overdosing on codeine cough syrup in conjunction with a preexisting sleep condition, according to the Los Angeles County coroner. Ironically, the rapper may have helped popularize the substance that sped his demise. He provided a guest rap on Three 6 Mafia's underground hit "Sippin' on Sizzurp," which spread the gospel of recreational cough syrup use in 2000.
Florida MC Ross made his syrup feelings clear on 2011's "The Boss": "Back to the thuggin', now I'm sippin' sizzurp/All my niggaz love it, baby, that's my wizzerd." Although he has not publicly addressed the toll purp drank has had on his health, Ross suffered unexplained seizures twice in 2011 and another seizure last year.
Sizzurp also gets a notable shout out on Far East Movement's 2010 smash hit single (and ode to private jet travel) "Like a G6."
In October, Lil Wayne experienced two seizures on private planes in as many days and was admitted to a Louisiana hospital. A representative said the performer was suffering from dehydration and migraines.
Regardless of what triggered those seizures or his most recent episode, medical experts say the codeine in sizzurp — an opiate in the same family of drugs as heroin and morphine — makes the habit hard to kick.
"There's a misconception that codeine is a weaker formula of the same class of medicine" as heroin, said Dr. George Fallieras, an emergency room physician at Los Angeles' Good Samaritan Hospital. "But the amount of codeine these guys ingest with the syrup is massive.... It's just the same as someone being addicted to heroin, except they're not using needles."
Times staff writer Amina Khan contributed to this report.
ALSO
Prince overdose: Authorities looking into how pop star obtained fentanyl
'Words cannot express': Christina Grimmie's brother thanks fans for GoFundMe donations
West Hollywood public art installation 'No One Is Safe' responds to Orlando tragedy
J.K. Rowling 'can't stop crying' over Harry Potter ride worker killed in Orlando attack
Did Led Zeppelin steal a riff for 'Stairway to Heaven'? A court will decide
Get our L.A. Goes Out newsletter, with the week's best events, to help you explore and experience our city.
You may occasionally receive promotional content from the Los Angeles Times.