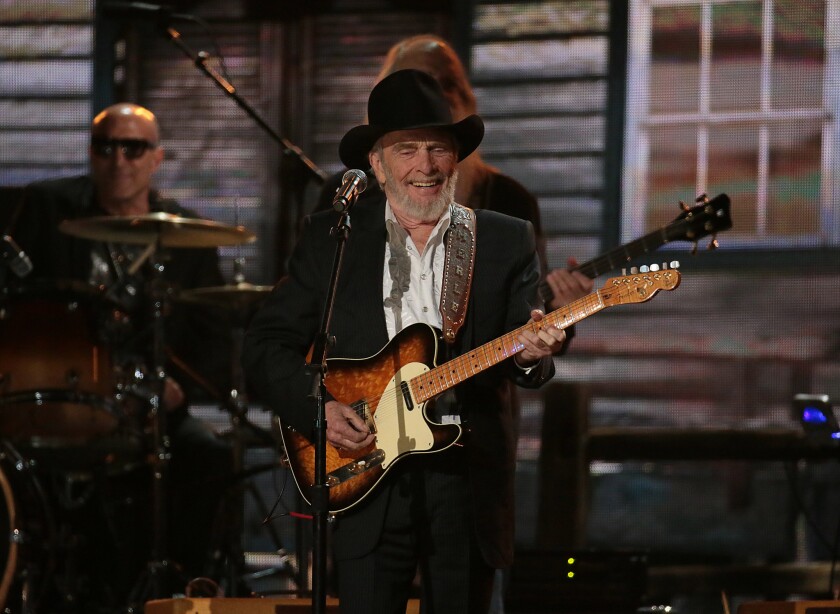 Merle Haggard is on the receiving end of a couple of new tributes, as the 2014 recipient of the Academy of Country Music's Crystal Milestone Award and as the subject of a new multi-artist tribute album highlighting his songs.
Haggard will be presented with the ACM's Crystal Milestone Award, given to an artist or industry leader to commemorate a specific, remarkable achievement, on April 6 at the ACM Awards in Las Vegas. Previous recipients include Garth Brooks, Taylor Swift, Kenny Chesney, Jason Aldean and Jennifer Nettles.
Additionally, the man sometimes referred to as "the Bard of Bakersfield" is being saluted with "Working Man's Poet: A Tribute to Merle Haggard," with performances of his songs by a raft of younger generation singers including Brooks, Aldean, Luke Bryan and Dierks Bentley, Toby Keith, Randy Houser, Joe Nichols and Haggard's son Ben Haggard, among others.
PHOTOS: Celebrities by The Times
The album is slated for release in physical and digital editions on April 1, and it should be noted that Brooks' recording of "Tonight the Bottle Let Me Down" will be included only on the edition of the album created for Walmart.
The album will be the second tribute to Haggard this year, following the release in Feb. 4 release of singer Suzy Bogguss' "Lucky," consisting entirely of Haggard's songs.
Haggard is scheduled to perform in Long Beach on June 6 at the annual Ink-N-Iron Kustom Kulture Festival, the three-day event built around tattooing, custom cars and country and punk music.
ALSO:
Vince Gill, Paul Franklin celebrate 'Bakersfield' country
Television review: 'Merle Haggard; Learning to Live With Myself'
Suzy Bogguss feels 'Lucky' about fan-funded Merle Haggard salute
Follow Randy Lewis on Twitter: @RandyLewis2
---