When you say jazz, Nicholas Payton hears BAM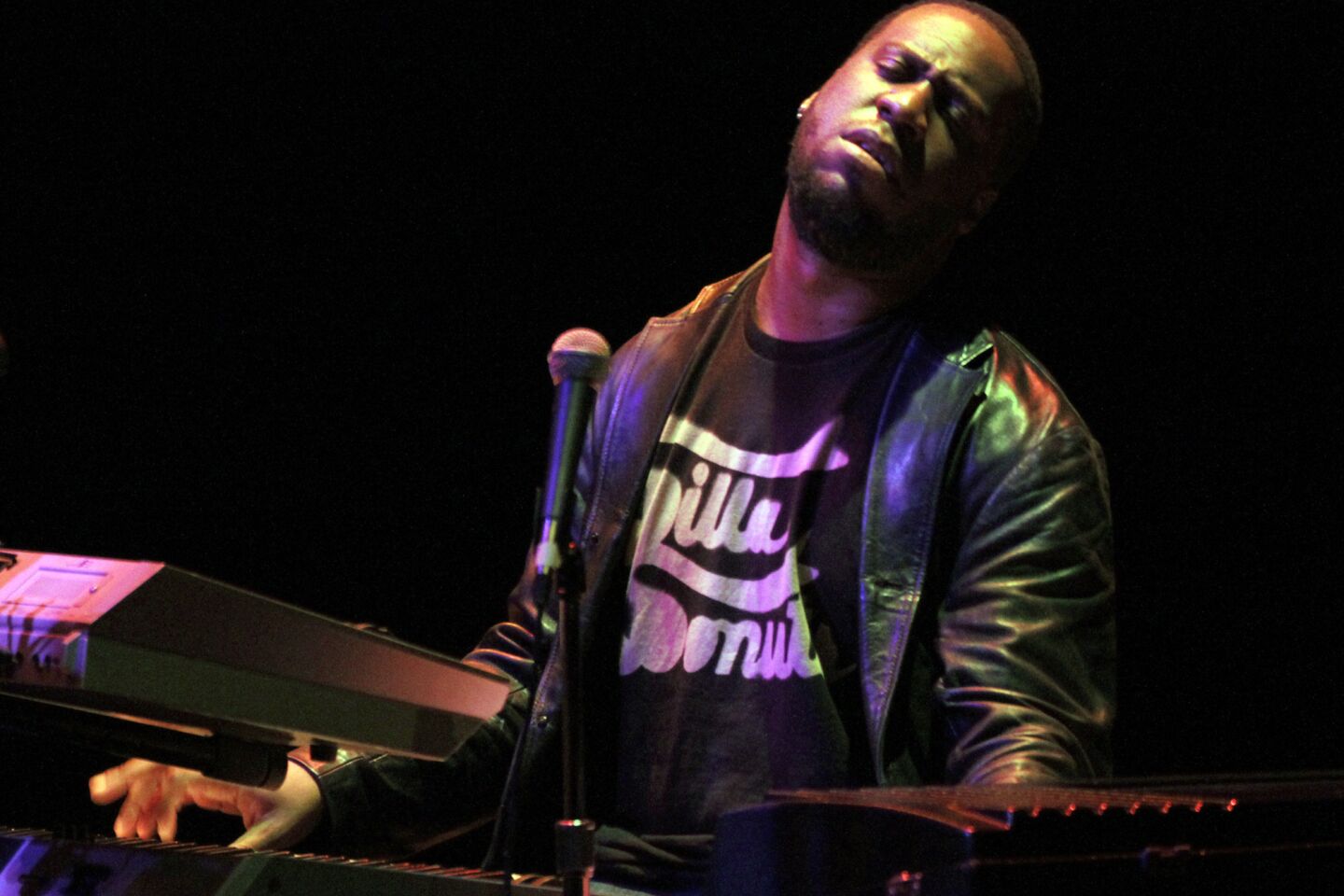 Though nominated for a Grammy in the R&B category, Glasper was one of the stories of the year with this unique blend of hip-hop and soul that drew a new audience to his music. It didn't fit everyone's definition of the genre, but maybe that was the point.
(Lawrence K. Ho / Los Angeles Times)
Where do you start in considering Mehldau, whose considerable talents have somehow become easy to take for granted? With two albums in one year, his trio flexed a still-remarkable mix of imagination and skill, and we can be grateful they haven't stopped.
(Lawrence K. Ho / Los Angeles Times)
In a cramped UCLA classroom, trumpeter Nicholas Payton is leading a young septet of college students through his piece "The Backwards Step." He's here as part of a weeklong teaching residency, and the song he plays to the group at the Thelonious Monk Institute is led by his gliding trumpet. Framed by keyboard and vibraphone, it sounds like a simmering post-bop standard. But to Payton, this isn't just jazz — it's the sound of Black American Music.
BAM, an acronym Payton coined to break with the word "jazz," is a term that's become linked with the 39-year-old trumpeter.
"When Black American Music became 'jazz,' it separated itself from the American popular music idiom," Payton wrote in 2011 in one of his earlier online musings on the subject. "I'm just trying to take it back to its roots." The post closed with a declaration: "I am Nicholas Payton and I play Black American Music."
The New Orleans-based artist recently took a break between his classes to discuss his ideas surrounding the notion of BAM. "I don't have a problem with anyone who wants to refer to what they do as jazz," Payton said over lunch. He was sharply dressed in a polka-dotted shirt, black vest and matching hat with a bright blue feather in its band. "I do have a problem with the historical connotations of the word, which has been well documented.... Many great artists including Thelonious Monk were not fans of the word. [Sidney] Bechet, Miles, we can go on down the line."
Payton's oft-repeated Twitter hashtag, #BAM, has become something of a calling card, but he began his online campaign in 2011 with a blog post titled "On Why Jazz Isn't Cool Anymore." The 128-line story included musings such as "jazz is a label that was forced upon the musicians," "jazz died in 1959" and "jazz is haunted by its own hungry ghosts."
"I'm not against anyone supporting the music or playing the music," said Payton. "But the fact that it's been misappropriated and mislabeled and packaged as such that it doesn't have anything to do with black people is ultimately detrimental to the art form.... It's not about renaming it so much as giving the proper acknowledgment to those who created it."
His cause has culminated in a campaign on the social media site Thunderclap, where he proposed to have #BAM added as a genre on the music site CD Baby.
He set a goal of 500 supporters, which he exceeded a day before his deadline in March. Musicians were among those joining his cause on Twitter, including the Bad Plus' Ethan Iverson and the Red Hot Chili Peppers' bassist Flea, who wrote "I support #BAM, let artists call music what they want."
But not everyone agreed. His ideas rubbed many the wrong way, especially since he is far from a fringe figure in jazz, lobbing his opinions from the outside. The son of New Orleans bassist and composer Walter Payton, he is a respected musician with an encyclopedic knowledge of the music's history and enough of a mainstream presence to have toured as part of an ad-hoc band celebrating the 70th anniversary of Blue Note Records.
SUMMER: Playboy Jazz Festival sets June 15-16 lineup
In recent years, Payton became something of a lightning rod, and as a result many musicians have since been asked to weigh in on using the term BAM. It became a particularly hot topic over the last year, which saw jazz artists tapping into the broader spectrum of black popular music, such as hip-hop, soul and funk on Grammy-winning releases from Esperanza Spalding and Robert Glasper, who has played with Payton in the past.
When asked about #BAM in 2012, Glasper agreed with Payton's ideas – to a point. "I understand the origin of the word [jazz] and I understand what Nicholas is talking about, and I respect that," he explained. "I just don't think to call it Black American Music is the way to go, because there's a whole lot of black American music under that umbrella, and they all have names. So now what?"
"I think the umbrella is BAM, but this piece of the genre that doesn't want to be called jazz needs to be called something else," he said.
In a tweet posted last spring, trumpeter Ambrose Akinmusire playfully acknowledged he'd grown tired of the subject. "If another interviewer asks me what I think about @robertglasper or @paynic and bam I think I'll go put on a clown suit and pie them," he wrote. ("Do it!" Payton quickly responded.)
Others reacted harshly, such as fellow Crescent City native Branford Marsalis, who tartly dismissed Payton's talk as "nothing" and "a nondiscussion" in a 2012 interview with JazzTimes. No stranger to controversy surrounding the definition of jazz, Marsalis' response took Payton by surprise, particularly since he sees that the two fundamentally agree about the jazz tradition.
"I've seen him in the past say essentially the same thing," he said. "It's not so much what I'm saying, it's just that he's used to creating the conversation.... It's been hard for [Branford] to admit that I'm right."
PHOTOS: Celebrities by The Times
Payton's advocacy of #BAM has also resulted in some in the jazz community branding him a racist. "Saying something is black has become offensive to the mainstream, which shouldn't be the case," he explained.
There is no way to talk about Payton's views on jazz without talking about race and the language surrounding it. Over a freewheeling conversation that touched on Al Sharpton, technology's impact on society and '70s television, Payton scoffs at the idea of a "post-racial" society (a term that gained prominence after the election of President Obama). Among his examples are the Trayvon Martin case, proposed shifts in language about slavery in textbooks and the immigration debate.
"That whole dichotomy like we see here, it's 'Go back to Mexico.' This was actually Mexico before you quarantined and marginalized a whole section of people and said 'This is yours,'" he said. "That's what's happened with black people, that's what happened with jazz. It's been taken and we've been erased out of it, and it's been called something else," he said.
It's a situation that Payton sees as playing a role in a disengagement on the part of the black community from jazz, which he feels #BAM would help address. "I think the image that many black folks associate with jazz is primarily being white music. Because that's who goes out to the clubs, that's who they see," he said. "If you ask most black folks or maybe people in general who is the most popular living jazz artist they might say Kenny G."
Amid all the talk of #BAM, race and politics, Payton is still a musician, of course. He recently released a churning, funk-charged live recording with Vicente Archer and Lenny White called "#BAM Live at Bohemian Caverns," which also featured Payton on Fender Rhodes. The record was released on Payton's own BMF Productions, and his independent approach comes after being signed to Concord Records, who in 2010 was scheduled to release his album "Bitches."
A funk and R&B-drenched chronicle of a soured relationship that featured keyboard, drum machine and vocal turns by Spalding, Cassandra Wilson and Payton, "Bitches" was intended as an homage to "Bitches Brew," which was celebrating its 40th anniversary. Concord rejected the album, but Payton eventually gave it away online, and the album was released in 2011 on another label after his master recordings were returned.
"I think if I had called it 'The Love Record' it would've been perfectly fine," Payton said. "Certainly the fact that it was me singing on everything, that was one issue, but it was ultimately the title." The notion leads Payton to reflect on the history of Concord, which was bought by a group led by television producer Norman Lear in 1999.
"Part of Norman Lear's concept was being open in terms of language," Payton said, looking back to the legacy of Archie Bunker and George Jefferson. "So the irony is ... censoring me for using a word when they used all kinds of language on those shows 40 years ago. So we haven't advanced now?"
While Nicholas Payton the #BAM activist seems close to overshadowing Nicholas Payton the musician, the trumpeter flatly doesn't draw a distinction, and hopes he can be considered both. When asked what one misconception about his efforts could be corrected, he said, "That the idea of Black American Music is an exclusionary or divisive proposition. It is nothing more than a cultural acknowledgment that black Americans have contributed to world popular and social culture and should be credited for that."
"The world's first pop music was black music, was what they call jazz," Payton explained. "Louis Armstrong was the world's first pop star, he was Michael Jackson of his time. Young black kids don't know that, and they should know this goes way back before the genius with the white glove."
ALSO:
Richie Havens, iconic Woodstock singer, dies at 72
Gibson Amphitheatre to close in Universal City expansion
Get our L.A. Goes Out newsletter, with the week's best events, to help you explore and experience our city.
You may occasionally receive promotional content from the Los Angeles Times.