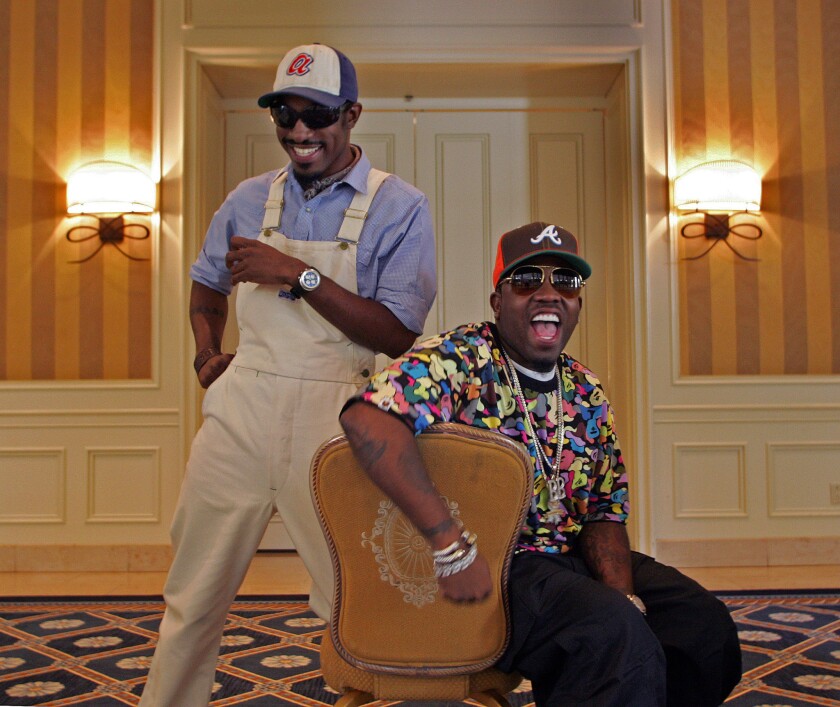 Coachella has pulled off plenty of buzz-worthy reunions over the years -- Blur, Rage Against the Machine, the Pixies -- but Indio might be staging one of the biggest on-stage moments in hip-hop since Tupac (virtually) rose from the dead.
The members of OutKast will end their lengthy hiatus at next year's festival, according to Billboard.
The Atlanta hip-hop duo's Coachella reunion would launch a run that would include additional festival dates through the year, Billboard said. The magazine's sources said there have been "some conversations" between Big Boi and Andre 3000, while another source said its "all systems go."
OutKast fans have patiently awaited a reunion since their 2006 soundtrack album, "Idlewild."
Big Boi earned critical acclaim from his 2010 solo debut, "Sir Lucious Left Foot: The Son of Chico Dusty," and he followed it up 2012's "Vicious Lies and Dangerous Rumors."
Andre 3000, however, has been easier to catch on the big and small screens than on the radio. Though he's supplied guest verses to songs from Beyonce, Kesha, Lil Wayne, Drake and B.o.B., he's logged more hours in front of the camera than at a microphone (his next role is portraying Jimi Hendrix in the biopic "All Is by My Side").
Before OutKast made the move to Epic Records after the RCA Music Group was restructured in 2011, Big Boi revealed that their previous label, Jive (which was shuttered along with Arista and J Records), wouldn't allow tracks that featured vocals from Andre 3000 -- "Lookin' 4 Ya" and "Royal Flush" -- to be featured on his debut album.
"They wouldn't let me put it on the album. But somehow it ended up on the Internet. I was happy, the fans wanted some new music. It's like a music fairy somewhere that's on the sides of the fans. [The tracks were] mixed and everything," he laughed. "The only thing I would have changed [about 'Sir Lucious'] was if I could have put 'Royal Flush' and 'Lookin' 4 Ya' on the record. But they can be downloaded on the Internet for free."
WATCH: Toronto Film Festival trailers
When Pop & Hiss quizzed Big Boi on whether Out Kast's long-awaited return would happen after his sophomore effort -- part of a three-album deal he inked with Def Jam – the rapper laughed off the question and offered a cryptic hint of "something like that."
Earlier this year, Big Boi appeared on remixes of two tracks that already featured vocals from Andre 3000 -- Frank Ocean's "Pink Matter and T.I.'s "Sorry" -- in which Andre's verse included a quasi-apology to Big Boi.
But André 3000 quickly dispelled murmurs of a reunion: "I never want to mislead our audience -- I worried that some would think these were OutKast collaborations," he said in a statement. "These songs are not OutKast collaborations."
Coachella is scheduled to kick off the first of its two consecutive weekends on April 11.
ALSO:
Review: Against Me! turns pain into triumph at the Troubadour
Kanye West and Kim Kardashian go for a ride in 'Bound 2' video
Watch: Katy Perry's a hoot in over-the-top 'Unconditionally' video
---