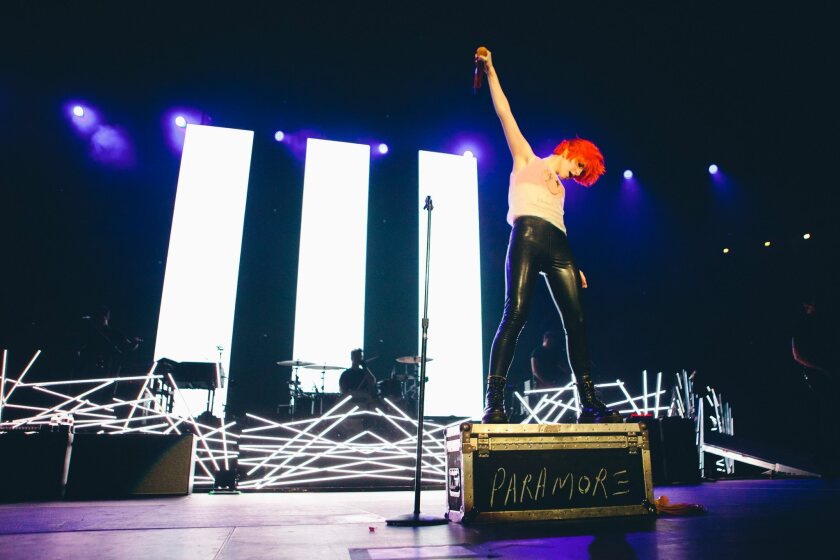 Last year, the emo bands Paramore and Fall Out Boy -- both in revitalized form following lengthy fallow periods -- came together atop the Billboard 200 when their latest albums made back-to-back debuts at No. 1.
Now the two are joining forces again.
The bands on Thursday announced that they'll launch a joint North American tour on June 19 in Hartford, Conn. It's scheduled to run through Aug. 17, with an Aug. 16 stop at Irvine's Verizon Wireless Amphitheater.
True to emo's fixation on corny wordplay, the trek is called -- wait for it -- Monumentour and will also feature the Danish outfit New Politics, whose exuberantly hokey appearance last month at KROQ's Almost Acoustic Christmas was kind of a joy to behold.
PHOTOS: Unexpected musical collaborations
For Fall Out Boy, named best alternative band Wednesday night at the People's Choice Awards, the tour will extend a reunion that in April yielded "Save Rock and Roll," the band's first studio disc since 2008's "Folie à Deux." (Fall Out Boy went on hiatus in 2009, citing exhaustion from the road.)
"Save Rock and Roll" featured unlikely guest spots by Courtney Love, Elton John and Big Sean and suggested that the group's time away had only increased its appetite for expansive sounds.
Ditto Paramore's self-titled set, which followed the well-publicized departure in 2010 of guitarist Josh Farro and drummer Zac Farro, who wrote online about their creative and philosophical differences with the the act's frontwoman, Hayley Williams.
On "Paramore," Williams and her remaining bandmates added strings, keyboards and gospel-style backing vocals to the fuzzy guitars that once made the group a staple of the Warped Tour.
Tickets for the Irvine date are to go on sale Jan. 17.
ALSO:
'Frozen' soundtrack tops Billboard 200 album chart
Listen: Five would-be pop hits that never quite were in 2013
OutKast, Muse, Arcade Fire, the Replacements to anchor Coachella
Twitter: @mikaelwood
---