Paul McCartney remembers Everly Brothers singer Phil Everly
Phil, left, and Don Everly, perform at their reunion concert at the Royal Albert Hall, London, on Sept. 23, 1983.
(Dave Hogan / Getty Images)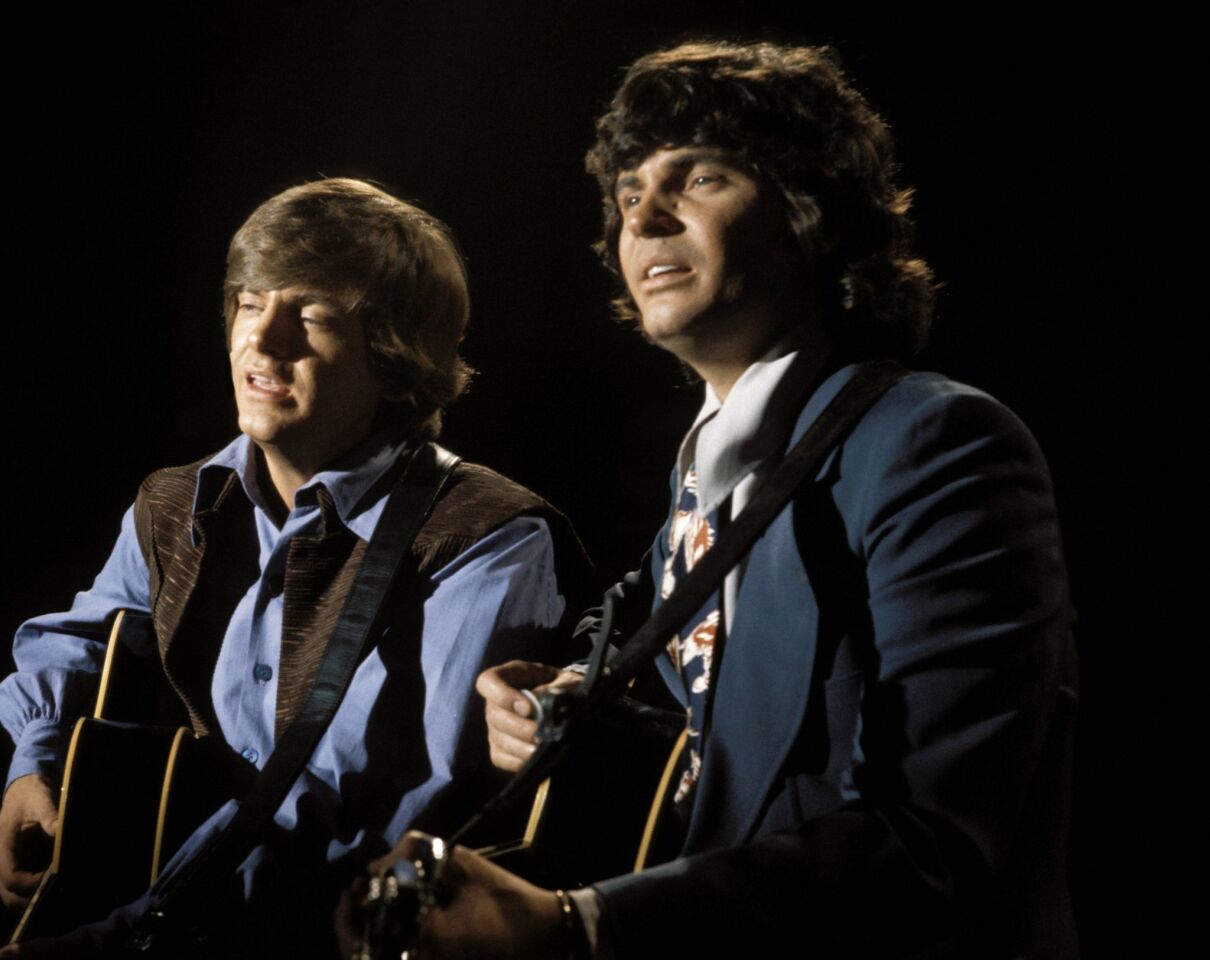 Phil, left, and Don Everly perform on television in 1972.
(Tony Russell Redferns / Getty Images)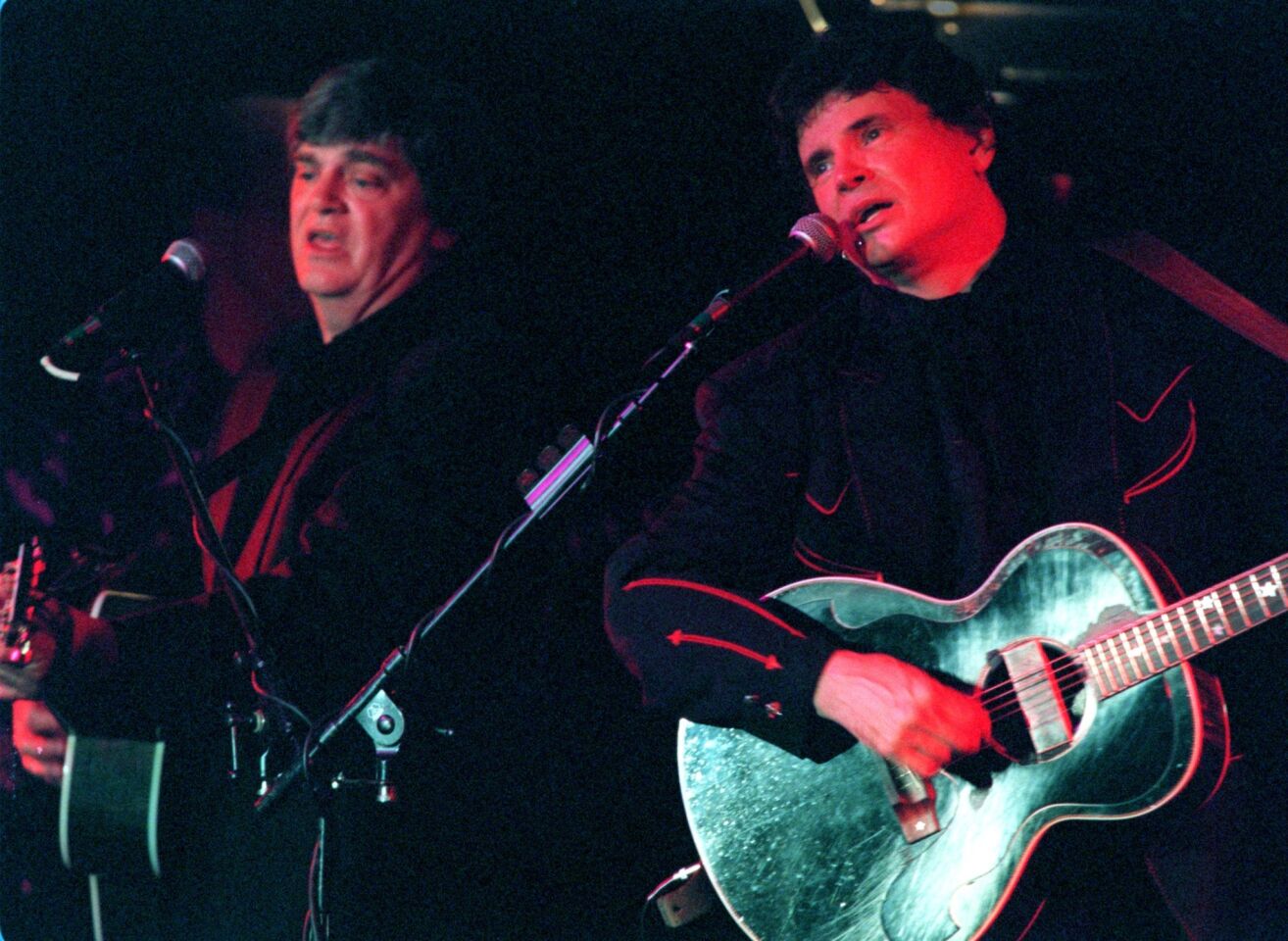 Phil, left,and Don Everly performing at the Coach House in San Juan Capistrano in 1999.
(Glenn Koenig / Los Angeles Times)
Phil Everly performs at the Coach House in San Juan Capistrano.
(Glenn Koenig / Los Angeles Times)
Don Everly of the Everly Brothers performs with his brother Phil at the Orange County Fair in 1992.
(Karen Tapia / Los Angeles Times)
Paul McCartney took to his website and Facebook page to share his feelings about the death last week of Phil Everly of the Everly Brothers, the duo whose vocal harmonies exerted a profound impact on the Beatles and countless others who followed in their wake.
"Phil Everly was one of my great heroes," the former Beatle wrote. "With his brother Don, they were one of the major influences on the Beatles. When John and I first started to write songs, I was Phil and he was Don."
Biographer Mark Lewisohn, in his new book "Tune In: The Beatles: All These Years, Vol. 1," quotes McCartney's reaction upon hearing the Everlys sing "All I Have to Do Is Dream" in 1958, when he, John Lennon and newly recruited guitarist George Harrison were still teenagers: "When we first heard it, it blew us away."
PHOTOS: The Everly Brothers through the years
"Years later when I finally met Phil," McCartney said, "I was completely starstruck and at the same time extremely impressed by his humility and gentleness of soul."
Shortly after the Everlys reunited in 1983 with a celebrated concert at Royal Albert Hall in London, McCartney wrote the song "On the Wings of a Nightingale" for his boyhood heroes, and it became the lead-off track and hit single from their "EB '84," their first studio album in more than a decade.
McCartney's statement concluded: "I will always love him for giving me some of the sweetest musical memories of my life."
Phil Everly died Jan. 3 at age 74 of complications from chronic obstructive pulmonary disease
ALSO:
Phil Everly of the Everly Brothers dies at 74
Beatles authority says 'Tune In' for the real story
Linda Ronstadt and others remember Phil Everly (1939-2014)
Follow Randy Lewis on Twitter: @RandyLewis2
---
Your essential guide to the arts in L.A.
Get Carolina A. Miranda's weekly newsletter for what's happening, plus openings, critics' picks and more.
You may occasionally receive promotional content from the Los Angeles Times.